How to Spend 2 Days in Chicago: Ideas for your Chicago Itinerary
It's crazy that this was my first trip to the Windy City! (I don't count the trip I did at 9 years old with my aunt and uncle) It was my first time exploring as an adult and with the intent to write about it and I've come about with some pretty awesome ways for you to spend 2 days in Chicago. You'll find on my suggested Chicago itinerary, the must see attractions as well as some off radar spots!
Getting to Chicago
It would be about a 13 hour drive from NYC to Chicago so like most people would,  I opted to fly!  I flew into O'hare International, but there is also Midway Airport nearby. From O'hare Airport you can take the blue line "L" train for about a 45 minute journey into the city. One way cost is $2.50.
If you're staying in a hotel, always check to see whether or not they provide an airport shuttle and whether it's complimentary.
Getting Around Chicago
I ended up purchasing a 3 day unlimited Ventra card. The cost of a 3 day unlimited card is $20 and works on both the bus and train. Chicago is definitely not a city where a car would be necessary. Walking and public transit worked out just fine for me with the occasional uber ride.
Where to Stay for 2 days in Chicago
The Best areas to stay in Chicago
The Loop
River North
Gold Coast
Magnificent Mile
Lincoln Park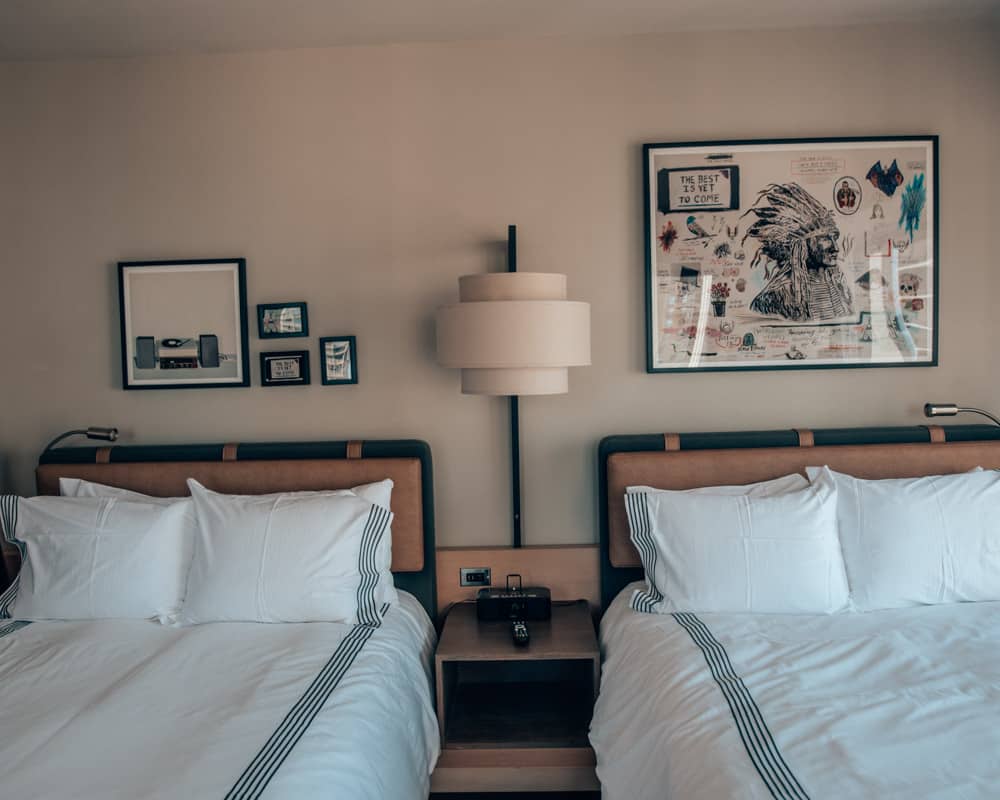 Luxury Hotels
Four Seasons
Waldorf Astoria
The Langham
Fairmont Chicago–  is overlooking Millennium Park and has an incredible view of Lake Michigan. This Hotel is fully equipped with a fitness studio, Spa and tap room.
Mid Range Hotels
Soho House
Thompson Hotel– located in the downtown Gold Coast area, The Thomspon Chicago is a trendy and modern hotel with plenty of comfort. Nico Osteria is an Italian restaurant located at the hotel and the food and service was delicious!
Kimpton
Freehand
Budget Hotels
Longman & Eagle
ACME Hotel
Hotel Felix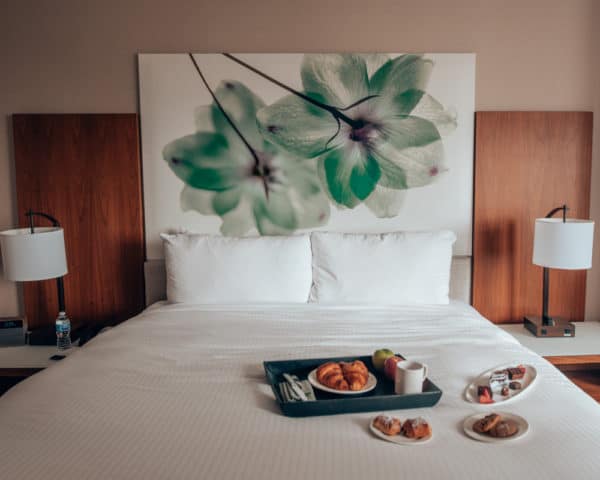 What to do during 2 days in Chicago
Check out Millenium Park
If you didn't go to see Cloudgate a.k.a. The Bean while you're in Chicago, were you even there? There is plenty to do at the park but the Bean has definitely become one of the top attractions. It's something you can't miss when spending 2 days in Chicago.
A variety of music and performances and sporting events are held here so make sure you check the schedule!
This was one of my favourite activities in Chicago! It was a perfect start to the trip and such a great way to gain perspective and insight into the city, especially if you've never been before.

Aire Ancient Baths experience in Chicago is unique anything else. You literally feel like you've stepped into another world! With no sign of the city at this discreet location you can fully relax. They even have a salt pool (flotarium) with music under the water!

Take in City Views at Sky Deck
The Sky Deck is located in the Willis Tower and features unparraelled views of Chicago. Go out on the ledge for the best shots! Be warned that you do have to queue up and they time you to take pictures but you can go back around if you want more time. I definitely suggest trying to be the first one in to decrease wait time.
A 18.5 mile pedestrian pavement along the Lake Michigan shores.
Take a walk around Navy Pier 
A Pier on the edge of Lake Michigan with plenty to do. Rides, games, restaurants and more.
FREE to enter (donations encouraged) conservatory with an "L" stop just yards away. Home to all sorts of plants and they even had baby goats when I was there!
Where to Eat and Drink during 2 days in Chicago
Where to Drink
Cindy's Rooftop – A classic Rooftop bar overlooking Millenium Park
Beatnik – This globally inspired restaurant had me in my happy place! The lush decor, curated cocktails and inventive food make it a must while in Chicago!
Gilt Bar
Where to Eat
Safehouse – A spy themed interactive restaurant. Fun for the entire family. This will definitely bring out the kid in you!  I was very impressed with some of the lengths they went to for the theme!
Cabra – A cevicheria Peruvian inspired restaurant.
The Purple Pig– In the middle of the toursity chaos and tasteless restaurants off Michigan Ave, the Purple Pig stands out.
Momo World
Pequod's Pizzeria
Chicago Deep Dish Pizza
Burt's
Bartoli's
The Art of Pizza
Lou Malnati's
Giordano's