Palm Springs, a place once known for retirement homes and golf, now a desired destination for millennials, foodies, and weekending Angelenos .
Palm Spring's popularity has soared in recent years, especially with the ever growing Coachella Music Festival. Along with amazing restaurants, bars and hotels there are some legit photo spots you'll definitely be sharing on the gram.
1. Moorten Botanical Gardens
This place is a must see for any plant lover! There are lots of different plant species to see on the property but the green house is the ultimate place to surround yourself with the green guys and get a snap. This classic botanical garden which opened in 1938 is a real Palm Springs classic and only $5 to enter!
2. Windmills
You will spot these giants as you approach your exit for Palm Springs.  No need for me to tell you where they are! (drive on to Garnet road to get really close) Sunset was a great time to get some photos here. The beautiful pink tones really made the pictures something else.
3. Palm Springs Town
I stumbled across these beautiful flowers while wandering around downtown Palm Springs. The flowers were so vibrant they stopped me in my tracks!
4. Saguaro Hotel
Okay so this has to be the most colorful hotel I've ever seen! Unless you know of another?? Rainbow colors are everywhere your turn so you can pretty much get a cool shot anywhere in this hotel.
I actually first went for happy hour at their tequila bar, El Jefe then headed out to the courtyard during sunset.
5. Anywhere on a bike
Rent a bike and take yourself on a tour of the town. I guarantee you'll find your own Insta-worthy spot.
These shots were taken at about 8am. The hotel we were staying in had free bikes but as soon as reception opened there was always a queue so we made sure we were first!
Cable Cars
Unfortunately, due to storm damage, the cable cars were closed when I was in Palm Springs. Make sure to check, but if they are open you will have some epic sprawling views of the valley from the top.
#thatpinkdoor NO MORE
Okay so I really wanted to get a shot in front of #thatpinkdoor but apparently the owners are no longer okay with all the attention. They now have a "no photography" and "private property" sign on their lawn. I figured I'd save myself the trouble and didn't bother just photographing the signs lol.
Nearby
6. Joshua Tree National Park
There are so many breathtaking National parks in the U.S. and Joshua Tree is one of them! This was my second time to the park and luckily I good some awesome shots before it started to rain. The park is about an hours drive from Palm Springs.
The rain cut my time short but here is a list of the most epic locations:
Arch Rock
Skull Rock
Keys View
Cholla Cactus Garden

7. Thousand Palms
Thousands Palms Oasis Preserve is a really special place.  It can get very busy so I suggest getting there as it opens which is 8am (subject to change so please double check). There is no entry fee, but donations are very much appreciated.
Here you can enjoy hiking, a picnic, beautiful scenery and so much more. This location is a very easy 25 minutes drive from Palm Springs.
8. Walker Canyon Poppy Fields
Now we just happen to be in the area during the Superbloom so we had to check it out. It was a little chaotic, but definitely worth the trip. I suggest going during the week and try and get there before 9am.
We put Walker Canyon into the GPS and we easily found the location as it's right off the highway. It's about 75 minutes from Palm Springs, but if you're headed to San Diego it's not too far of course.
**disclosure** I am not stepping on the poppies. I am on a path between 2 patches and made sure to get the correct angle for the photo.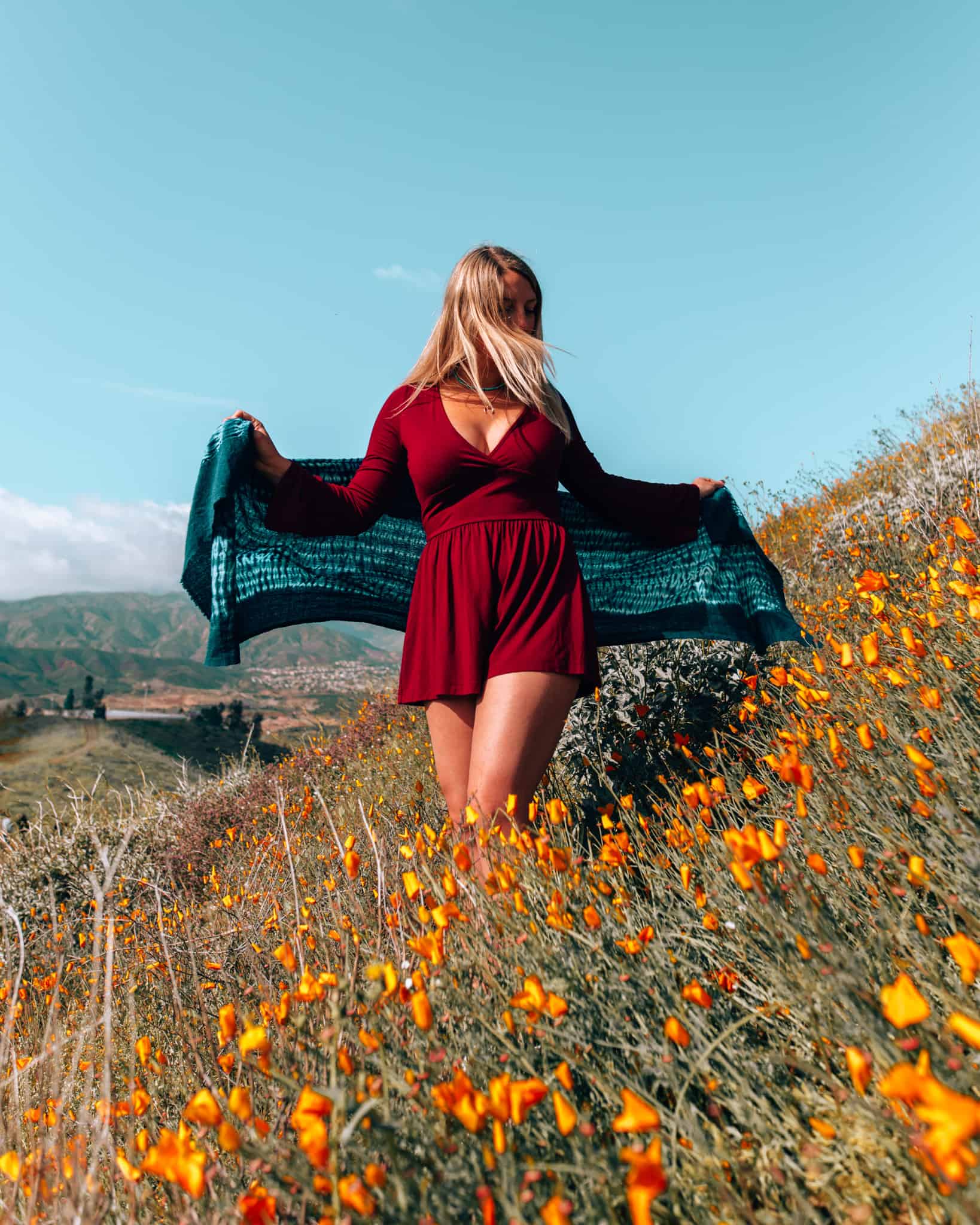 Did I miss a spot? Let me know in the comments!
Check out my other Instagram guides to Las Vegas and LA.