If you're looking for a perfect girls getaway Ireland is it. The people are friendly, the roads empty and they don't call it the Emerald Isle for nothing!
My friend Merry who is currently living the NYC life (I've known her since I was 15!) and I met in Dublin, picked up a car and headed south!
To be honest I was slightly nervous, about driving on the other side of the road, but you get used to it pretty quickly. The narrower roads(when compared with the states) didn't seem to be an issue mainly because there was a very limited number of car on the roads.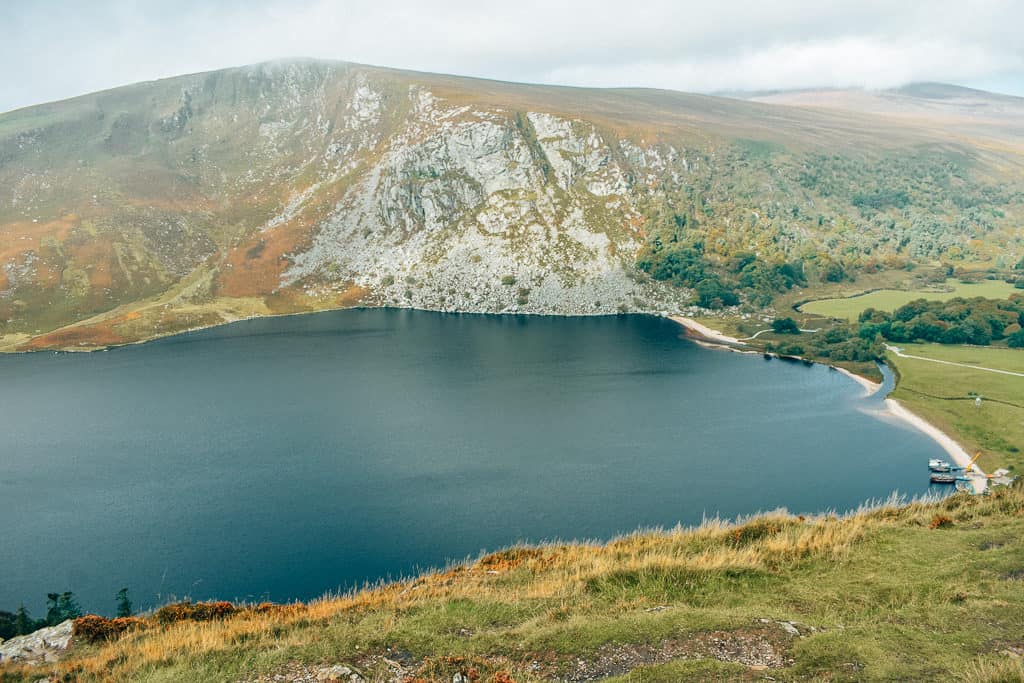 First stop was Lough Tay, otherwise known as Guinness lake, a mere hour outside of the city. As you can guess the water looks black and the cream coloured sand gives the lake its stout-like layers. ⠀
After a quick jolly of taking some snaps of the lake we drove to our next location. We managed to make it to Blarney Castle to explore the castle grounds and kiss the Blarney Stone all before dusk! Kissing the Blarney Stone is actually a bit intimidating. Two men hold you in place while you lean as far back as possible through a hole in the castle in order to kiss the stone. WARNING: not for the faint hearted or those afraid of heights
Our first Overnight stay was in Killarney. We got a perfectly located Airbnb in the town centre with free parking. Once checked in, we obviously had to get to an Irish pub. We ended up at a locals joint dancing the night away!
The next morning we got up to explore Killarney National Park. Unfortunately it was pretty foggy and when we got to the famous Moll's Gap to see the Insta-worthy view, we couldn't see a thing! It was a big bummer, but we tried to not let this bring us down too much! We continued on to the Dingle peninsula in hopes that the cloud and fog would not follow.
The views from the Dingle coast were amazing. There were various rock formations dotted just along the coast and made for some amazing pictures. The skies had cleared up slightly, but were were still worried about the most important view being blocked, the view from the Cliffs of Moher.
After a few hours driving north of Dingle, we arrived to The Cliffs Car Park. Praying for a view, we got out of the car. At this point we only had about an hour of daylight left, and low and behold the clouds lifted just enough for some final sunlight to be let in and for us to capture some amazing moments.
Ideally, we were staying only a 15 minute drive from the cliffs. The B&B was called Doolin View and it has to be the best B&B I've ever stayed in! The rooms were so clean and comfortable and we woke up in the morning to a wonderful view of those green rolling hills.
On the final day we had to drive across the country, back to Dublin. We broke the drive up by stopping off at Sean's Bar in Athlone. It claims to be the oldest pub in Ireland, dating back to 900 C.E.! It was a great town to stop in with adorable old buildings and a real authentic feel.
In Dublin, we decided to stay in temple despite some reservations. We knew it was an expensive area, but we got a deal on the hotel and thought it best to be in walking distance from everything. All we had to do was walk 5 minutes away and we were in a more local, less expensive area. I had been to Dublin before, so was somewhat familiar, but boy are there a lot of great places to drink there! We spent the evening bar hopping around Drury Street.
And that was it! our trip was over as soon as it began. We basically drove around the entire southern part of the country in 3 days. Although we would have loved more time to more thoroughly explore, this is absolutely a doable amount of time. The hours in the car made for a ton of quality time and lots of jamming to our road trip throwbacks.
NOTE**We did this trip mid week which made things a ton more convenient, no queues for anything and hardly saw any kids which is a major plus for us!