I'm always worried that if I go back somewhere that I have amazing memories of, I may tarnish them forever. What if it's not as good as I remember? What if I discover something new that changes my point of view of the place? Going back to Barcelona, where I had once stayed for a month, I had all of these fears, but, after 3 sunny cava drenched days romping around with my cousin, I can say that it was almost better than I had remembered! This blog post isn't going to be a rundown of the top tourist attractions (although I'm happy to answer any questions on them). We definitely had a more local encounter with the city.
Getting around Barcelona is easy. You can pick up a public transport pass which gets you on the buses and metro. We used a T-10 💳, ten rides for 9.95 euros, but there are all different options to suit your needs. From the airport you can take the metro or bus but a separate ticket is needed for that part of he journey.
Everyone knows the Spanish lifestyle is laid back. They go to work late morning, come home for a siesta and have leisurely dinners lasting all night. The simple notion of not having to rush out to dinner for fear of closing kitchens puts an instant ease on all things. I can say that I rarely looked at the time, and when doing so simply readjusted plans rather than running around desperately in attempt to obey the clock.
On our arrival we checked into Casa Kessler, a boutique hostel with exsquisite high ceilings, friendly staff and a handy terrace for passing out on drunk -oops- but also for that afternoon kip in the sun. We then went to refuel at Flax and Kale,a health food restaurant with stunning presentation and flavours. The grilled watermelon and tofu wrap 👌🏻 were ace.
We had a little browse around the shops and as I was not expecting it to be quite so hot I picked up a couple light wardrobe additions. We headed back to freshen up in preparation for dinner at Lo de Flor in El Raval. The menu had limited choices, but sometimes that can be a good thing. When I asked the waitress if there were any specials today she responded by saying 'everything on the menu is special.' After a lovely seafood meal and of course a cava pairing we made our way to explore the night.
Nasty Monday is one of the best club nights in Barcelona so we weren't gonna miss it. First, we made a stop off at Bar Marsella, the oldest absinthe bar in the city. You may just walk by without noticing it at all. I'm pretty sure they haven't redecorated since it opened in 1820, which made it feel like going back in time as you push the elusive door open.
It cost us 14 euros each to get into club Sala Apolo, the current home of Nasty Mondays, which included a free drink, and they really mean any drink not some watered down premixed crap! We got there about 1am thinking right away we'd picked the wrong Monday spot, but the doorman assured us that we were early! An hour later the 2 floor club was packed. We danced the night away with the crowds and stumble back to the hostel about 5am.(queue terrace)
Post Nasty Monday, ever so slightly hungover, I was impressed we made it to Brunch and Cake for noon. I'm sure you can assume what's on the menu there. The food was the most instagrammable stuff I have ever seen! Pink poached eggs, green pancakes and peanut butter latte were some of the crazy treats on offer.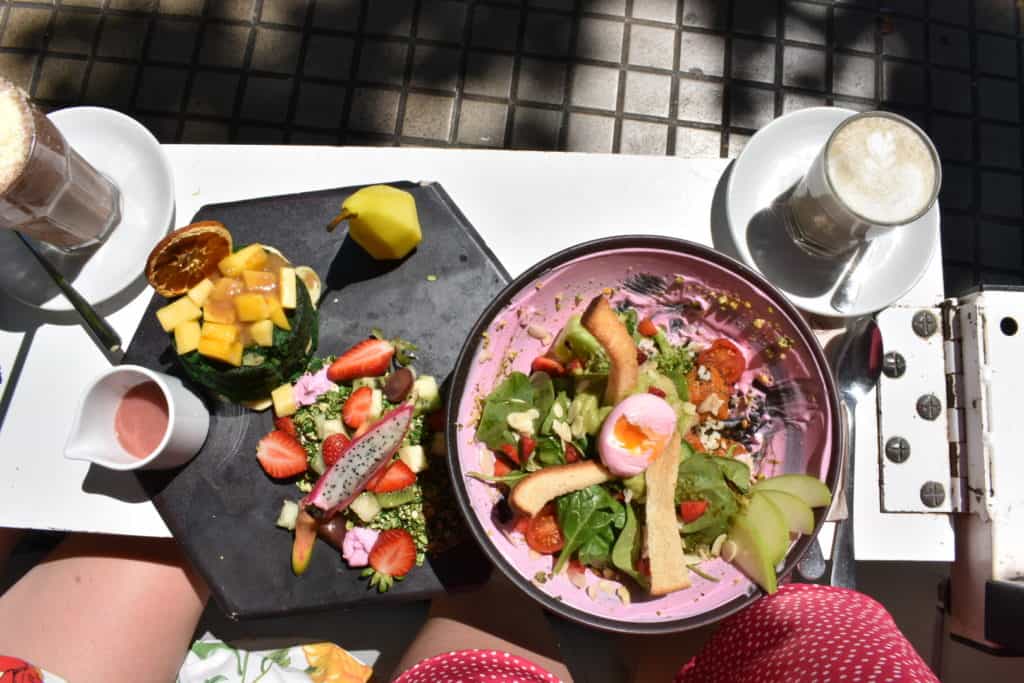 To walk off breakfast we then went over to El Born where there are endless boutique shops and winding streets to get lost in. It's also home to the Picassso Museum and the beautiful Ciutadella Park.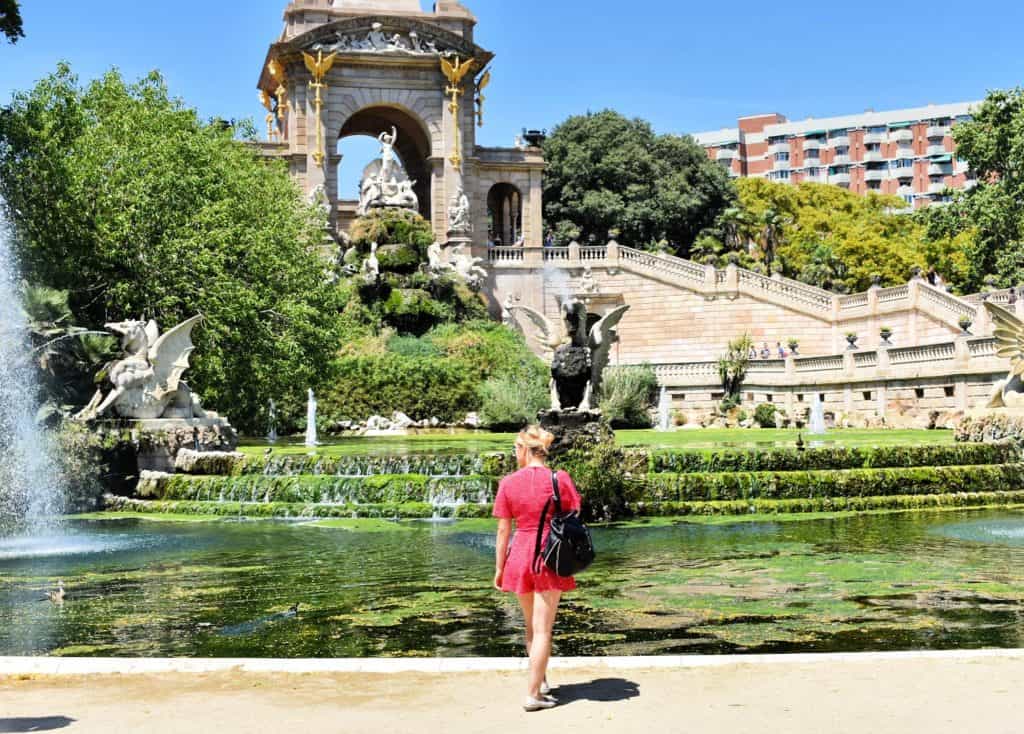 That night was reserved for watching the sunset from El Carmel Bunker, Spanish civil war bunkers from which anti aircraft guns were installed that now pose as the perfect observation deck. It's about a 40 minute bus journey on bus #24 which you can catch from Casa Batlo on Passeig de Gracie. Ideally, it's down the road from Park Guell so it's a great idea to reserve your Park Guell tour for slightly earlier so you can do both that evening. You can bring your own picnic and alcohol up to the bunker which was a very popular idea or you can eat at the cheap tapas bar you will see just next to the El Carmel bus stop.
Ah, the final day. Predicting our tiredness, the last day was to be our beach day. Instead of eating out for breakfast we made a stop at La Boqueria Mercat for a fresh juice and snacks. I grabbed a mango orange juice, Spanish tortilla, fresh bread and some hummus. We went over to Barceloneta, the popular city beach with many beach restaurants, bars and shops, to lounge for a few hours. When we could longer handle the sun, it turned out to be perfect cocktail time, so we made our way to Salt Beach Club which is on the very tip of the beach. Because this part of the beach protrudes out there was a welcoming breeze and cool tunes to match.
Earlier, on the beach, we had been convinced by a rep to buy an open bar pre party and beach club pass. Normally we would have shook them off, but being we hadn't made plans we thought we would give it go. 34 euros for 3 hours open bar then entry into the beach seemed like an okay deal. To be honest with you, I much preferred the Nasty Mondays night at Sala Apolo. This just felt forced and touristy and I don't remember the music blowing my mind but the drinks prices sure did!
So our 3 nights in Barcelona had come to a close. It was one of the most relaxed trips I've ever had. It helps we knew the city, but also has to do with the overall vibe of Barcelona and Spain itself. Hey, I might even make a third trip.
Feel free to comment or ask a question 🙂