Guide to Puerto Rico
I can't believe this was my first time to Puerto Rico! Since I've been living in England for the past 6 years I really haven't traveled much of the Caribbean or any of Central or South America. I tended to just stay in Europe while I was there. Now instead of being in Med in a few hours flight I can been in a Caribbean! I did a 5 day trip packed full of sight seeng and Pina Coolada tasting  so I'm super excited to share with you my guide to Puerto Rico!
Getting There:
I flew into San Juan Luis Muñoz Marín Airport from NYC and it took just under 4 hours. The 5am flight was painful at the time, but ended up working out great. I felt like I got a whole extra sun day in! The airport is about a 20 minute drive from old town San Juan and 15 minutes from where I stayed in Condado. I chose to stay on Condado (close to a beautiful beach) and just grab the 5 minute uber into town.  The taxi ride from the airport to Olive Boutique Hotel in Condado costs $25.
**Uber app said no airport pick ups allowed
TIP–there are beaches REALLY close to the airport so it's a great move to head there a few hours before your flight your flight for max sun time.
Getting Around
For some reason when I opened the uber app at the airport it said it could not pick up there. Otherwise uber was awesome and affordable!
A car is not needed in San Juan, its a very walkable city, but is useful if you want to explore other parts of the country. I did a mini road trip from San Juan to Rincon to San Sebastian and back to San Juan  and had no major  issues.
Where to Stay
You know I love my boutique hotels and Puerto Rico has some incredible ones! Here is my guide to Puerto Rico Hotels.
San Juan
OLV:55 + Olive Boutique Hotel – Sister Hotels in Condado. A five minute drive to Old San Juan and a walk to either the Condado Lagoon or Condado Beach. Whether you prefer modern and glamorous or globally inspired rustic chic they have got you covered. Stay in either and you are welcome to use the facilities in both hotels.
The Dreamcatcher – A gorgeous Eco Hotel. The only vegetarian hotel is San Juan, it is known for it's brunch. Boho chic decor with a treehouse feel. Located in the residential area of Ocean park.
Hotel El Convento – This historic hotel was built in 1646, was the first Small Luxury Hotel of the World Member in Puerto Rico and is the oldest member of the Historic Hotels of America. This hotel some some amazing amenities including access to their Beach Club, fitness center, pool and a nightly complimentary wine and hors d'oeuvres reception.
Other locations
Villa Montana Beach Resort – Private luxury at this lush boutique hotel. Boasting secluded beaches, extensive gardens and two restaurants. Located in Isabela.
Tres Sirenas – On the beach hotel in Rincon, close to the best surfing beaches in Puerto Rico. All 5 of the accomodations at this hotel have an ocean view! The stay includes a gourmet breakfast spread.
Where to Eat & Drink
I just loved the food and constant supply of Pina cooladas in Puerto Rico. Here are some of my favorite spots.
Oceano – A mansion on the beach offering views, cocktails and cuisine. Perfect date night or occasion spot.
Jungle Bird + La Factoria + Caneca– A trendy set of nightlife spots by Colectivo Icaro. All three are located within a 15 mile radius of San Juan.
Barrachina – Famous for creating the Pina Coolada! They serve food and drinks and have an adorable courtyard.
Cuatro Sombras – A cafe with delicious coffee and light breakfast located on the edge of Old San Juan.
La Cambija – Casual seafood restaurant in Rincon. I loved their fish tacos and watermelon juice! SO fresh and very affordable.
Numero Uno Beach House– A boutique hotel on the beach with a restaurant where your chair is literally in the sand!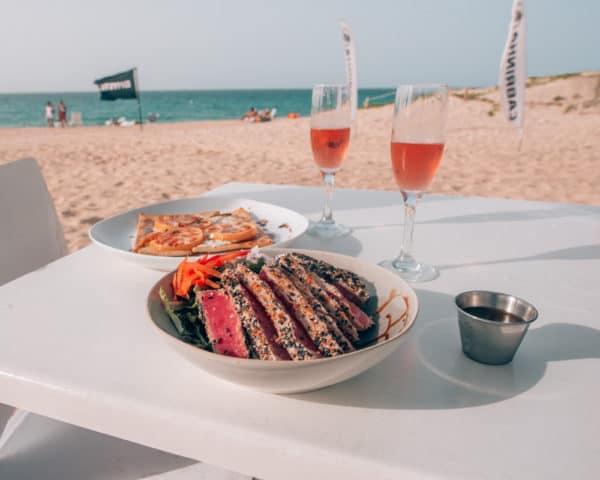 What to Do & See – Guide to Puerto Rico
Old San Juan 
Of Course visiting San Juan is a must! It has one of the most adorable old towns filled with  colorful houses, bars, restaurants and even some Instagram spots!
Umbrella Street – La Fortaleza leading up to the governor's mansion there are dozens of pretty umbrellas above you.  It is known as the Umbrella project and is an art installation put in place after the hurricane to bring people back to San Juan.
Govenor's Mansion – At the end of Fortaleza street in the 16th century governor's mansion. It's a pretty pale blue and sits on the edge of the city walls.
Forts – You can visit Forts El Morro and San Cristóbal. Incredible structures that have protected the city of San Juan for centuries. A $7 entry fee gets you into both forts.
Beaches
Puerto Rico is surrounded by gorgeous blue water and the beaches are plentiful. Here are a few of the best ones.
Luquillo – About an hours drive form San Juan this beach is popular with locals and tourists alike. $5 to park and stay all day! There are facilities including bathrooms, showers and snack bar. You can buy a pineapple filled with Pina colada for $12!! The El Yunque Rainforest in the distance makes for a lovely backdrop.
Beaches by airport – Isla Verde and Balnaerio de Carolina are ideally  located right next to the airport! Since my flight home was at 9pm, after hotel checkout I drove here and sun bathed until the last second. I paid $5 to get into the beach.
Playa Sucia – Definitely one of the most beautiful beaches in Puerto Rico. Its secluded and rustic with turquoise waters. If you are heading here you will drive through the salt flats and maybe see the pink lake it creates!
Crash Beach – This beach gets its' name from the ship remnants left on one side of the beach. It has plenty of vegetation and lots of seashells.
Condado Beach is a ten minute drive from Old San and is where many of the high end hotels are located. I went to this beach a couple times because it was an easy walk from Olive Boutique Hotel and there are dining options all along the main road behind it. Somewhat of a Miami vibe!
Flamenco Beach is on island of Culebra and is frequently rated one of the top beaches in the world. You can catch a ferry to Culbera from Ceiba.
Domes Beach Possibly the best surfing beach in Puerto Rico. Located in Rincon. The reason for its' name is that there is a Dome on the beach which used to be home to a nuclear power plant.
Ocean Beach– further down from Condado is Ocean Beach, a more residential area.
Day Trips & Activities 
One of the things I love about Puerto Rico is the diversity of the island. Sunbathe all day or choose one of these adventures below.
Neighboring Islands – Why not head to Culebra or Vieques, two of Puerto Rico's islands. Take the ferry from Ceiba, but be sure to book in advance on PorFerry.  Culebra is known for Flamenco beach, which has been said to be the best beach in the world. Vieques has the incredible natural phenomenon, the bioluminescent bay and is more populated that Culebra.
El Yunique Rainforest – El Yunque National Forest is the only tropical rain forest in the US Forest System. Great for waterfalls, hiking, camping and wildlife sightings.
Waterfalls – I think my favourite activity has to be the Waterfalls at San Sebastian. Park for just $5 and explore two huge falls. Use the rope swing or just people watch here.
Visit Cabo Rojo – Home to salt flats, rustic beach and a lighthouse. A scenic area do explore for a day in the Southwest part of Puerto Rico. 2 and a half hours from San Juan.
Visit Rincon – A cute surfer town. It is home to the famous Domes Beach, a lighthouse and one of the cutest boutiques I've ever seen! Since Rincon is on the west side of Puerto Rico the sunsets are epic.
I had so much fun in Puerto Rico that I'm heading back with my family in December! I can't wait to explore more of this island.