Epic Guide to Tulum
In recent years Tulum has become so popular with hipsters and increasingly expensive that I almost questioned if I really wanted to go. I mean, isn't one of the draws of Mexico that it's so cheap? Though  there must be a reason it got so popular right?  I've created this guide to Tulum to help you in your planning and decide if it's the right destination for you.
I think the best way to see a place like to Tulum is to enjoy it for what it is. Yes, places like Casa Malca on Tulum Beach are basically NYC prices but its also insanely interesting and beautiful, like an art piece — and for that you have to pay. Have a wander around the town of Tulum and there are also 50 cent tacos from a cart and margaritas for a couple bucks. I never like to go by other people's opinions and I have to say I did enjoy my visit to Tulum despite the obvious rich-hippy culture. Maybe I don't like to admit that I'm part hipster myself! Check out my Guide to Tulum and then go see it for yourself!
Know Before you go
Tulum is a 1.5 hour drive form Cancun airport.
You can't drink the tap water in Mexico in general.
Learn basic Spanish phrases to help you get by.  Buenos Dias! (Good morning) La Cuenta, por favor? (The check, please?)
There is a wide price range for everything from cocktails and  tacos to hotels and activities so you will definitely be able to find options to suit your budget.
Many establishments in Tulum are cash only , but there are also a couple of spots on the beach that are cashless (how very modern), so make sure you have both payment options. Pesos are the standard currency, but some places may take dollars. However, you usually don't give the best conversion rate when eating in dollars.
 What to Pack
Casual beach clothes and boho luxe attire. Tulum is where rich hippies go. (although it is possible to do Tulum on a budget!) You'll need bathing suits, cover ups, an outfit for outdoor activities and maybe some yoga pants. Many places on Tulum beach are foot wear optional but I'd suggest bringing sandals and some casual walking shoes.
When to Go
I went in October and we had great weather with very very little crowds- even on Colombus day weekend!
December -April is peak season with March being the busiest so avoid March if you don't like crowds .
May-Septmber is rainy season.
October- Early December is cooler and less crowded with good deals. A perfect time to travel to Tulum!
Getting There
The best airport to fly into is Cancun Airport. Tulum is then a 1.5 hour drive.
Bus– Take an ADO Bus to Tulum or take an ADO bus to playa del Carmen and switch there. There is an ADO bus kiosk as you exit the airport and they will answer any questions you have.
Private Car –  Also plenty of stands as you exit the airport to get quotes from. Always agree the fare before the joinery. We paid around $75 one way.
You might want to prebook your transfer if you're going in high season.
Getting Around
Taxi- We never had a problem finding a taxi. They seemed to frequently drive by. Confirm the price of fare before getting in the taxi to assure you aren't being ripped off. They are not cheap but also not the most I've ever paid. A taxi from town to the beach was costing about $7.
Uber– There is NO UBER in Tulum although it is highly used in other places in Mexico
Car Rental – if there are only a couple of you on the trip renting a car might be more cost efficient than paying for taxis all the time.
Parking– available in town and on the beach. If you are going to a particular hotel or restaurant they have their own lots but there are also lots not associated with a hotel
Collectivo Bus – (the cheapest option) a bus  that goes to the beach from town and is very cheap but then you are depending on bus timing. It only runs once an hour and is often full
Bike-Many of the hotels will have bikes for you to use, or you can rent them. The bike ride for Town to the Beach is about 35-45 minutes depending on how far down the beach you're going. It can get pretty sweaty in the heat of the day.
Where to Stay
Tulum is split up into Tulum Town(pueblo)and Tulum Beach(playa).  There are pros and cons to each which I compare below.  A bike ride between the 2 is about 35-45 minutes.
Town Vs. Beach
Tulum town is typically cheaper on all fronts such as food and hotels. There is also easier access to other activities, the bus stations, grocery stores, etc. Staying in Tulum town may give you a more authentic Mexican experience.
Tulum Beach aka hipster heaven is where most of the trendy hotels, restaurants, spas are. Most of the places here are quite pricy, but I mean who doesn't like waking up to the sound of the ocean? If you will be having more chill time and less time exploring the surrounding areas the beach may be a better option.
I stayed in the town this time but if I was there for longer I might do a few nights on the beach and a few nights in the town.
What to do
Wellness
Wellness is such a major part of Tulum. Many of the hotels are centered around wellness, but there are also stand alone wellness centers and spas .  Practice yoga with an ocean view at Sanara or in a treehouse room at Azulik.
Spas
Yoga classes
Sanara
Azulik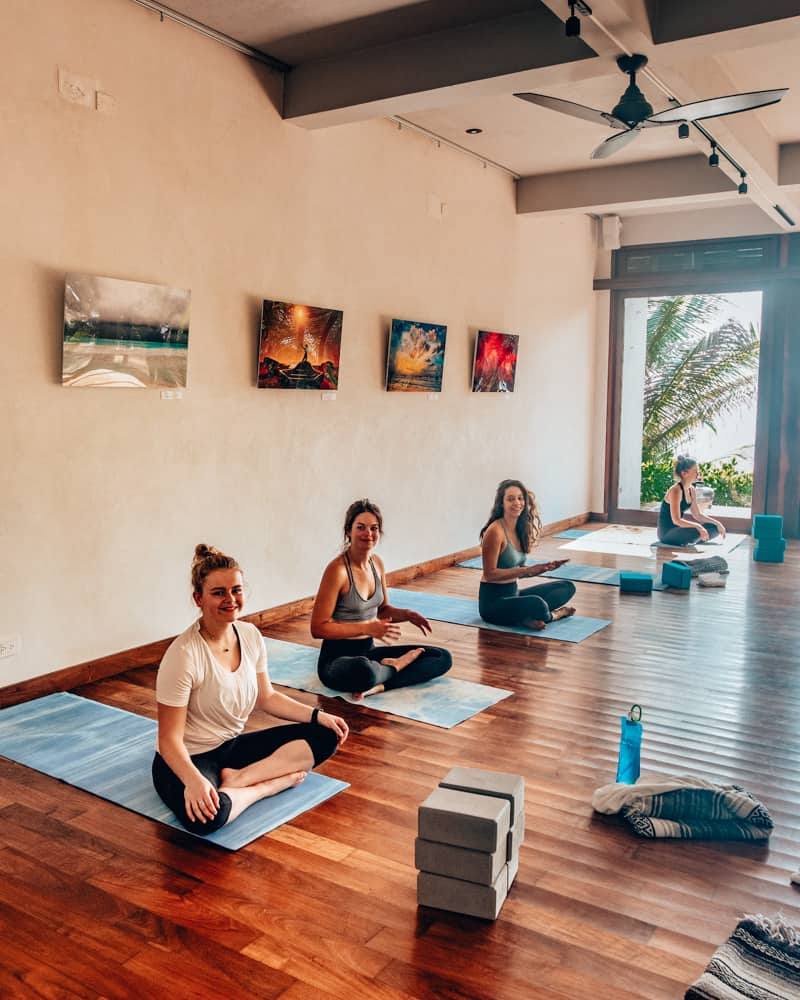 Adventure
Cenotes
Cenotes are a must have on any guide to Tulum. Accorinding to Wikipedia  "a cenote is a natural pit, or sinkhole, resulting from the collapse of limestone bedrock that exposes groundwater underneath."  There are way more Cenotes than I had ever imagined. Within an hour drive from Tulum there are at least 7 that I know about. Most have a fee to enter and provide parking.
Gran cenote is one of the most popular ones to visit as it is beautiful and only 8 minutes drive from the town.
Gran Cenote
Cenote Dos Ojos
Cenote Pet Cemetery
Cenote Car Wash
Casa Cenote
Casa Tortuga
Cenote Calavera
Cenote Angelita
Cenote El Pit
Clan-Destino Cenote Bar
TIP – Make sure to pack use 100% biodegrable sunscreen! No other sunscreen is allowed in the cenotes.
Kaan luum lagoon
An under the radar beautiful laguna south of Tulum. The water is a slightly green turquoise color. A less touristy spot to enjoy.
Ruins
You can visit various different sites such as Chichén Itzá, Tulum Ruins or Coba. Coba is a little more out of the way then some of these ruins, but you an still climb one of the structures!
Chichén Itzá
Tulum Ruins
Coba
Swim with Turtles
Snorkel & Scuba Dive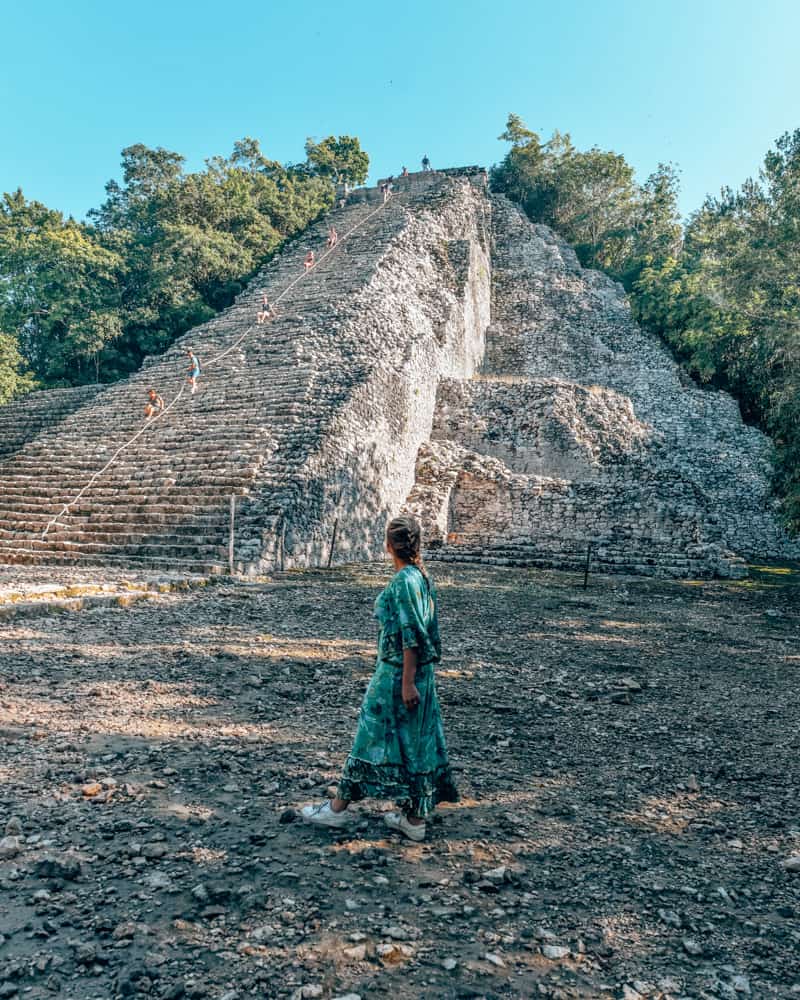 Other Activities 
Take a Cooking Class
I learned to make tortillas and tacos fillings from scratch! I loved this is was in a local's home.
Visit an Art exhibit in the jungle
I was super impressed by SFER IK.  It looks very similar to Azulik so almost like a modern treehouse. Admission by donations. You are not allowed to take anything in, only your phone.
Where to Eat and Drink
Mexican food and healthy food are the two main players here. You could have 50 cent street tacos for one meal then a fully raw vegan meal the next. I paid as low was $2.50 for a margarita and as high as $20 for a cocktail at Casa Malca so there is a price range.
Happy hours are a thing here so make sure to take advantage!
Town
Burrito Amor – "Clean" burritos. Using quality ingredients like 100% extra virgin olive oil, cold pressed organic coconut oil, organic fluoride free sea salt and  & raw honey. My burrito was warped in a leaf instead of aluminium and had a lovely coconut flavour.
Papaya Pizza – An outdoor brick oven pizza parlour. They had a really cool vibe here and delicious topping options. They serve chilli infused honey to drizzle on top of your pizza which was a real treat.
Tacos spots – Tacos carts, casual eateries and sit down restaurants. Tacos are everywhere.
Beach
Most of the hotels have restaurants and bars in them or on the beachfront so its an easy way to see different properties via eating your way through.
Matchamama– Matcha and smoothie bowls with cutest swings and tiki roof.
Nomade-one of the pricier spots. Our table was next to the kitchen and at a certain point I could no longer stand the burning smell of the cooking as it was in addition to the already burning sage used for ambiance. Its a really cooling eating concept on the beach but I think I was just unlucky with what table we had.
La Eufemia-of all the spots I tried this was my favourite. Beach front 2 floor taco spot with live music and $5 margaritas . The fried fish and grilled shrimp tacos were amazing!
Raw Love – Healthy raw food spot with a jungle vibe serving smoothie bowls and other vegan goodies.
The Real Coconut – Healthy food spot. The banana bread here is too yummy!
Coco Tulum – Drinks spot with swings facing the beach. Definitely one of this Insta spots.
Casa Malca– Home of the IG famous couch – Not sure if this is because we were with a group but when we tried to walk in and wake a picture here we were stopped by security and told there was a minimum spend in order to take photos of 500 pesos pp($25). The drinks are quite expensive here so if you have more than 1 drink or 1 drink and an appetiser you will easily meet that minimum. I told the bartender what I like and he may me a personalised concoction.
Want more details about where to eat in Tulum? Click here for Taylor's post (from Taverna Travels) 7 Place you Need to Eat in Tulum.
Tulum a destination filled with art, eats and adventure. It was actually bigger and had way more to do than I expected. The vibe of everything is very cool and I am totally down for being able to walk around a hotel barefoot! I mean luxury doesn't get more casual than that!
I hope you liked my Guide to Tulum! Best Instagram Spots in Tulum Coming soon.