Although I go to New York very often,  I rarely stay in hotels when I'm there. The numerous friends and family members living there are always offering up their couches and spare rooms which I usually, gladly accept. But this time, I thought, one night to myself could be very beneficial to curing my jet lag and would also give me the opportunity to get some things in my life in order without distraction. What I wanted was a chic oasis with good service and amenities. Somewhere that made me feel comfortable, relaxed, and at home. When Hotel Giraffe, by The Library Collection, invited me to stay with them, I was excited to say the least. I knew I would be getting exactly what I needed.
The Giraffe is one of those hotels like feel like a classic. The Giraffe Hotel opened in 1999 but an elegance about it that makes it timeless.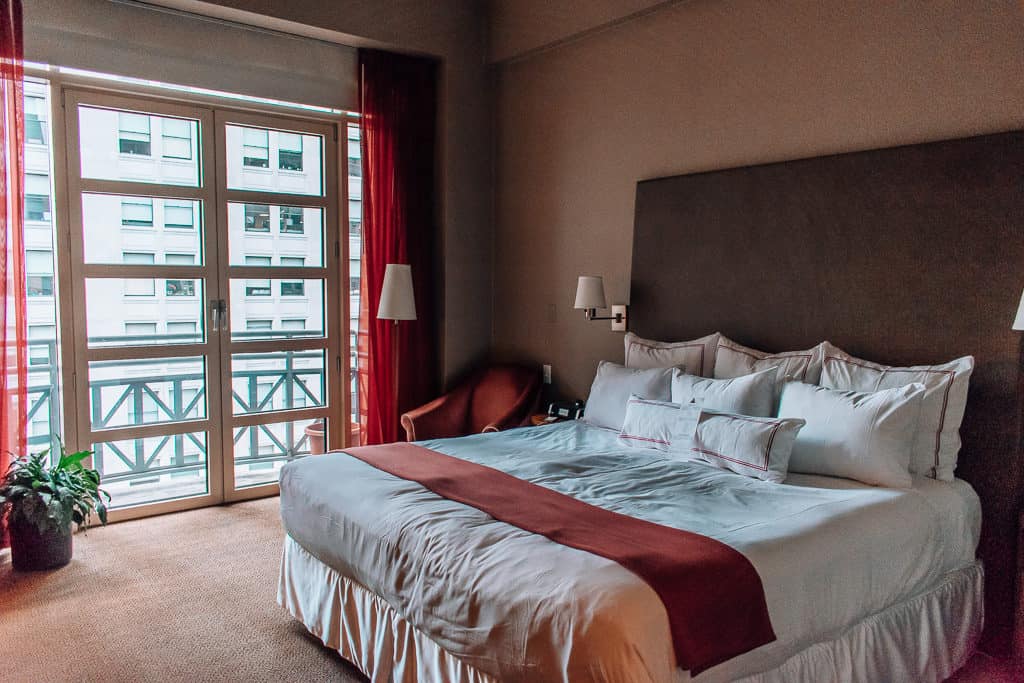 I really must ask,  can you believe this is a New York City hotel room?! From the many city hotels I've stayed in, I was not expecting to walk into such a spacious room. It almost made me forget I was 11 floors up in a skyscaper. The terrace feature was perfect for reminding me that I certainly was in New York! I loved being able to get some fresh air and take a peak over the busy city streets. Not shown in this photo is a long desk and flat screen TV along with a dresser, fridge and service area.
I've never known a hotel to included so many usable extras. Hotel Giraffe really goes above and beyond to give you the comforts of home, with out you having to do any of the work!
All of the following are included in the room price:
Complimentary continental breakfast
Complimentary refreshments in the grand lobby
Wine & cheese reception, evenings from 5pm-8pm
Free bottled water, turn down service
Free health club passes
A 20% discount when dining at the in-house restaurant, Bread & Tulips!
You can either have your breakfast in the airy lobby or have it delivered to your room for the ultimate easy morning. (just a $5 fee)
The location of Hotel Giraffe is excellent. The hotel is situated in NoMad, a block from Madison Square Park where you can get a great view of the Empire State building. It's only one block to the closest subway station and surrounded by a plethora of trendy and upscale dining options.
 Another wonderful feature of this hotel is their roof terrace. Rooftops are always high on my checklist because I love having the option for of somewhere to hang out besides my room or lobby. And technically, it doesn't require leaving the building. In the warmer weather its an ideal spot to take your complimentary wine and cheese to enjoy the sunset!
Hotel Giraffe is my pick for a writers escape, an elegant couples getaway or a family affair.
https://libraryhotelcollection.com/en/
Thank you to Hotel Giraffe for having me. As always all opinions are my own.