Off-the-Strip Guide to Las Vegas; Alternative Las Vegas Itinerary Ideas
Would you believe that I spent 6 nights in Las Vegas and probably only gambled for a total of 2 hours?! I also didn't club or go to a pool party and you know what… I still had plenty to do. This is my off-the-strip guide to Las Vegas with the best alternative Las Vegas itinerary ideas. I have been to Las Vegas once before and this time, I challenged myself to find out what else there is to do!
Getting to Las Vegas
By Air
Fly  into Mccaren Airport. The airport is literally a 5 minute drive from the strip so the views of the strip flying in are pretty amazing.
By Car
If you're coming from Los Angeles, the drive  is about 5 hours. Make a road trip out of it and drive through the Mojave Desert.
Getting Around Las Vegas
When you're on the strip be prepared to do a lot of walking. Remember that things in Las Vegas are not to any real scale so that building that looks likes it might just be next store could actually take awhile to get to.
I mainly walked and used uber for the Las Vegas locations and rented a car for 2 days for day trips.
Where to Stay in Las Vegas
A new Caesar's property hotel geared toward Millennials. The LINQ Hotel is on the LINQ Promenade and gives you easy access to everything on the Promenade including the High Roller. This is technically still on the strip but I think staying here and venturing out when you want makes the most sense. Rates here start as low as $5o/night! If you want to splurge go for a poolside cabana room.
The Promenade at the LINQ
I loved the Promenade set up and how it had a more relaxed and intimate feel. Lots of activities and places to eat or drink!
Activities and Shows
Restaurants
I loved that there are cheaper restaurant options on the Promenade. One of my favourite fast casuals ones that I tried was Ja Burrito. As spot where you could get sushi burrito as well as chips and guacamole. They also have the classic In-n-Out Burger as well as sit down restaurants.
Other Alternative Hotels in Las Vegas
Thunderbird Boutique Hotel
Oasis at Gold Spike
Artisan Hotel Boutique
The D Las Vegas
Serene Hotel
Alicante Casino & Hotel
Classic Las Vegas Hotels
Bellagio
Caesar's Palace
Cosmopolitan
Venetian
Normal Las Vegas Itinerary Ideas
Get drunk on the Strip
Gamble all your money away
Go to Pool Parties
Bellagio Casino & Fountains
Mirage Casino & Volcano
Mandalay Bay Casino, Aquarium & Beach
New York New York  Casino & Rollercoaster
Caesar's Palace Casino & Shops
Eiffel Tower Experience
Alternative Las Vegas Itinerary Ideas
Get to know Downtown Las Vegas
Downtown Las Vegas is home to "Old Las Vegas." The Freemont street  still stands and has casinos but is no longer as popular or shiny as the current Las Vegas Strip. The area consists of Fremont Street, East Freemon and the Arts District. A great option to grab some good and food drink and to explore.  It's not only more laid back, but also much cheaper! This is where the locals hang out.
There's actually quite a bit of parking in either garages or on the street. You could get lucky with some free parking for much of it you will have to pay for.
Explore Fremont Street
A free light show and concert series in  a pedestrian malls in the heart of Old Vegas. Classic casinos like the Golden Nugget line this street.  It's definitely a spot for people watching!
Retired Las Vegas Signs live here.  Go to literally see pieces of history. The museum is mainly outdoors and contains over 200 unrestored signs.  You can have a private or self guided tour. The space can also be rented out for photoshoots.
A museum with a mission to advance the public understanding of organized crime's history and impact on American society.
Fremont East
Gourmet and street food, bars, boutique shops and a stage all made out of shipping containers. I had a grilled sandwich at Bin 702 and took advantage of their happy hour drink specials.
This is the oldest bar in Las Vegas! It's also where people use to watch atomic bomb testing in the distance. They've kept the old school decor and serve quality cocktails.
Las Vegas Arts District
Now this is where it gets really interesting ! It's definitely the hipster part of Las Vegas. Dotted with vintage stores, murals and coffee shops, The Las Vegas Arts District is the newest area to enjoy. It's fun to just walking around the few streets and try out different cafes and have a peak at the antiques.
A few spots to try include Makers and Finders, a great brunch spot with Latin flair (brunch pictured below), Jammyland, Rebar, Esther's Kitchen or Hop Nuts Brewing.
First Friday is a monthly block party in the Las Vegas Arts District.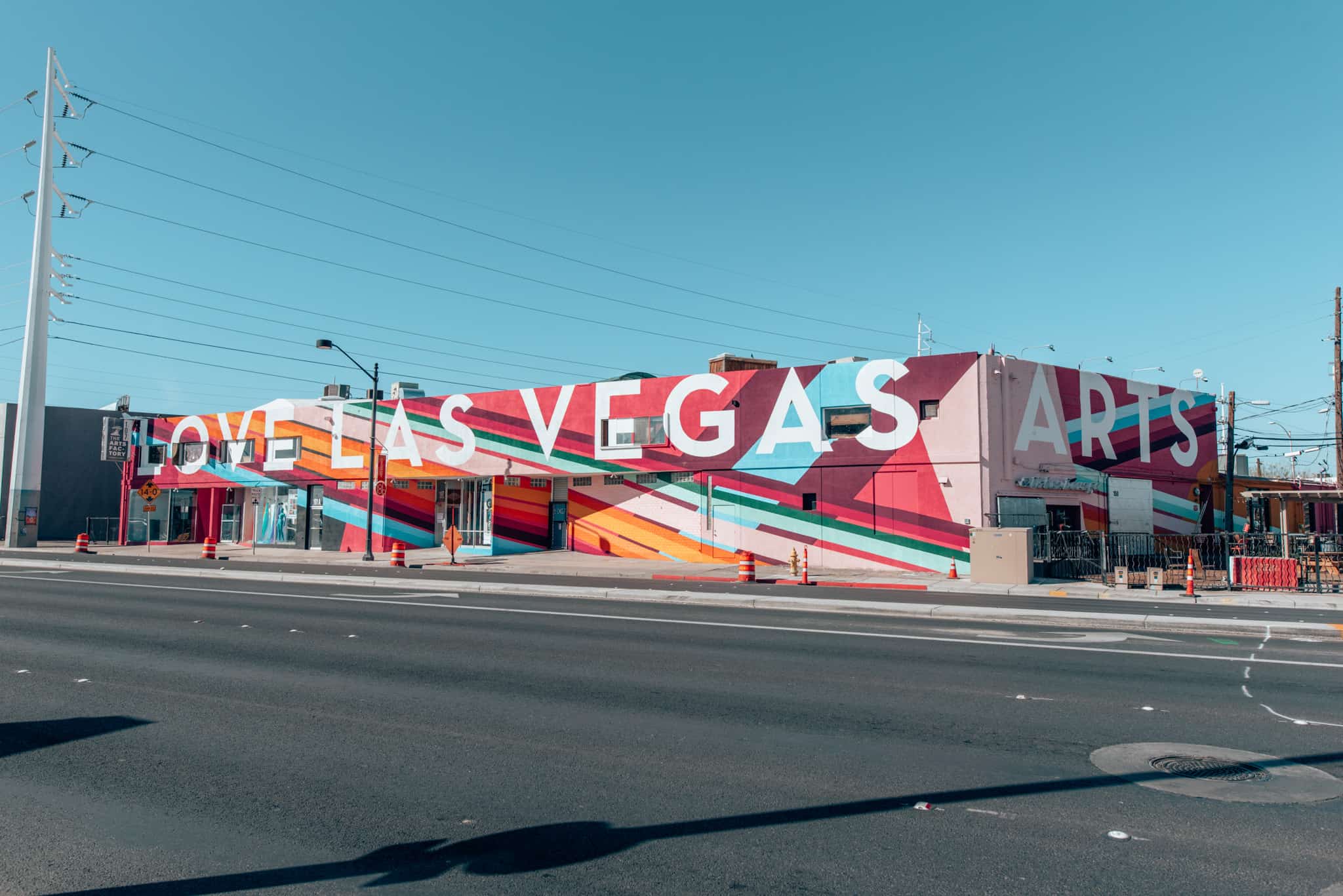 Nearby : Alternative Las Vegas Itinerary Ideas
A creative expression of human presence in the desert by Swiss artist Ugo Rondinone. The installation was originally only supposed to be up for 2 years, but has been extended due to its' success.
The first time I went to this location was in 2017, about a year after it had opened. I went around 7:30 am and there was already quite a few people there. I was luckily enough to go back during my recent trip and got there for around the same time of day. This go around people didn't start to flock here until about 9am.
The site is a 30 minute drive from the Las Vegas Strip.
This National Conservation Area is  located 20 miles from the Las Vegas Strip. It will take you about 30 minutes to drive here. Pick a hike to stop off at or just drive and admire the landscape on this 13 mile scenic loop.
40,000 acres of bright red Sandstone. Valley of fire state park is an hour and 30 minute drive from downtown Las Vegas. This is epic location for a day trip or overnight camping trip.