How to see New York in 4 Days: Ultimate 4 Day NYC Itinerary
I grew up 50 miles outside NYC and in my teens took every chance I could to explore it. Many of my friends made the big move to NYC post college while I decided to stay in England after my study abroad program. Now I'm back, and if there's one thing I know now more than ever is that NYC is huge! It would be difficult to see all of New York in 4 Days, heck even in a week you couldn't evendo it!
This guide will mainly be for first timers wanting to see the top attractions and must sees. This is not a relaxing vacation itinerary! You will be on the go constantly.  Since you will most likely have a small hotel room you won't want to spend much time in there anyway. Be prepared with excellent walking shoes. A great option to see as many attractions as possible at a discounted rate is the New York City Pass. Choose between 100 attractions.
Getting to New York City
There are 3 major airports in/close to New York City with the addition of Stewart Airport a bit further. All of these airports have public transportations in the city. Sometimes these airports can be a nightmare so just stay on your toes. JFK and Laguardia are both under construction which can make your life difficult so know where you are going. Please realise that the below travel times are estimations.
JFK Airport – Takes about 1 hour to get to Penn station via public transportation and from Penn Station you have plenty of transfer options.
Laguardia Airport– Takes 45 minutes to get to Grand Central or Penn Station on public transportation. Both stations have a ton of different transfer options.
Newark Airport– This airport is just over the river in NJ. It takes about 40 minutes to get to Penn Station on public transportation .
Stewart Airport- If for some reason you are flying into Stewart airport you need to coordinate with the NYC Express Bus. Purchase your tickets in advance and board with mobile ticket.  Journey time to Port Authority in Manhattan is approximately 90 minutes.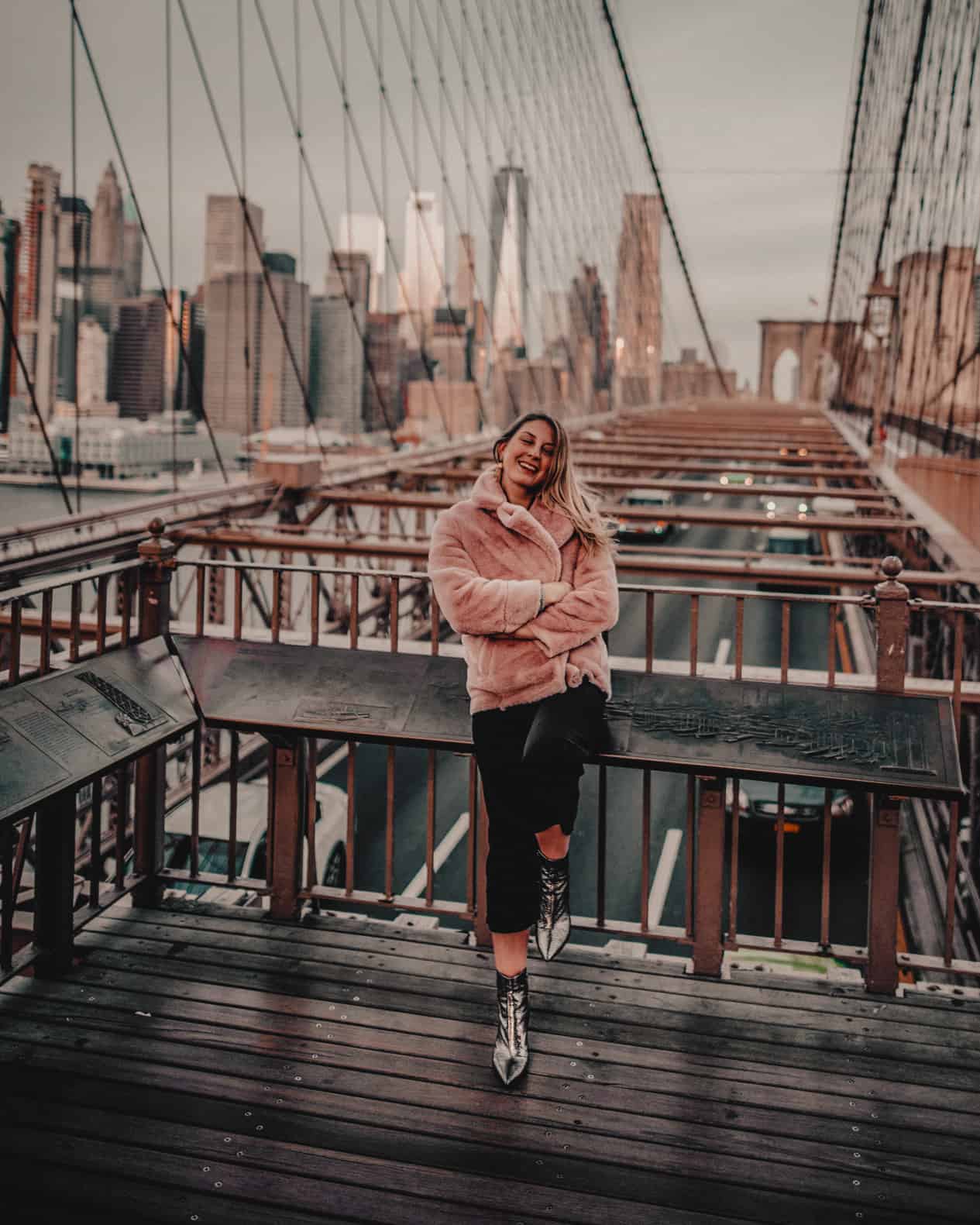 Getting Around New York City
Walk!  I love to walk everywhere I can. There is always so much to see so when possible this is my favourite way to get around.
Uber/Lyft is definitely your friend. Although not always cheaper than taxis, at least you know what you're paying for. I find this much easier with groups because you decide you want to pay the price or not instead of just watching the meter.  You will need to be careful at busy times like rush hour or when it's raining for price surges.
Taxis  are are personally not my favorite because if you get stuck in traffic the fare will just keep going up. Once you sit in the taxi you've already spent $2.50.
The Subway/Bus  is not always perfect but for the price it really is terrific.  A subway or bus ride costs $2.75 to get anywhere. You could literally go from the Upper West Side to Brooklyn or from Queens to the Seaport for the same low price of $2.75.
The Ferry system. Yes, you heard me NYC has a ferry system! This is a wonderful option to stay above ground and see the city from the water for the same price as a subway ride.
If you are in NYC for a week you can buy an unlimited 7 day subway/bus pass for $33. It's worth it if you're going to ride the subway more than 12 times during your 4 days in New York City.
Where to Stay for 4 Days in New York City
You'll want to stay somewhere central to everything you want to see, especially if it's your first time in New York. I'd suggest somewhere in midtown or lower Manhattan. People love to ask for a "cheap" hotel, but those really don't exist and if they do you probably don't want to stay in them! However, there are some budget options so don't fear!
Budget –  Soho 54, Pod 51, Pod Times Square, The Jane Hotel
Average – Yotel, Moxy, Freehand Hotel
Luxury – The Nomad Hotel, The Plaza, Gramercy Park Hotel
Must Try Foods in New York City
When you think of New York you must think of all the food! We are most famous for our pizza, bagels and burgers along with plenty of international cuisines.
For Pizza in NYC
Artichoke Pizza for the most decadant slice of well, artichoke pizza. No red sauce on this slice just creamy artichoke sauce.
Joe's Pizza for your classic New York slice.
Prince Street Pizza serves a perfect square pepperoni slice.
For Bagels in NYC
Ess-a-bagel for old school bagels. Choose from dozens of cream cheese flavours, smoked fish or reuben.
Russ & Daughters is a Jewish bakery and cafe best known for bagels with lox.
For Pastrami in NYC
Katz Deli for the best pastrami you'll ever have. It's actually a little intimidating walking in here. When you enter the deli  you actually walk through a turnstile. You get on line at one of the "cutters" who are standing behind a raised counter and tell them what you want. The sandwich is $25 but you can probably share it, they give you a ton of meat with 2 pickles on the side.
For a Burger in NYC
Emmy Squared for the best burger in NYC. Two dry aged beef patties in a pretzel bun. The most refined meat you will ever eat. The quality of the meat and richness coupled with the toppings make you savor every bite.
Raoul's for a French take on the burger. They only serve 12 a day and you must be sitting at the bar. Arrive when the bar opens at 5:00 to snag your seat. They start taking food orders at 5:30.
Shake Shack is the best fast food burger in my opinion. Go to the original location at Madison Square Park which has outdoor seating only and a view of the Flatiron Building.
For Pasta in NYC
Bar Pitti is a classic spot for home made pasta and Italian favourites in a casual setting. They don't take reservations which I kind of love. The first time I went here I ended up sitting next to Uma Thurman!
How to see New York in 4 Days:
Day 1. Uptown Manhattan + Times Square
Central Park
Start your morning off at Central Park. Loeb Boat House, Bethsheda Fountain, Bow Bridge and Alice and Wonderland statue are all quite close to each other.  You can enter on East 72nd Street to see them all.
Loeb Boat House – The row boats are seasonal and only open from 10 until sundown. I've gone there for about 11:30 and didn't have to wait too long. The row boats are $15 for 1 hour plus a $20 deposit. CASH ONLY
Bethsheda Fountain is a beautiful fountain with 2 sweeping staircases on either side. You'll definitely recognize this spots from the movies!
Bow Bridge is another classic spot. It's a cast iron bridging acting as a connection between the two sides of the lake.
Alice and Wonderland Statue
Belvedere Castle 
Food in/near Central Park
Food inside the park consists of hot dogs or pretzels carts. There is a restaurant at Loeb Boat House and there is also Tavern on the Green. They are both classic American restaurants mid range to high end. This is the theme for many of the restaurants surrounding Central Park as well. If this is not your taste it may be worth grabbing bagels and snacks before you enter the park. There is also a food market at Colombus Circle called Turnstyle Underground Market with a variety of options.
Museums
The Met or Metropolitan Museum of Art. $25 admission Fee.  Located on the Eastside of the park. If you plan on doing many of the top attractions and museums it may be worth purchasing the New York City Pass. Fast travel option at many locations to skip the line!
National History Museum – Entrance to the museum is on a "pay as you wish" basis. This museum is located on the west side of the park.
Times Square + Broadway Show
Can you really spend 4 days in New York without seeing Times Square and a Show?! I like going to Times Square at dusk because it's amazing to watch the lights come alive, however it will be very busy around this time. If you are planning on seeing a show give yourself ample time to get there. You can prebook your tickets or take a chance at the discount ticket booth in the middle of Times Square.
How to see New York in 4 Days:
Day 2. Midtown Manhattan
Start of with a walking tour as it's a great way to get your bearings and learn some interesting facts about New York. There are so many options from history tours to food tours or very niche ones like a Superhero tour. Or you can self guide yourself to all of these top attractions. I've listed the locations in the order of North to South.
Radio City Music Hall is a performance venue where you can see a variety of shows. From the Rockettes to comedy to musical stars.
Rockefeller Center
Rockefeller Center is home to Top of the Rock Observation deck and ice skating rink. This is the where the famous Rockefeller Tree is housed every holiday season.
Grand Central
A walk through Grand central is a must! This massive commuter hub has a gorgeous main hall with a starry blue sky. Restaurants and bars are scattered through out including Cipriani, Grand Central Oyster Bar and The Campbell Bar.
Choose between the Empire State Building or the Top of the Rock for an amazing view. Both expensive but it's the kind of thing everyone wants to see once. However, I don't think you need to do both. The Empire State building just had a massive renovation but if you want to actually see the Empire State Building in your view than the top of the Rock is a better option. If you don't feel like spending the money you can always just pay for a cocktail at one of the many rooftop bars.
Madison Square Park
Madison Square Park is one of the prettiest areas in Manhattan and one of my favourite locations to take photos. It's home to original Shake Shack and has a perfect view of the Flatiron Building. Eataly is also across the street if you're in the mood for Italian.
See a sports game in the evening for the ultimate NYC atmosphere.
Mets of Yankees (baseball) – From late March/early April through late September/early October.
Knicks (basketball) – From October through April.
Rangers (hockey) – From October through April.
Jets or Giants (football) – From September through December.
How to see New York in 4 Days:
Day 3. Lower Manhattan
Financial District
The Seaport District is a historic and seriously cute part of Manhattan. There are restaurants, shopping and experiences going on year round.
Statue of Liberty
From Battery City Park you can take a ferry right over to the Statue of Liberty and Ellis Island. You get two for one with this tour!
Happy hour drinks in Financial District
Stone Street – A pedestrian cobblestone street in the financial district.
Dead Rabbit- Consistently winning best bar in the world.
How to see New York in 4 Days:
Day 4. Downtown Manhattan + Brooklyn
I've added Brooklyn to the list because it really has become so popular. Gone are the days that a trip to New York means only visiting Manhattan. If you only have 4 days in New York it's difficult to explore the other boroughs too much, but squeezing in Dumbo and Williamsburg is totally doable.
If you're feeling up for it downtown is another great location for a walking tour. It's a very diverse area of  NY and is where the best food is! I've listed some notable places to eat here but obviously there are soo many more.
Maman
Russ & Daughters
Butcher's Daughter
Katz Deli
Raoul's
Emmy Squared
Balthazar
Momofuku
Chelsea
Chelsea Market has a ton of artisan shops and food. Shop at Artists & Fleas then grab a lobster roll. The Highline is one of the most incredible urban parks in the world, and somewhere that both locals and tourists enjoy. The Highline is 1.45 miles long elevated park on the West side.  This is a FREE attraction. My favourite part of the highland is actually right near Chelsea market. Enter the Highline on 16th street for some epic photo spots.
West Village
Trendy area for clubs and restaurants. Home to the  "Meatpacking District" a popular clubbing area.
Soho
Soho is here the fashion crowds hang out. Designer stores and trendy bars fill the streets.
Chinatown
Known for hand pulled noodles, bubble tea and Canal street shopping.
Brooklyn Bridge
Take a walk over the Brooklyn Bridge from Lower Manhattan to Brooklyn. I like to do this myself every few months! It will take you about 1 hour to walk over the bridge. Please don't walk in the bike lane, you will get yelled at by commuters!
You'll have the option of seeing the Brooklyn Bridge and the entire skyline when you get to the other side and explore the Dumbo area.
Brooklyn
Dumbo
Time Out Market – Hand selected food joints by the editors of Time Out Magazine all under one roof.
Washington Street Vantage Point – Arguably one the most Instagrammable places in NYC.
Amazing views of Manhattan Skyline line this part of Brooklyn. You need to get out of Manhattan to truly see it all!
Williamsburg
is the trendiest neighbourhood in Brooklyn. Brooklyn Brewey, Smorgasburg, vintage stores and plenty of bars and restaurants to keep you busy for the rest of your day and night! Here are a few notable bars and restaurants in Williamsburg.
Pies and Thighs
Sunday in Brooklyn
Maison Premiere
The Bedford
Skinny Dennis – A live music bar and one of my favorites in all of NYC .
The Knitting Factory
Freehold
The Water Tower
The Woods
Evening Activities in NYC:
See a sports game – Baseball/Hockey/Basketball/Football
Go to a Broadway Show
See a Comedy Show
See Live Music
Rooftop Bars- Typically open air rooftops open sometime in May.
Seeing New York in 4 Days not enough for you ?
Add these to your NYC itinerary:
Manhattan:
Roosevelt Island is a great spot to visit in the spring when the cherry blossoms are in season.  Make it an adventure by travelling across on the cable cars  from Second Ave and East 60th St. Use your Metrocard just like you would for the subway.
Queens:
Astoria is the trendiest part of Queens right now, known for it's Greek food!
Flushing has the second biggest Chinatown in NYC and it's definitely a place for foodies.
Long Island City is an up and coming area with quite a few good breweries to check out! MoMa PS1 is also here which hosts music events in the summer. Head to East River Park for a view of Manhattan.
The Rockaways are home to the best of NYC's beaches. The best way to get here is by taking the ferry! Jacob Riis Park is one of my favorite spots because of the other amenities and food it has.
Brooklyn:
Greenpoint is a great alternative to Williamsburg because it's still a little under the radar. Try hanging out on the Barge if its a nice day.
Prospect Park has plenty of events like Smorgasburg and Prospect Park Soiree.
Coney island is a classic boardwalk and seaside neighborhood with it's famous Cyclone Rollercoaster and Nathan's hotdogs.
Check out Get Your Guide for a tons of ideas of tours and attractions in NYC.