What to do in NYC in Winter : A Full New York Winter + Holiday Guide
NYC in Winter can be a magical time! The days between Thanksgiving, Christmas and New Years Eve in NYC are the most busy, but so much fun. It officially kicks off with Thanksgiving and Black Friday which rolls right in to The Christmas tree lighting at Rockefeller Center. By this time Christmas Markets,  Ice skating, and Holiday parties are popping up everywhere. Check out this full New York Winter + Holiday Guide.
What to wear in NYC in Winter
The coldest months of the NYC winter are December, January and February so make sure you're prepared! Temperatures can drop below freezing and you may even get some snow! Of course you should check the forecast before you go but usually, you'll need:
Multiple layers
Thermals
Boots
A sturdy Winter jacket (preferably waterproof)
Earmuffs or a hat
A Scarf
A pair of gloves
Must Sees in NYC anytime of the Year
For a full guide on how to see NYC in 4 Days see my NYC Itinerary. I grew up just 50 miles from NYC and have been a full resident for over a year now. Included on the guide are some of these major attractions listed below plus plenty more! My NYC itinerary gives you tips on everything from getting around to where you should stay and what to do in the evening.
Central Park
Rockefeller Center
Empire State Building
Wall Street
Museums
Statue of Liberty
Events & Pop Ups during Winter
There are plenty of fun events in NYC in Winter so make sure you do your research and book in what you don't want to miss.
Macy's Thanksgiving Day Parade 
The famous parade starts at West 77th Street & Central Park West at 9AM but there is limited public views here. Early risers camp out starting at 6AM on the west side of Central Park West from West 75th to West 59th Streets. The parade follows the edge of the park South until Colombus Circle where it goes east to then head down 7th Avenue.  It all ends at the famous Macy's at Herald Square!
*Avoid watching on 6th Avenue between West 34th and West 38th Streets & on West 34th Street between 6th and 7th Avenues. The national television broadcast limits viewing here.
I feel like this is the event that says : The Christmas season has commenced!! The 2019 tree will be lit for the first time on Wednesday, December 4 on Rockefeller Plaza. Each year, thousands crowd the sidewalks for the event and millions watch the live broadcast. The tree will remain lit and on display on the plaza between West 48th and 51st Streets and Fifth and Sixth Avenues through Friday, January 17, 2020.
 Sadly, this event is no longer frequented by my friends.  Apparently, it's looked down upon to go to Santacon if you are pushing 30. Hell, I may still attend this year anyway! Everyone dresses up as a Christmas persona like Santa, a reindeer or an elf and participates in a massive day bar crawl through the city starting at 10am. SantaCon is FREE to attend, however, to get into all the big venues you MUST make charitable contribution of $13 on the authorized Eventbrite ticket page The start location is always disclosed to all people who make donation, on Santacon.nyc and on @Santacon Twitter the night before.
Hockey is my ultimate favourite sport to watch live! It's so fast paced and exciting and with Madison Square Garden at the centre of Manhattan its a no brainier.
New York's Premier Winter Wine Event to transport you out of the city into the wine regions of the world.
Ice Skating in NYC in Winter
 The classic rink which you can look down on to from ground level.  Hopefully I will make this year my first year skating there! Their general admission is first serve unless you book a special skate package.
At the bottom of Central Park is Wollman's Rink. It's got an amazing view of the buildings on Central Park South. Twilight is a magical time at this location.
 This is NYC's only admission free skating rink! It's open daily 8am to 10pm and is surrounded by the Winter Village Market. Although admission is free you still need to pay for locker or skate rentals.
Window "Shopping"
Even if you can't afford whats inside it's nice to look! View the beautiful window displays at iconic stores like Sak's, Macy's, Cartier. All of these shops are relatively close together so it's pretty easy to see them all. Saks Fifth Avenue, Cartier, Bergdorf Goodman, Barney's and Bloomgindales are all within a square mile.  Macy's is just a bit south in Herald Square.
I just love how classy the Cartier bow looks!
Light Shows/Tours
( Nov. 20th, 2019 to Jan. 12th, 2020)  In it's second year, the NYC Winter Lantern Festival is on Staten Island and consists of hundreds of beautiful lanterns. They also have food vendors serving yummy snacks and hot drinks.
(Nov. 23-Jan. 5) An Immersive Wonderland of Lights on Randall's Island Park.
Saks Fifth Ave Holiday Light Show
(begins  Nov. 25) Gorgeous window display and evening light show. Across from Rockefeller Center.
*Saks will hold an immersive experience inside the store titled "Disney's Frozen 2 Enchanted Forest Experience," from November 26 through December 24
Many people hang their lights in this area of Brooklyn the weekend after Thanksgiving. You'll see breathtaking light displays from 11th to 13th Avenues (also known as Dyker Heights Blvd) from 83rd to 86th St in Dyker Heights, Brooklyn. (Photos from this location coming soon!)
Shows
It's always nice to see a classic Christmas show to get you in the spirit! These are the top 3.
The Christmas Spectacular featuring: The Rockettes :  Radio City Music Hall // Nov 18, 2019 — Jan 5, 2020
The Nutcracker : Lincoln Center // Nov 29, 2019 — Jan 5, 2020
A Christmas Carol : Lyceum Theatre // Until Jan 5 2020
Winter Markets in New York
Markets are the best for shopping and eating at the same time. You know I do love my food! Popups are always so much fun and it's ideal having a hot chocolate or mulled wine in hand while buying Christmas presents. All of the markets are filled with artisan gifts and tasty treats.
Treats from Bryant Park Winter Village and The Lodge:
Restaurants and Bars
Who doesn't love an Alpine or Christmas themed bar or restaurant during the Holidays?
Rolf's – (located in Gramery Park) A German restaurant who's Christmas Decor reigns supreme! We love meeting friends here during the holidays. They keep the Christmas decorations up until May.
230 Fifith Ave. –  Igloos on the roof  at 230 Fifth Ave. keep you cozy so you can still have your view of the Empire State building.
Eataly Birreria : SERRA ALPINA – (inside Eataly Flatiron) This rooftop looks good no matter the time of year. Each season it has new decor and a new Italian menu to match.  Enjoy rustic Italian food in a winter wonderland.
Winter Garden at The Standard – (East Village) The perfect, and possible only place in the city to get cozy in heated alpine yurts with spiked hot chocolate, gooey fondue and freshly baked cookies. Great for groups!
The Lodge at Gallow Green – (McKittrick Hotel in Chelsea) Known for bringing the drama, I can't wait to see what Gallow Green has in store for it's winter lodge this year.
Tiny's – (Tribeca)  Located in a historic cute pink townhouse, Tiny's is a NYC gem.  A super cozy spot to warm up with friends.
Tip: Peak hours will be extremely busy. It's best to make reservations if you can ahead of time.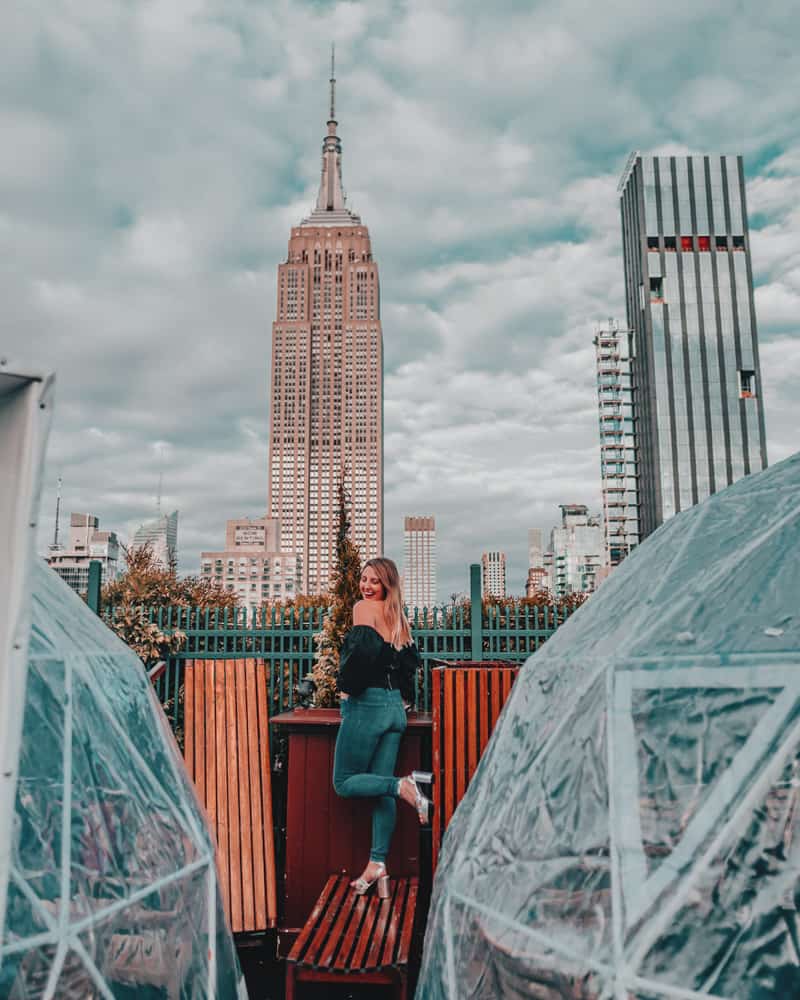 Trees you Must See!
Christmas Trees are scattered all across the city with the most famous one being at Rockefeller Center. This year I'm trying to see them all! –Photos to follow 😉
Rockefeller Center
Lotte New York Palace
Seaport District
Madison Square Park
Wall St. New York Stock Exchange
Washington Square Park
I hope you found my NYC in Winter Guide helpful! As always, feel free to pop any questions in the comments!
Want more Holiday tips? Food and Drink Guide to the Holidays in NYC.