We embarked on a mini road trip starting from from Las Vegas and ending at Coachella Music Festival.
Two nights spent in Las Vegas was enough for me to realise this place could empty your pockets pretty damn quickly. The first night we met up with a friend at the Friedmont Street experience in downtown Las Vegas. It was a slightly more relaxed vibe than the strip and we were happy with our $5 mojitos. In the morning we took a 30 minute ride over to Red Rock Canyon for some sick scenery and walks. That night was our 'big' night out on the strip. Obviously meaning we walked around with drinks we bought in the convenient store and accidentally gambled our $20 on one push of a button. We did manage to get free Afro jack tickets from a rep so we headed to the club about 12:30. However, even if you had a ticket you had to queue up on line that was around the block so we called it a night and prepped for our early morning departure.
Just outside of Las Vegas we stopped at an art installation called the Seven Magic Mountains. It's basically neon painted boulders in 7 stacks. Great for some fun photos!
I like taking the scenic route so instead of cruising the highway from Vegas to Palm Springs we drove through the Mojave desert and were basically the only car on the road. It was the most relaxing drive I've done, maybe ever. We made it to Joshua Tree National Park for lunch time and had a couple hours there to see it, could have done with a whole day or overnight excursion there really!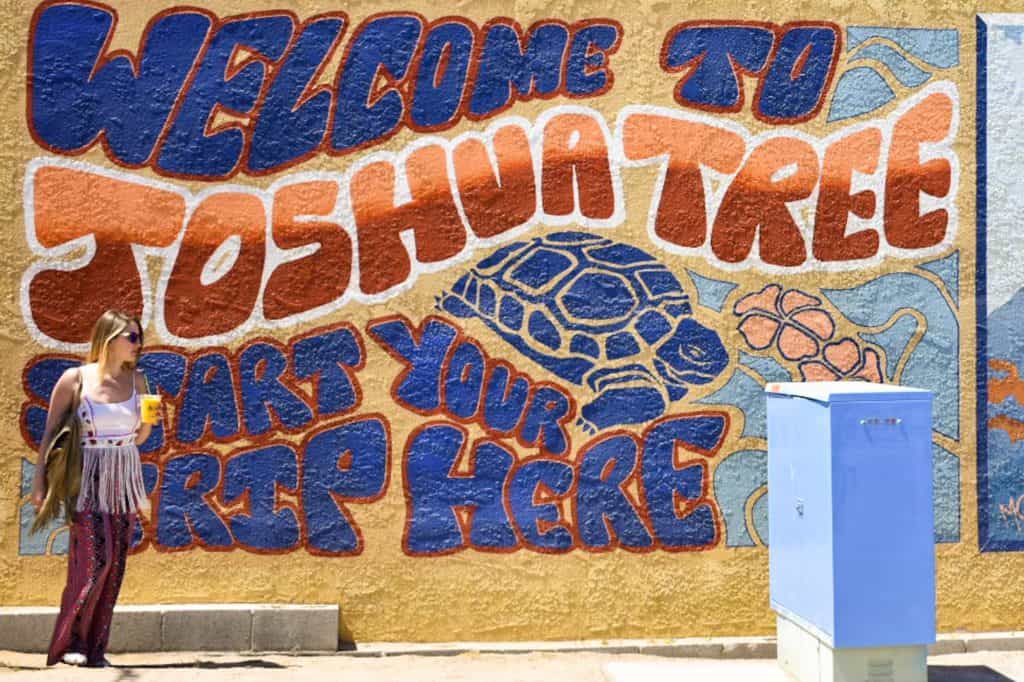 We arrived to Palm Springs by the evening, had a few cocktails at Lulu's California Bistro. It's s cool bistro with open air seating perfect for people watching. We went on to have a fresh sand tasty dinner at the fish market around the block. The seared Ahi Tuna Tacos were lush. Palm Springs is a very manicured place. Palm trees line all the streets and there are lots of boutiques and nice restaurants. The next day we road the cable cars 8000 ft to the top of Mt. San Jacinto for the views of the valley. The Palm Springs aerial tram is the largest rotating tram in the world.
Coachella crunch time was upon us. We made our Walmart stop on the way out of Palm Springs and put our artistic skills to the test by decorating the car for the Carpoolchella competition. Anyone traveling with 4 or more can win lifetime VIP tickets just for decorating their car. Unfortunately, we did not win but we can't say we didn't try.