A big part of Summer in New York City actually means leaving it behind at every possible chance.
It's common practice for New Yorkers to leave the glorious city on the weekends in summer. Many of them flock to Long Island, better yet the (in)famous "Hamptons" to lounge on beaches, eat seafood and party on sand rather than concrete.
Reason : the heat.
The city can get really really hot. When people are hot, they sweat. If you sweat a lot, you might smell bad. A lot of sweaty smelly people, I think poses reason enough. "If you never have to bear a subway car at 95 degrees with everyone stuffed in it like sardines, then don't."
The Hamptons were not always 'The Hamptons'. It used to mainly be farm land. According to the Hampton historical society it was the building of the rail road in 1840 that changed things. It gave convenient access to city dwellers who flocked to the quaint beach towns.
The Hamptons are made up of two towns, East Hampton and Southampton, with a handful of hamlets throughout.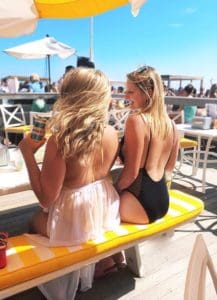 On my last visit to New York I went on a spontaneous cousins trip to Montauk, also known as 'The End' because it's at the tip of the island. We stayed in a motel a block from the beach called Daunt's Albatross Motel. It was pretty much the only room left as we did it last minute, but we ended up being pleasantly surprised. It came with a kitchenette, free wifi, a porch and continental breakfast as well as being walking distance to the beach.
It's also popular to partake in what's called a summer house share. Many New Yorkers do this with a group of friends in order to have a hang out haven at your fingertips throughout the summer.
If you aren't able to make it away for the weekend there's always going to a boat bar in Manhattan, Grand Banks is one especially known for is Hampton-esque qualities Or you could opt for one of the many rooftop pools –although it's not quiteee the same.