Where to Stay in San Juan
Boutique escapes might not the first thing that comes to mind when booking at trip to Puerto Rico, but it should be! Check out these two amazing places to stay in San Juan:
Sister hotels Olive Boutique Hotel and OLV:55 are located right across from each other on Condado in San Juan and are the ultimate compliments to each other. Whether you prefer modern and glamorous or globally inspired rustic chic they have got you covered. Stay in either and you are welcome to use the facilities in both hotels.
The location couldn't have been more ideal. The hotels are set perfectly overlooking Condado Lagoon, and steps away from the oceanfront on the other side. Each hotel is carefully designed and though very different, have a clear sense of luxury, personality and style.
Olive Boutique Hotel
I would argue that Olive Boutique Hotel is not just a "hotel" but a collection of memories and inspiration curated by the owners Louisse Herger and Fernando Davila. The hotel staircase is filled with travel photos of the couple and really brings it home. You feel a closeness to the place because of these personal touches. This incredible hotel is part of the Small Luxury Hotels of the World and  a real gem.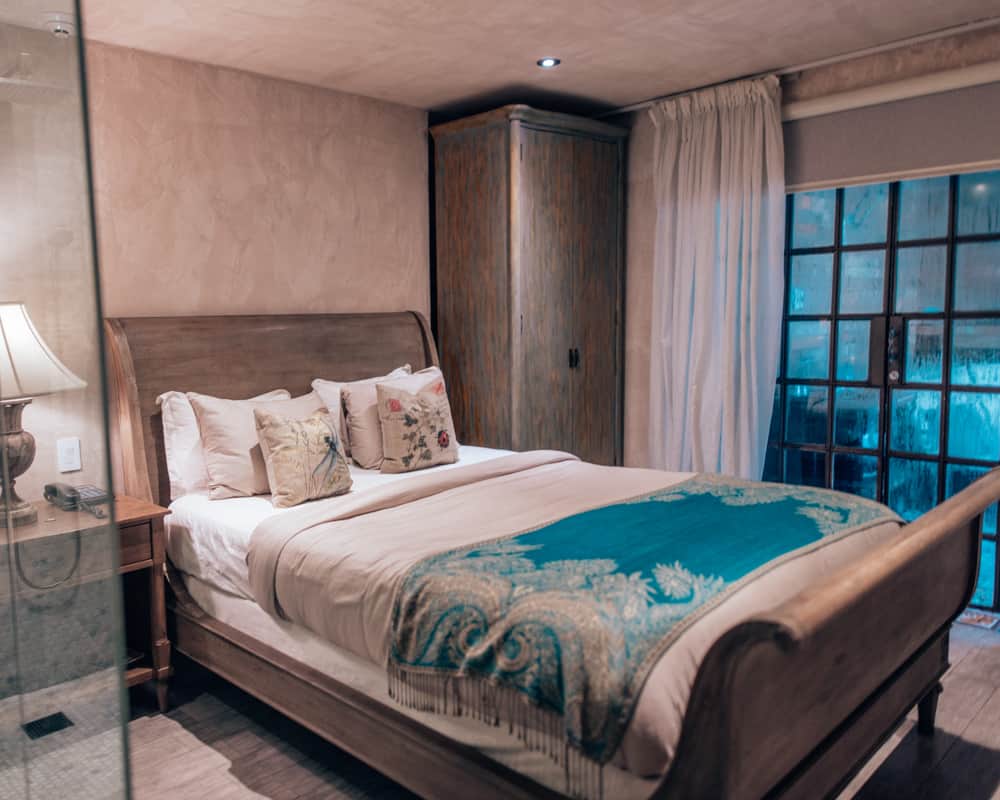 I had the chance to meet Louisse and it was wonderful to hear her talk about the hotels she and her husband have dreamed into reality. She said if she is not at one of her hotels, she's out traveling the world!
Olive Boutique Hotel consists of only 15 rooms. It's the type of place where the staff knows your name and are ready to meet your every need. When we asked to borrow a beach towel they had already nicely packed up a canvas bag with 2 towels and waters.
Amenities at Olive Boutique Hotel include a rooftop hideaway with a plunge pool and bar, a delicious steak house, sitting garden, and watersports. One of the staff at reception will gladly help you arrange reservations or excursions during your stay. I was tempted by the El Yunque Rainforest trip but just didn't have the time for it!
The biggest  highlight of my room was most definitely the tiled patio complete with a stone bath. Pull back the curtain for a peak at the sun setting over the lagoon.
OLV:55
OLV:55 is the newer if the two establishments and has quickly become an industry favourite winning The Best Design Hotel of the World and Best New Boutique Hotel by London's Boutique Hotel Awards.
Dine, sunbathe, take a dip in the pool or treat yourself to a massage, all on the roof! Their pool might just be the sexiness thing I've ever seen!
Thank you to Louisse and the staff at Olive Boutique Hotel and OLV:55 for making my stay in San Juan so memorable! As always all opinions are my own.