Blue Lagoon Malta Guide
The Blue Lagoon in Malta might be one of the most underrated natural attractions in Europe. It's certainly one of the most amazing places I've ever been, and getting there is half the fun!
This complete guide contains everything you need to know on how to day trip to Malta's Blue Lagoon, a crystal clear, turquoise swimming pool off the island of Comino.

Where in Malta is the Blue Lagoon?
The Island of Comino (Land of Cumin) previously known as 'Ephaestiais" is only 3.5 square kilometres in area and is home to this incredible natural Maltese gem. It's part of the three-island archipelago of Malta and by far the smallest and least populated of the islands. Comino is only inhabited by three people and has just one hotel called the Comino Hotel. The only way to explore Comino is by foot or 4×4 , but there are only a handful of cars allowed on the island. The terrain is rocky and a little dusty but relatively flat overall.
The many wildflowers and herbs that occupy the land give off pleasant scents that collide with the sea breeze, making you truly feel like your in nature's paradise. Besides the Blue Lagoon, there are a few other places you can visit on Comino including some Maltese historic sites and hidden coves.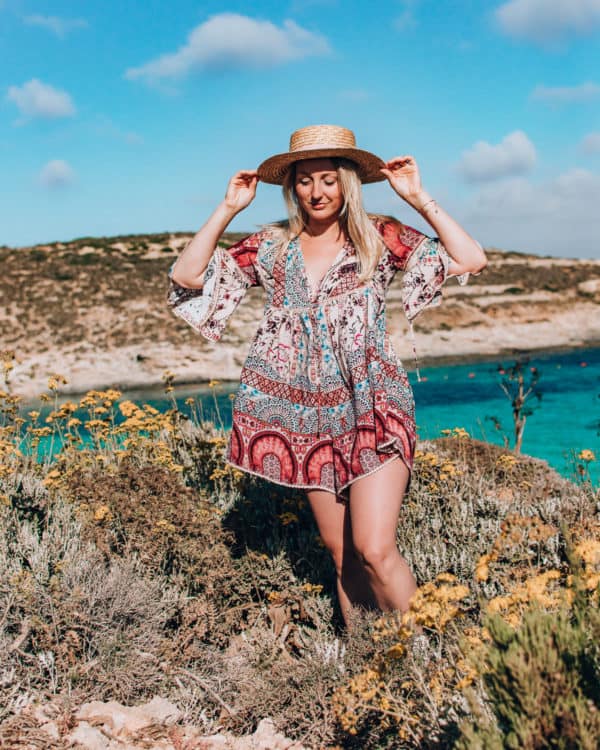 How to get to the Blue Lagoon
The three ways you can get to Malta's Blue Lagoon is to either take a boat ferry, take a full day boat day trip/tour or charter your own boat. The ride is absolutely stunning as you cruise through the mediterranean and pass by sea cliffs and caves. I've tried a day trip as well as one of the boat ferries, but haven't had a chance to charter a boat for the day yet! That's definitely how I want to get there next.
Boat Taxi/Ferry
Boat Day Trip
Charter Boat
Comino Hotel also has a ferry service which is open to non hotel guests.
Boat Day Trips
Departure Locations: Bugibba Jetty, Sliema Harbour, St Julian's
Departure locations for boat tours are from either the Bugibba Jetty or Sliema Harbour or St. Julian's all of which are some of the most touristy parts of Malta. You can get to these locations on the bus from most areas of the island.  Some tour groups can provide transport from your hotel to the start location at a, usually nominal, extra cost.
Boat Trip Tips
Most of the tours stop at multiple locations, including caves, snorkeling spots and sights, so if you are looking for maximum time at the Blue Lagoon in Malta this may not be the best option for you. However, if you are fond of the idea of a tour and visiting various places in one trip then have a look at the tour options. Prices vary substantially, with options for all budgets. The most expensive option being a charter boat and the cheapest being the ferry boat.
Be aware, that some of the smaller tour boats don't have much shade or space on board. They are especially packed in the peak days and can be a little inconsistent on timing.
Boat Charter Companies
Boat Tour and Charter Companies
Sail Gozo departs from Gozo for the Blue Lagoon and is a small private yacht that fits up to 8 people and includes snacks and drinks. Prices from 300 euros.
Hornblower Cruises offer a few different tour options for an all day affair. Price is 20-25 euros per adult. You can use the facilities on the boat while being docked and there is even a water slide! Food and drink are available on the boar but not included in the price.  Tours leave from the Bugibba Jetty.
Sea Adventures Excursions is a family run Maltese company offering boat tours at 20 euros.
Captain Morgan Cruise to the Blue Lagoon departs at 10am and returns at 5:30. Tickets are 30 euros and a cash bar is available on board. This cruise leave from Sliema.
Latchi Boat Cruises offers a smaller glass bottom boat cruise to the Blue Lagoon. They have a morning, afternoon and sunset session. Wine, juice and fruit are served while docked at the lagoon.
Aquamarine Sports offers power boat trips around all three islands of the Malta Archipelago. You get to see a lot on this tour but in my opinion it does not include enough time at the lagoon.
Hello Malta offers tours to the Blue Lagoon that include time on sea and land in multiple places. Not the best option if you were hoping for a full day at the lagoon. Boat charters also available.
Ferry to the Blue Lagoon
Departure locations : Cirkewwa + Marfa Bay, Mgarr
Ferry boats leave from Cirkewwa + Marfa Bay, Malta to Comino or Mgarr, Gozo to Comino. The ferries from Cirkewwa usually run every 30 minutes and to an hour is about a 30 minute journey. Conveniently, the ferries drop you off meters from the Blue Lagoon. The ferries are the best option to maximize time at the Blue Lagoon and have a flexible day. Check online for discounted ticket rates.
Since I was staying on Gozo for a couple of nights I took the ferry from there to the Blue Lagoon. I took the first ferry and managed to get there before almost anyone else. I assume there would be more tourists leaving from Malta so this could have worked in my favor.
Ferry Companies:
Comino Ferries – First departure from Malta is at 8:30 am and last departure is at 3:30. A round trip ticket is 13 euros.
Comino Ferry Service  – First departure from Malta is at 9:10 am and last one is at 3:10 pm. The cost of a roundtrip ticket is 10 euros.
To get to the ferry port on public transportation check the information for the bus schedule. For reference, the bus(11) ride from Paceville to Cirkewwa takes abut 1 hour. The bus costs 2 euros each way.
Things to Do
There is more to do in Comino, Malta than to just visit it's blue lagoon and since Comino is a small landmass it's easy to go off and explore.  Make sure you bring water and sun protection with you on your adventure, the midday Mediterranean sun in Malta is extremely hot and there is little to no shade around the island. This is where you'll want your sturdy shoes for the rocky pathways.
Map of Comino Island and the Blue Lagoon:
Hike around Comino, Malta: Santa Marija Bay + Niklaw Bay + Crystal Lagoon
Visit Santa Marija's (Saint Mary's) Bay, Caves, and Tower. Saint Mary's Tower was restored in 2002 and is one of the top attractions on Comino. It's a seventeenth century fortification structure utilized by the Knights of Malta whom guarded the coastline.
See San Niklaw Bay. Hotel Comino overlooks this bay. It's a great spot to get lunch and look out over the beauty of San Niklaw Bay.
Find the Crystal Lagoon near the Blue Lagoon.
Snorkel in the crystal blue waters
If you have you have your own equipment than the world is your oyster! Snorkel around the Blue Lagoon or in other parts of Comino island.
Go cliff jumping
You're sure to notice people huddling around certain areas near the Blue Lagoon, waiting for their turn to jump.  If the main jumping area is too busy, walk around to the right. (looking at the beach onto the lagoon) You'll have to take the path behind you. Walk for a few more minutes and you'll likely see the Maltese with deck chairs nest to a small cliff jump.
Have lunch at Hotel Comino
Snacks are served  at Hotel Comino throughout the day which can be taken out onto the terrace to enjoy a view San Niklaw Bay while you eat.
Windsurf or kayak with a tour
Kayak Gozo
Sea Kayak Malta
Hop on a 4 x 4
You may see a guy in a 4 x4  who can get transport you to the other parts of the island. Great option if you're pressed for time and want to see the Blue Lagoon as well as some of the other spots on Comino.
Do some Watersports
Near the food vendors at the Blue Lagoon you'll see people marketing their watersports. Options include riding a Banana boat or parasailing.
Go Scuba Diving
Spots like Lantern Point attract divers to the island of Comino. Comino Dive Center is located on Comino and is a Padi Dive Center.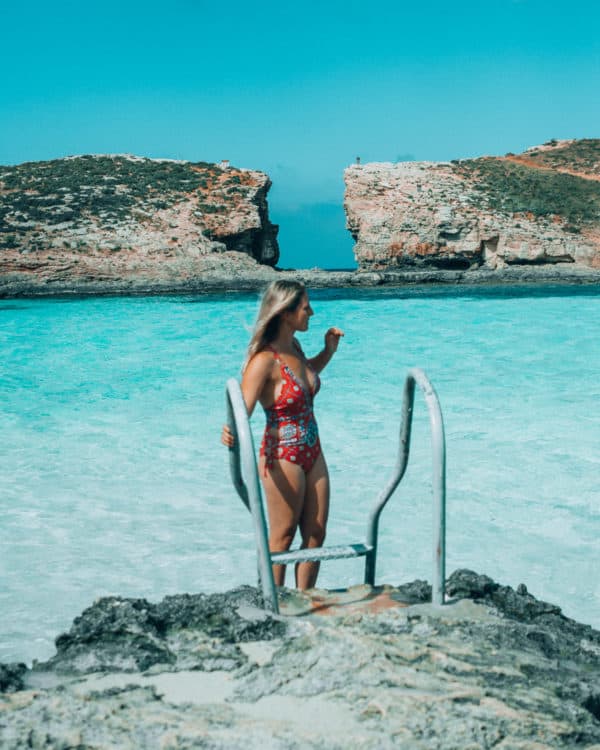 Amenities on the Island
The amenities are pretty sufficient considering the Blue Lagoon in Malta is a natural "pool" and Comino is not the easiest to get to.
Life guards at the Blue Lagoon are on duty from 9:30am to 6:00pm daily.
Public restrooms and outdoor showers nearby(not the cleanest).
Water and other drinks for sale.
Chairs + umbrellas to rent.
There are food and beverage vendors at the Blue Lagoon serving salads, burgers, fries, and even cocktails. I was pleasantly surprised to pay 7 euros for a really fresh salad with chicken that was grilled to order— I can't say that happens later on in the day when its much busier but I was very content with it!
There is also the option of eating at the Comino hotel, even if you're not a guest.
There's another area to hang out on in Santa Maria Bay You can book a pick up inclusive of a sun bed rental.
You can What to Pack for your Day in the Sun
There are no trees at the Blue Lagoon in Malta and therefore no shade, unless you've rented an umbrella. Make sure you come prepared to spend the day in the sun! Malta can feel scorching hot in the middle of summer.
Swimsuit!!
Towel to dry yourself off. There aren't many places to lay the towel down flat. Don't expect a normal beach.
Sun Protection – Sunscreen, hat, sunglasses
Snacks – There will be snacks available but it doesn't hurt to bring some with you!
Sturdy shoes for exploring Comino and walking on the rocky shores.
Reading material or playing cards.
Snorkeling gear.
Water – Again, there are vendors there but the prices may be inflated.
Change of clothes for after you're done swimming or if you want to eat at Comino Hotel.
Flip flops for use in the showers.
Water shoes can be useful for cliff jumping or walking around the rocky terrain.
Bring a floaty to laze in the Blue Lagoon.
Is the Blue Lagoon worth it?
At the start of this blog when I said this was an underrated attraction, I didn't mean it wasn't filled with tourists. I just meant it's not as known of a location, to American travellers at least, as say the Blue Lagoon in Iceland.
Be prepared for crowds.
The Blue Lagoon does get very busy, like extremely busy, especially in summer and on the weekends.  The ferries can get annoyingly hectic and stressful. And the beach isn't actually very big. If crowds aren't your thing this may have be something you skip. Personally, I do everything to avoid crowds when I travel and have become pretty good at doing so.
On the other hand, it's an incredibly scenic location and with the minimal infrastructure maintains it's natural appeal. So if you want to give a go, follow my tips for a more enjoyable trip. Otherwise, it may not be worth it, especially if you stress easily and aren't able to take the good with the bad.
Visiting the Blue Lagoon could also be an issue for people with mobility issues as the terrain can be uneven, rocky and slippery so please keep that in mind.
Top Tips for a Successful Day Trip
Arrive at the lagoon as early as possible. Tourists descend on the Blue Lagoon more so during the months of July-September as well as over weekends. Come during the week and in the off season.
Bring CASH in case you want to buy anything from one of the vendors selling food, drinks and water toys.
The Blue Lagoon has a rocky beach, but there are chairs and umbrellas to rent. If you don't want to pay, use the rocks as a natural chair. Secure your rock spot quickly with your towel as these spots will get taken.
Bring snorkeling equipment if you have it. The Blue Lagoon in Malta is shallow for quite a far way out and the water is very clear. This is also a great way to get away from the over crowded beach.
Swim and get you photos in the Blue Lagoon early. During the busier time of the day, you can go and explore other parts of Comino.
Think about spending a night on the island and taken advantage of the hours when the tour boats and ferries have all left the Blue Lagoon.
Don't try and cram your trip to Blue Lagoon into a short window of time. Leave room for wait and travel times.