Things to Do in Oahu, Hawaii: A Complete Travel Guide
If you're just starting to plan your trip to one of the most beautiful islands in the United States but don't know where to start, I'm here to help. Below is a travel guide to the island of Oahu, Hawaii, that includes everything you need to know while planning your next vacation.
About Oahu, Hawaii
Set almost 2500 miles off the coast of Los Angeles and 5000 miles from Australia, Hawaii is the perfect destination for thrillseekers, luxury vacationers and nature enthusiasts. The Hawaiian Islands consist of eight major islands, several atolls and smaller islands. However, no matter which island you visit, the one thing you'll notice after the breathtaking beauty is the strong culture consisting of both Polynesian and Western influences. So, before you travel to the Hawaiian Islands, below are a few basic facts to know before you go.
Brief History:
Hawaii was first settled by the Polynesians over 1500 years ago and didn't get colonized by the United States until 1893.
Official Languages: English and 'Ōlelo Hawai'i
Main Islands: Maui, Kauai, Oahu and Hawai'i
Read more about Hawaiian culture here.
Basic Travel Tips
Currency: US Dollars
Capitol: Honolulu
Best Time to Visit: April, May, September, October
Drive on the right side
Electrical Outlets: 120V supply voltage and 60Hz, A, B plug types
Other Things to  Know
Hawaii has strict open container laws. While sitting on the beaches of Oahu, make sure to pour any alcoholic drinks into cups, especially if you're on a populated beach. The cops are known to frequently ticket those openly drinking.
Although English is widely spoken, you're bound to hear several Hawaiian phrases. Aloha means both hello and goodbye. Mahalo is thank you.
  If traveling during the winter months (November through February) be very careful when in the ocean on the North Shore of Oahu. The surf can be extremely dangerous so make sure to check before heading to the beach.
 Just like when traveling to any place, beware of your belongings and don't leave anything unattended at the beach.
 While most places accept all forms of payment, some are cashless so make sure to have Apple Pay or your credit card on hand.

Main Areas of Oahu
Oahu has four main parts: Waikiki/Honolulu (South Shore), North Shore, West side and East side. I would recommend either choosing to stay in Waikiki or North Shore as your home base then traveling to the other areas of the island from there.
The longest drive on the island is from Waikiki to North Shore which, when there's low traffic, only takes about an hour so it's safe to say it won't take you long to get where you want to go no matter where you're based.
Waikiki/Honolulu
The Waikiki area is best for those looking for a more metropolitan feel. Waikiki has restaurants, bars, clubs as well as beautiful beaches and hikes. If you want an early morning swim and late night partying then Waikiki is the place for you.
The North Shore
Staying on the North Shore near Haleiwa and Waimea Valley is a complete 180 from the shenanigans of Waikiki. The North Shore is what some consider to be "True Hawaii." With only one road, the North Shore gives a countryside feel similar to the likes of neighboring islands Kauai and Maui. If you want days of surfing and nights of relaxation then consider staying on the remote North Shore of Oahu.
The East Side
The east side and west sides of the island are more residential areas. Both areas have beautiful beaches, cute coffee shops and hikes with amazing views.
The West Side
Aside from the handful of resorts on the west side, some of the beaches are more local so I recommend sticking to the resort area beaches when on the west side.
What to Pack for Oahu, Hawaii
The age old question: What should I bring? This question largely depends on what activities you have planned. When I visit Oahu I like to do a little bit of everything: hikes, surfing, bar hopping and fun dinners. For the majority of the day you'll most likely just need a bathing suit and shorts. The overall general vibe of the island is beach casual meaning shorts and a bathing suit top are usually just enough.
The first time I went I overpacked and brought way too many tops and not enough bathing suits. Now I make sure to pack several bathing suits, a couple of casual tops used more as cover-ups than clothing and a couple of pairs of shorts.
For nighttime I would bring a pair of pants and a light jacket, especially if you're planning on traveling during the winter months. Temperatures typically never drop below 60 degrees fahrenheit, but a light jacket will be perfect for breezy mornings and cool nights. If you're planning on going out to bars, there are several rooftop bars and clubs where the attire is a bit more upscale, however, most of the nightlife attire is fairly casual so no need to bring your fanciest clothing for a night out.
If you want to hike then you'll for sure need a pair of sneakers or Tevas but you don't need to whip out the expensive hiking boots unless you plan on doing the most intense hikes on the island. The only other footwear I recommend bringing is a pair of flip-flops (or slippers as locals call them) and sandals to go with nicer outfits.
Oh, of course you can't forget your brightest Hawaiian shirt and/or floral dress.
Sample Packing List:
Bathing Suits
Nice dinner outfit
Shorts
Casual tops
Sundress
Sweatshirt/Light Jacket
Jeans/Long Pants
Sandals
Flip Flops
 Sneakers
When to Visit Oahu
The most popular months to visit Oahu are late May-August then December-January. If you're looking to avoid the crowds, then I recommend going in early spring or fall. The summer months can get to be the hottest with temperatures averaging around 90 Fahrenheit with every other month averaging at 80. The rainy season runs from November to March, however while there can be quite a bit of rain it's never ruined any of my trips!
Transportation around Oahu
One of the best things about traveling to Oahu specifically is the variety of transportation options.
Rental Cars:
If you have the money and a desire to see as much of the island as possible then I highly recommend renting a car. Renting a car is the most convenient way to get around the island as fast as possible. You can either rent a car from the rental cars at the Honolulu Airport or you can choose to rent a car through the Turo app. If you're not familiar with Turo it's basically AirBnb for cars; local residents will rent their cars out via Turo. Average car rentals from agencies tend to average $150/day whereas Turo car rentals have a much wider range. However, don't forget to check parking rates at your hotel and make sure to factor that in when making your budget.
Mopeds/Motorcycles
Those looking for a more wild ride can also opt to rent mopeds or motorcycles.
Public Transportation — The Bus
Ahh what to say about the bus. If time is no factor on your vacation and you'd rather explore the island for as cheap as possible then The Bus is the way to go. And yes, the Oahu bus system is literally called "The Bus." The Bus accepts cash
payments upon boarding as well as bus passes, called the Holo card, which can be purchased at any grocery or ABC store. Single fares are $3 and all day are $7.50, if you're staying for longer then monthly passes are also an option.
The only major downside to opting for public transportation is how long it takes to get places. For example, on one of my trips to the North Shore it took nearly four hours to ride The Bus there when it would only take an hour to drive. However, if you're looking for the cheapest option to get around the island this is it.
Uber
For the most part, Uber is widely available across the island. The only exception is for those staying on the North Shore. Ubers in that area tend to be sparse and expensive due to the fact that there's only one road going in and out of the area. I don't recommend Ubers as your main form of transportation but if you only need to go a few minutes away or no one wants to DD then Ubering is the best solution.
Bikes
Okay, this obviously isn't a fit option for traveling the whole island but if you're located in Waikiki you can rent bikes from various Biki stations. Bikes are a fun and easy way to go up and down the Waikiki strip.
Places to Stay in Oahu, Hawaii
Now for the most important question: Where should I stay? Well, this largely depends on what you want out of your Hawaiian vacation.
Hotels in Waikiki:
If you want a more centrally located hotel in a city-like environment then I'd recommend basing yourself in Waikiki. Waikiki has two major beaches and hundreds of restaurants and shops to keep you busy all week long.
Located right on the Ala Wai Boat Harbor, the Prince Waikiki offers some of the most beautiful views. The luxurious hotel is only a mile away from Waikiki beach and is right by the Ala Moana shopping center. The hotel has a beautiful rooftop pool and delicious three-course brunch.
Average Price: $350/night
Although the Sheraton Princess shares a driveway with the RoyalHawaiian, it couldn't be more different. The Sheraton offers more of a casual yet upscale vibe with different activities for all ages. The hotel has two pools and several dining options.
Average price: $300/night
The Royal Hawaiian is one of the oldest hotels on the Waikiki strip. Started nearly 96 years ago, this 5-star hotel is known for their pink building that looks more like a palace than a hotel. The Royal Hawaiian's restaurant Mai Tai was actually where the Mai Tai first got served in Hawaii in 1953. The hotel has their own pool and shares a pool with the Sheraton located right next to the Royal Hawaiian. If you're looking for luxury living located on the Waikiki strip then this is the place for you.
Average price: $500/night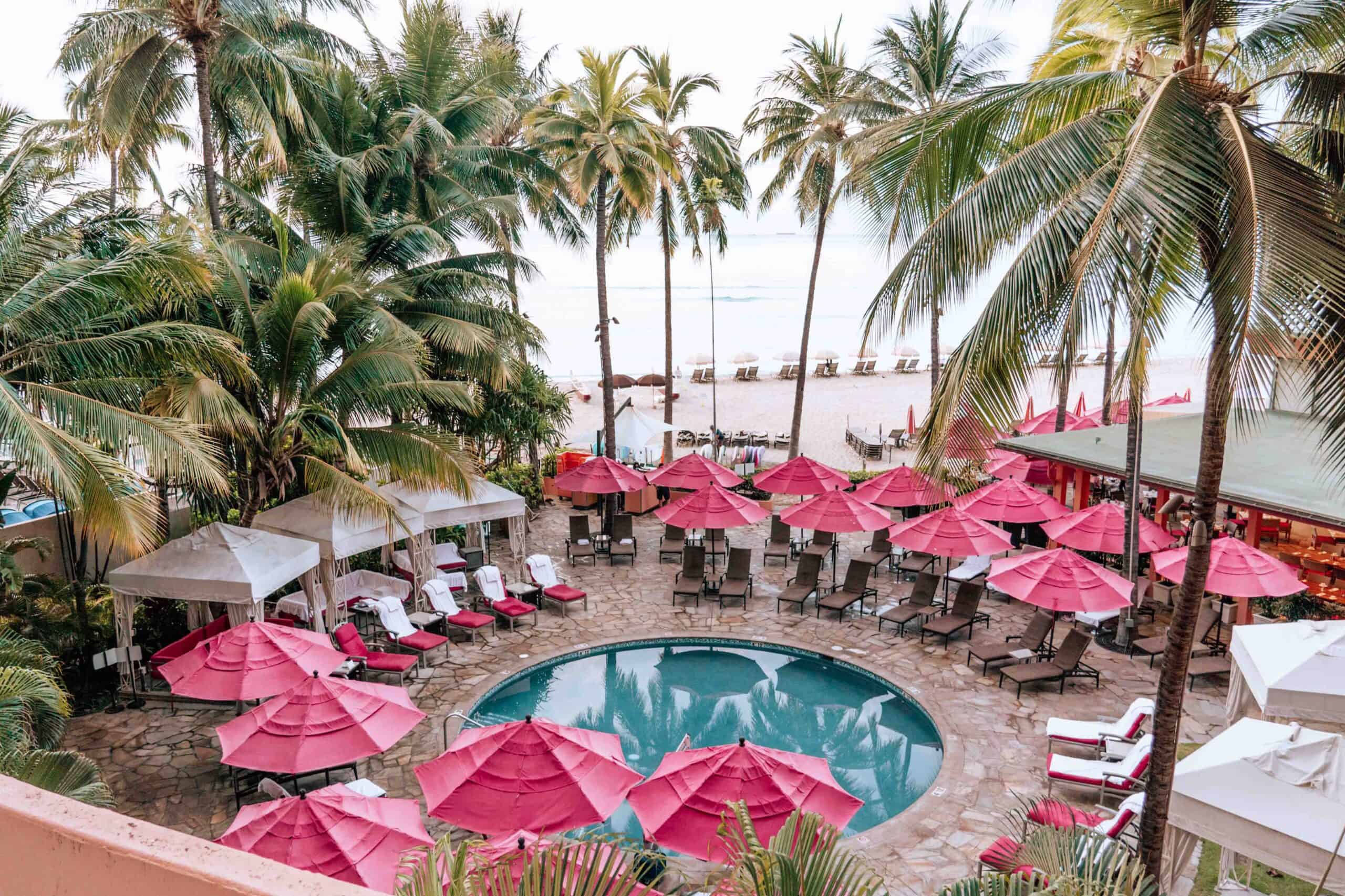 Moving a little further down the Waikiki strip, the Moana Surfrider is located right on the beach with an unbeatable view of Waikiki. The hotel offers a luxurious spa, beachfront restaurant and afternoon tea. My favorite aspect is the Honolulu Coffee Company cafe attached to the hotel. By far the best coffee in Honolulu.
Average price: $330/night
Although not right on the beach, the Marriott is centrally located right across the street from Waikiki beach. The hotel has a pool, spa and fun rooftop bar.
Average price: $280/night
Also located across the street in the middle of the Waikiki strip, the Hyatt Regency has a peaceful rooftop pool and bar that offers a legendary brunch. The hotel has a cute cafe, coffee shop and my favorite, Urban Outfitters.
Average price: $260/night
The Queen Kapiolani hotel is located right across the street from Queens beach on the end of the Waikiki strip. The hotel offers unmatched views of Diamond Head while also providing great ocean views too. The Queen Kapiolani gives more of a younger, hip vibe with their pool and outdoor bar, The Deck. The lobby of the hotel has several shops and Knotts Coffee Roasters, which makes for a great place to relax in the morning. There are several bars and restaurants only steps away from the hotel.
Average price: $240/night

Hostels in Waikiki:
In the summer of 2021 I lived at this hostel for two months and can't say enough about it! While there are other hostels on the island I recommend this one above all. The social atmosphere is unmatched and the amenities align with free surfboard rentals will make you forget that you're only paying $40/night.
Hotels on West Side Oahu:
If you want more of a resort, secluded feeling then consider staying at one of four resorts on the westside of the island. While there's not much else to do on that side, the beaches are beautiful and resort options are top tier.
Aulani, A Disney Resort and Spa
Disney's Aulani Resort holds up to all of Disney's other resorts. One thing I love about the resort is that it's Hawaii first and Disney second. The design of the resort pays homage to Hawaii's rich culture with Disney characters peppered throughout. The resort has a beautiful beach and several pools.
Average price: $800/night
The Four Seasons resort is exactly how you'd picture a Four Seasons in Hawaii to be: picturesque, opulent and all around magnificent. From beautiful ocean views to top tier dining, if you're looking for a way to treat yourself to the max then the Four Seasons is where you should go.
Average price: $1000/night
Located right around the bend from the Aulani Resort, the Marriott Beach Club also has a peaceful beach which is one of my favorite places to watch the sunset. The hotel has a nice fitness center, pool, spa and offers several activities for kids.
Average price: $490/night
North Shore Hotels/Hostels:
 Those in search of the "True Hawaii" will find paradise on the beaches of the north shore. Known for the stunning views and laid back atmosphere, the North Shore is perfect for those in search of a peaceful retreat.
In need of an escape? The Turtle Bay Resort is everything you picture when you think of Hawaii: isolated beaches, serene pools, beautiful views of palm trees and crashing waves. Walking into Turtle Bay feels like entering a surfer's paradise. Located about 20 minutes outside of the Historic Haleiwa on Oahu's North Shore, Turtle Bay is one of the only resorts within miles.
Average price: $700/night

If you're searching to stay on the North Shore for cheap, the Backpackers hostel is the only hostel on the North Shore. This hostel is the epitome of a surf hostel.
There aren't many amenities but how much more do you really need besides a bed and bathroom?
Average price: $65/night
Things to Do in Oahu, Hawaii
Top hikes in Oahu
 If you want to see more than just the beaches, here are some of the must-do hikes on Oahu.
Check out full hike details from All Trails.
Length: 1.8 miles roundtrip
Type: Out and Back
Cost: $5 per person plus $10 parking
 Things to note: You need to make a reservation if you're traveling fromout of state. I recommend getting there as early as possible to beat thecrowds.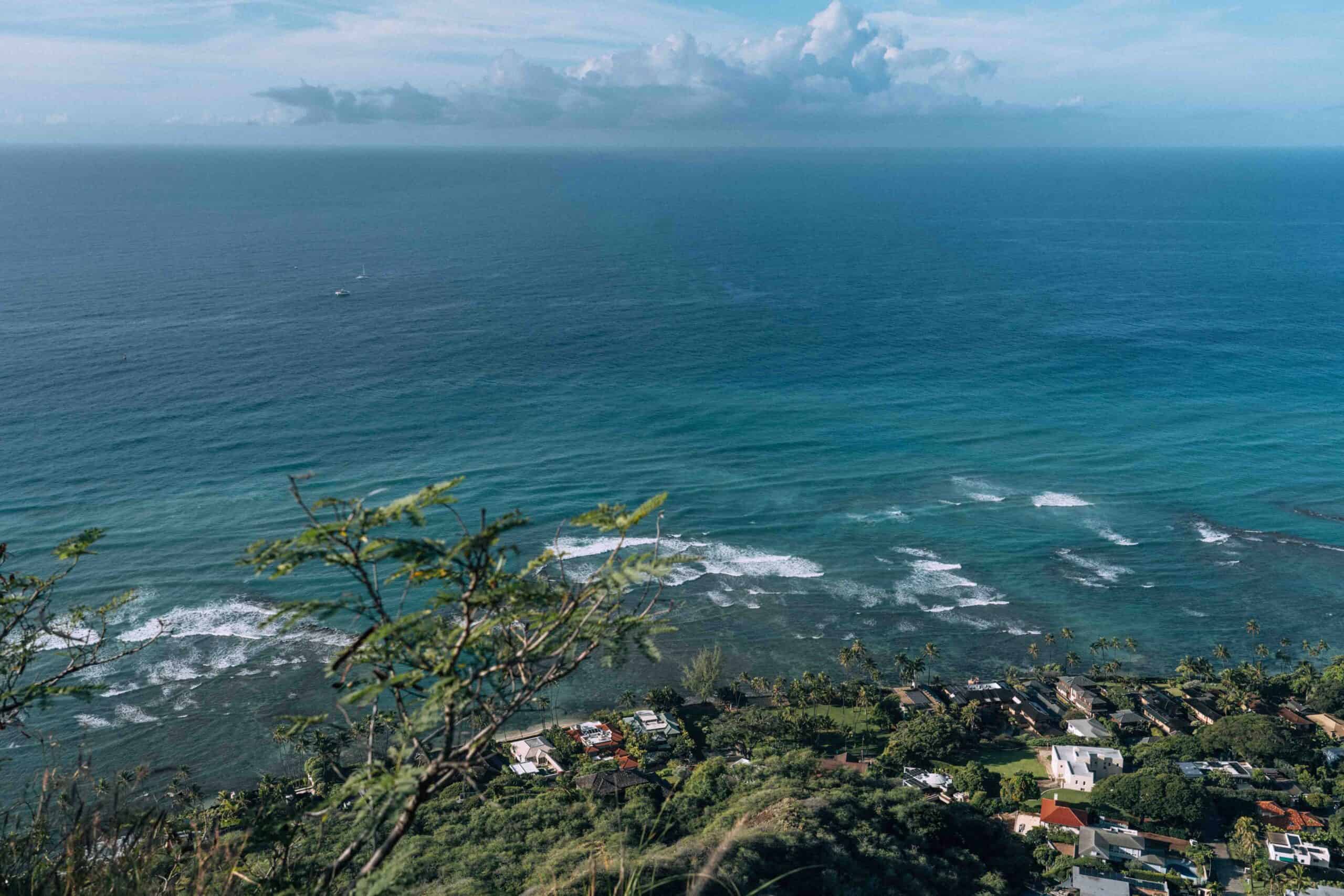 Makapuu Lighthouse (easy)
Length: 2.5 miles roundtrip
Type: Out and Back
Cost: Free!
Things to note: The path is paved all the way, the parking can be difficultbut there is a parking lot.
 Manoa Falls (moderate)
Length: 1.7 miles roundtrip
Type: Out and Back
Cost: Free
Things to note: Overall the hike isn't too bad, however the end of the hike can be pretty steep. Be careful about going after or while it's raining asthe trail can get muddy and slippery.
 Lanikai Pillbox (moderate/hard)
Length: 1.7 miles roundtrip
Type: Out and Back
Cost: Free
Things to Note: All trails labels this as a hard hike but I would say it'spretty moderate. The path is laid out but not neatly carved out like the previous hikes. At some points you may have to grab onto rocks or hold onto branches to help keep your momentum up. The work is worth the reward, this is definitely one of my favorite views of the island. Just know that there isn't any parking nearby so you'll have to park a bit away and walk there.
Parking Tips: very limited parking is available along the road or in the nearby beach parking. Get there early to guarentee a spot.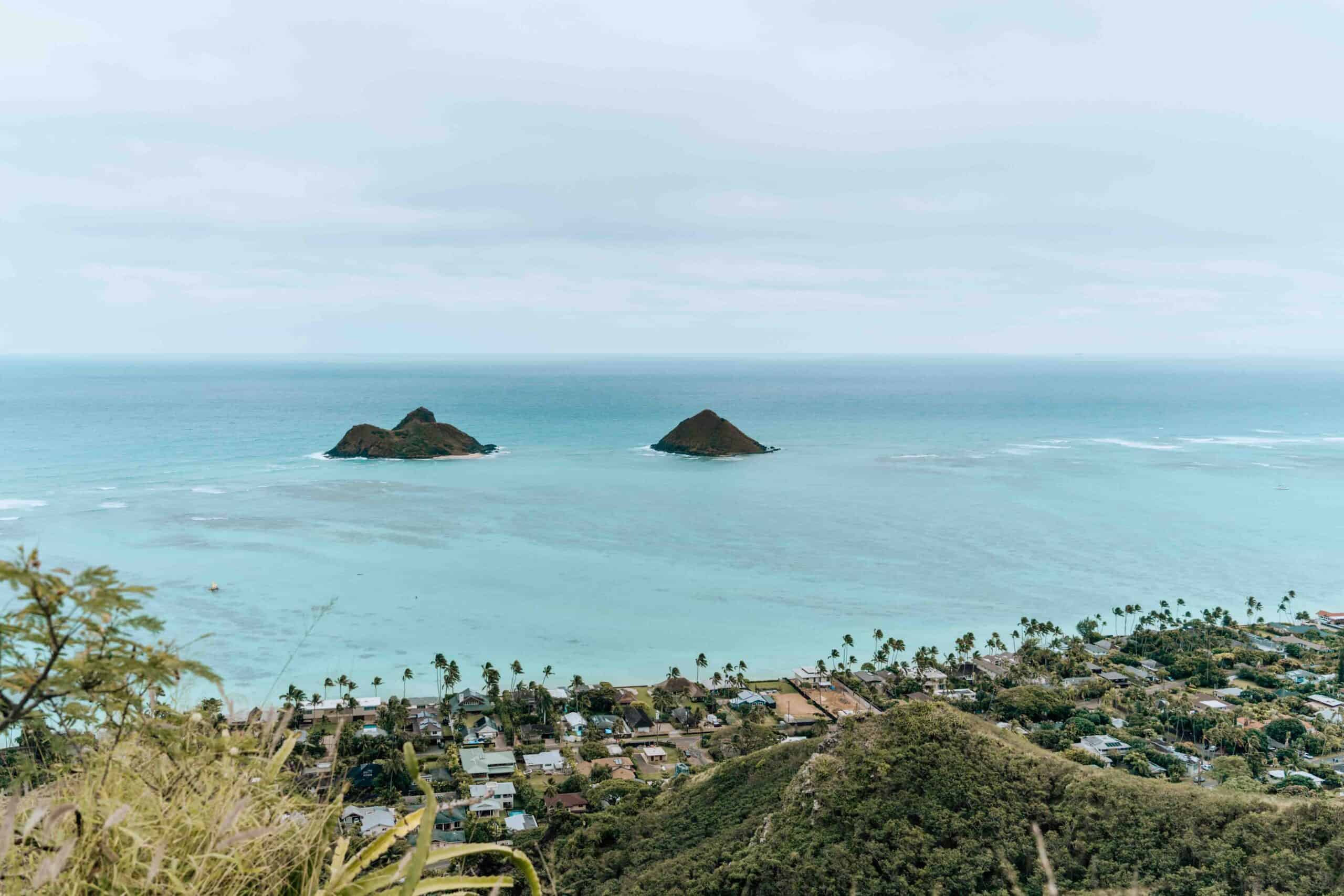 Pink Pillbox (moderate)
Length: 1.6 miles roundtrip
Type: Out and Back
Cost: Free
Things to Note: There's no parking nearby.
 Koko Head (hard)
 Length: 1.6 miles roundtrip
 Type: Out and Back
 Cost: Free
 Things to Note: This hike was one of the hardest I did on the island. Withan elevation gain of nearly 900 feet and no shady area make sure to stay hydrated for this hike. There's a park nearby so parking isn't necessarily an issue.
Olomana Trails aka Three Peaks (very hard/dangerous)
Length: 4.4 miles roundtrip
Type: Out and Back
Cost: Free
Things to Note: Despite its popularity, this hike can be very dangerous. After the first peak, the next two require some rock climbing and other strenuous activities. Only hike this if you're physically capable of doing so and don't hike it after it rains. On average the hike takes about 3.5 hours to do.
Waimea Falls
Length:
Type: Out and Back
Cost: $20
Things to note: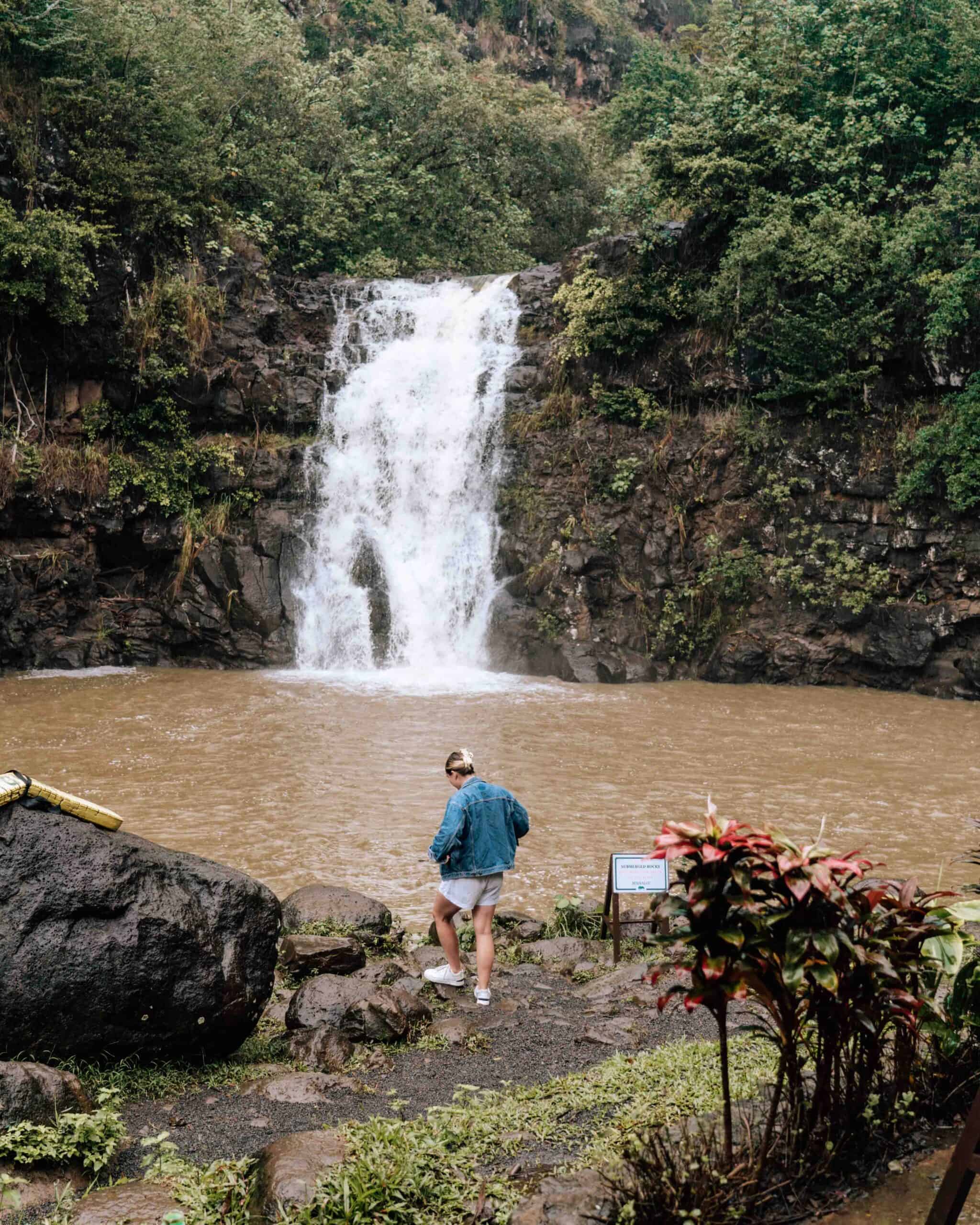 The Best beaches to Visit in Oahu
Beaches in the Honolulu area:
 Waikiki Beach
If you're staying at a resort you'll most likely be staying right on Waikiki beach. Waikiki always seems to be packed so try to getthere early to get a nice spot.
 Queens Beach
At the end of the Waikiki strip lies Queens beach. I prefer Queens to Waikiki because of all of the beach volleyball courts. Since there's no hotels located directly on the beach, the beach tends to be less crowded too.
Diamond Head Beach Park
Diamond Head Beach Park is a bit of a hidden beach on your way to Diamond Head. The beach does require a walk to get down to, but the more secluded vibe makes the walk worth it.
The Best Beaches on the East Side:
Lanikai Beach
Lanikai beach easily sits at the top of my list of favorite beaches.Located on the east side of the island, Lanikai is a beautiful beach with soft sand and clear blue water. Sitting on the beach you have a great view of the Mokes Islands which you can kayak to, or swim to if you dare. There's no parking nearby, however, so you'll have to park near Kailua beach and walk to Lanikai.- Kailua
Kailua Beach
Kailua Beach is near Lanikai and is more of a town beach.However, despite it being more public than Lanikai, Kailua beach is still less crowded than Waikiki and has just as great of a view as the other beaches.
The Best Beaches on the North Shore:
Sunset beach is one of the main beaches on the North Shore. If you're looking for a place to watch some surfers during the winter while eating delicious acai bowls then sunset beach is the place for you.
Shark's Cove
There isn't much of a beach around Sharks Cove, but if you're looking for a fantastic place to snorkel then look no further than Shark's Cove.
Waimea Beach
During the summer the brave can go cliff jumping at Waimea beach. The beach is right across the street from Waimea Falls, so head to the waterfall then chill at the beach.
 The Best Excursions + Activities to do in Oahu
Although there are so many free activities you can do on Oahu, here are some can't miss excursions I recommend:
Waikiki Activities
North Shore Excursions + Activities:
Kualoa Ranch (ziplining, horseback riding, ATVs)
Dole Plantation
Skydive Hawaii
Must try local food in Oahu, Hawaii
Hawaii isn't only known for their beautiful beaches; but also for their delicious food. And no, you don't have to be just a seafood fan to enjoy Hawaii's traditional dishes. Here are some of the traditional Hawaiian meals you can't miss.
Loco Moco
A loco moco typically consists of two hamburger patties, an over-easy egg, gravy and white rice. It may seem like an odd combo at first but I promise you won't be disappointed. Some restaurants will try to charge you over $25 for a loco moco, but if you head to Rainbow Drive-In you can get a traditional loco moco for less than $12.
Try it At: Rainbow Drive-In
Poke
Okay, this one is for the seafood lovers. For those who don't know, poke is a bowl of raw fish sometimes mixed with rice and other vegetables. There are dozens of poke places all over the island that serve wide varieties of fish. If you're looking for some quick Poke on the go then you can always get a solid bowl at Fooodland or Whole Foods. However, my favorite Poke place on the island is the Maguro Spot in Waikiki. For only $6 you can get a small poke bowl that tastes like it would be served at a 5 star restaurant.
Places to try poke on Oahu:
Maguro Spot (Waikiki)
Off the Hook Market — they have a unique sampler platter you can order.
Foodland (locations across Oahu)
Maguro Brothers (Chinatown + Waikiki)
Ono Seafood
Many, many more!!
Spam Musubi
You can't go to Hawaii without having a spam musubi. Musubi is a small bite made up of rice and spam wrapped in seaweed. Musubis can be picked up at most convenience stores across the island for only $2. Spam is one of the most popular meats on the island (so much so that they have festivals dedicated to it) so naturally you have to try a dish where Spam is the main ingredient.
Kalua Pork
If you want meat made the traditional Hawaiian way, you must try Kalua Pork. Most restaurants offer a variety of dishes including Kalua Pork, but if you're looking to eat authentically and inexpensively then I would consider stopping at Kono's. There are several locations across the island making it an easy place to stop at. I recommend getting the Hawaiian Bowl which includes Kalua Pork, cabbage, white rice and their signature Guava sauce.
Try it At: Kono's
Acai bowls
While Acai bowls may have originated in Brazil, Hawaii has some of the best Acai bowls I've ever had. My favorite place on the island is Banzai Bowls on the North Shore.
Try it At: Banzai Bowls
The Best Happy Hours in Waikiki
Want a drink but don't want to pay $16? Here's some spots to enjoy top Happy Hours in Waikiki:
The Deck
SKY Waikiki
 Tiki Bar and Grill
 Hula Grill
Lulu's
Cheeseburger in Paradise
Overall impression of Oahu, Hawaii
Oahu is a place for beach lovers, adrenaline junkies, foodies and everyone in between. Whether you're looking to travel in luxury or travel on a budget; there's a multitude of options, from 5 star restaurants to $5 poke. There are so many free activities at your disposal that makes up for the $15 cocktail. I loved my time spent on Oahu and am already counting down the days to the next trip!