A Foodie's Guide to Bryant Park Winter Village in NYC – 2021
Bryant Park Winter Village is a key attraction for the holidays in New York City. It's one of the first markets to open and kicks of the festive season of Christmas in New York.
Let's be real – this is a fun place to bring family and guests from out of town or even stop in for a little shop yourself, but the food and drink is fairly expensive, even by NYC standards!
Want to find out about other Christmassy places to dine and drink? Check out my guide on places to eat in drink in NYC during the holidays. 
Hours & Location
Location & Getting there
Bryant Park – 42nd Street and, 6th Ave, New York, NY 10018
Subway: B,D,F,M
You can also get a train to Grand Central which is 2 Avenues away.
Hours
8am-9pm daily.
Food stalls officially open at 11am but some a slow to be ready at that time, which is worth bearing in mind if you're on your lunch break or heading in early.
Special Holiday Hours
November 19 –  December 26
Monday – Thursday: 8am-10pm
Friday – Sunday: 8am-11:30pm
November 25 : 8am-11:30pm
December 27 –  January 2 : 8am-11:30pm
December 31st: 8am-4pm
Food & Drink at Bryant Park Winter Village
Baked Cheese Haus
Raclette is such a winter classic and Baked Cheese Haus is doing these sandwiches right.  They do a crusty baguette with jambon, scallions, pickles and raclette. The bread was good quality and they were not shy on that cheese! Each sandwich is $15.
Sweet Tooth
Sweet Tooth seems to have replaced the chimney cakes that they've had at The Lodge in previous years. Sadly, this replacement is no where near as good as the chimney cakes and the ones before rode a line of being better for pictures than to eat.
We tried the caramel one – it's a croissant with the center cut out and stuffed with cream cheese frosting, caramel, popcorn and pretzels. I love sweet & salty treats so I really enjoyed the filling, there just wasn't much of it and the croissant was very dry.
Truffleist
The Truffleist sells truffle products year round and pops up during the holidays at multiple Christmas markets to sell their cheesesteaks and other specialties.
We went for the most decadent one, The Truffleist Cheesesteak. It is an extremely rich, over the top sandwich. This cheesesteak has 1/2 a pound of ribeye steak, melted mozzarella and provolone cheese, bechamel sauce, carmelized onions and peppers, foie gras, raclette cheese, of course shaved truffle and even some edible flowers on top too. The truffle itself isn't overly rich but combines well with the overall flavors including the very rich foie gras to make a very indulgent sandwich.
Perhaps the raclette is not needed as takes away some of the other flavour. The roll is warmed on the plancha and has good chew to it. It's topped with edible alpine flowers.
It's a solid cheat day eat at $35 before tax and tip. They only stock 20 of these per day but have other cheesesteak options at lower price points.
Mysttik Masaala
Mystic Masala is serving up Indian and fusion dishes like chicken tikka masala and other curries as well as samosas and Seekh kababs. We tried their naan roll with chicken tikka masala and a biryani rice bowl with, what was just labeled chicken curry. Both were very tasty enough and $15 each. The naan wasn't served warm and felt like it was long life rather than baked fresh.
Chocolate Works
Chocolate Works has tool-shaped chocolates which you can add to your hot chocolate. The actual drink had more of a spiced ginger/cinnamon/nutmeg flavor to it than chocolate. I actually thought it was pretty tasty, but it definitely wasn't what I had in mind for a $13 hot chocolate.
Casa Toscana
Casa Toscana is an Artisan Tuscan bakery serving doughnuts, hot chocolate and sandwiches. We had a couple of the bombolones  – they were only filled half way with the filling. We tried the pistachio and chocolate, but they also do a ricotta one and an apricot jam one.  The actual doughnut was okay, but were disappointed with the lack of filling. The bombolones are $6 each.
If you want incredible bombolones and other amazing pastries check out Angelina Bakery in Midtown. 
Doughnuttery
At the Doughnuttery, you can have your fill of mini donuts with all sorts of flavored sugar to add on top.  We chose the flower power which is rose hibiscus and honey as well as a few plain powdered sugar ones.  We also had their chocolate dipping sauce which would have been way better warm.
They do cook the doughnuts in front of you and they are quite light and fluffy.
6 for $6, 12 for $11 25 for $22.
Crepe Café
Crepe Café  is serving up crepes and hand cut fries, which we normally love. These fries were very crispy, like too crispy, and not at all fluffy at all inside.  We ordered the parmesan ones and could barely taste the seasoning. 
To top it off they are weren't that hot.  We expected a lot better for $13 a pop.
If you want some seriously good Belgian fries check out Pommes Frites in Greenwich Village. 
Pickle Me Pete
At Pickle Me Pete you can buy a range of fresh pickles or tried their sliced + fried pickle stick.
They are tasty, batter is really simple, basic, but good bar food item. They came with ranch which definitely tasted store bought. For $9 they're certainly overpriced even for New York, but you empathise that they're probably paying a lot to be there.
Maos Bao
Maos Bao is making pan fried buns. They have 5 options of fillings; pork, chicken, lamb, beef and impossible meat with veggies. We had one of each and the fillings were all quite tasty, but we found the outsides of the dough to be a little soggy. We've had these before and they were really good with a crispy base, so maybe it was an off day.  We topped our with chilli and their soy based sauce.  These cost $10 for 5 pieces.
Food & Drink options :
A few of these outlets are new to the Lodge and seem like they were created just for this event.
El Pambazo Shop
The Lodge Bar
Prime Video Alcove Bar
Rinkside Bar by Baileys
S'mores N'More
Stout NYC
Sweet Tooth
Food vendors throughout the Holiday shops
S12 4×4 Burger
S4 Andie's Eats
S19 Baked Cheese Haus
S22 Bao by Kaya
R5 Bun Ramen R6 Casa Toscana
S7 Casa Toscana
S28 Cheesesteaks by The Truffleist
S27 Crepe Café
S9 Destination Dumplings
S30 Frida's Favorites Mexican Cantina 0 Good Vibes Caribbean Grill
S8 Mama's Cupboard
S2 Mao's Bao
S24 Mysttik Masaala
W25 Pickle Me Pete
S11 SeaPark
S29 Shao Kao BBQ
S25 Ta-Da Chicken
S31 Top Arepa
S18 Winter Pie Shop
Permanent Dining Options at Bryant Park
Bryant Park Grill & Cafe  – 11:30am-8:30pm
Fever Tree Porch  – noon-9pm, weather permitting
Food Kiosks
Le Pain Quotidien 8am – 6pm
Waffels & Dinges 10am – 10pm
Joe Coffee Company 9am – 5pm
The Lodge — Sponsored by Amazon Video
Hours: 10am-10pm
Ice Skating at Bryant Park Winter Village
This activity is FREE is you bring your own skates!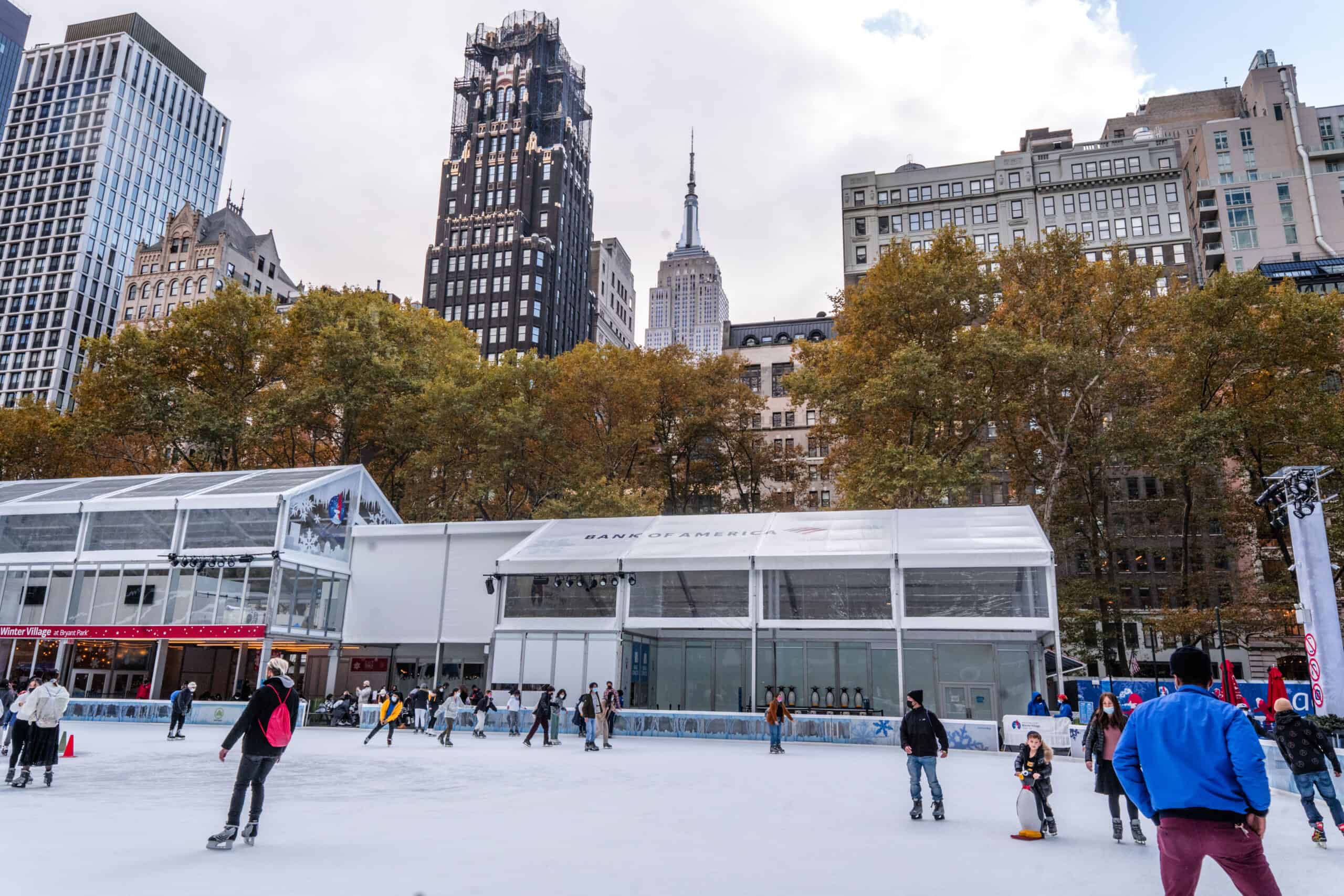 Holiday Shops at Bryant Park Winter Village
So many different types of shops to browse. From art to jewelry, to handbags and scarves.
Cozy Igloos & Curling
Rent out one of their Igloos for a private experience with friends or family.