Where to Eat and Drink in NYC during the Holidays
What do people want to do during the Holidays? Eat and drink constantly! Good thing there are plenty of options in NYC! Fun markets, cozy restaurants and themed bars to constantly feed your appetite for Holiday vibes. To help you out deciding where to go I've created a go to list on where to Eat and Drink in NYC for the Holidays.
Markets
If you're one who likes to sip and shop markets are always a good shout!
Winter Village at Bryant Park (October 31 through January 5. Monday – Friday from 11am – 8pm & Weekends from 10am – 8pm) This part  the Bryant Park Winter Pop ups run only until the beginning of January. The Truffliestist has it's famous burger which it only makes a certain number of a day so get in early if you want to up your chances of trying it!
The Lodge by Urbanspace at Bryant Park (October 27th – March 3rd,  8:00am – 10:00pm) Inside the Lodge you'll find long benches and high top tables along with some of those key pop ups like The Stackery.
Treats from Bryant Park Winter Village and The Lodge:
Columbus Circle Holiday Market (December 4 through December 24. Mon – Fri: 10am – 8pm. Saturday: 10am – 8pm / Sunday: 10am – 7pm)
Union Square Holiday Market (November 21 through December 24. Mon – Fri: 11am – 8pm. Saturday: 10am – 8pm / Sunday: 11am – 7pm)
Smorgasbug Winter Market + Brooklyn Flea (Every Saturday + Sunday 10am-6pm) 25 Kent Ave. – 8th Floor) This market is inside one of the new high rise buildings in Williamsburg. It combines delicious street with food with great vintage and flea  shopping — all of this while staying warm indoors and getting an amazing view of the Manhattan skyline. We ate tacos, cream puffs and vegan burgers and sipped on cocktails all in one place!
Bars
Who doesn't love an Alpine or Christmas themed bar or restaurant during the Holidays?
Haven at the Sanctuary (Times Square) – A great option if you need an immediate escape from the crowds! This wooded rooftop has an alpine feel and serves light bites and cocktails.
The Gold Room at Lotte Palace (midtown) –  Gossip girl was filmed at The Palace so you know it's gonna be cool!  Stop by and admire their famous tree before grabbing a glass of red in their all-gold bar. Quite the sight to see!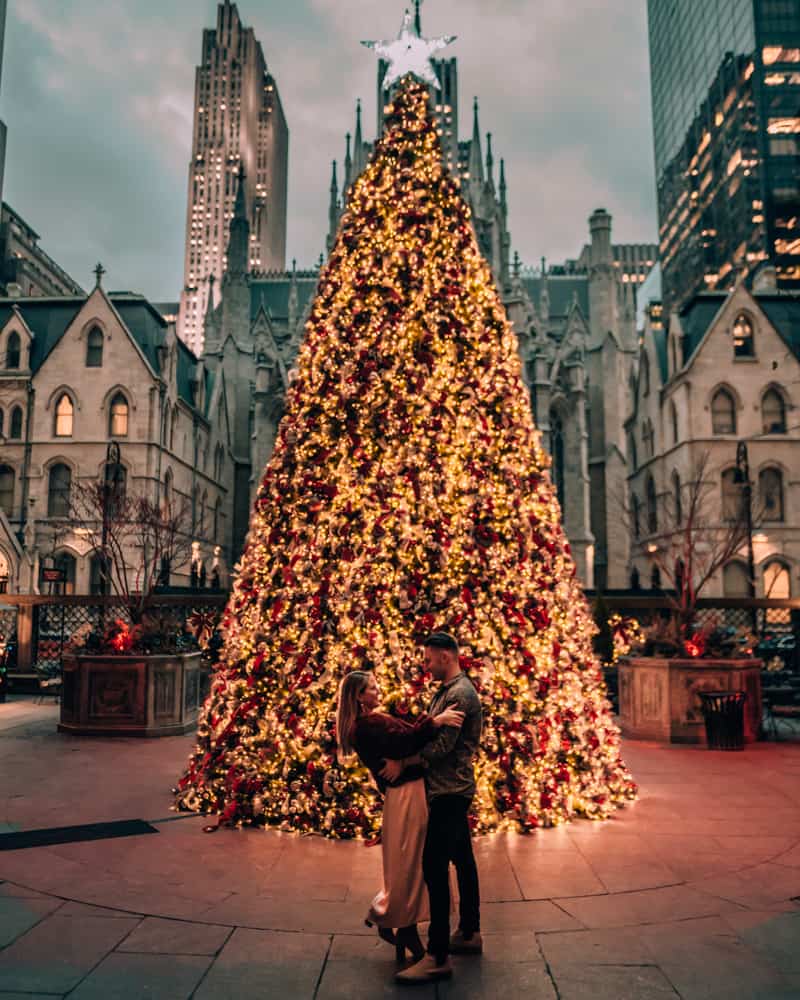 "Sippin Santa"at the Boilermaker (Lower East Side ) – Where Tiki Bar and Christmas meet you get Sippin Santa! This year's roster includes drinks like the Kris Kringle Colada (Dark Jamaican Rum, Cynar, Allspice, Lime & Pineapple Juice and Cream of Coconut) and the Christmas Eve of Destruction (Dark Overproof Rum, Herbal Liqueur, Nutmeg Syrup, Lime Juice and Angostura Bitters).
Rolf's (Gramery Park) – A German restaurant who's Christmas Decor reigns supreme! We love meeting friends here during the holidays. They keep the Christmas decorations up until May.
The Lodge at Gallow Green  at the McKittrick Hotel (Chelsea) – Known for bringing the drama, I can't wait to see what Gallow Green has in store. Their rooftop weekend brunch begins December 14, so book now!
230 Fifith Ave. (Nomad) –  Igloos on the roof  at 230 Fifth Ave. keep you cozy so you can still have your view of the Empire State building. This is definitely one of the most well known spots of the season.
Restaurants
Need to get out of the cold and warm up with some seasonal food? Here are some of my top restaurant suggestions for the best holiday atmosphere and winter bites!
Lillies Victorian –  An Old English pub and restaurant with electric furnishings and locations at both Union Square and Times Square. Enjoy pub fare surrounded by antiques and top notch Christmas decor.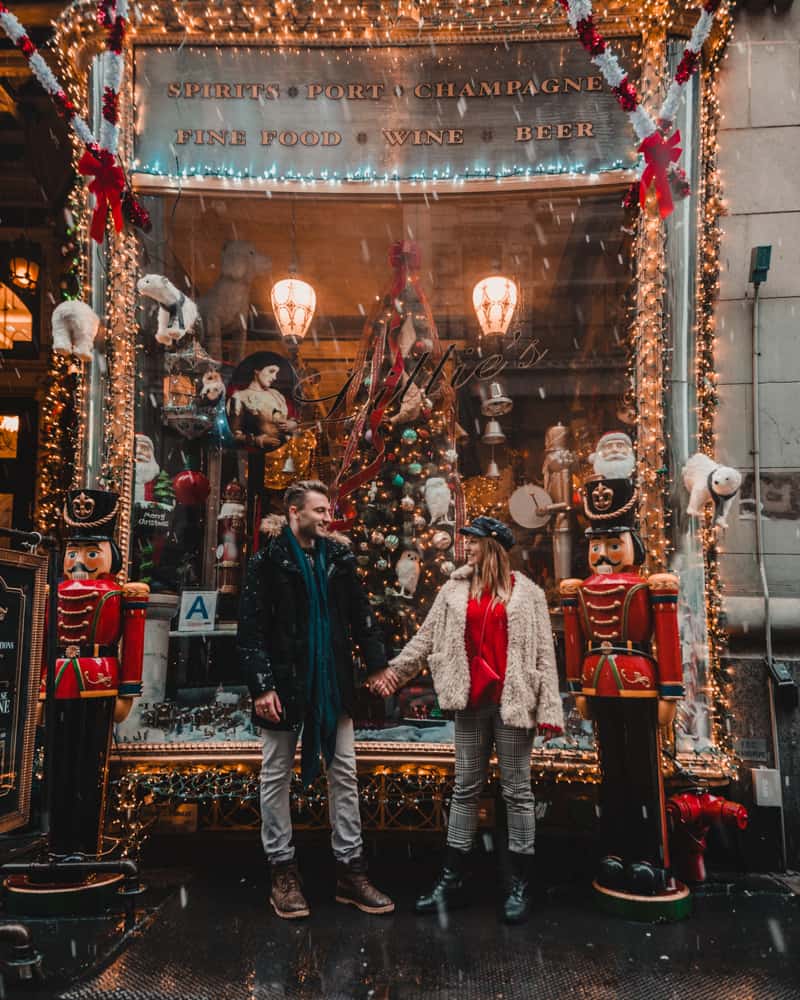 SERRA ALPINA  at Eataly– (inside Eataly Flatiron) This rooftop looks good no matter the time of year. Each season it has new decor and a new Italian menu to match.  Enjoy rustic Italian food in a winter wonderland.
Winter Garden at The Standard – (East Village) The perfect, and possible only place in the city to get cozy in heated alpine yurts with spiked hot chocolate, gooey fondue and freshly baked cookies. Great for groups!
Rosemary's (West Village) – This farm-to-table Italian restaurant has it's very own rooftop garden, Hudson Valley farm and house made pasta. Guarantee freshest in every bite!
Gramercy Tavern (Gramercy) – A classic NYC establishment with an ever evolving seasonal menu from Chef Michael Anthony. The restaurant has earned nine James Beard Awards, including "Outstanding Restaurant" and "Outstanding Chef in America" and would be a delight at any time of the year.
Tiny's – (Tribeca)  Located in a historic cute pink townhouse, Tiny's is a NYC gem.  A super cozy spot to warm up with friends.
Tip: Peak hours will be extremely busy. It's best to make reservations if you can ahead of time.
I hope you enjoyed my guide on where to eat and drink in NYC during the Holidays! Check out some other blog posts on NYC here :