Rehoboth Beach, Delaware : The Ultimate Travel Guide
Rehoboth Beach, Delaware is a family friendly beach destination on the East Coast. It probably wouldn't be the location I'd have chosen for vacation if it was just my husband and me, but it suited the purpose for a an easy family getaway from New York and the tristate area.
This was my first time visiting Rehoboth and I enjoyed my time there with my Mom, husband and siblings. The main town of Rehoboth is hard to put in one category, parts of it were your classic oceanside stores and ice creams that everyone loves, then other parts left a bit to be desired with tacky souvenir stores and run down shops and then in contrast to this is had a few modern eateries and stores which could have switched out to Miami or LA.
Overall, I thought it was a great base for exploring the surrounding coast, enjoying the beach long beach and cooling ocean as well as jumping over to the fun neighbouring town of Dewey Beach, it's younger crowd, cool bars and live music, as well as the nearby National Seashore State Park.
Where is Rehoboth?
Rehoboth is located on the East Coast of the United States in the state of Delaware. The mile long beach and boardwalk of Rehoboth run along the Atlantic Ocean which varies from 64-75 degrees during the Summer months.
Delaware is the second smallest state at only 2,400 square miles and lies between Maryland and New Jersey.
What is Rehoboth Beach famous for?
The town of Rehoboth is known for being an iconic beach vacation town, having a welcoming community and large LGBT population. Poodle Beach is one of the most famous gay beaches in the U.S.
The History
Rehoboth Beach has been known as a vacation destination historically for people coming from Washington D.C. The retro beach town now hosts visitors originating from various locations across the country primarily from Baltimore, Philly, NYC and D.C.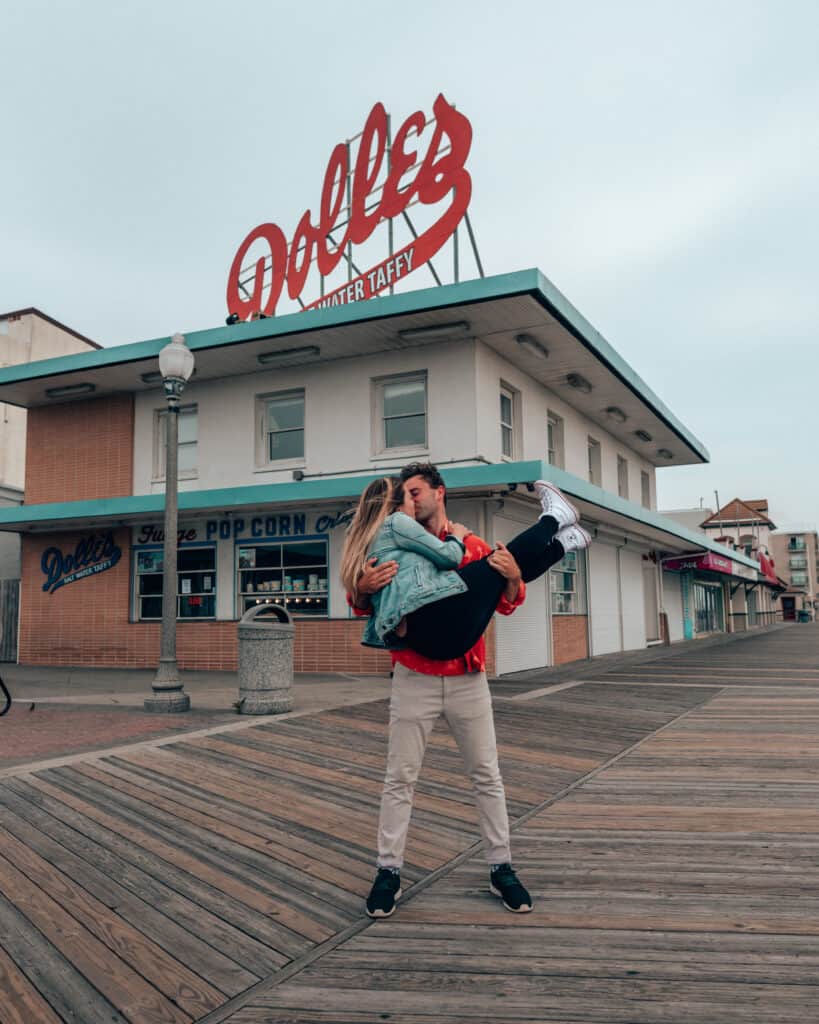 When Should you Visit?
Summer is the most popular time to visit Rehoboth, Delaware. 80 degree sunny weather with occasional thunderstorms is typical during these months.  Higher prices usually go hand in hand with the busy season and Rehoboth is no different. You may get slightly smaller crowds if you go before the kids are out of school for summer.
I enjoyed going at the end of June when the temperature was in the 70s and there was a nice breeze. It made tanning quite comfortable as I rarely got too hot!
Parking Tips
Throughout the town of Rehoboth you'll find both metered and permit parking. Since I was staying in an Airbnb, which had lent our group two permits, I parked on New Castle St. behind the South part of the boardwalk.
Metered parking takes up much of the space directly in the center and on Rehoboth Ave. You will have to pay at one of the machines nearby at these locations. However, parking is free in a lot of these spaces before 10am. The further out streets tend to be for local permit holders.
Where to Stay
There are plenty of rental houses and Airbnbs in the area along with some quaint BnBs and average hotels. This is a traditional American beach town and the accommodation directly relates to that. There are only a few luxury options, but most of them are quite dated.
I stayed in a gorgeous 5 bedroom house while I was there which was just a 5-10 minute drive into town or the beach. It seemed to be much better value than any of the hotels.
If possible try staying in either walking distance to town or to the beach, if you're lucky you'll be able to walk to both! The main road with restaurants and shops is called Rehoboth Avenue and runs perpendicular to the beach.
Rosewood Beach House is where I stayed with my family. Although, it wasn't close enough to the beach or town to walk, we had plenty of space for us all, the house was super clean and the backyard was amazing. There is clearly a lot of love poured into this house to make guests feel comfortable.
Best Hotels in Rehoboth and nearby:
Nearby Camping
Delaware Seashore State Park
Port Delmarva
Big Oaks Campground
Tall Pines Campground
Cape Henlopen State Park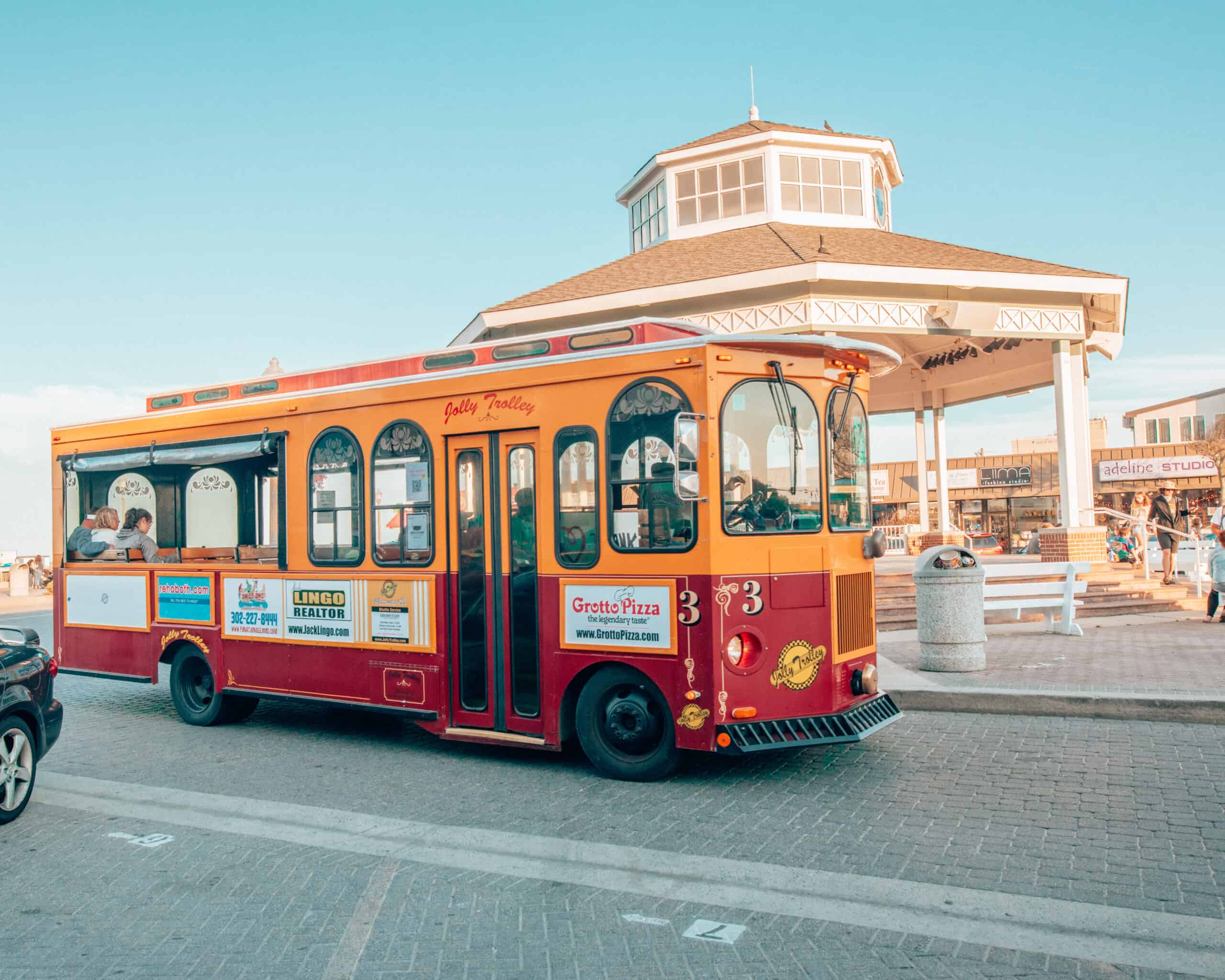 Fun Things to Do in Rehoboth Beach
Funland
A small amusement park providing fun for all ages conveniently located on the Rehoboth Beach Boardwalk.
Jungle Jim's
Waterpark and activities for kids and families such as go-karts and bumper boats.
Cabins, trails, kayaking and camping at this coastal state park and home to WWII military base, Fort Miles.
Delaware Seashore State Park
The drive along the coastal highway into this state park is incredible! The landmass is very thin, with Rehoboth Inlet and the Indian River Inlet on one side and the Atlantic Ocean on the other! There's some amazing pull offs to watch the sunset or sunrise. Many of them equipped with picnic tables.
Junction and Breakwater Trail
A 6 mile long trail connecting Lewes and Rehoboth Beach.
Rehoboth Beach Band Stand
Get yourself to the bandstand for their summer concert series on the boardwalk! Over 40 performances occur each year so be sure to check the schedule.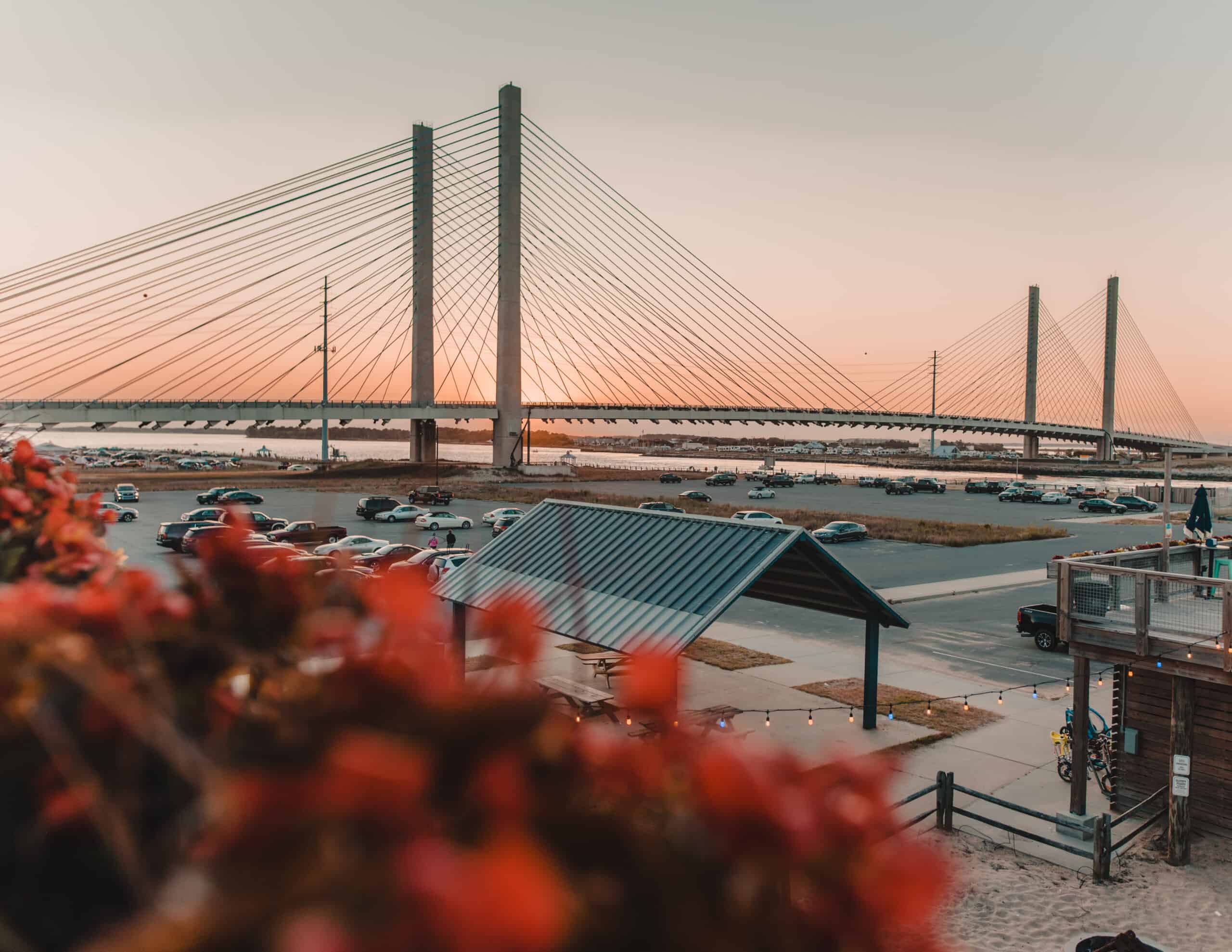 Enjoy some Watersports like surfing or SUP by renting or learning from one of these local companies:
Shop til' you drop at the Tanger Outlets.
Outlets always have the best prices, even more so when it's TAX free! They have all your typical outlet stores like Ann Taylor, Levis, Kate Spade and Nike. The stores are split on both sides of the main road so you'll need to drive between them.
Take a ride on the Cape May- Lewes Ferry.
Coming from New Jersey or farther North? Book a car ferry over from Cape May! Once you get on board you can leave your car parked and head upstairs for relaxing views and a bar.
Make sure you book a space ahead of time on the Cape May – Lewes Ferry website.
Rent a Bike and peddle around town.
Bikes are the best way to get around beach towns! You can also jump on the Junction and Breakwater Trail for a nice long ride amongst nature.
Taste wine at the Nassau Valley Vineyards.
The first and only winery in the state of Delaware producing red, white and rose' wines. Self guided tours and wine tastings most days from 11am-5pm.
Spend the day on a Fishing Charter.
Get out on the open water for the day and try and catch the big fish!
KATYDID Sport Fishing
First Light Charters
Martha Marie Fishing Charters
Anglers Fishing Center
Have a Spa day at Bellmoor Inn and Spa.
Treat yourself to a facial, massage or one of their full spa packages!
Take advantage of the coastal winds and fly a kite!
Sail down the Lewes Canal on a pirate ship!
Pirate's of Lewes takes you on a sailing adventure down the canal. It's family friendly by day, and BYOB adults only by night!
Golf at at Rehoboth Beach Country Club.
Try some new brews at Dogfish Head Brewings & Eats.
The Dogfish Head Brewpub in Rehoboth is a reliable, daily open joint serving their own beer creations and quality comforts eats. You may get to try one of their exclusive beers not available anywhere else! It's also another location in Rehoboth that hosts live music.
Join a walking food tour with Eating Rehoboth.
Eating Rehoboth offers 3 hours walking tours discovering the food and drink scene in the area. You'll get behind-the-scene- access, bites and sips all included in your ticket price!
Support the locals at the Rehoboth Beach Farmers Market.
You'll find fresh produce and artisan goodies from the local farmers and community such as seasonal veggies, jams,  plants, baked goods and more!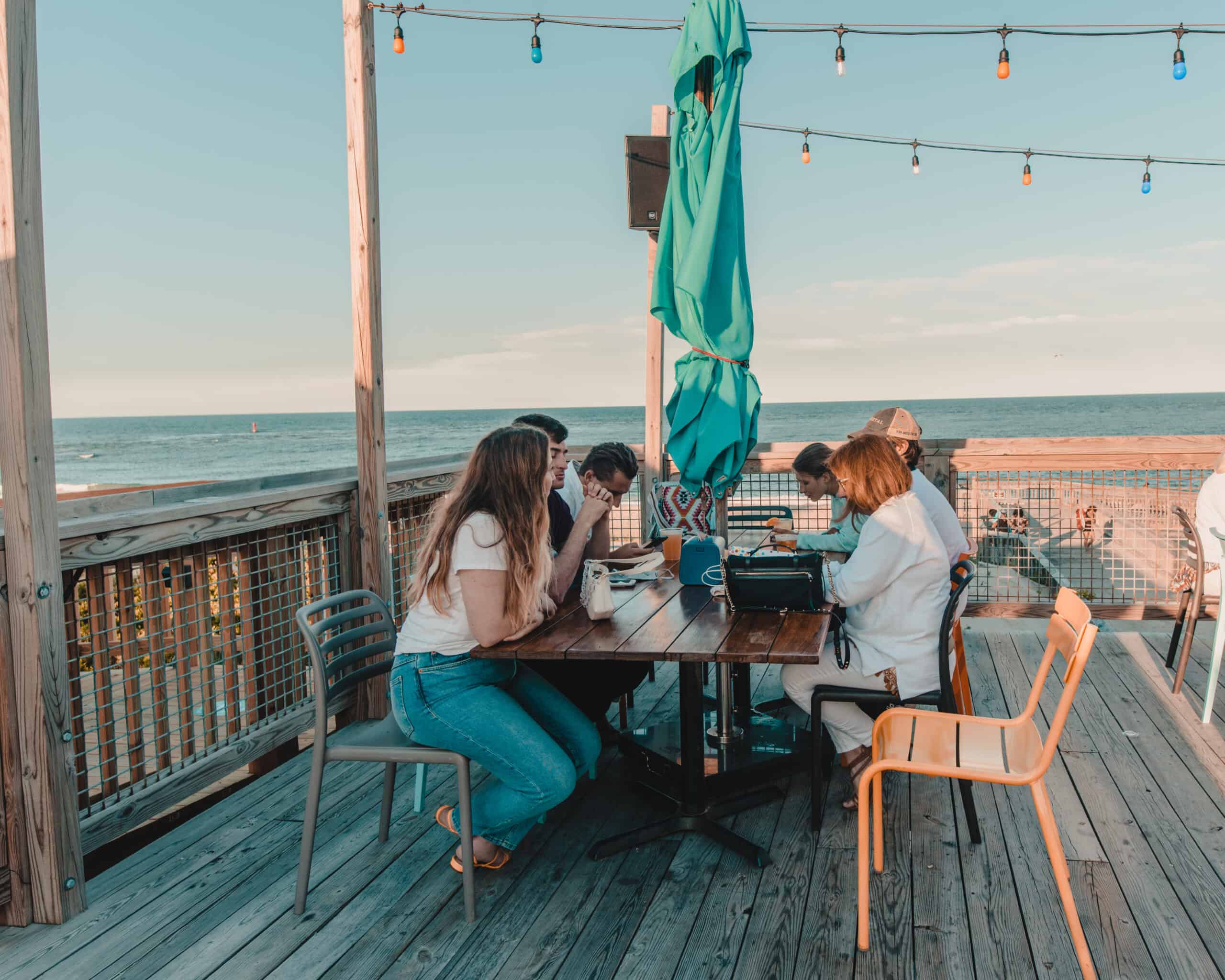 Where to Eat and Drink: Restaurants and Bars
As well as trying out the culinary options in Rehoboth Town and Boardwalk, you can also venture to the nearby Bethany Beach, Lewes or Dewey Beach.
Rehoboth Beach– Family oriented.
Bethany Beach – Quieter than Rehoboth.
Dewey Beach – Definitely has more of a party scene. College students are known to flock here and the town has a cool and funky vibe. I much preferred spending the evening here than in Rehoboth. Many more late night options.
Lewes – A small historic town next to Cape Henlopen State Park.
Where I Ate and Drank:
Egg
I'm so glad I went to Egg while in Rehoboth. They had a gorgeous outdoor seating area set up and the food was delicious! Huge portions for the crab avocado toast and the stuffed Poblano pepper. Anddd you could get a bottle of Prosecco with your choice of fresh juice for $25!!
Crab House
A seafood house featuring whole crabs, crab legs, lobster, corn on the cob, slaw and nightly specials. It's a relatively simple set up with a mix of both locals and tourists enjoying the reasonable priced seafood.
Big Chill Beach Club (Bethany)
The location of Big Chill Beach Club is pretty incredible, right on the beach with a view of the Indian River Inlet Bridge. We went in the evening, but it actually felt like more of a day time spot.
The menu is fresh, simple bar food with some local favorites.
Since the Beach Club is within the National Seashore State Park which there is an entrance fee for, you may as well spend the day here! You can park behind the club and head to the beach directly in front of it until you're ready for a beer or a meal.
Crooked Hammock Brewery (Lewes)
This open air brewery had plenty of outdoor space, lawn games and yummy beers to try, I'd recommend Brand New Day if you're a fan of sour beer.
Green Turtle Tavern
In the center of Rehoboth Beach Boardwalk  you'll find the Green Turtle Tavern. It's a college bar with an ocean front view!
The Starboard (Dewey)
A classic beach vibes bar with various rooms. They had the best orange and ruby crushes which is orange or grapefruit vodka, soda water and fresh squeezed juice to match. My new favorite drink!
Rusty Rudder (Dewey)
Casual live music bar overlooking Rehoboth Bay. They've got a big deck in the middle set up for fun anytime of day.
Dewey Beer Co. (Dewey)
This place had some delicious sour beers and top notch bar food! I had a heck of a burger topped with onions rings, bacon and egg!
Other Dining + Drinking Options:
Salt Air – Unfortunately, I didn't make it to Salt Air this time, but I heard from multiple sources this farm to table restaurant serves some of the best food in town.
Back Porch Cafe – Everything on their menu (except for the baguettes) is made in house, now that's impressive! This restaurant serves global fusion across 3 floors and regularly hosts live music. Another food spot to put on my list for my next visit!
Blue Moon – Be entertained as you dine on upscale American cuisine in the heart of Rehoboth!
Dogfish Head Brewings and Eats Brewpub  –  Own brew beer on tap and quality comfort food.
Cultured Pearl Restaurant and Sushi Bar
Surf Bagel AM – NY style bagels, burritos, wraps and smoothies by brothers Dave and Tom.
Cafe Azafran – Mediterranean and Spanish cuisine in the form of large plates and tapas.
Big Fish Grill – A 90 seat seafood restaurant that's been opened since 1997. You'll find a large variety of offerings from Middle Neck clams and shrimp spring rolls to fried platters and lobster pasta.
Bluecoast Seafood Grill and Raw Bar Rehoboth – Fresh seafood in a contemporary setting with a outdoor patio + fire pit and nightly take out specials.
Henlopen City Oyster House – Locally sourced coastal cuisine.
Big Oyster Brewery (Lewes) 
Heirloom (Lewes) – Serving creative American dishes in a quaint Victorian house in the neighboring town of Lewes.
MezCali Taquería Y Mezcal Bar (Dewey)
Jimmy's Grill (Dewey)
Off the Hook (Bethany Beach)