Travel Guide: Seneca + Keuka Lake, Finger Lakes, New York
The Finger Lakes Region consists of a group of 11 lakes in Upstate New York including Cayuga, Seneca, Keuka and Canandaigua. The scenery of the area is unmatched and there is a plethora of farm to table dining, wineries of all sizes, breweries, and stunning waterfalls. If you haven't explore this region yet, you're missing out!
What are Keuka Lake and Seneca Lake known for?
Seneca Lake and Keuka Lake are amongst the top Finger Lakes to visit and where we went on a recent trip.
The Seneca Lake Wine Trail is the largest and most active wine trail in New York State and brings in many visitors each year. Seneca is also the deepest of the Finger Lakes.
Keuka is a very unique lake as it's one of only two in the world that are naturally 'y' shaped. The bottom and left side of the lake are mainly in Steuben County, while the upper and right part of the lake are in Yates county.
Towns to Visit near Keuka or Seneca
Watkins Glen
Geneva
Corning
Hammondsport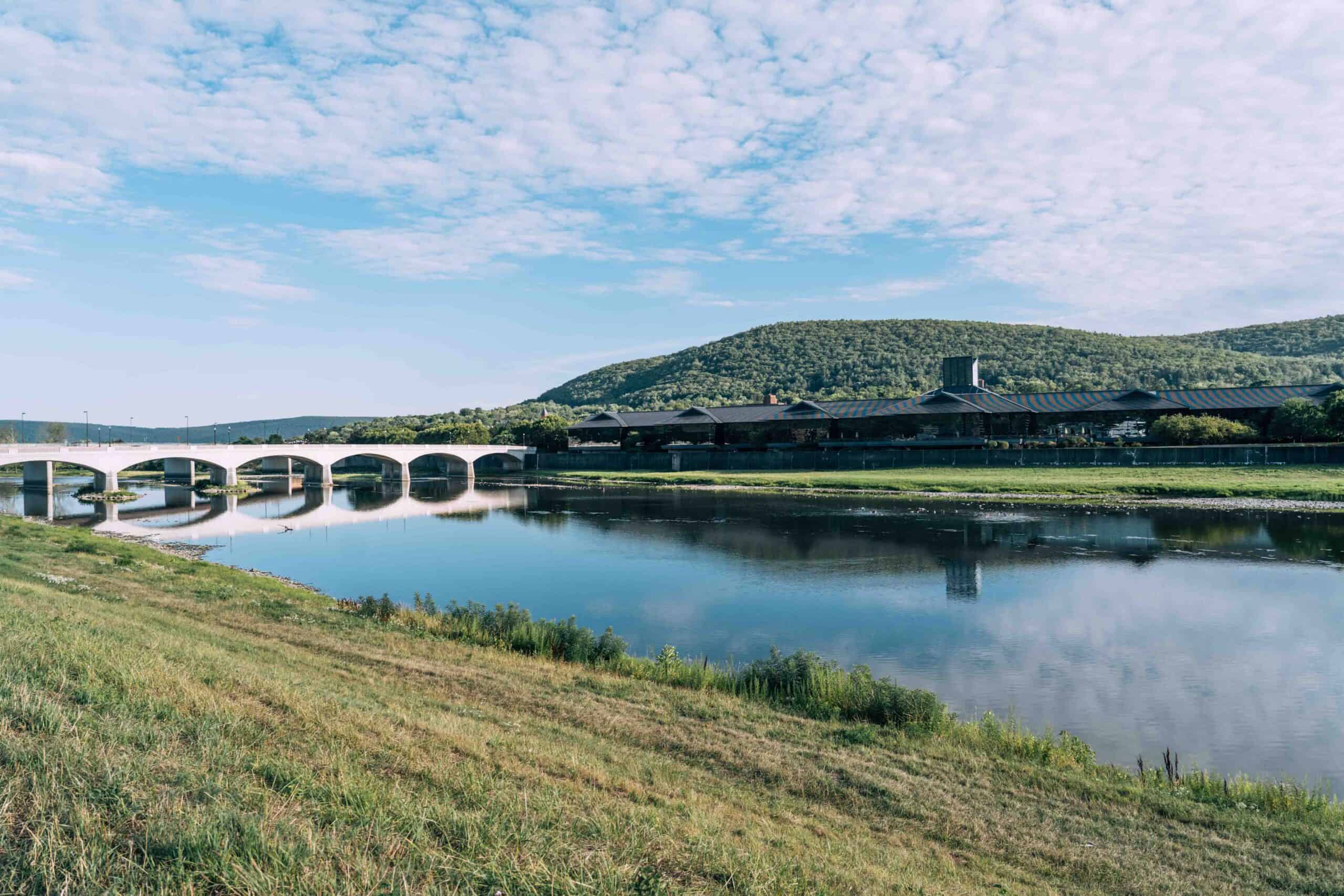 Things to Do Near Keuka Lake (Steuben County) + Seneca Lake
Watkins Glen State Park
Two of the Finger Lakes best known waterfalls are located here; Rainbow Falls and Cascade Falls. I've been to Watkins Glen State Park a number of times and will never say no to a visit! The gorge trail is truly a natural wonder and has a total of 19 waterfalls along it's path.
Linden Street
This quaint street in Geneva's downtown has a number of amazing businesses along it.  Dine at F.L.X Table or the Rusty Pig and grab a drink at Microclimate Wine Bar or Linden Social Club.
Corning Museum of Glass
I enjoyed this museum even more than I expected! It's certainly not just for your typical museum goer. The Corning Museum of Glass has a number of interesting demonstrations and interactive experiences. We watched a couple of different glass demonstrations and were blown away. If you have time, you can make some of your own!
The Pat II
We did a lovely little ride on The Pat II which had recently been restored by the The Finger Lakes Boating Museum. It's been in use since 1924 and used to be a USPS delivery vessel. It was so nice to see Keuka from a different perspective, it almost felt like we were in Italy!
Glenn H. Curtiss Museum
Learn about early aviation and history of the area.  The museum is dedicated to Glenn Curtiss who was a pioneer in the industry.
Seneca Lake Wine Trail
Seneca Lake Wine Trail is the largest and most active wine trail in New York State. The variety of wineries along this trail are incredible. There is truly something for everyone! We've highlighted many of these wineries below.
1886 Food & Wine Experience
This experience took us on a tour around the Dr Konstantin Frank vineyards where we learnt about the history of the winery and methods used and developed over the last 60 plus years to produce some of the regions best wines.
You learn from an expert and also get to try the wines plus have a wine and food pairing at the end which is just delicious!
Where to Drink: Wineries, Breweries + Distilleries
Tabora Farm and Winery
Our first winery of the trip, was more than just that. Whilst being a boutique winery, they also operate as a deli, bakery and market inspired by elements from the region as well as owner, Jane Eatherton's, homeland of Capetown, South Africa.
We had a tasting with Matt, who has worked in the Finger Lakes Region for the past 10 years and has recently joined Tabora as the head wine maker. You could really tell his passion when he explained the varietals to us, the wines reflected what grows well in the area and the design of the buildings reflected Cape Dutch architecture.
The inside of the tasting room is just as wonderful with dark interiors and a large wooden bar and high top tables.
Lakewood Vineyards
A family run operation that makes you feel right at home by starting you with their Bubbly Candeo as you begin your tour or tasting, Lakewood Vineyards is a fantastic stop in on The Seneca Lake Wine Trail.
The first thing you notice after sipping your refreshing sparkling wine is the wonderful views overlooking the vines and down to the lake that act as a backdrop to the outdoor bar areas. You really feel like you're in the vineyard and part of the experience.
Lakewood has a good variety of wines made from estate grown grapes for you to try, which they categorise as Elegant and Accessible, Fun and Fruity and Everyday Enjoyable as well as some dessert wines and port. Having started our tasting with the light Bubbly Candeo, we made our way through the choices trying everything from a refreshing but dry Pinot Noir Rosé to the Cabernet Franc and finished our tasting with a lovely and slightly on the lighter side Ruby Port.
We met the owner Liz and one takeaway we got from her was the importance of preserving the vineyards for future sustainability as well as the significance of being a family business with her husband and children working to make Lakewood the best it can be.
Glenora Wine Cellars
Opening in 1977, Glenora was the first winery on Seneca Lake and is one of the larger stops on the Seneca Lake Wine Trail with a sizeable tasting room, covered outdoor decking, a restaurant and The Inn at Glenora where you can stay right on the edges of the vineyard and wake up to those beautiful views.
They offer tastings all year round of their wide variety of wines. This variety makes Glenora a perfect stop to make sure everyone is pleased in the group with everything from wine slushies to Cabernet Franc.
We got to go on a cellar tour and taste wines straight from the barrel with their new head winemaker Edward, who took over in 2021 and is putting his touch on the wine making process having previously worked on vineyards in Italy. Glenora also offers different types of tastings like their chocolate and wine pairing as well as a mimosa flight!
Fox Run Vineyards
As one of the most well known wineries in the region, Fox Run, which was established in 1994, has multiple options for enjoying their wines. There's a lovely backyard overlooking the vineyards, a front porch with views towards the lake and two inside areas for tastings. It offers great flexibility, allowing you to do tastings with a member of the team or by yourself with notes they prepare for you. They also have special options like one we did which was an Around the World tasting with four food samples paired with four different Rieslings. You could really taste how well they were paired as the flavors complimented each other so well and really enhanced the drinking experience.
Whilst producing a variety of wines, Fox Run is know for it's Chardonnay, the wine that brought one of the owners, Scott, back to the region having spent time at wineries in California.
The winery regularly hosts events like their grill evenings and has a day time cafe which uses produce from New York State. One of our favorite dishes was their Riesling braised bison tacos!
Wagner Vineyards Estate Winery
As one of the most popular destinations in the Finger Lakes, Wagner Vineyards has something for everyone! The family owned business spans five generations and is a massive 250 acres consisting of the vineyards and winery as well as a restaurant, brewery and multiple tastings areas.
After taking a tour around the vineyard and learning about how they have to be farmed in a way to negate the intense weather in the region, we got to see their top of the range Gregoire harvester which can go through over 100 tons a day, compared with the around 8 tons if done by hand. This kind of machinery is necessary to help produce their 100% estate bottled wines with over 30 award winning wines ranging from bone dry to sweet dessert wine. 
We liked the concept of having a craft brewery in addition to the winery on site and did both a wine and beer tasting whilst sitting in their large outdoor area.
Lamoreaux Landing Wine Cellars
Overlooking what might be one of the best views of Seneca Lake, is Lamoreaux Landing. Named after a historic steamboat landing where the hillside meets the lake, this 100% estate grown winery focuses primarily on Riesling, Chardonnay and Cabernet Franc.
We decided on a wine and cheese pairing here which featured some fabulous local cheeses and a selection of their award winning wines, which have built a reputation around the country. You can really tell their passion for winemaking and a sustainable product when doing a tasting as the team are very informative and knowledgable.
The winery is managed with sustainability at the forefront of the process, using 100% solar energy to power production, sustainable wine growing processes and minimal use of chemicals and pesticides.
Dr. Konstantin Frank Winery
Potentially the most important winery in the region as Dr. Konstantin Frank planted the first vinifera vines in the Eastern United States and ignited the "Vinifera Revolution" which helped make New York's wine production what it is today.
Dr. Frank Winery has been making wine on Keuka Lake since 1962 and has the second oldest Pinot Noir vines in the US. At the time, many doubted that Dr. Konstantin Frank could produce high quality vinifera wines in New York climates but his innovation and persistence won out and cemented the winery and region as a legitimate wine making destination.
We opted for the 1886 food & wine experience, where we took a tour around the vineyards and learnt about the history of the winery and methods used and developed over the last 60 plus years to produce some of the regions best wines. One really interesting aspect was their sparkling wines produced using Méthode Champenoise to create some of the premier sparkling wines in the US, with their 2017 Blanc de Blanc recently winning New York's best sparkling wine.
As well as touring the vineyards, as part of the tour we also got to see in the cellar at Chateau Frank which was originally used in the late 1800's and is now home to thousands of bottles of sparkling wine as it ages.
Keuka Brewing Co.
One of our favorite stops of the trip was at Keuka Brewing Co, the lake's first craft brewery. It's run by father and son team Rich and Mark Musso. Mark is the head brewer and has been able to produce a wide variety of beer variations, which is especially impressive considering their size as a micro-brewery, whilst maintaining the quality and distinct flavours in what they produce.
With all those beer options, we could have stayed here and drank all day, we tried everything from their classic New England IPA styles to fruited sours like the Sticky Drips made with pineapple, coconut and cherry, as well as more refined options like the Oubliette barrel aged saison with an ABV of 8.5% and their popular Pumpkin Cream Ale, which is perfect in the Fall.
They have regular food pop ups and the clientele when we went was a good mix of visitors to the region and locals stopping in for a pint after finishing their shifts at the region's wineries.
Living Roots Wine Co.
Living Roots is a unique pop up overlooking Keuka Lake that started with a love story. The founders, Seb and Coleen met during harvest in 2014 at his family's winery in Australia and two years later they started their own company together, with Living Roots urban winery opening the following year during 2017 in  Coleen's native Rochester.
The Keuka Lake pop up opened in 2020 with a small outdoor set up, that gives you a modern and boho vibe compared with that of some of the more traditional tasting rooms in the region. Work has begun on a full tasting room which will open in 2023 which will feature wines they have produced in New York as well as Australia. In New York they're focusing on sparkling and white wines whereas in Australia it's more medium bodied reds.
Liquid Shoes Brewing
We popped into liquid shoes for a quick beer after lunch and we're certainly glad we did. Their fruit forward beverages had quite the flavor profile, we'd order both the pineapple wheat ale and the passionfruit raspberry again in a heartbeat.
Where to Eat Along the Seneca Lake Wine Trail + Keuka Lake (Steuben County)
Tabora Farm and Winery
After our wine tasting at Tabora, we were feeling a little peckish so stopped into their deli, where there is baked goods, sandwiches and some South African specialities like Bobotie. 
We went for The Fruity Chick with chicken salad, grapes and apples on Tuscan bread as well as The Italian Fowl which was sliced turkey breast, roasted peppers & provolone on grilled 7 grain bread.
The farm fresh deli makes many ingredients from scratch and you can really tell in the quality, very much enjoyed our quick lunch here.
Kindred Fare
Having won Best Farm to Table Restaurant in the Finger Lakes, Kindred Fare specializes in cooking that utilizes local meat and produce. The variety of local farms, creameries and bakeries is proudly displayed on their website and across the menu, emphasising the importance of seasonal and quality regional ingredients.
In the spirit of supporting local we started with Bubbly Candeo from Lakewood Vineyards before having a couple of delicious cocktails. As an appetiser we shared the buttermilk brined and hot honey coated fried chicken, which was both juicy and crispy. For entrees we had the daily special pasta made with slow cooked pork and topped with parmesan, the white fish with romesco sauce and the pork belly fried rice.
Inside there was a lovely atmosphere and a real buzz on a weekday evening, getting the balance right between modern design and cosy feel.
Ports Cafe
Started by two locals, Ports Cafe bills itself as fine dining in a casual setting with a menu ranging from ribeye steaks to tandoori chicken.
The regularly changing seasonal menu features many dishes made in house including one of our favorite dishes, the short rib ricotta gnocchi with a 10 hour tomato-red wine braised short rib ragout and grilled focaccia. The flank steak with scallops was another highlight as well as the desserts which included strawberry and rhubarb crisp and a chocolate fudge torte.
It's not just the food that keeps it local, the drinks menu also features local suppliers with options like Riesling from Fox Run Vineyards and Warhorse IPA from Three Brothers Brewing. Ports Cafe was one of the busiest stops of the trip, so make sure to book in advance!
The Elf in the Oak
This is one we didn't make it to, but we've heard the sandwiches are next level! Looking forward to trying them out next time.
Soul Full Cup
Soul Full Cup is a local coffee shop on the Main Street in Corning. We loved their frozen hot chocolate and frozen chai drinks. They're the perfect alternative to a regular coffee on a hot day!
The Park Inn
Chef Dan Eaton and Sommelier Jason Ferris are the team behind the The Park Inn. There is an extensive wine list that is curated from regional and global wines and a menu that regularly changes to accentuate the finest locally sourced products.
The restaurant is cozy and intimate whilst being upscale and the menu features dishes like seasonal risotto and grilled centre cut pork chops. Two of our favorite dishes were the goats cheese and beetroot salad and the perfectly cooked roasted half rack of lamb with a basil pesto crust.
This is a particularly nice setting to relax in a historic building that has been well restored to keep up with the times whilst maintaining its' integral character.
Timber Stone Grill
The Timber Stone Grill is a great local eatery with a rustic feel. They have both indoor and outdoor seating and a menu to suit many palates.
We went at lunchtime and shared a fantastic charcuterie board with meats, cheeses and crostini as well as delicious local honey. For the entrees we had a very fresh tasting salad bowl and The Timber Burger which is half a pound of sirloin topped with cheddar and onion.
The Quincy Exchange
An elegantly designed restaurant in the heart of Corning, The Quincy Exchange offers a higher end experience inside what was once a bank. They even still have the old bank vault where spirits and wine are stored.
They make some delicious cocktails, we loved the jungle bird and the classic daiquiri. The menu features refined and well presented dishes such as koji dusted skate wing with charred lemon broccoli and potatoes as well as seared duck breast with pine nuts and cherry jus.
The restaurant also has an adjoining store called FLX Provisions with local goods and is part of the FLX Group which includes some of the regions top restaurants.
Where to Stay on Keuka Lake and Seneca Lake
This hotel is perfect for those wanting to stay as close to the vines as possible! Every room has a terrace overlooking the Glenora vineyards and Seneca Lake. A continental breakfast of coffee and light bites is included in the room rate.
You'll be steps from the tasting room and can dine at their on site restaurant, Veraisons which sources their ingredients from over 30 farms in the Finger Lakes.
The Park Inn is located in Hammondsport and consists of 5 rooms above their renowned restaurant.  I loved the cozy feel of the room and the convenient location. They've done a great job preserving a historic home and adding modern luxuries.
I highly recommend dining downstairs for seasonal, farm fresh dishes and certainly check out the wine list with over 200+ options!
This Italian inspired villa was built in 1910 as Nester Villa. It eventually fell into disrepair, until it was renovated by the Schickel brothers and brought to life as Geneva on the Lake in 1981.
You can stay at this romantic estate complete with formal gardens, 70 foot pool and restaurant.
You can rent a pet friendly cabin at Lakeside Resort with nightly campfires, grills for guest use and 3812 Bistro serving food all day. The views of Seneca Lake are unmatched!
A historic castle with rooms on the north part of Seneca Lake. There are multiple amenities to take advantage of such as their salon & spa, steakhouse and tavern.
Have a drink at the sunken bar which overlooks their lawn and the lake at Stonecutter's Tavern.
Watkins Glen Harbor Hotel is adjacent to the Glen Harbor Marina and a short walk to the entrance of the Gorge Trail. They have a variety of amenities such as an indoor swimming pool, patio, hot tub, fire pit and some rooms with their own terraces.
Many thanks to The Seneca Lake Wine Trail and Explore Steuben for a wonderful trip!