Driving from New York to Florida, East Coast Road Trip Itinerary + Guide
Have you ever driven from New York to Florida? I've actually been the passenger for this drive countless times as a kid. I can remember sitting in the backseat of a mini van for the long drive because my parents didn't want to pay for 7 people to fly. However, I'm also no stranger to a good ol' East Coast Road Trip as an adult!
I've driven from New York to Florida,  NYC to LA, done a New England road trip as well as a New York State and a Western USA  Road Trip, so you could say road trips are definitely my preferred method of travel. I just love the freedom it gives you and how much more you're able to see.
New York to Florida Drive, How long is the Trip?
Fastest Route
Quickest time: 16 hours – 2 days
Distance from NYC to Jacksonville, FL is just under 1000 miles.
Distance from NYC to Miami is about 1300 miles.
Road Trip Route
Make it as long as you want!
Distance from New York to Florida on my suggest Road Trip Itinerary comes to about 2200 miles.
Coastal Vs. Inland
You can stick to the coast most of the way or dip in to see some mountains. The Blue Ridge Parkway is an epic road to drive, even if you only do a small section, but it will add on time and mileage.
Is there a good Halfway Stop?
It depends where in Florida is your final destination, but a good place to stop is either Charleston or Savannah. They're a little further than halfway, but both are beautiful, walkable cities with plenty to do.
How do I plan an East Coast Road Trip?
First, decide on your priorities :
How much time do you have?
Are you looking to take the scenic route or the most efficient route?  
Are there certain locations you absolutely need to see?
Are you looking to camp or stay in hotels?
Do you want to do a one way drive or round trip? (take into account car rental one way fees)
Is trying the local cuisine/restaurants a top priority?
Do you want to spend most of your time on the beach?
Decide on your budget and make adjustments.
Do you really want to see Charleston and Savannah, but don't think you can afford both cities? These two Southern cities have quite a few similarities, but Charleston is definitely the more expensive one. Cutting it out could be your best option.
Factor in for tolls, gas, food and drinks, activities, accommodation.
Deciding how much you want to spend per day and week is a good way to keep to a budget. Obviously, you will spend alot more in NYC than you will in Savannah.
Choose your road trip companions wisely.
I did my East Coast road trip with my husband Si, one of his friends and my best friend from high school. We had all hung as a group a couple times before, but it was a bit of a leap to decide to do almost 4 weeks of traveling together. Luckily it worked out pretty well. Si's friend happens to be a chef and cooked us wonderful meals in our AirBnbs, my friend had a car so we didn't have to rent one and she also preferred driving which meant I hardly had to!
That being said, being in close proximity with people, even your closest friends, can put pressure on the relationship, so make sure everyone is up for the challenge.
If you can manage to find 3 people you're willing to share a room with, your costs will be cut tremendously!
Map out your route and make an Itinerary.
I'd suggest making a Google Doc with your companions so everyone can add things they want to do and see. Make sure each of you are clear about your absolute must-dos, but be ready to compromise.
New York to Florida East Coast Road Trip Tips
Don't plan in too many 1 night stints, unless you're tight for time. In my opinion, it's better to visit less places so you can actually fully see that place then try to fit in too many stops.
Have a plan, but leave room for spontaneity. Booking into too much will leave you tired and overwhelmed.
Never leave yourself with too little gas. On some stretches of road the rest stops are few and far between.
Have your vehicle checked beforehand.
Have all car documents with you.
Download Roadtrippers app.
Where Can I rent a Car, Campervan or RV from in New York City?
Escape Campervans – I used this company on my cross country road trip a few years ago. It was so convenient having a mini kitchen and bed on the road! We mainly slept at RV campgrounds or state parks on that trip. Their office is located in New Jersey, which you can get to on the train from Manhattan.
Wayward Campers
El Monte RV Rentals
VroomVroomVroom
When is the best time to do an East Coast Road Trip?
In my opinion the best month to do an East coast road trip or to drive from New York to Florida is in June. Since summer solstice is between June 20 and 22 you'll end up getting the maximum amount of day light which allows you to fit much more into each day.
The weather will be pleasant when you start in New York (highs around 80 and lows around 65) and will heat up the further south you get. Since you're likely to be stopping at various beach destinations you can cool off by the water!
Overall Trip Budget Breakdown
1. Gas
This will vastly depend on current gas prices. When I drove from New York to Florida gas was around $2 per gallon. I've also done road trips when gas was closer to $4 per gallon and it makes a big difference.
2. Tolls
Make sure to have cash on you for tolls unless you have EZpass which will work up until South Carolina.
3. Accommodation
Camp Grounds $
RV Parks $$
Hotels $$
Resorts $$$
Airbnb $$
4. Food + Drink
Keep costs low for food and drink by having a cooler in your car with cold drinks and some snacks. Restaurants and eating out can add up very quickly, so if you're on a budget it may be worth getting an AIRbnb and cooking a good portion of your meals there.
5. Activities
You can't do everything everything everywhere. Do some research and do what you want! Don't force yourself to go to a museum if you don't like museums just because it's on the top things to do list.
Tours
Boat Trips
Museums
Water sports
New York to Florida Road Trip Stops Map
4 Week East Coast Road Trip Itinerary Stops
These are my top recommended stops for an East Coast Road Trip that starts in New York and ends in Florida.  If you make all of these stops you will only drive more than 5 hours at a time once, which I feel breaks up the trip perfectly. This itinerary is designed as a one way trip, but you can certainly curtail it to meet your requirements.
NYC (4 nights)
 Montauk/ The Hamptons? (2)
Asbury Park, NJ (2) – Cape May Ferry
Rehoboth Beach, Delaware (2)
Norfolk/VB, Virginia (1)
Blue Ridge Parkway/Asheville, NC (3)
Hilton Head, South Carolina (2)
Charleston, SC (3)
Savannah, Georgia (2)
Amelia Island, Florida (3)
Miami, FL (3)
Florida Keys (4)
New York to Florida Road Trip Itinerary
New York City is where you can start off on the adventure. It's where my family is originally from and where I now live. This will be the the most expensive location on your trip as well as one of the most interesting and diverse!
You don't need a car in New York so if you are renting one, wait until you're on your way out.
While you're in NYC you'll want to to try Pizza (Artichoke, Prince St., Joe's), Bagels (Ess-a-bagel, Russ+Daughters), and Burgers (Emmy Squared, Raoul's, Shake Shack), and Pastrami (Katz Deli.
I've created a quick itinerary below, but you can also read my full guide to 4 days in New York.
Day 1 Uptown + Times Square 
Central Park

– Loeb Boat House, Bethsheda Fountain, Bow Bridge,  Alice + Wonderland. Enter on East 72nd St. (Limited Food options)

The Met, Natural History Museum 

Times Square + Broadway Show
Day 2 Midtown Manhattan
Walking Tour 

Radio City/ Rockefeller Center/Grand Central/ Empire State Building/ Madison Square Park

Sports Game
Day 3 Lower Manhattan
Financial District –

Oculus, 9/11 Memorial, One World Trade Center, Wall Street

Statue of Liberty

ferry from Battery park

Seaport District

– shopping, food, experiences 

Happy Hour Drinks

– Stone Street, Dead Rabbit
Day 4 Downtown + Brooklyn 
Chelsea

– Chelsea Market + Highline

West Village/ Soho / Chinatown

Brooklyn Bridge –

Walk to BK take 1 hr.

Dumbo –

Time Out Market, Washington St., Skyline View

Williamsburg –

Hipster neighborhood, vintage shopping, trendy restaurants
Unique Hotels in NYC:
Montauk is on the South Fork of Long island and  is often referred to as "The End."  It's located at the very tip of Long Island peninsula in the Hamptons.  Long Island lies east of NYC and is essentially an extension of the same land mass that the burrows of Queens and Brooklyn are on.
Montauk is an old surfing and fishing town turned trendy by New Yorkers flocking here in the Summer months. It's a good place to chill out after a crazy few days in NYC, while still getting that fun vibe.
TOP TIP – It's usually 10 degrees cooler out in Montauk than it is in NYC!
Top Things to Do
Visit the Montauk Lighthouse
Walk around Montauk's Village.
Hike at Camp Hero State Park.
Sunbathe at Kirk Park Beach.
Go for a surf.
Go to Gurney's for lunch then head down to the beach club.
Hotels in Montauk:
Stop 3. Asbury Park, NJ (2 nights) 
Asbury Park is a quirky, retro beach town with a cool boardwalk and a long history in the music scene. It's a known hub for rock and roll musicians, artists and surfers alike.
Things to Do
See a show at the legendary Stone Pony venue.
Watch the surfers at the beach.
Walk on the Asbury Park Boardwalk.
Play games while you drink at Johnny Mac's House of Spirits.
Embrace the art scene and check out the Wooden Walls mural project.
Hotels in Asbury Park
Book a spot ahead on the Cape May-Lewes Ferry to get you from New Jersey to Delaware. You can sit back and relax as you enjoy the water view. There's even a bar on the top floor if some of the passengers want to drink!
Rehoboth Beach has been known as a vacation destination historically for people coming from Washington D.C. The retro beach town now hosts visitors originating from various locations across the country primarily from Baltimore, Philly, NYC and D.C.
The town of Rehoboth is known for being an iconic beach vacation town, having a welcoming community and large LGBT population. Poodle Beach is one of the most famous gay beaches in the U.S. Neighboring town of Dewey Beach is a bit of party scene and so much fun for a night out!
Things to Do
Visit the Delaware Seashore State Park.
Shop at the Tanger Outlets tax free!
Rent a Bike and peddle around town.
Have a beach day.
Walk the Rehoboth Beach boardwalk.
Watch live music and have drinks in Dewey Beach.
Hotels in Rehoboth Beach
Stop 5. Norfolk/Virginia Beach (1 night)
Norfolk is located south of the Chesapeake Bay and is a naval hub.  It just so happens to be the world's largest naval base and the location of the North American Headquarters for NATO.
Virginia Beach and Norfolk are only a 20 minute drive apart, so it's easy to see both. Though I wasn't too impressed with Virginia Beach there were a few good spots worth checking out.
Best Things to Do
Take a tour of the Naval Base.
Eat an incredible farm-to-table brunch at Commune.
Have a cocktail at the 5 star Cavalier Hotel.
Grab drinks at the The Shack, an outdoor oasis steps from the beach.
Hotels in Virginia Beach
Stop 6. Blue Ridge Parkway/Asheville (3 nights)
Asheville is a funky city with a hippy vibe in the Mountains of North Carolina. It sits amongst the Blue Ridge Mountains and is only 70 miles from the Smokey Mountains.
There are so many incredible outdoor activities and nature spots in this area, you could spend a lot more time here than 3 days. If you are an outdoor enthusiast you absolutely can not miss this stop!
Best Things to Do
Admire Looking Glass Falls.
Slide down Sliding Rock Falls.
Tour the many breweries in Asheville.
See a show at the Orange Peel.
Hike Rough Ridge Trail.
Asheville Hotels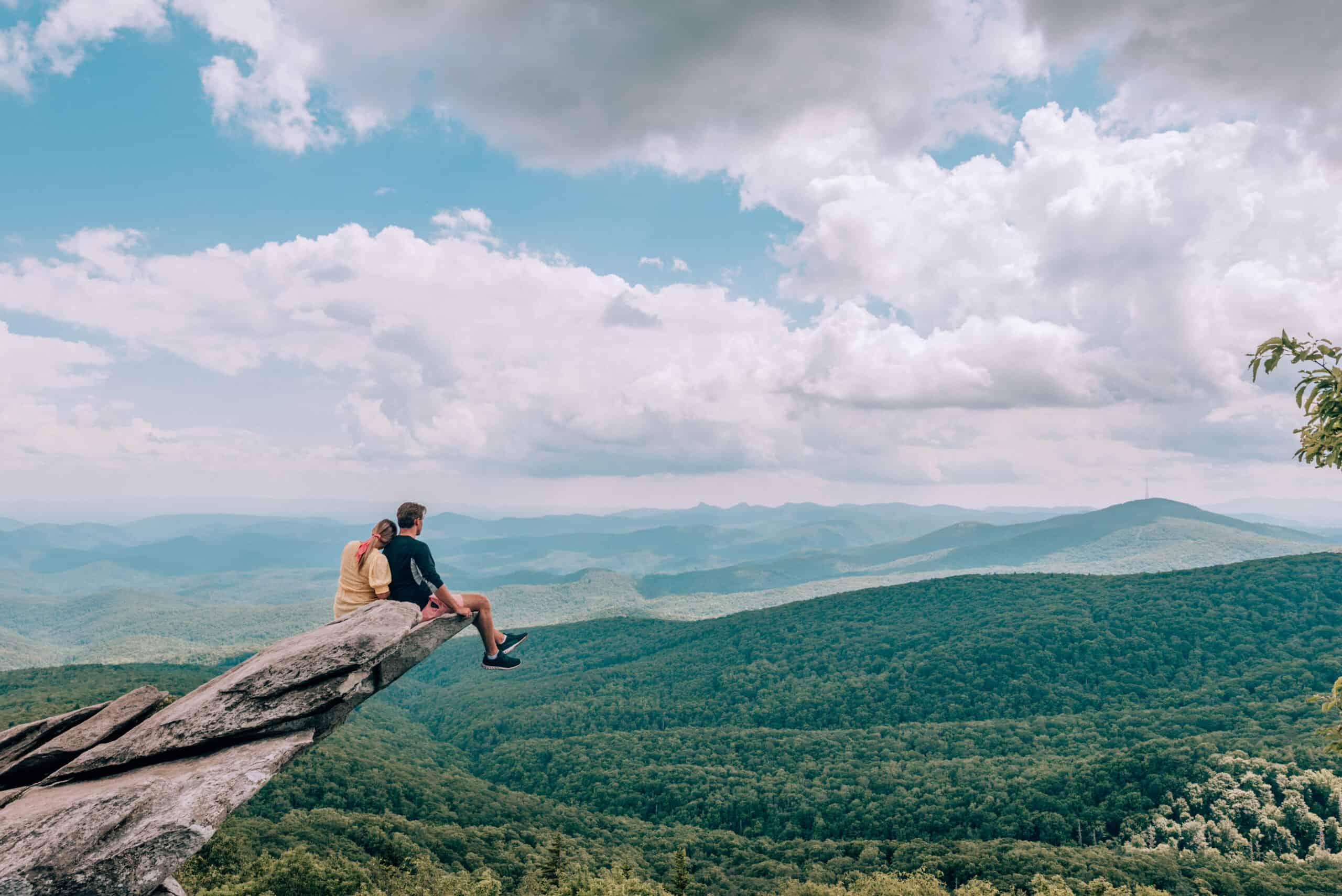 Stop 7. Hilton Head, South Carolina (2 nights)
Hilton Head is a top East Coast vacation destination. The resort town is 12 miles by 5 miles and many people like to get around by biking. Renting massive houses on the beach is what many vacationers do here, but there are other options available. We stayed at the Palerma Inn and Suites which was pretty affordable at the time.
Things to D0
Rent bikes and enjoy the trails.
Have a night out at Barmuda.
Enjoy Hilton's Head top beaches, Coligny Beach, Bradley Beach and Folly Field Beach
Hotels in Hilton Head Island
Charleston is one of the most desired cities in the U.S. right now. It frequently gets attention for its historic downtown with cobblestone streets, vibrant food scene and gorgeous nearby beaches.
Things to Do
Cool off at the Pineapple Fountain
Walk down Rainbow Row
Take a Sunset Boat Cruise.
Have a beach day at Folly's Beach or Sullivan's Island.
Enjoy a tasty brunch.
Hotels in Charleston
Stop 9. Savannah, Georgia (2 nights)
Savannah is just a 45 minute drive form Hilton Head.  It's  a stunning low country city with incredible history and culture. In the historic district open containers are allowed, which gives the Savannah a unique vibe. We had such a blast here! I actually think I might prefer it to Charleston…
Things to Do
Visit Forsyth Park.
Spend an evening listening to music on the Riverfront.
Eat outside at Cha Bella.
Go on a ghost tour or river cruise.
Have brunch at Collins Quarter.
Hotels in Savannah
Amelia is known for having relatively uncrowded and pristine beaches and is located just over the Florida Georgia state line. It's a low key family friendly destination with not too much going on (in a good way). A great location for a no frills family beach vacation, but with the option for exploring nature, learning some history or just listening to the waves.
The island was named after Princess Amelia, daughter of King George II of England and has a long standing European background. The island has has been under the reign of 8 different flags!
Amelia Island has a mix of second homes and full time residents with many of the homeowners hailing from Georgia and Florida.
Things to Do
Sit back and relax on a river cruise and learn about the island's pirate history.
Enjoy the white sandy beaches.
Visit Fort Clinch State Park.
Ride horses on the beach.
Drink at the oldest continuously running drinking establishment in Florida, The Palace Saloon!
Try out old school games at Fernandina Beach Pinball Museum.
Hotels in Amelia Island
Stop 11. Miami, FL (3 nights)
Everyone needs to go to Miami at least once, right?! I feel like Miami is one of those places people either love or hate… and I'm one of the lovers! The beaches are gorgeous, the nightlife is buzzing and you've never seen anywhere so glamorous as South Beach!
Best Things to Do
Visit Little Havana and see Domino Park.
Take pictures at the murals in Wynwood.
Stroll the gorgeous Vizcaya Museums and Gardens.
Find the colorful lifeguard stands on South Beach.
Window shop in the Design District.
Hotels in Miami
There are many things I loved about Key West and the other Keys. In addition to the obvious; blue water, delicious seafood and amazing resorts, it's just got that vibe!
Best Things to Do
Drive over the Seven Mile Bridge in Marathon Key
Spend the Day in Downtown Key West.
Go on a Sunset Sail.
Snorkel over coral reefs.
Sunbathe at Bahia Honda State Park.
Eat plenty of seafood.
Explore Dry Tortugas National Park.
Tour the Ernest Hemingway Home and Museum.
Hotels in the Florida Keys
What to Pack for your Road Trip
Here is a quick list of some items you'll want to have with you on your East Coast Road Trip. Full road trip packing guide coming soon!
Packing Cubes
Charging devices + portable charger
Cooler
Antibacterial wipes
Reusable water bottle
Trunk organizer
Travel Neck Pillow + blanket
Snacks
First Aid Kit
Car games
A good playlist
Tote Bag
Car Fluids

Other Ways to Get to Florida
If you want to cut to the chase and get to Florida from New York ASAP, you could fly or take the train instead!
Train
Time :  The train actually takes around the same amount of time as driving straight through would with only some mini breaks, but will less effort on your part!  (20 hours)
Price : $130 depending on the time of year and when you buy your ticket.
Fly
Time : About 3 hours
Price : $250 depending on the time of year and when you buy your ticket.
Thinking about adding New England to your itinerary?
New England consists of six states, Connecticut, Maine, Massachusetts, New Hampshire, Rhode Island and Vermont. Here are some of the highlights for each. The best time to travel New England is in the fall as the leaves began to change colors and you'll find all things autumn! But, it's also beautiful in the summer months which will consist of beach going, hiking and eating outside at seafood shacks.
Maine
Bar Harbor
Acadia National Park
Portland Head Lighthouse
Cadillac Mountain
Vermont
Burlington
Smuggler's Notch
Killington
Lake Champlain
Stowe
Massachusetts
Rhode Island
Newport Cliffs
Newport Mansions
New Hampshire
Mount Washington
Flume Gorge
Franconia Notch State Park
Connecticut
Greenwich
Mystic Seaport
Yale University