6 Day Florida Keys Itinerary: Guide for an Epic Miami to Key West Drive
A girl's getaway is good for the soul. Whether it's with your mom, sister or your besties there's nothing like a good spa break or road trip to enjoy some quality time together.  This was my first time to The Florida Keys and I'm so happy I got to enjoy the incredible Miami to Key West drive.  Keep reading for my 6 Day Florida Keys Itinerary!
The ease of the Florida Keys
There are many things I loved about Key West and the other Keys. In addition to the obvious; blue water, delicious seafood and amazing resorts, there's also the fact that no passport is required, no exchanging money or calling your bank and no language barrier.
If you want somewhere to just relax hassle free this is the place! It's even better that the Keys are so close to Miami. It makes for an easy addition to your city trip.
Where are the Keys?
The Florida Keys are a coral cay archipelago on the south tip of Florida, only 90 miles from Cuba. You can actually visit the Southern most point in the continental U.S. in Key West.
The Florida Keys are an easy hour's drive from Miami.
Is it Worth Driving from Miami to Key West, Fl?
Of course!! The Overseas Highway, which is the major road that runs through the Keys,  was named an All-American Road by the National Scenic Byways program administered by the Federal Highway Administration. This is one of the most amazing U.S. road trips you can do.
There are plenty of fun and beautiful stops along this epic drive between Miami and Key West and the driving itself  felt pretty laid back.
Florida Keys Facts
From Miami Airport to the start of the Keys is about 55 miles.
The Keys stretch across 125 miles.
Distance between Miami International Airport and Key West is about 110 miles.
Key Largo is the longest key at 30 miles.
The climate is warm year round. 
5 Main regions of the Keys : Key Largo, Islamorada, Marathon, Big Pine and the Lower Keys, and Key West.
The Overseas Highway also known as, "the Highway that goes to the Sea" is the main way to get around the Keys. It's 113 miles long and consists of 42 bridges.
When is the Best Time to Visit ?
Winter, December-February, is the busiest season, so plan accordingly. Prices will be at their peak.
Between March and May is a great time because it is shoulder season and you can take advantage of less crowds and discounted rates.
Summer, June-August is rainy season.
September- November is hurricane season so it may not be worth the risk of bad weather.
Miami to Key West Drive Map
6 Day Florida Keys Itinerary : Miami to Key West Drive
Day 1. Start off by flying into Miami Airport and pick up your rental car.
I usually book with Rentalcars.com. Remember to have all required paperwork. Check with your credit card company if you have car insurance included with your card or if you'll need to pay extra.
It's a few hours drive all the way down to Key West from Miami so make sure you have a good road trip playlist ready to go! You'll get to cross over multiple bridges including the famous 7 Mile Bridge which is the perfect way to start of your Florida Keys trip.
Stop 1: Seven Mile Bridge in Marathon Key
Location: Marathon Key, Mile marker 47-40
When driving over the Seven Mile Bridge, you'll cross over plenty of blue water and you'll also notice another bridge next to it.
You are driving over the modern bridge by car, while the old one is now used for biking and pedestrians only.  Currently though, the old bridge is closed for repairs and is set to re open by 2022.
Stop 2: Seafood Lunch at Sundowners
Address: 103900 Overseas Hwy, Key Largo, FL 33037
On the way, stop for lunch at Sundowners in Key Largo for some seafood and views of the Florida Bay. It's about an hour from the airport, which is pretty much the max time I can go without eating, especially post flight. If you know me at all you will know that I need to eat about every 3 hours so it was ideal to have a nice place to stop!
Stop 3: Check into Ocean's Edge Resort and Spa
Address: 950 Peninsular Ave, Key West, FL 33040
Continue on your drive to Key West for a couple more hours. You'll be very happy when you check into Oceans Edge Resort and Marina, a luxury resort where every single room has an ocean view.
Ocean's edge is completely with 7 heated pools overlooking the marina.  By the time we checked in and settled into our very spacious suite, the magical sunset had begun and it was amazing to see it dance over the boats.
Stop 4: Dinner at Matt's Stock Island Kitchen
Address: 7001 Shrimp Rd Suite 200, Key West, FL 33040
Eat dinner at the nearby Matt's Stock Island Kitchen located at the Perry Hotel in Key West. The food here was right up my alley, quality food made with the freshest ingredients.
To start, make sure you order the Admiral Tower, a seafood sampler which comes served in a tackle box!
Day 2. Water adventures in Key West
Stop 1: Breakfast at Blue Heaven
Address: 729 Thomas St, Key West, FL 33040
Head into downtown Key West to eat breakfast at Blue Heaven. (we were lucky to get a parking spot pretty easily-few are available, so plan accordingly) Who couldn't love an al fresco breakfast under colourful canopies with a live band to ease you into the day?!
I obviously had to order the shrimp benedict with lime hollandaise because I can certainly say I never had that before and it was delicious!
Stop 2: A day with Fury Water Adventures
Address: 0 Duval St, Key West, FL 33040
Did you know that just a few miles off Key West is the third largest coral barrier reef in the world?!  Yep, its true! We got to check it out during our Reef and Ritas Snorkel excursion with Fury Water Adventures. So do exactly as it says, see the only living coral reef in the U.S.A. (no big deal, right?) then come back to the boat to sun yourself on the top deck while enjoying your ritas. 🙂
Stop 3: Enjoy the Key West Sunset Celebration
Address: Mallory Square Pier, 420 Wall St, Key West, FL 33040
A must do while in Key West in the Sunset Celebration. Mallory Square Sunset street Carnival is a nightly event.  Everyone who's everyone comes together to applaud mother nature for her marvellous efforts.
Day 3. Spend the Day in Downtown Key West.
Stop 1: Breakfast at Kermit's Cafe Kitchen.
Location: 200 Elizabeth St, Key West, FL 33040
Grab a light breakfast at Kermit's Cafe Kitchen.
Stop 2: Things to do in Key West.
Take the day to explore what Key West has to offer. There is plenty to see and do in Key West, here are some of the top things to do:
1.The Key West Butterfly and Nature Conservatory
Address: 1316 Duval St, Key West
Check out over 50 different species of butterflies in a controlled climate glass house. Open from 9am-5pm daily. $15 entrance fee.
2. Ernest Hemingway Home and Museum
Address: 907 Whitehead St, Key West
Explore the historic home and gardens of Nobel Prize winning author, Ernest Hemingway. His cat's decendents still live on the property!
3. Go shopping or bar hopping on Duval Street.
There are so many fun bars, including lots of open air ones. Definitely try one of the rum cocktails! The Rum Bar, Captain Tony's Saloon, Alonzo's,  or the Green Parrot are some of your top options.
4. Admire beautiful homes throughout the downtown area.
Southern style homes in the downtown area are eye catching, intriguing and exude southern charm. There are lots of historic homes to see and learn about owned by famous playlists and artists.
5. Visit the Southernmost Point Buoy.
Location: Whitehead St &, South St, Key West
A concrete buoy marking the the Southernmost Point in the continental U.S. A popular tourist photo spot!
6. Strand Theatre
Address: 527 Duval Street,

Key West
A theater from the 1920s turned into a store that has many of it's historic theater elements preserved.
7. Check out the Key West Lighthouse.
Address: 938 Whitehead St, Key West
Climb to the top of the 88 steps of the lighthouse turned maritime museum.  $12 admission fee.
8. Visit a Rum Distillery.
Rum is the drink of choice down in the Keys, with it's close proximity to the Caribbean and handful of local distilleries.
Key West Distilling
Papa's Pilar Rum Distillery, Hemingway Rum Company – Experience a distillery tour and all of the all the classic rum cocktails including a Hemingway Daquiri or Old Fashioned.
Key West First Legal Rum Distillery – Daily distillery tours and tastings. Must try to the Mojito!
9. Ride a floating Tiki Bar.
Cruisin' Tikis Key West leaves from Schooner Wharf Bar in Key West, Hurricane Hole Marina or Mellow Ventures. This cruise is BYOB so you choose and bring your own booze while ice cups are provided.
10. Visit the Harry S. Truman Little White House.
Address: 11 Front St, Key West
Florida's only presidential museum. Entry fee of $22. Purchase online for a discounted rate.
Stop 3: Sunset Sail with Danger Charters
Location: 255 Front St, Key West, FL 33040
Get ready for a wonderful evening with Danger Charters Wind and Wine Sunset Sail. This might have been my favorite activity of the entire trip (no surprise there, as I'm a self proclaimed foodie and wino so this is top of my list for what to do in the Florida Keys).
The boat cruise leaves from Front Street and takes you out to enjoy the sunset with lovely wines, passed hors d'oeuvres and good people.
Stop 4: Spend the Evening in Key West Downtown
After the boat cruise pop over to Turtle Kraals and bet your luck on a turtle race! I don't see you'll see this kind of race anywhere else. It's a great laugh to share with your friends.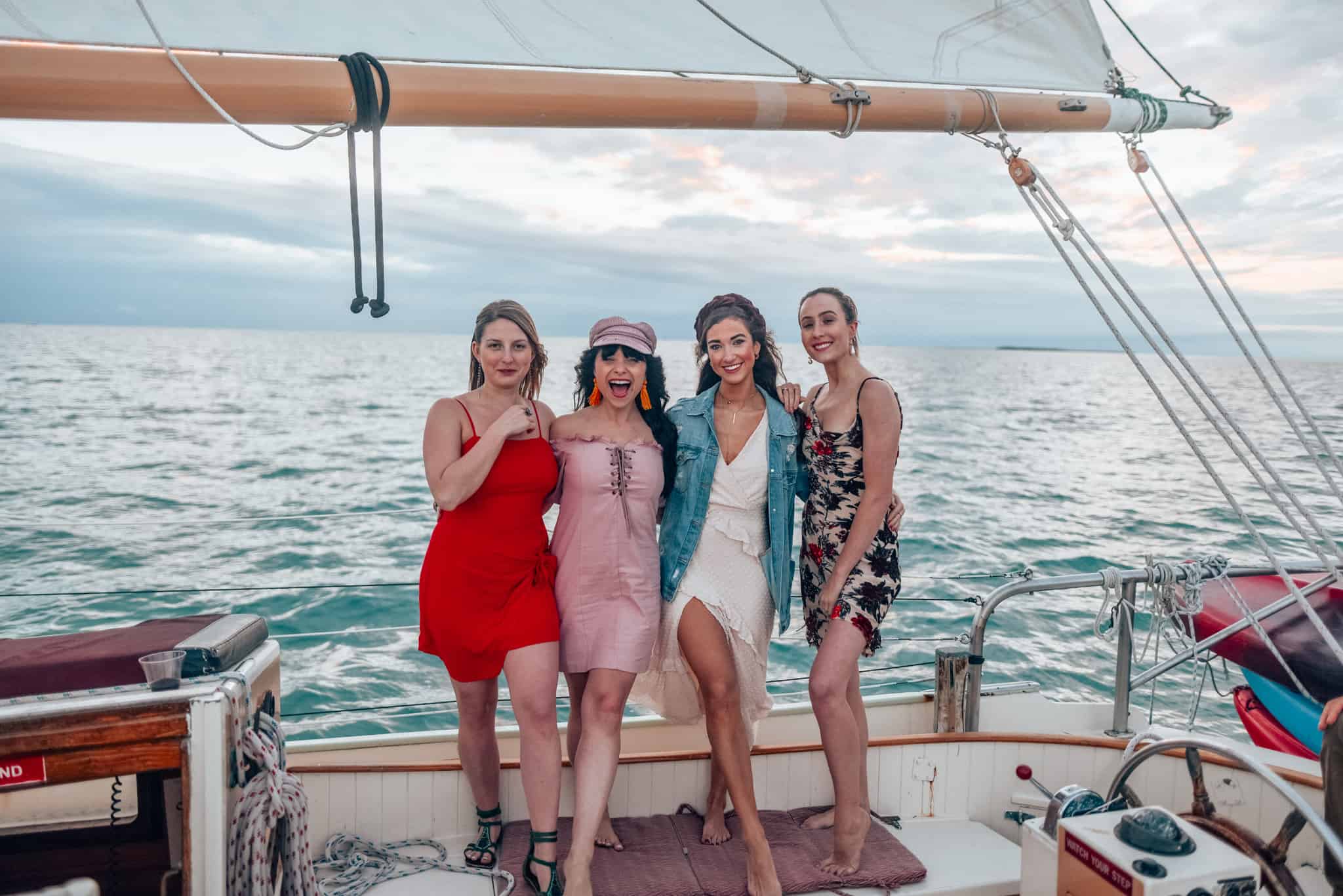 Day 4. Bahia Honda State Park + Drive to the Upper Keys
Stop 1: Check out of Ocean's Edge and drive to Bahia Honda
Address: 36850 Overseas Hwy, Big Pine Key, FL 33043
Time to check out of Ocean's Edge Resort and begin your drive to the Upper Keys. Don't pass by without stopping at Bahia Honda State Park for some gorgeous photos and a quick tanning session!
Bahia Honda State Park is located right off the Overseas highway. There is an $8 fee per vehicle and the park is open from 8am to sundown every day.
Stop 2: Lunch at Robbie's Marina
Address: 77522 Overseas Hwy, Islamorada, FL 33036, Mile marker 77
When you start to get that hunger pang you can stop for lunch at the famous Robbie's Marina to sip on a cocktail, feed the tarpons, shop and grab "a bite."
Stop 3: Check in to Amara Cay Resort
Address: 80001 Overseas Hwy, Islamorada, FL 33036, Mile marker 80
Check in to Amara Cay Resort and marvel at the palm tree lined property. I had a delicious strawberry mojito while I looked around the property.  Enjoy water sports, fire pits, games and the fitness centre, even a shuttle anywhere within a 4 mile radius, all of which is included at the resort.
Day 5. Ultimate Spa Day + Brewery Tour
Stop 1: Breakfast at Key Largo Conch House
Address: 100211 Overseas Hwy, Key Largo, FL 33037 , Mile marker 100
Breakfast at Key Largo Conch House. I had the crab eggs Benedict, an almond milk latte and a fresh orange juice. Can the day start any better?
Stop 2: Spa Day
Address: 97450 Overseas Hwy, Key Largo, FL 33037
No girls getaway is complete without a spa day. Book yourself a treatment at Playa Largo Resort and Spa. Enjoy the gorgeous ocean front pool. This place will not disappoint. I had the best facial of my life here. Post treatment in the quiet area we enjoyed a glass of bubbly and a yummy snack plate.
Stop 3: Brewery Tour
Address:81611 Old Hwy, Islamorada, FL 33036, Mile marker 81
Spends the afternoon learning a little something at the Florida Keys Brewing Co.  They can give you a tour of the brewery and then you can enjoy the fruits of their labor. So many different kinds of beer to try and definitely some ones you've never heard of. I kid you not, this was the most Instagrammable brewery I have ever seen. They're all about using tropical flowers and plants in their beer, like in their hibiscus beer which is a perfect color pink.
Stop 4: Dinner at Marker 88
Address: 88000 Overseas Hwy, Islamorada, FL 33036, Mile Marker 88
For the final seafood feast eat at Marker 88. An Oceanfront outdoor dining restaurant with friendly staff and perfect sunset watching location.
Day 6. Check out
 Check out + Enjoy your last hours in the sun.
Address: 84001 Overseas Hwy, Islamorada, FL 33036, Mile marker 84
Sadly, today is when you check out of Amara Cay Resort. However, you can conveniently stop on your way to the airport and use the pool at their sister property, Postcard Inn.
Their pool is amazing and you can enjoy a drink at their Tiki Bar knowns for the famous Rum Runner drink. A great way to end your Florida Keys itinerary.
Other places to stop on Miami to Key West Drive Itinerary
Dry Tortugas National Park
Located about 70 miles west and Key West lie the Dry Tortugas, a cluster of seven islands. You can get their via a 45 minute flight on a seaplane. You'll see plenty of wildlife like sea turtles and dolphins as well as one of the largest coastal forts ever built, Fort Jefferson.
John Pennekamp Coral Reef State Park
The first undersea park in the U.S. Take in the underwater wonders by glass boat, scuba diving or snorkeling. The park is about 25 miles long.
National Key Deer Refuge
Key Deer are a unique species to the lower Florida Keys. The over 8000 acre refuge is located in Big Pine Key and No Name Key.
Dolphin Research Center
A non profit organization aiming for peaceful coexistance with marine animals. Sit in on behavior sessions and even go swimming with the dolphins!
Turtle Hospital
Meet current patients and permanent residents at the Turtle Hospital and rehab center located in Marathon. Educational programs run daily.
Everglades National Park
A National Park that is also a World Heritage Site, International Biosphere Reserve, and a Wetland of International Importance. Explore the park with a guide or on your own. Entrance fee is $30 per vehicle. Boating, biking or hiking are just a few of the activities you can do here.
Southern Glades
Southern Glades Wildlife and Environmental Area is popular for biking and hiking. The glades lie just off the Overseas Highway in Miami-Dade County.
Biscayne National Park
Biscayne Bay National Park is located in the northern Florida Keys and is the largest marine park in the U.S.A. If you want to explore the reefs and islands of this National Park you'll have to go by boat. See a shipwreck, visit one of the world's largest lagoons or go kayaking.
Where to Stay in the Florida Keys
There are so many beautiful properties to choose from in the Florida Keys, many of which have waterfront real estate. During my time in the Keys,  I had the chance to check out Ocean's Edge Resort, The Postcard Inn, Amara Cay Resort and Playa Largo Resort.  Each one of these hotels had some amazing features.
Ocean's Edge Resort and Marina (Key West) –  You really can't go wrong at this hotel considering every room has a view of. the marina. Beautiful sunrises and sunsets each night. Choose to watch from your room or from one of the heated pools.
Gardens Hotel (Key West) – A pet and eco friendly hotel in the heart of Key West!
Sunset Keys Cottages (Sunset Key) –  Conde Nast Traveler 2020 Readers Choice Awards. One to four bedroom luxury cottages on this intimate Key. Boat transportation brings you between the pier and the cottages.
Casa Marina (Key West) – A Waldorf Astoria Resort with plenty of outside space and ocean views.
Hawks Cay Resort (Duck Key) – A classic family friendly resort.
Playa Largo Resort and Spa (Islamorada) – A stunning property with a private beach and exquisite spa facilities.
Cheeca Lodge & Spa (Islamorada) – A luxury resort on the key of Islamorada.
Amara Cay Resort (Islamorada) – A small boutique property on the
Little Palm Island Resort and Spa (Little Torch Key) This resort is located on it's own private island.
How to get to Key West from Miami if you don't want to drive.
Bus
Greyhound Bus – One way for under $20.
Shuttle
Keys Shuttle – Pick ups from both Miami International and Fort Lauderdale Airport.
Miami to Key West Shuttle – Round trip for as low as $29.99. Pick ups on Collins Ave and a few other locations in Miami.
Cruise
Norwegian Cruise
Royal Caribbean
Carnival Cruise
Ferry from San Marco Island or Fort Myers Only
Many thanks to the Florida Keys Tourism Board for sponsoring this post and for all the businesses along the way. As always all opinions are my own.