First-Timer's Guide to Cape Cod, Massachusetts: Things to Do, See, Eat
I need to start off by saying, Cape Cod is so much bigger than I realized. Compared to my recent visit to the "other cape," in Massachuetts, Cape Ann, it's a completely different animal and as a first-timer I really had no idea what I was doing.
In light of my not knowing, I've created this guide containing everything I learned to help other first timer's have the best trip possible. It's here to help you figure out things to do, what to see, where to stay and where to eat!
What is Cape Cod known for?
To say you're going to Cape Cod, in New Yorker's terms is kind of like saying you're going to Long Island. Sandwich to Provincetown is as big a difference as Montauk and Oyster Bay.
Cape Cod  extends 65 miles into the ocean and has over 500 miles of coastline. You'll need way more than a weekend to see it all and you'll definitely need to be more specific when making your itinerary and choosing what you'll do.
Whenever I had thought of Cap Cod, beaches and seafood always came to mind. After going , that still holds true, but I have a much better understanding of the lay of the land, the abundance of quality of food + drink and just how stunning the beaches are.
Areas + Towns of Cape Cod, Massachusetts
Cape Cod is shaped like a hook and to drive from one end to the other takes a couple of hours. There are four regions of the Cape, Upper Cape, Mid Cape, Lower Cape and Outer Cape. Upper Cape is the closest to the main land and Outer Cape is the farthest out. These are the town located in each.
Upper Cape
Sandwich
Mashpee
Bourne
Falmouth
Sandy Neck
Mid Cape
Dennis
Yarmouth
Barnstaple
Hyannis
Lower Cape
Orleans
Brewster
Harwich
Catham
Monomoy Island
Outer Cape
Provincetown
Truro
Wellfleet
Eastham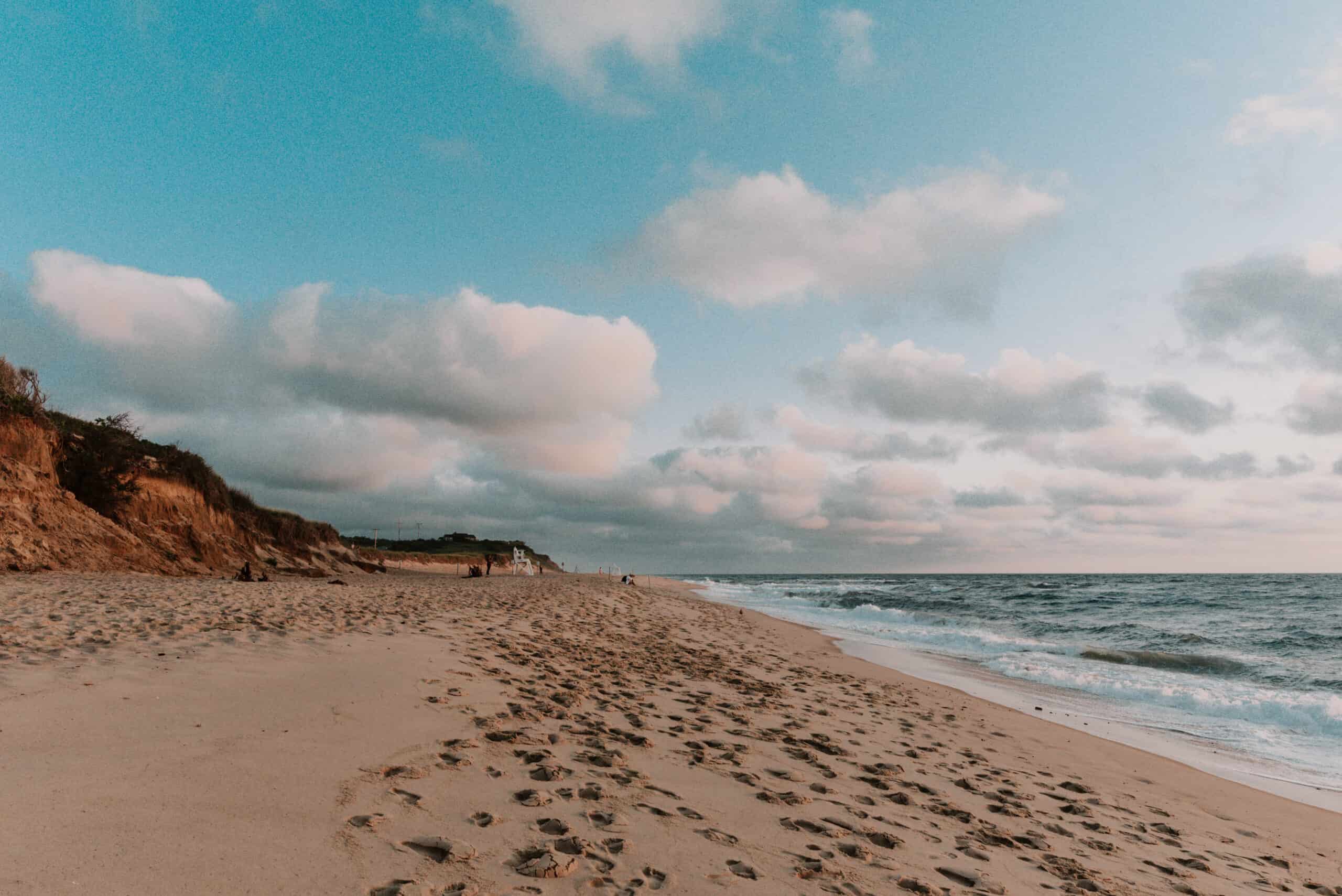 Getting There and Getting Around
A car is the best way to get around Cape Cod, but if you're getting there via public transportation here are your options:
From Boston
From NYC
By Bus :  Make your way to Providence, RI or Boston first.
By Train :  Make your way to Boston first.
By Plane: Fly into Hyannis via Cape Air or Jet Blue.
Getting around with Cape Cod Regional Transit Authority
The Cape Cod Regional Transit Authority is the Cape's Public Transit system.
Beach Parking Tips
Some beach parking lots are for residents only and what parking is available, will fill up early. Get there before 8am if you're visiting over a summer or hot weekend.
Make sure to check each town's perspective website for the most update beach parking information.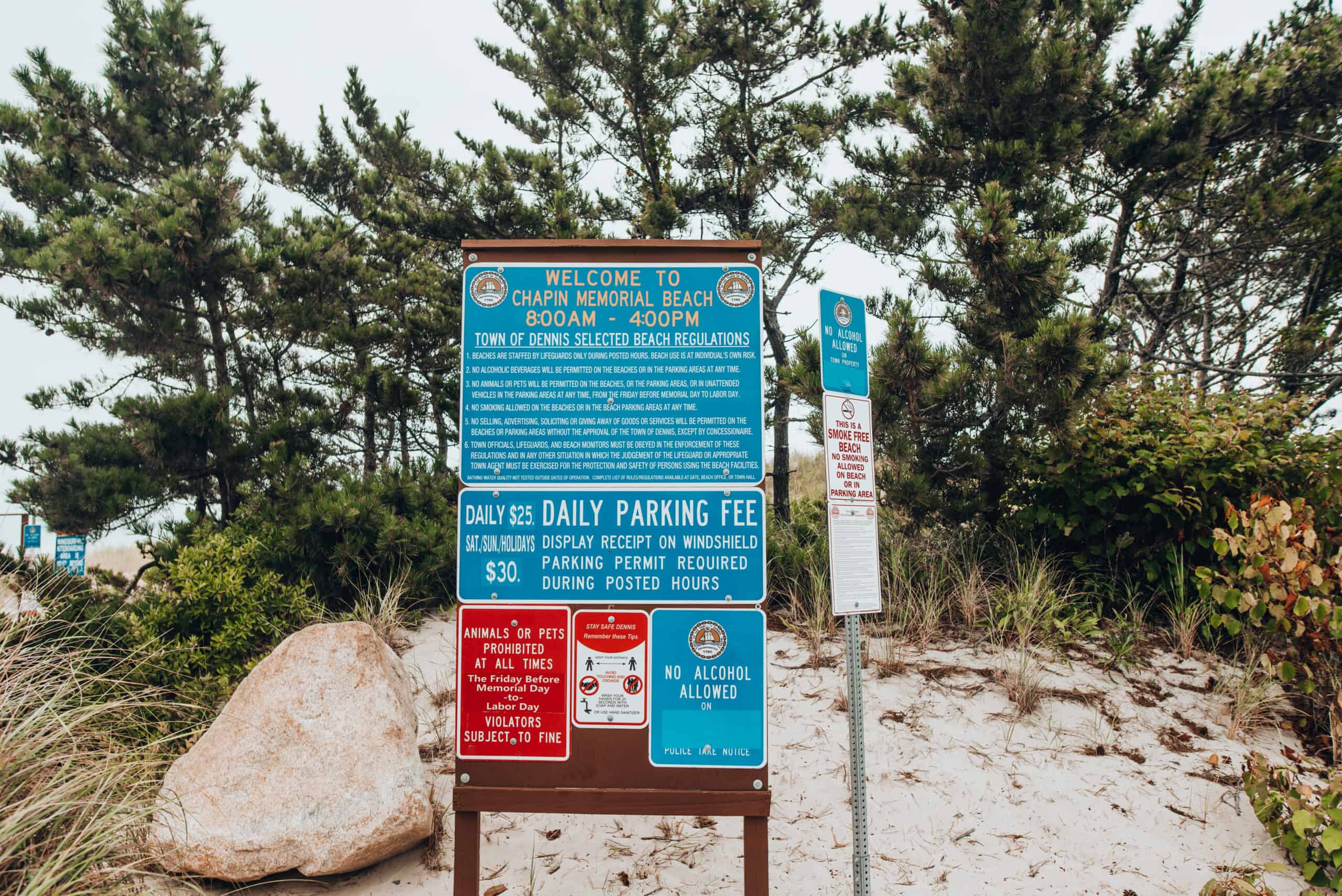 Is Cape Cod expensive to visit?
Yes and No.
If you go in summer which is peak time it certainly will be expensive for things like accommodation. Beach parking can be steep at $20-$30 for the day. Though really if you stay all day and are with a group, it's actually pretty worth it!
One thing that is really cheap is seafood!! Never in my life have I seen lobster priced at $6 per pound out of someone's garage.
When should you Go?
If you're looking to get some beach days in, summer is definitely the time for you. New England isn's warm enough any other time of the year to be sunbathing. July and August are the warmest months with average high temperatures in the high 70's.
Peak Time: Summer // Most Expensive // Warmest Months
Shoulder Season: Spring and Fall
Off Season: Winter temperatures in the Cape are below freezing and some shops and businesses close.
Whale Watching Season: April – October
Map of my Top things to do in Cape Cod, MA
What to Do
Sunbathe at or explore one of the many beaches.
There are over 100 beaches on the Cape so you sure have a few different options!
When I went to Coast Guard Beach on the ocean side of the Cape,  it was very windy as opposed to the calmer bay beach, Mayflower, which was nicer for sun bathing.
Though the odds of actually getting attacked are low, you should know that Cape Cod is known for shark sitings. If you see seals you should definitely get out of the water as sharks eat seals!
Some of Cape Cod's popular Beaches:
Coast Guard Beach 
Marconi
Mayflower
Race Point Beach
Chapin
Gray's Beach
Go on a romantic Sunset Sail.
Bay Spirit Tours does sunset sails as well as a lighthouse cruises, day time sailing and private charters. Some of their sails are BYOB so you can bring your own snacks and drinks!
I didn't get a chance to do a sail this time around, but it's definitely on my list for my next visit!
Stroll through the Heritage Museum and Gardens.
An expansive 100 acre property in the town of Sandwich with stunning gardens. My favorite spot was the Hydrangea Gardens and though peak bloom was over, a few were hanging on strong.
In case you spend more time than anticipated at the property like I did, there is a cafe on site serving lite bites and refreshments.
Spend the evening at Wellfleet drive in.
The drive in was the first part of the complex, built in 1957. Now the Wellfleet Drive In  also has an indoor cinema, flea market, dairy barn and mini golf course making it an excellent spot for the entire family.
Take photos at the Nauset Lighthouse.
There's something so striking about a lighthouse. This one is perched up on a hill behind the stunning Nauset Light Beach. I went in the early hours of the morning to check out both the lighthouse and beach. We were lucky and even saw some seals at the beach!
Go Whale Watching and be amazed!
I didn't do a whale watching on this trip but have done in the past and it's so cool! It's absolutely mind blowing how big and powerful yet graceful whales can look.
If you go during the whale watching season you'll have a good chance of at least one if not multiple sitings.
Cape Rib Tours
Hyannis Whale Watcher Cruises
Dolphin Whale Watch
See Cape Cod from a biplane.
If you're up for the adrenaline rush, head over to Cape Cod Airfield and take off above the peninsula in a Waco YMF-5 Biplane! Nothing will get you a better view of all the different water ways on the Cape.
Explore the Cape Cod National Seashore.
The Cape Cod National Seashore is part of the National Park Service and includes these six swimming beaches: Coast Guard, Nauset Light, Marconi , Head of the Meadow, Race Point and Herring. It also consists of trails, hiking, biking and fishing areas.
Fees:
Daily vehicle – $25
Motorcycles – $15
Pedestrians, bicyclists – $10
Cape Cod National Seashore annual pass – $60
Experience Provincetown and check out the Pilgrim Monument.
What you might not know is that Plymouth isn't actually the first landing place of the pilgrims in 1620, it's Provincetown! The monument was build in early 1900's to pay tribute to the landing.
Located on the tip of the Cape, Provincetown is a vibrant seaside town with a large LGBT community. It's also the place that Anthony Bourdain began his cooking career. Lobster Pot and Ciro & Sal's are two restaurants he spent time working in.
Walk along Gray's (Bass Hole) Beach boardwalk.
This long boardwalk at Gray's Beach allows you to gaze at the marshland from above. At low tide, you'll see lots of greenery like in the photo below at low. There's a small lot with some free parking and a nice picnic area.
Do a wine tasting at Truro Vineyards.
I had a lovely afternoon at Truro Vineyards tasting wines and admiring the property. I loved that you could actually sit amongst the vines! My favorite wine that I tried was the Estate Cabernet Franc.
If you get hungry head over to Blackfish Restaurant's Crush Pad Food Truck. We tried the Duck sausage and fried cauliflower, both which were very tasty.
Where to Eat and Drink in the Cape
I might have to move to Cape Cod just so I can eat Lobster, oysters and fresh tuna weekly. Honestly, the quality, freshness and value of seafood out there is incredible.
At Sesuit Harbor Cafe our total bill was $55 for which we had lobster bisque, tuna sashimi, a stuffed clam and a whole steamed lobster with corn and potato salad. We brought our own wine since it was BYOB, making for a very affordable date night.
Lobster Roll + Seafood Spots
Orleans Lobster
Sir Crickets
Knack
Sesuit Harbor Cafe
The Naked Oyster
Farm to Table
The Pheasant
APT Cape Cod
Bars + Hang Outs
Beachcomber
The Canteen
Pepe's Wharf
Chathams Bars Inn
Old Colony Tap
Breakfast + Cafes
Grumpys
Snowy Owl Coffee Roasters
Little Brown Jug
Cafe Chew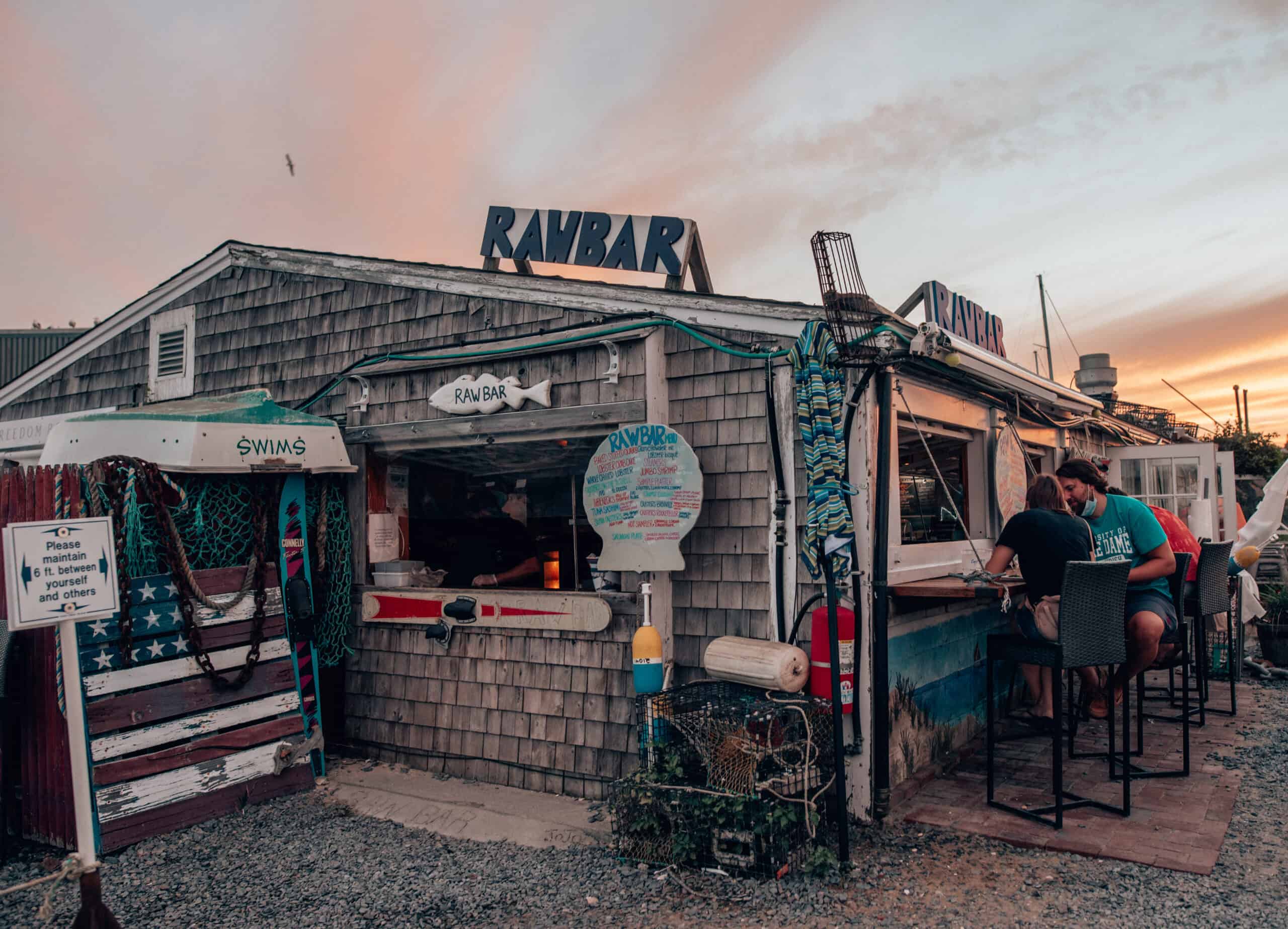 Where to Stay
Sesuit Harbor House is a quaint guest house with rooms in the town of Dennis. The owner, Phil has a long history in the hospitality industry including opening SLS Las Vegas and as the General Manager of the Westin Los Angeles Airport, so know hows to make the little touches that make a big difference. He returned to his home to run Sesuit Harbor House with his wife, Silvia and kids and welcomes guests from all over the country.
The Vibe
Sesuit Harbor House was a delight to stay at. It felt super clean, cozy and friendly from the moment we arrived.  The vibe was very communal, especially with the fire pit surrounded by Adirondack chairs at the center of the property.  We ended up in multiple pleasant conversations with other guests always adds to a memorable stay.
We loved the little touches like picnic basket breakfasts, which used local, small businesses products, as well as the pretty flower beds and a new one here, pet goats that you could go and feed!
Conveniences and Amenities
Conveniences in walking distance include the Lost Dog Pub, 7-Eleven, Ice Cream Smuggler, The Cooperative Bank of Cape Cod, Sesuit Tennis Center and The Marshside Restaurant.
On site you'll find a beautiful patio, an inground pool, gas fire pit, picnic tables and plenty of space!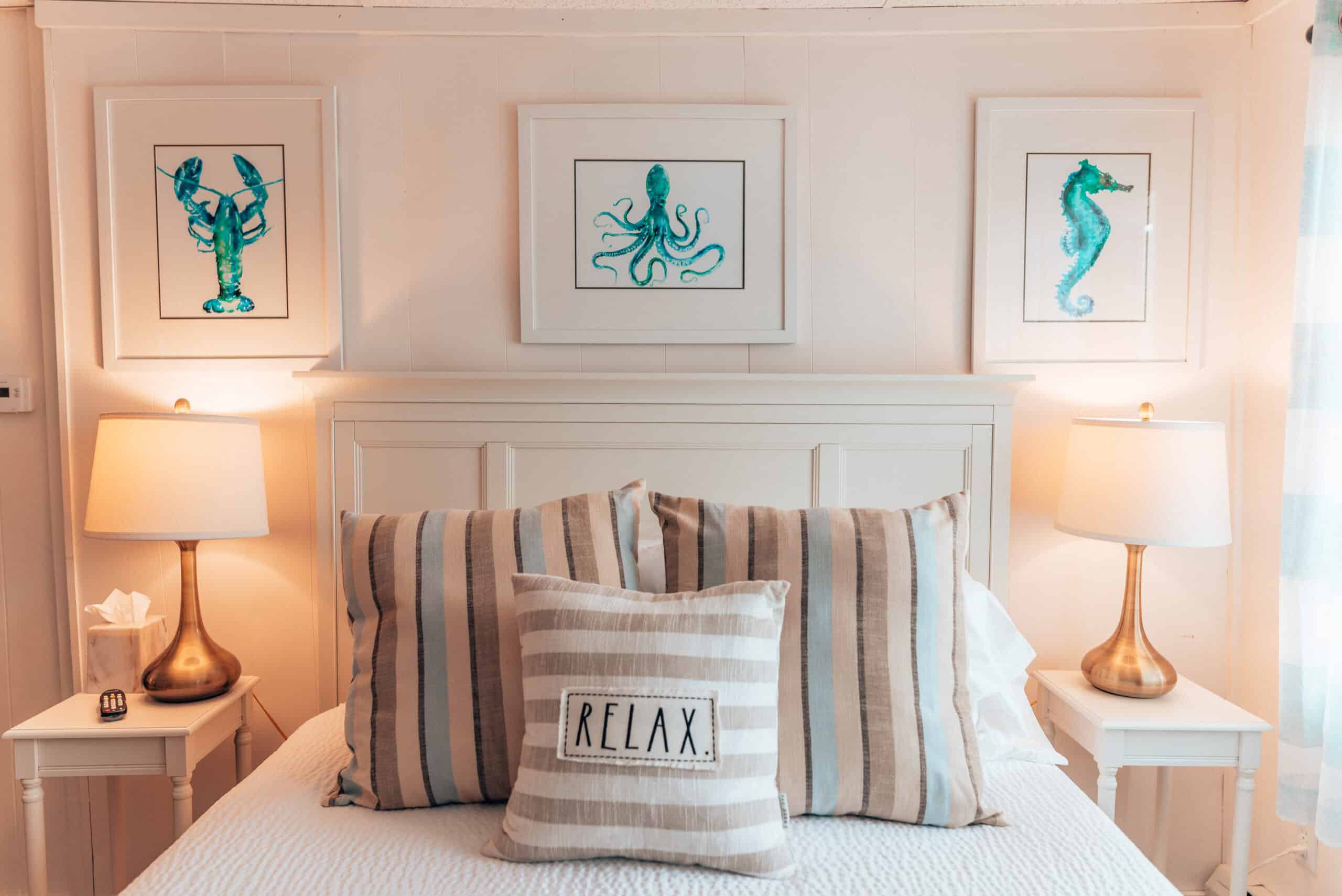 Other Accommodation Options:
AirBnB and House Rentals
Lands End Inn
If you have some extra time visit Cape Cod's Islands
The two most popular islands off of Cape Cod are Nantucket and Martha's Vineyard, but there are actually quite a few others. To visit either one of these you'll need to take a ferry over from the main land. Cars are not necessary in Nantucket or Martha's Vineyard and many people use bicycles for their main form of transportation.