Things to do in Montauk, NY: Travel Guide by a New Yorker to this Long Island Gem
Whether you choose to visit in summer or winter, there are plenty of things to do in Montauk, NY. In the summer, Montauk and the rest of the Hamptons on Long Island are a haven for the sun seeking New Yorker's looking to escape the confines of the concrete jungle in just a couple of hours. In the winter, it's a relaxing seaside retreat.
The more I visit the more I realize what a special place Montauk is. It's certainly changed in recent years, but in my opinion it's well worth a visit!
Where is Montauk?
Montauk is on the South Fork of Long island in New York State. It is often referred to as "The End"  because it is at the very tip of Long Island peninsula in the Hamptons.  Long Island lies east of NYC and is essentially an extension of the same land mass that the burrows of Queens and Brooklyn are on.
Most New Yorkers will simply saying "I'm going out east" which is a vague term and usually refers to them going to Long Island, more specifically usually either the north or south fork.
Is Montauk, NY Part of the Hamptons?
Yes, Montauk is part of the Hamptons. It's on the tip of long island and is the most eastern part of the Hamptons.
Is Montauk Expensive?
Much of Montauk is like NYC transplanted to a beach, but a little more laid back so yes, it's expensive. That being said, just like in the city, you can find good value out east. There are local dives to drink in and other ways to get around spending a ton of cash. But you'll have to be pretty savvy.
Best Things to Do
1. Walk around Montauk's Village.
Montauk Village has a multitude of cute shops, hotels, restaurants, cafes and bars. Grab coffee or an ice cream as you dip between the stores.
2. Go to one of the many beautiful beaches.
There are multiple beaches to visit in Montauk and a major draw for visitors. Be aware that many of the beach parking is by permit only. Some Airbnbs and hotels will provide you will temporary permits. Otherwise, hopefully you are close enough to walk or bike to the beach!
Ditch Plains – Parking by permit only.
Gin Beach – Parking by permit only.
Hither Hills State Park – Public parking.
Kirk Beach – Free public parking. This is the main beach in the village of Montauk.
South Edison Beach – Limited public Parking.
3. Visit the Montauk Lighthouse.
The Montauk Lighthouse is a National Historic Landmark and the oldest lighthouse in New York State. The lighthouse has been a beacon to so many out at sea over the years. It is located on the easternmost tip of Long Island and is marvel to look at.  Visiting the lighthouse is definitely one of the tops things to do in Montauk! You can pay the $12 entry fee ($8 to park) to explore the grounds and even climb up to the top!
Tip – Parking is free after 4, but check closing time as this changes through out the year.
Address – 2000 Old Montauk Hwy
4. Take a Surf Lesson.
Surfing is at the core of Montauk. It was named the number 8 best surf town in the U.S. by Surfer.com. Have a lesson with one of the surf schools, rent or bring your own gear.
Corey's Wave
Surf Luca
The Montauk Surf Camp
5. Go to Montauk Point State Park.
The Montauk Lighthouse is part of Montauk Point State Park along with other things. Go fishing hiking or visit the shop and cafe with a beautiful view of the Atlantic with Block Island in the distance. The cost to park or purchase an Empire Pass for $80 which gets you into state parks and more all season.  Ideally, the Empire pass can be shared within a household and is not vehicle specific.
Tip – Parking is free after 4, but check closing time as this changes through out the year.
Address – 2000 Old Montauk Hwy
6. Visit Hither Hills State Park.
Hither Hills State Park is at the beginning stretch of Montauk. With a sandy beach, swimming, biking, camping and hiking this park will make everyone in the family happy. The 153 camping sites couldn't get much more picturesque with the Atlantic ocean on one side and Napeague Dunes on the other.
The State Park parking fees also apply here.
Address – 164 Old Montauk Highway
7. Visit Camp Hero State Park.
Camp Hero State Park is neighbors with Montauk Point State Park and is one of the more untouched state parks in the area. Equestrian trails, biking, fishing and hiking are some of the activities here. Enjoy plenty of wildlife, sea views and freshwater wetlands in a calm setting.
State Park parking fees apply.
Address – 1898 Montauk Highway
8. Walk around at Shadmoor State Park.
This 99 acre state park is located a short distance from Montauk Village. It has cool access to the long sandy beach by two staircases. Thanks to the elevated platforms, this is a great place to bring your binoculars and enjoy some amazing bird watching! There are two WWII bunkers that you'll see here and the park is located across the street from Montauk Downs State Park Golf Course.
Free Parking
Address – 900 Montauk Highway
9. Go Horse Back Riding at Deep Hollow Ranch.
Try your hand at feeling like a real American cowboy! Honestly, until recently I had no idea Montauk was the home of the oldest working ranches in the U.S.A! Go on an unforgettable and scenic beach or trail ride, no matter your experience level. Hanging out with the horses from Deep Hollow Ranch in a Montauk activity that will surely surprise most!
11. Experience offshore fishing.
Get a serious day of fishing in with Double D Charter. All levels are welcome. It's a perfect day out for the family, and you can even book a sunset trip! Learn from local expert and owner of Double D Charter,  Daniel Giunta.
12. Lake Montauk
As you may have guessed by now, fishing enthusiasts flock to Montauk. It's an extremely popular sport in this part of the world and Lake Montauk is well known for commercial and sporting fishing!
13. Montauk Harbour
Montauk Harbour lies in the North of Montauk on the end of Lake Montauk.  The Montauk Yacht club along with restaurants, houses and the Montauk Inlet lies at the tip of the lake and gives access to boats into the Atlantic. Viking Cruises leave from the Montauk Harbour.
14. Montauk Yacht Club
The Montauk Yacht club sits in the Montauk Harbour. You can stay, play and drink here.
15. Play golf at Montauk Downs State Park Golf Course.
16. Get adventurous and go parasailing or on a boat trip!
Montauk Parasail
Montauk Cycle Boat
MTK Cruises
Mon Tiki
Getting from NYC to Montauk, New York
There are multiple ways you can get from NYC to Montauk so I'll lay them all out below.
Bus
Get a seat on one of the luxury buses leaving from NYC.
Air
If you can afford it, the most ideal way to get to Montauk is by helicopter! Fly right over all of the traffic on highway 27.
Train
Take the LIRR from Penn Station in Manhattan to Montauk Train Station. Like with driving, the train in super busy on a Friday afternoon.
You can download their app and purchase a ticket directly on your phone.
Car
Driving to Montauk sounds like a fun road trip but the traffic can be horrendous. Summer Fridays mean that lots of NYC workers have Friday off, so travel on Thursday afternoon, Friday and Sunday is pretty terrible.
If you can leave early Saturday morning and come back Monday, you'll be saving yourself a lot of hassle, but possibly be missing out on some of the fun.
Getting Around without a Car
The village of Montauk is walkable but you may want to do things in other parts of the Hamptons. Some of the fun bars and restaurants on spread out around the 19 mile town and the rest of the Hamptons. Uber is here, but you also have your old school car services. They have big vans and sometimes charge a per head price.
Where to Eat
The two main locations you can choose to eat, either the village or the harbor on Lake Montauk.  Additionally,  some restaurants are set off on their own.  There's also the nearby town of East Hampton with plenty more dining and drinking options to explore.
When visiting the east end you'll obviously have to eat plenty the seafood! Being a fishing town, you'll taste some of the freshest ever. A lobster roll or a dozen oysters goes oh so perfectly with a glass of rose from Wolffer Estate!
Restaurants
The Gig Shack
Montauket –  Known as one the best spots in Montauk to sit and watch the sunset.
The Surf Lodge – Tip** exclusive, make a reservation for dinner to get yourself in without a hassle at the door. Look out for Sunday Sessions.
Navy Beach – A family friendly spot to watch the sun set over Fort Pond Bay. The restaurant offers coastal casual cuisine and has a nautical chic vibe. They make great use of their waterfront space with lounge areas and picnic tables.
The Grey lady
Mobys
La Brisa
South Edison
Inlet Seafood Restaurant
Scarpetta Beach
Harvest on Fort Pond
Sel Rose
Duryea's Lobster Deck
The Crow's Nest
TT's – A fun contemporary Mexican spot with great food, amazing people and good vibes all around. You must try their frozen mezcalitas and fried chicken sandwich!
Ruschmeyer's
Cafes/Coffee/Deli
Bluestone Lane
Left hand Coffee – Artisan coffee shop in the heart of the village and just a block from the beach.
Joni's Kitchen – A deli that serves breakfast and lunch to go. They also have fresh juices + smoothies. Perfect to pick up on your way to the beach.
Goldberg's Bagels
Ditch Witch
Herb's Market
Lobster Rolls
Fish Farm
Lunch
Gosman's Dock
Duryea's Lobster Deck
Where to Party
There are plenty of  bars and clubs to keep you going all summer. I've listed a few go to spots below, but you can check out my full guide of Montauk Bars to fit you mood.
Bars and Clubs
Memory Motel
Sloppy Tuna
Rushmeyers -Day time party, sometimes hard to get into on a nice day.
Talkhouse
Gurney's Beach Club
Montauk Brewery
The Point Bar and Grill
Party at your house?
With plenty of wealthy New Yorkers having second homes here, and guests breaking the Airbnb rules, the party sometimes lands at one of the many mansions in Montauk or around the other towns in the Hamptons.
Where can I work out?
A few locations are based in Montauk year round, but summer is another story. With the increase in population and city slicker types, comes an additional  selection of  "gyms" in pop up form.
Barry's Bootcamp
Yoga Lila
Soul Cycle
New York Pilates
B Yoga
Gurney's Montauk (year round)
The Surf Lodge 
Where to Stay
Staying in Montauk won't be cheap, but in my opinion it's is too far for a day trip from the city. I feel like you either need to book early and with friends or hope for a last minute deal to get the best price. Accommodation types range from hotels to manors, boutique hotels, Airbnbs, apartments, and homes.
Gurney's has been one of the top hotels in Montauk for years now. I stayed at Gurneys in the winter and loved it as a winter retreat. I've also  visited Gurney's  during the summer for lunch and to hang out at their boujee beach club.
They have multiple dining options including the delicious Italian restaurant, Scarpetta as well as a spa and massive deck all on an incredible ocean front property.
One of the hippest spots to stay in all of the Hamptons.   I haven't stayed here yet but I would love to see for myself!
The Location
I stayed at Hero Beach Club for a couple nights in April which is before the season really kicks off in the Hamptons. I don't think the location for a Montauk hotel can get any better. Hero Beach Club is set just before you enter the center of the village of Montauk on the ocean side of the street. It's slightly off on it's own so feels a little more private while maintaining a close enough distance for walking to the village bars, restaurants and shops.
There is a beach access literally right across from the hotel's yard which makes your Montauk beach getaway that much more convenient.
The Hotel + Rooms
Hero Beach Club has a funky, beach chic vibe which I loved. There is a little bar in the reception area where you can get your complimentary welcome drink on arrival as well as beverages through out the stay. They actually even have some local beers on draft!
There's a huge backyard between the hotel building and the dunes with some art pieces, fire pits and long communal tables. Their pool is located on the road side of the hotel, so you have the option if you want to stay cool, but don't want to get sandy.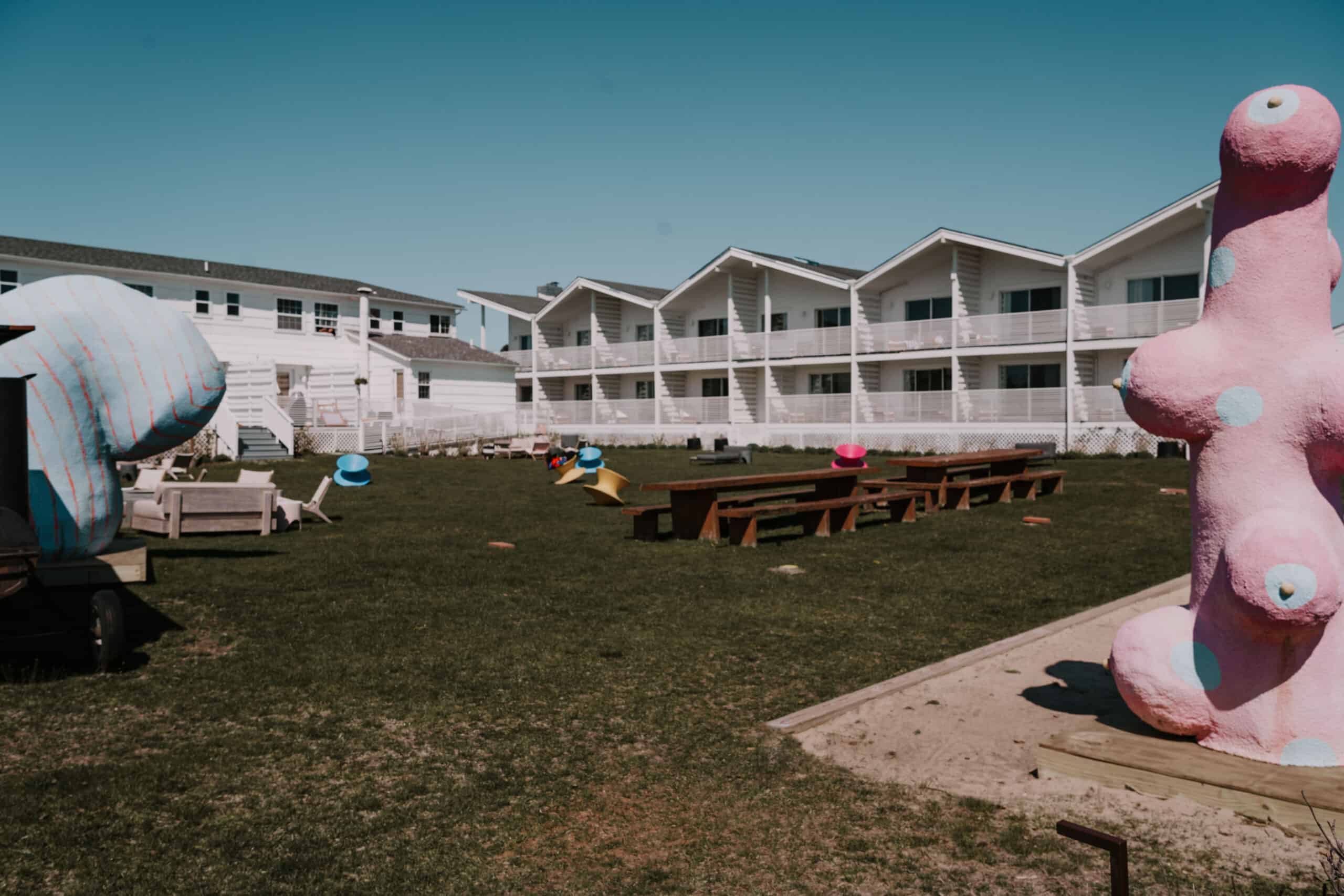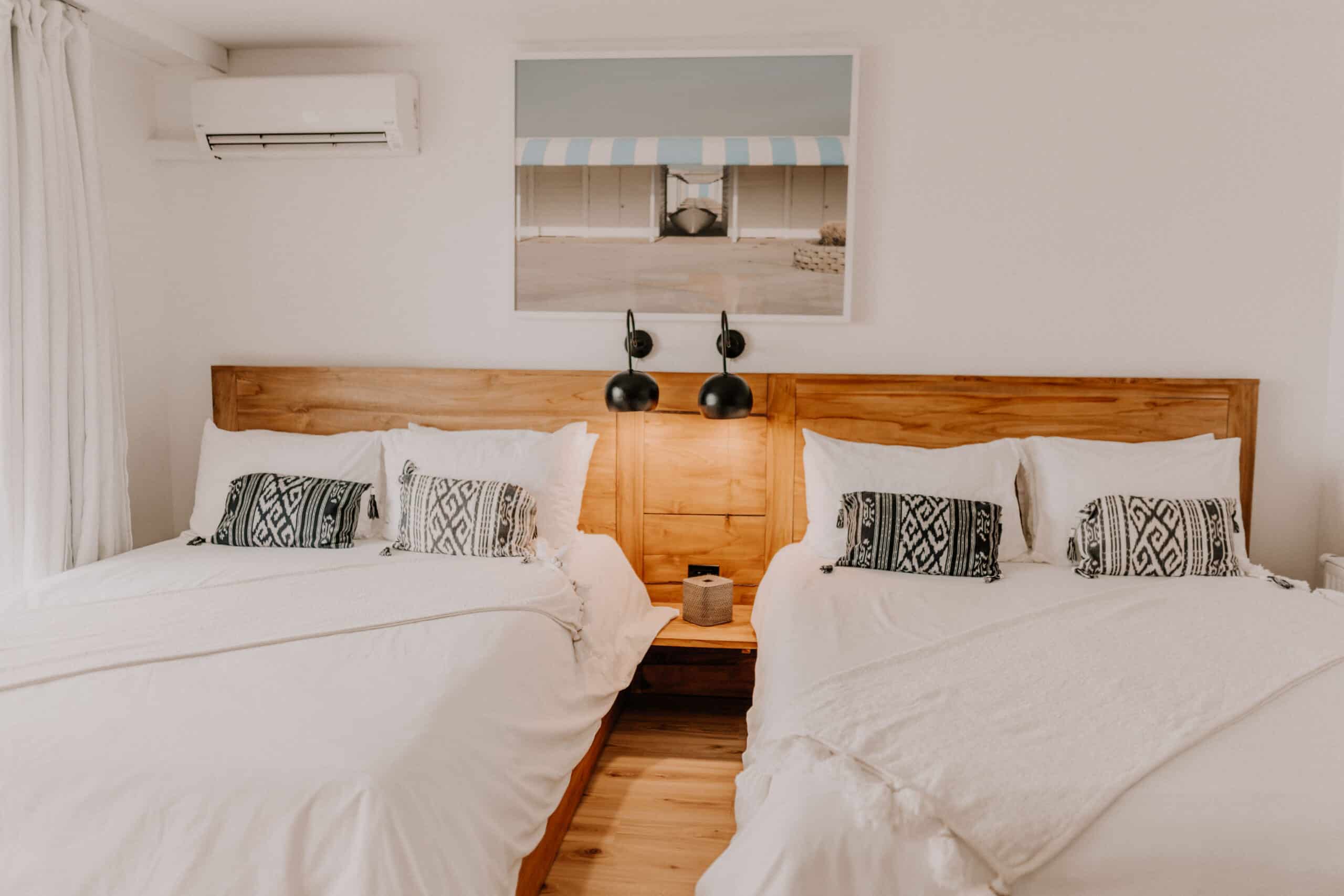 I actually stayed here last summer in July. It was a super last minute booking, so we got really lucky! This hotel serves a few continental breakfast and is steps from the beach and Montauk Village. I highly recommend it as a good lower cost option.
$ Hither Hills State Park Camping
Since this camping spot has a prime location and the most affordable option in town it fills up super fast!
When to Visit
Summer is when Montauk is in it's prime. However, Montauk in the winter, can be a calming retreat. Fall is also lovely when the wine season is booming in the Hamptons and the North Fork and you may find yourself with an Indian Summer.
Tips for Visiting Montauk
Fill up your gas tank early.
Bring booze and food with you. If you shops in Queens you will save a ton. The prices are definitely inflated out in the Hamptons.
Watch out for ticks, especially in the summer months!
Take advantage of the nature!
A town permit is needed to park at the town beaches. That's why it's a good idea to stay in waking distance of the beach if you don't have one.