Why you should visit Montauk in the Winter
If you hear "The Hamptons" I can pretty much guarantee what comes to mind are beach days, balmy nights, BBQing and Gurney's Resort. In other words The Hamptons, especially Montauk, are usually associated with summer. Visiting Montauk in the Winter  is a totally different experience but can be just as rewarding.  
Montauk as a Winter Destination
What if I told you Montauk can also be a winter destination? Although very different from it's summer alter ego, winter in Montauk can invigorate and rejuvenate you. My friend Vicki, from Fashiontravelrepeat, and I headed to Gurney's Resort for a weekend of relaxation. It's under 3 hours from NYC to beachside bliss!
On our arrival to Gurney's Resort, I was half expecting us to be the only guests around, to our surprise there was actually a nice buzz still going on. Gurney's is a Hampton's summer hotspot and known for their beach front location and amazing restaurant. Luckily, these can both still be enjoyed in the winter and we weren't the only ones who knew it!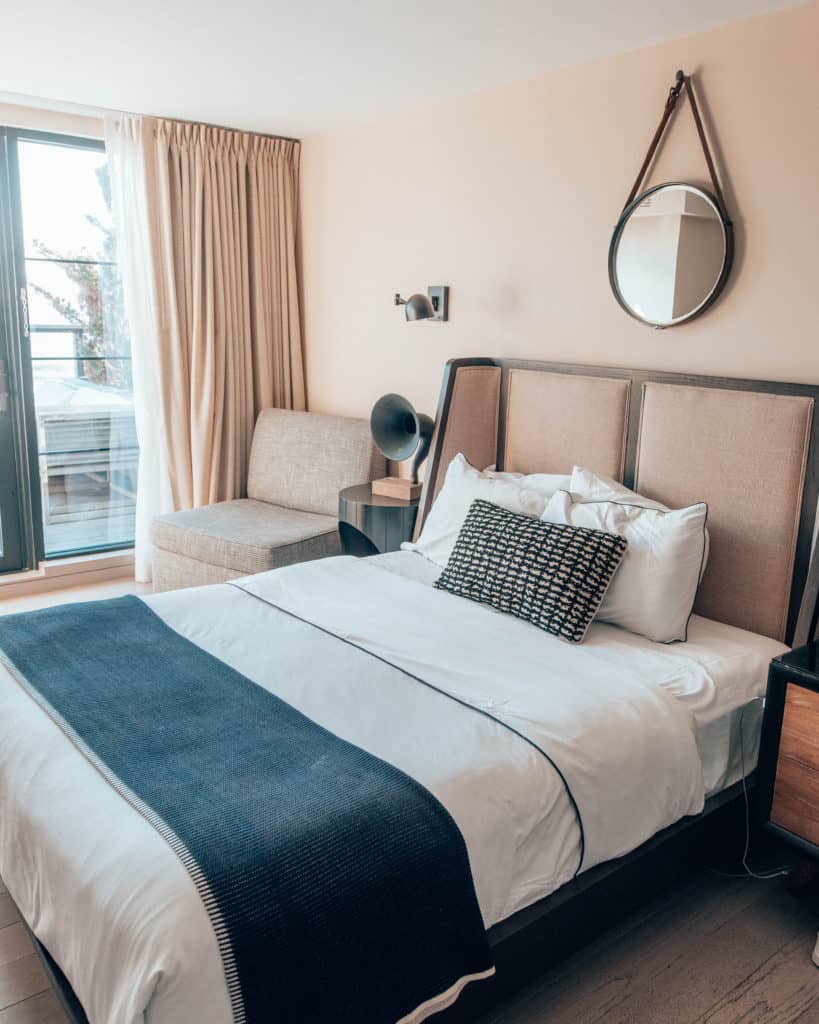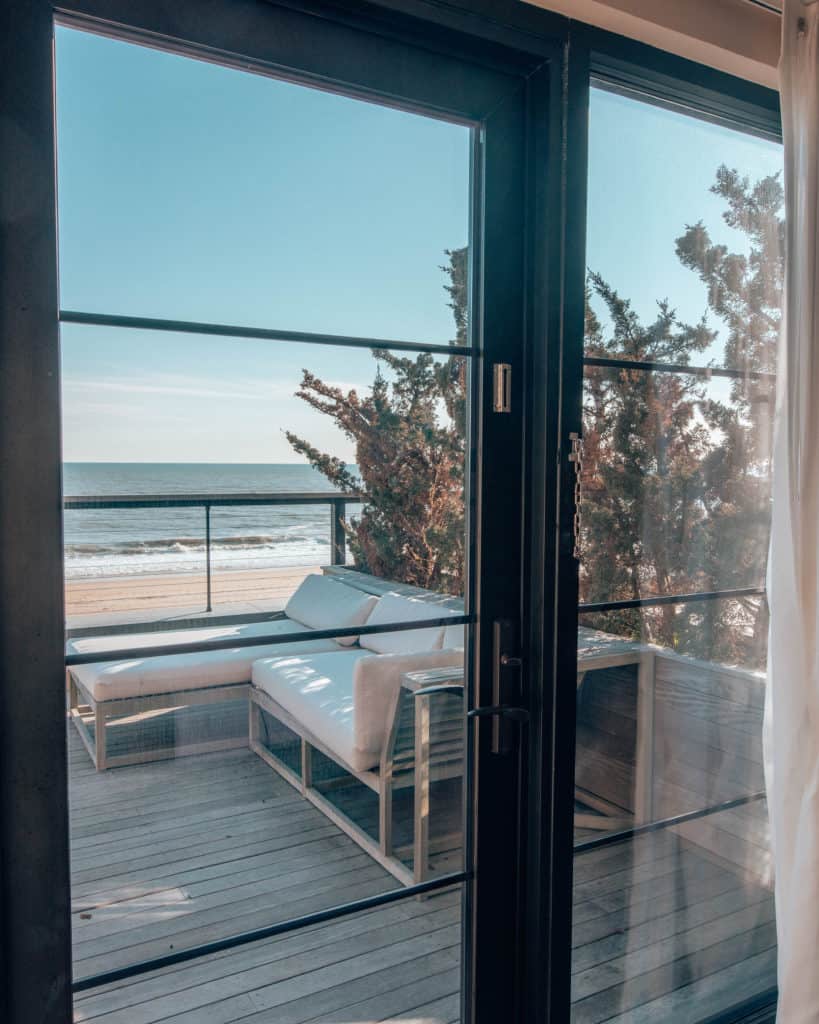 Gurney's Montauk Highlights 
The highlights of the getaway for me were the beachfront location, Seawater Spa, and curated cocktails. As soon as we entered the room we were in awe of the view! The ocean was our entertainment for the weekend. What a treat to wake up to crashing waves and a technicolor sky over the ocean. To top things off the beach access was literally 10 seconds away!
The large heated swimming pool, sauna, steam room, jacuzzi as well as spa treatments are all at your discretion. Ideally the facilities are open from 8am to 8pm, so theres ample time for spa usage!
Every Saturday in Winter there is complimentary cocktail making class. The one we attended was compliments of Tito's Handmade Vodka. We got to try three of their go to concoctions.
Taking a brisk walk on the coast and spotting the lighthouse as well as eating at the local John's Pancake House were the extent of our excursions and made for a simple itinerary. It's an easy drive around "the End," no traffic worries here, and we were able to sit straight away at John's Pancake House– even on a Saturday!
Other Lodging Options
Montauk Manor
Driftwood Resort on the Ocean
Born Free Suites by the Sea
Where to go & Winter activities in Montauk
Since The Hamptons are much busier in Summer months many of the businesses shut down for the winter. Below are a few options of what you can still do in the off season around Montauk and in Hamptons.
Address: 2000 Montauk Highway Montauk, NY 11954
A great spot to admire the Montauk Lighthouse, go fishing , surf or stroll the beach.
Montauk Lighthouse
Montauk Lighthouse is a National Historic Landmark and is right next Montauk Point State Park. Walking all the way up to the lighthouse in the winter is not permitted but you can get a good view of it from the parking lot or  from the beach below.
Seal watching
Winter surfing
Top Winter surfing spots in Montauk Point which is only open to bass fishing the rest of the year. Camp Hero, Hither Hills, Ditch Plains and Turtle Cove  are year round surfing spots or grab a lesson with Corey's Wave.
Bucks Skill Winter Club
Address: 178 Buckskill Road, East Hampton NY 11937
Offers an NHL regluation sized ice skating rink. Public access and skate rentals available. 
Hither Hills State Park
Address: 164 Old Montauk Hwy, Montauk, NY 11954
A sandy beach with picnic areas, playground and a 189 site campground. Camping is seasonal but the park is open throughout the year.
Where to Eat & Drink in Montauk during Winter
Plenty of food, drink and wine options to keep you satisfied!
Shopping in Winter
If you want to do some shopping East Hampton and Amagansett are close by and both have main streets with seasonless shopping. 
Bookhampton
Botanica Bazzar
Turpan
Pilgrim Surf Supply