Travel Guide for a Weekend in Downtown Charleston, South Carolina
If you haven't heard yet, Charleston is one of the most desired cities in the U.S. right now. It frequently gets attention for it's historic downtown with cobblestone streets, vibrant food scene and gorgeous nearby beaches. I knew I needed to spend a weekend in downtown Charleston and see what all the fuss is about.
I included Charleston as a major part of my East Coast Road Trip Itinerary. It was the city I was most excited for and it didn't disappoint! I actually had a flood of messages when I asked for tips to this city so I went in having an idea of what I wanted to see and eat.
Charleston's nickname is the "Holy City" known for it's tolerance of many religions and abundance of churches.
Where is Charleston?
Charleston is located on the East Coast of the U.S.A. It's the largest city in South Carolina facing out to the Atlantic.
Best Time to Visit Charleston, SC
Summer is hot, hot, hot! Even when I was there in June, I was sweating just standing in the shade. The best time to go would either be the spring or the fall. I can't even imagine the humidity come July and August. Unless you plan on spending all your time at the beach, I'd avoid the summer months.
Spring hotel rates will be the highest as it tends to be peak season, especially around Easter.
Hurricane season is June 1 to November 30.
How much time do you need in Charleston?
A long weekend should be just enough time for you to get a good feel for Charleston. Three full days and 2 nights would work, but I'd do 3 nights if possible! Believe me, you won't run out of things to do! When in doubt you can always visit one of the nearby beaches as they have a top notch reputation.
Is Charleston, SC Expensive?
Out of all the Southern cities I've visited, Charleston definitely felt like the most expensive. Some spots were even teetering close to NYC prices. Meals out and drinking were what took up most of the budget, though you can certainly find some good happy offer deals.
There is a lack of budget options for accommodation in downtown, most are boutique and luxury hotels. You'll have to decide whether to splurge on the hotel, stay a bit outside the city or stay in a basic chain.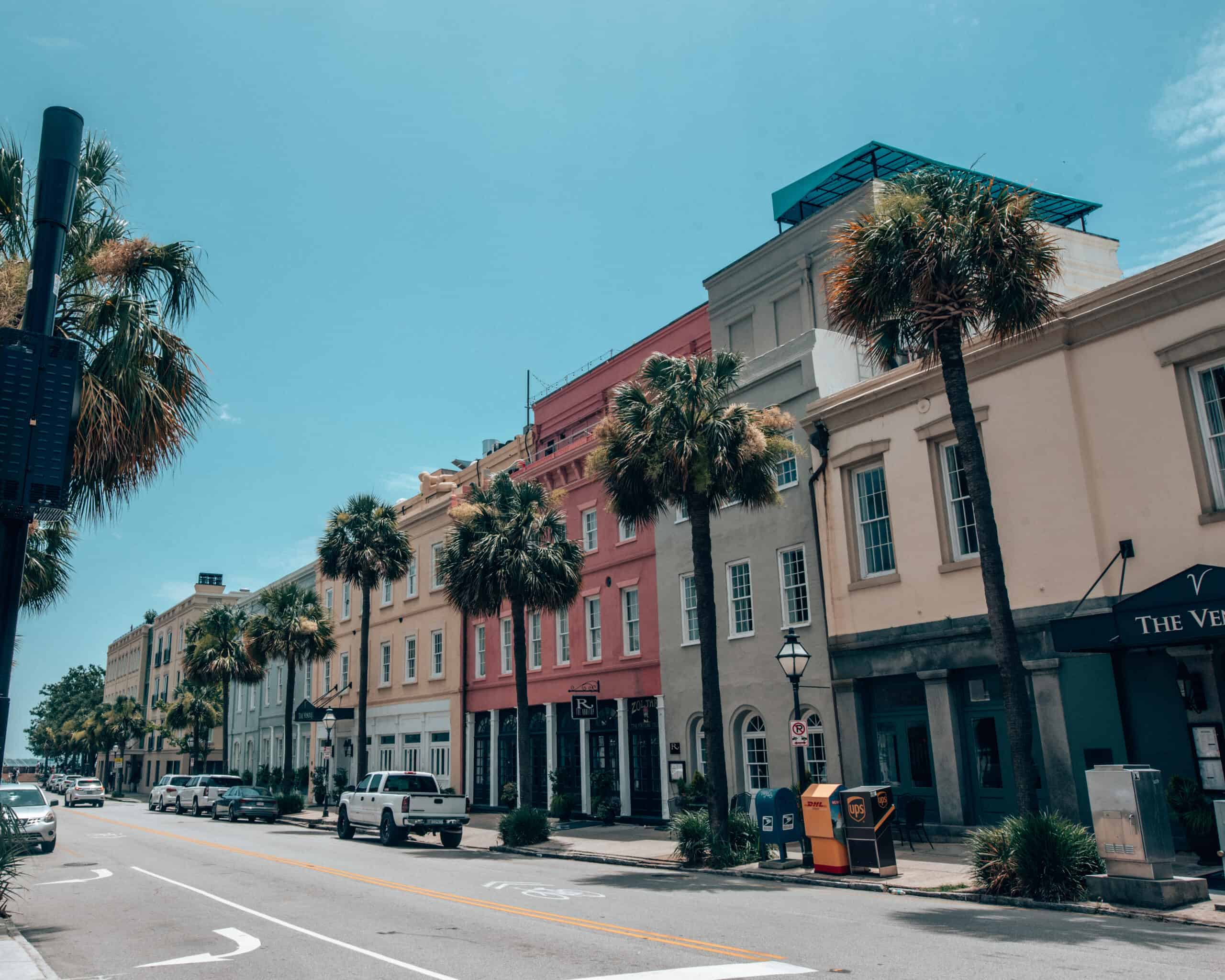 Getting There
Fly
The closest airport to Charleston is Charleston International Airport. It's about 14 miles outside of the city. Myrtle Beach International Airport and Savannah International Aiport are the next closest at about 94 and 107 miles away. If flight s are looking pretty expensive into Charleston you may want to check Myrtle Beach or Savannah and drive the extra distance if the deal is much better.
Getting to downtown Charleston from the Airport:
If you traveling solo or with just one other person, I usually find that public transportation is the best. If you're with a group and splitting it, transfers and taxis can actually make more sense.
Taxi – Usually the fastest option, but also the most expensive. Taxis leaving from the airport have a $15 minimum charge. It usually ends up costing around $35.
Rideshare – Usually costs a little bit less than taxis unless on a surge.
Bus – The bus is only a couple of bucks, but you could end up waiting awhile. The two bus lines to consider are the CARTA Route 11 and the XP4. The XP4is the express option, but only comes once per hour while Route 11 is every 45 minutes.  Both of the bus lines will connect with DASH, the city's free trolley.
Hotel Shuttle – check if your hotel provides a shuttle and whether or not it's included in the stay.
Airport Shuttle – Book a shuttle to downtown on arrival. Cost is $15 per person and the shuttle should leave within 15 minutes of booking.
Private Transfer
Drive
Luckily, you shouldn't hit too much traffic if you avoid rush hour coming into the city (8-9am and 4:30-6pm). Once your're downtown you'll actually probably face more pedestrian traffic!
Parking Downtown
There are a few parking garages in the downtown as well as on street parking with meters.
Getting Around Charleston, Is it walkable?
The downtown area is very walkable, but if you're going from one end to the other you may want to jump in an uber or on the trolley. The city is longer than it is wide, from the top of King Street to the bottom is around 3 miles.
CARTA
CARTA is the Charleston Public Transportation system. Purchase a single or multi pass online.  One ride is $3.50.
DASH is a trolley line run by CARTA and is FREE.  Here is a link to the DASH route map.
HOBA
HOBA or Hop on a Boat Anywhere is a local app. It's like uber on the water!
Pedicabs
Cab on a bike! I didn't take one while in Charleston and I couldn't find pricing info so that worries me a bit.. In other cities they are usually quite pricey, but can sometimes go where cars can't and get you there faster.
Bikes
"Holy Spokes" are Charleston's version of City Bikes. They have docks around the city. and cost $8/hour. Longer term deals are available at the Holy Spokes Website.
Car
Honestly, a car in Downtown Charleston is kind of pointless. It's a pedestrian friendly city, and you'll want to walk around to take everything in. Hopefully, you park your car in a local garage and enjoy Charleston by foot for the weekend.
You can pick your car back up if you want to do any excursions outside of Downtown.
Where to Stay for the Weekend
Historic homes turned accommodation are my idea of a perfect place to stay in a city like Charleston. There are boutique hotels and inns galore downtown.
If you prefer stay outside the city, check out some of the beach resorts nearby such as The Beach Club at Charleston Harbour, Wild Dunes Resort or Kiawah Island Gold Resort.
Francis Marion Hotel
The Francis Marion Hotel has a convenient location in the center of the city on Kings Street. The hotel opened in 1924 and was renovated in 1996 so is clearly a historic property. The lobby area is absolutely stunning and the bell staff couldn't have been friendlier.
I will say that the beds were really comfortable and the black out blinds and mini fridge were key for the weekend. The only fault was that the bathroom was pretty small, but having a vanity and desk in a double room definitely helped make up for it.
Market Pavilion
This is where I hope to stay next time I'm in Charleston! The classic looking pool absolutely says it all. This is ultimate old school glamour.
Spectator Hotel
A luxury 5 star hotel intersection of the City Market and the historic French Quarter.
86 Cannon Historic Inn
A fully restored three story home from teh 1860's. Fireplaces, nightly wine and cheese service, elegant porch and complimentary bike are a few amenities that caught my eye.
Zero George Street
This boutique hotel claims to have Old World authenticity with contemporary upscale hospitality. Sounds like a perfect match to me!
Palmer's Pinckney Inn
With only 5 rooms, this budget hotel in the historic district is a rare find. Book well in advance to snag this value!
Where to Eat and Drink: The best Bars and Restaurants in Downtown Charleston, South Carolina
Charleston is a top foodie destination. It's culinary scene has exploded in recent years and you'll find here a delightful mix of coastal cuisine and southern soul food. 
Some iconic foods to try in while in this popular South Carolina city, include hush puppies, cornbread, fried green tomatoes, sweet tea, fried chicken, oysters and BBQ.
Leon's Oyster Shop
The decor at Leon's Oyster Bar is super cute! I actually am not a huge oyster person so I went for the fried chicken which was very yummy. The chicken was super crispy and had a bit of a kick.
I also had the whole cooked fish. The chimichurri sauce was delish but the fish was a little overcooked for my liking.
Their frozen rose' and gin and tonics were a fun option, but pretty small for the price. I'd try one of those then go for a bottle of rose!
High Cotton
Daily live music and low country fare at this elegant restaurant. Run by local hospitality family, The Halls.
Magnolia's
Creating innovative Southern dishes since 1990.
Poogan's Porch
Poogan's Porch has been opened since 1976 making it the oldest independent run culinary establishment in Charleston.  I popped in here for a quick lemonade to get me through the rest of the day in the South Carolina sun. I loved their little porch and their hidden location on Queen Street. They serve casual Southern fare.
Hall's Chophouse
Another location by the Hall's family.  Go for the steaks, stay for the cocktails at this fine dining establishment.  Try and make it in time for happy hour!
Baker and Brewer
Artisans pizzas on the outskirts of town. Lots of outdoor space and seasonal salads. My favorites were the eggplant pizza and peach salad. We hit this spot for lunch on our way out of the city. Holy Spokes bike dock on site!
Market Pavilion
A rooftop bar at a gorgeous hotel. Very pricey, but could be worth it for the pics!
Uncork
A wine and cheese bar with a self serve wine machine. I actually made it here for Friday happy hour which was from 5pm-7pm. They had 15% off wines from the machine and half off their craft cocktails.
Lewis BBQ
Out of all of the places I went to in Charleston, Lewis BBQ really stuck it.  Absolutely incredible BBQ food. You must try the brisket and the corn pudding.
5 Church
A bar and restaurant located in an old church. The food was mediocre, but the location is divine! Definitely worth grabbing a cocktail to see inside.
Tattooed Moose
Sadly, this dive was closed when I arrived but I hear their parmesan fries are incredible.
Darling Oyster Bar
Another spot known for it's happy hour and beautiful interior. Select oysters are only $1 from 4:00 p.m. to 7:00 p.m. during the week.
Nightlife
As soon as I arrived in Charleston I could feel the young and vibrant atmosphere. So many places to eat, drink, party and plenty of 20 and 30 somethings to mingle with. To top it off, it's one of the most popular cities for bachelorette parties!
You'll find an abundance of spots on King Street, but here are a few recommendations.
Star's Rooftop
A popular spot to mingle while enjoying the views of the historic district. The dress code is elegant casual, be aware beach clothes are not permitted.
The Watch
They had fun cocktails to share and amazing views! Just make sure you get a seat at the right part of the roof. There are two outdoor areas, one with less of a view.
The Cocktail Club
One of my favorite stops in Charleston! A funky bar with exposed wood through out hosting nightly live music.
Revolution
The late night spot. Not totally my scene, but good to know about it. I'm sure all the bachelorette parties go here for dancing and bottle service!
Henry's
A multilevel bar and club with different themes on each. We had so much fun at Henry's! When your mood changes or you need a break from dancing head to one of the other floors or the rooftop. The picture below is the second floor (I came back to take the photo in the day) which had a jazz vibe and vintage decor.
Map of my Favorite spots in Downtown Charleston
What is there to do Downtown?
Cool off at the Pineapple Fountain.
Believe it or not, you actually do feel a bit cooler standing by the fountain!
The Pineapple Fountain is the centerpiece of the Charleston Waterfront Park, which spans for 8 acres.  Pineapple motifs are used across the city and are a sign of hospitality.
Walk down Rainbow Row.
Don't miss seeing these 13 pastel colored Georgian homes located on East Bay Street. Get there early for clear streets and cooler temperatures to photograph in.
Admire the harbour and Cooper River.
Walk along the harbour or jump on a harbour cruise for some sightseeing. You'll get a glimpse at the Arthur Ravenel Jr. Bridge, St. Michael's Church and Fort Sumter.
Have a beach day at Folly Beach or Sullivan's Island .
Take a drive out to Folly Beach or Sullivan's and spend the day lounging and eating seafood! Leave before 9am to avoid beach traffic.
Take a Sunset Boat Cruise.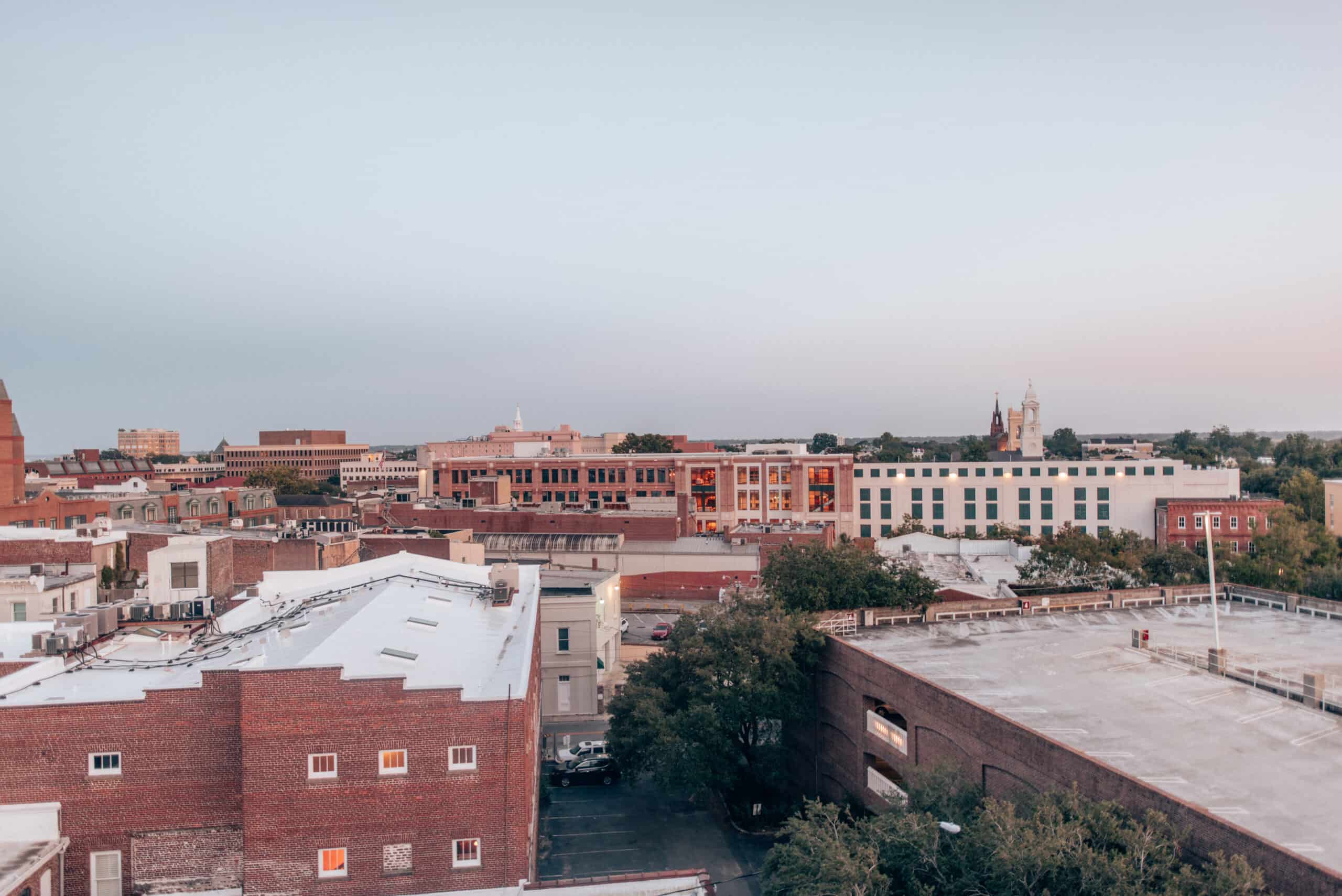 Enjoy a tasty Weekend Brunch.
Plenty of brunch in Charleston to choose from like The Darling Oyster Bar, Husk or Hall's Chophouse famous gospel brunch.
Shop at the boutiques on King Street and at City Market.
I loved bopping in and out of the shops and boutiques downtown. King Street and Calhoun street by Marion Square is a great starting point.
Kings Street is one of the main streets in Charleston. It' runs through the city and is the perfect shopping street with plenty of sidewalk space, boutique shops, antique stores and even your go to staples. Upper King is known as the Design District, Middle King is the Fashion District, and Lower King is the Antique District.
Visit Fort Sumter.
Accessible only by boat, Fort Sumter is a National Historic Park of America. Learn about the history of where the Civil War began.
See a performance at the Charleston Music Hall.
Discover the Nathaniel Russel House on Meeting Street.
Take a peak into history while walking through this restored landmark. See what it was like to live in the 1800s as an elite mercantile.
Take a Walking Tour or Horse Drawn Carriage Tour of downtown.
If you want to get a good overview of the city and it's history, a tour is always a good way to do so. The experts know best!
What to pack for a Weekend in Charleston
The style in Charleston is somewhat preppy, coastal casual, chic and classic. You can tell that this city is filled with people who care about what they look like.
Some restaurants and bars may have a dress code so be sure to pack a few outfits that are up to par. This is what I think you will need in your weekender bag:
Cute + comfortable walking shoes – Many of the streets in the historic district are cobblestone so keep that in mind. I always bring my converse with my custom insoles in them when I travel.
2-3 Sundresses
Wedges
Sandals
Breathable, light colored clothing for the day time. Think khakis or a light romper.
Light sweater – depending on time of year.
Swimsuits – for the hotel pool or nearby beaches.
Hat + Sunglasses + Sunscreen – The sun can be very strong in Charleston!
Tote Bag or Day back pack
Which city is better Savannah or Charleston?
On my East Coast road trip I  happened to visit both of these incredible, historic Southern cities! I loved both of the cities for different I'd highly recommend trying to get to both. They both have around the same population size, though Charleston's square mileage is larger. They both have amazing food,  good nightlife and plenty to do.
Full Charleston vs. Savannah blog post coming soon!