16 of the Cutest Cafes in NYC : Coffee Shops in New York for your Caffeine Fix
New Yorkers take their coffee seriously, so it's no surprise there are plenty of great coffee shops to get your caffeine fix !  I've tried and tested 16 of the cutest cafes in NYC but I'm always on the look out for more. Even though a fancy cup of coffee can run you well over 5 bucks at a cafe in New York I'm still such a sucker for them!
What could be cheerier than combining your morning cup of joe with the smell of fresh cut flowers? Perfect latte art is always a sure thing here with one of their floral inspired drinks. Coffee really doesn't get more instagrammable than this! I've been twice so far and I know I'll be heading back for a visit at this nyc cafe.
Location: 906 2nd Ave, New York, NY, 10017
Hours : Weekdays 7AM – 7PM, Weekends 8AM – 6PM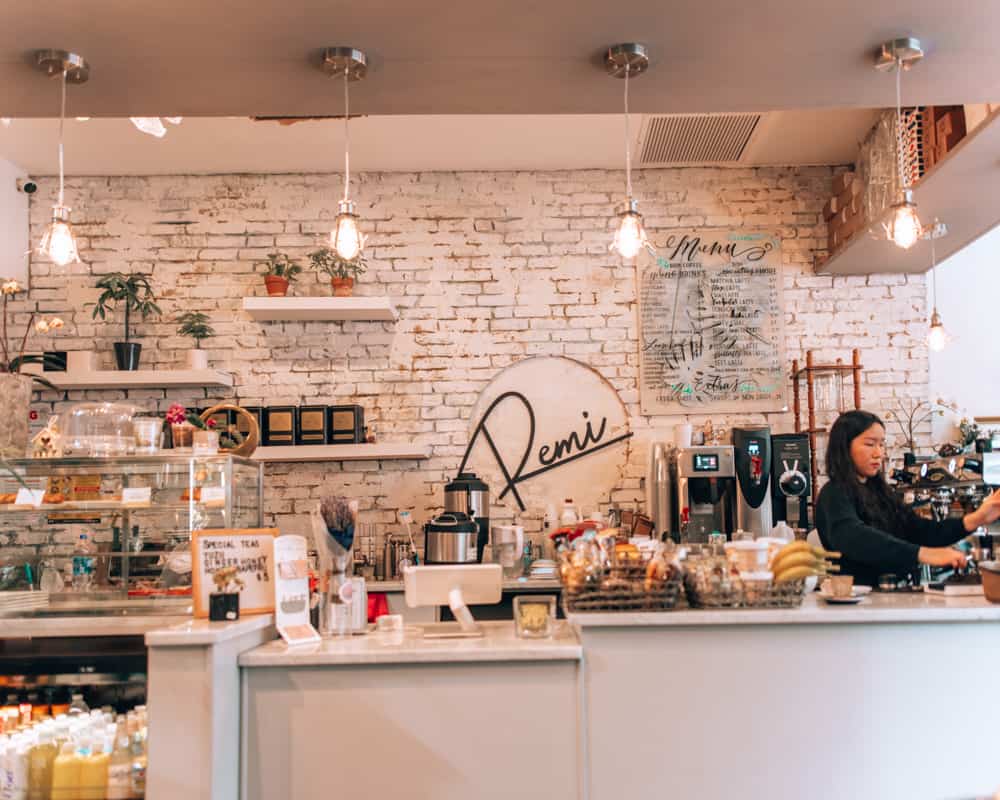 With matcha having become such a popular caffeine alternative to coffee, by now you must have heard the phrase "I love you so matcha." Cha Cha Matcha has multiple of the most vibrant cafes in NYC and even in L.A. with their signature tropical, pink and green interior. What a way to get momentarily into the tropical mindset while you drink a matcha latte.
Location: Multiple
Hours : Weekdays 8:00 AM – 7:30 PM, Weekends 9:00 AM – 7:30 PM
Two of the cutest cafes in NYC, each with it's own purpose. One is coffee focused and one is tea focused. Blank Slate Tea is the matcha version of  Blank Slate where they are more about the coffee. At Blank Slate they serve Devoción, the only exclusive farm-to-table coffee roaster in the world. In partnership with Blank Slate, Devoción  developed a unique custom blend of beans to compliment the menu! Coffee pairing is obviously the new wine pairing.
Both spots are adorable, but I love the plush pink seats and whimsical design on the walls at Blank Slate Tea. Both of the locations serve yummy lunch food, Blank Slate is slightly bigger if you're worried about space.
Location:  Nomad + Midtown
Hours : Blanks Slate Tea: Monday – Thursday 7:30am – 9pm, Friday- Sunday 7:30am – 7pm, Blank Slate: Monday – Thursday
7am – 9pm, Friday 7am – 7pm,  Saturday – Sunday 8am – 7pm
Maman means 'mother' in French and is the outcome of the founders recreating their childhood memories in the kitchen. It's a great stop for coffee or lunch and some locations even have a full bar. Their menu consists of breakfast sandwiches, salads, and speciality drinks. French countryside chic is the best way to describe the decor. Some of these cute cafes in NYC even have hanging bench seats!
Locations: Multiple
Hours: Vary by location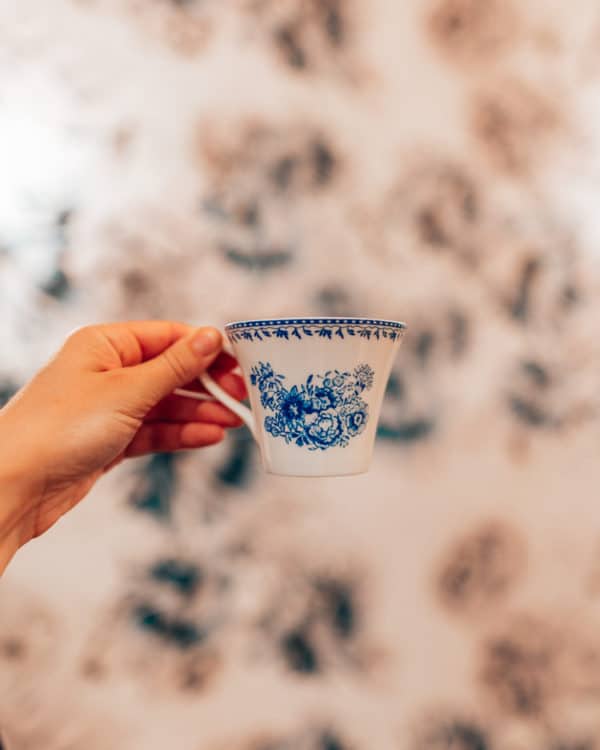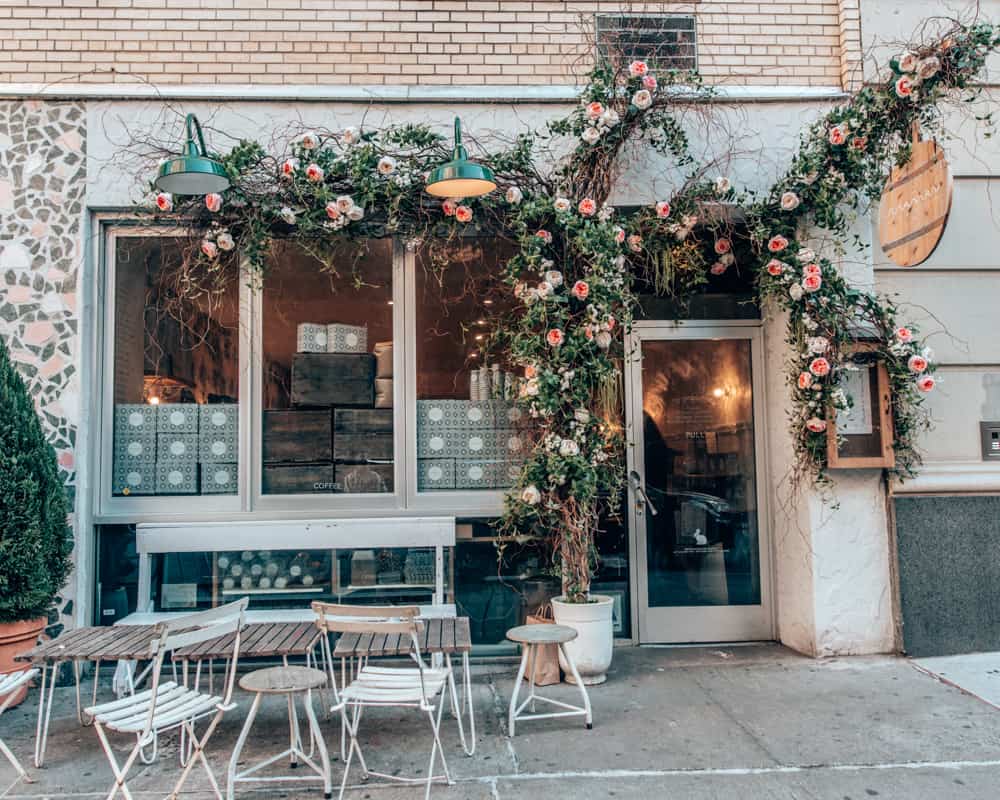 5. Urban backyard
A small coffee shop located in Nolita that is devoted to sustainability. Delicious coffee, tea and speciality drinks as well as desserts.  I had to try the macarons and bite size cupcakes! Aren't they adorable? You could easily pass by this cafe in New York but you'll be happy if you don't! Cozy up on the couch or take it to go.
Location: 180 Mulberry St, New York, NY 10012
Hours : Monday-Saturday 7am-7am, Sunday 8am-7pm
I spend a lot of time on the Upper East Side so it's nice to finally have a go to cafe there! This small Australian cafe opened in 2016 and has all the down under breakfast staples. The perfect place to curb your avocado toast and flat white craving. In the nice weather, they full opened their windows for open air seating. Seating is first come first serve so you just have to keep your eye out!
Location:
247 E 81st St, New York, NY 10028
Hours : Monday-Tuesday 7am-6pm, Wednesday-Sunday 7am-10pm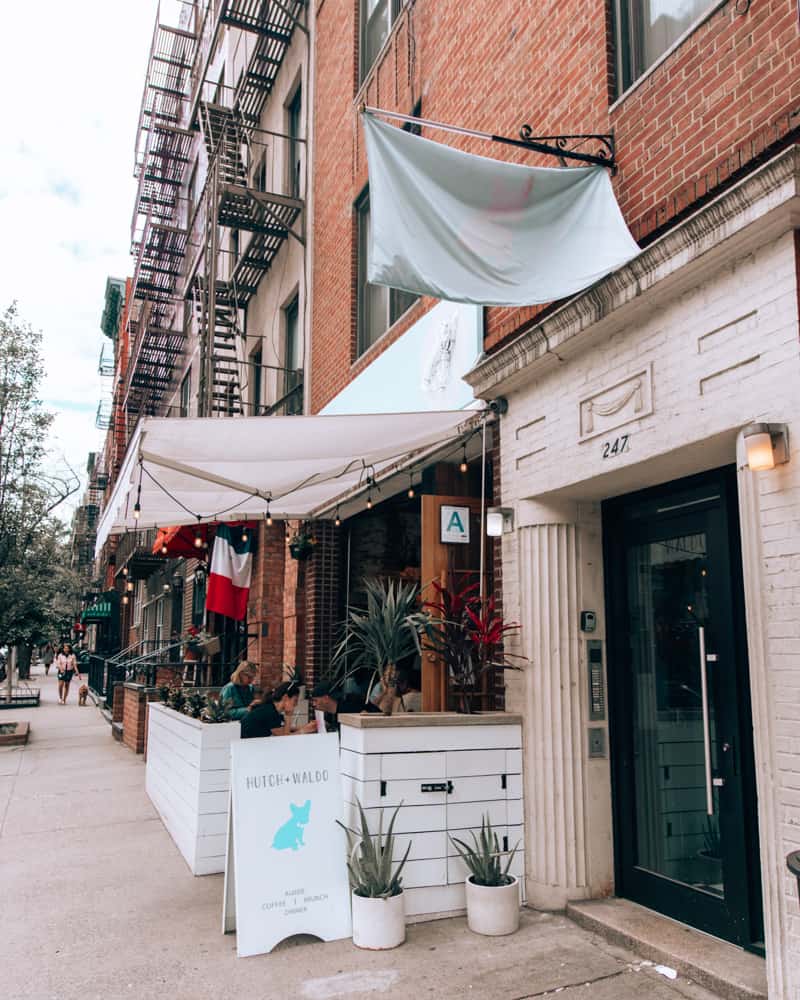 I feel like Old Rose is all things to everyone. By day it's a cosy cafe, by night a romantic dinner spot. Have a coffee or cocktail at any time. Seasonal Italian fare + espresso AM or PM.
Location: 113 Jane St,  New York, NY 10014
Hours: 7am-11pm Sunday-Thursday, Friday-Saturday 7am-12am
8. Mtea
If you feel like make a trip out to Flushing you should definitely stop into the new Mtea. It's not as cheap as some other spots in the area, but has super cute pink decor with a hot air balloon seat. They serve iced or hot bubble tea and other speciality drinks.
Location: 36-56 Main St, Flushing, NY 11354
Hours: 11am-11pm daily
Coffee is meant to be mixed with floral. That's why I love Homecoming, a floral shop with a barista counter surrounded by flowers. There are only a few benches for seating in this adorable coffee shop, but it's worth a peek inside!
Location: Williamsburg + Greenpoint
Hours: Mon – Fri: 7:30am-7pm, Sat – Sun: 8:30am-7pm
Tucked away in Greenpoint, Brooklyn is this story book location Milk + Roses. A popular restaurant by night, with a rather relaxed daytime vibe.
Location: 1110 Manhattan Ave, Brooklyn, NY 11222
Hours: 12pm-12am Sunday-Thursday, 10am-1am Friday + Saturday
11. Sweet Moment
When I saw these adorable tea and coffee drinks with cute little faces on top I knew I had to see if they were as good as they looked! I have to say I was pretty impressed.  The drinks are cold brew so don't expect a hot drink if you order this! I had the red velvet and the taro flavor and both were delicious. I liked that they weren't overly sweet either. Definitely a unique New York cafe experience.
Location:
106 Mott St, New York, NY 10013
Hours: Monday-Thursday 10am-10pm, Friday+Saturday 10am-11pm
Nomo Kitchen is a restaurant inside the Nomo Soho Hotel. Although classified as a restaurant, it still has that cafe vibe.
Being that it is in a hotel, I highly doubt they'd blink if you went in here for coffee and a place to do work. When I went in on a Thursday afternoon to take these photos it was pretty much empty.
Location: Inside Nomo Soho Hotel, 9 Crosby Street, New York, NY
Hours: Monday-Friday: Breakfast 7am to 11am, Lunch 11am to 4pm, Dinner 5pm to 11pm. Saturday-Sunday: Breakfast 7am to 10am, Brunch 10am to 4pm, (and available during bank holidays) Dinner 5pm to 11pm.
Felix Roasting Co. opened in September 2018 and has quickly made it's way to the top of the most instagrammable cafes in New York list.  An incredibly glamorized coffee shop to escape the hustle and bustle of the NYC streets if only for a moment! This might be the cutest cafe in NYC right now!
Location: 450 Park Ave South, New York, 10016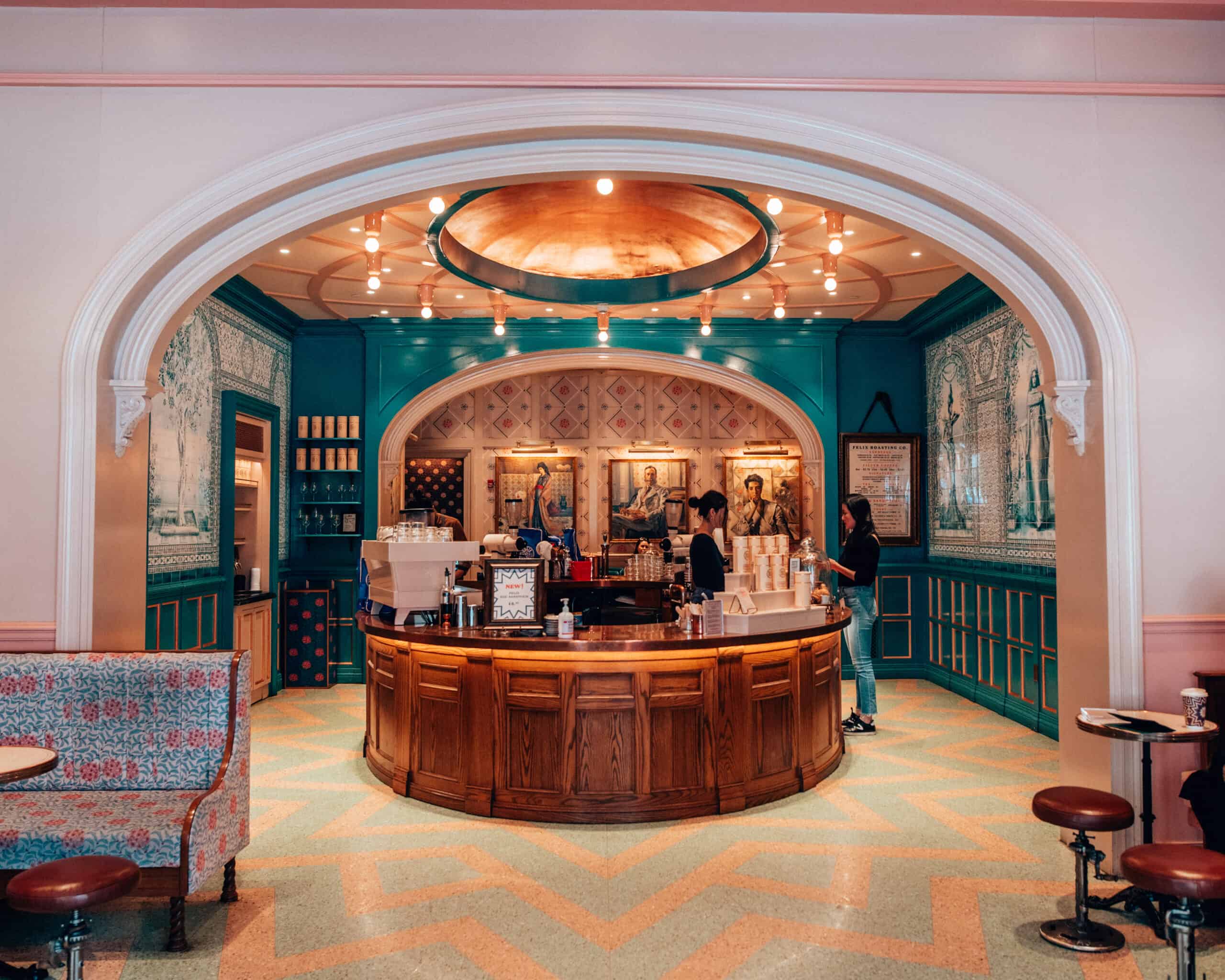 Stumptown Coffee Roasters has four locations in NYC as well as some in Seattle, Chicago, LA, New Orleans and their home city of Portland. I'm a big fan of their cool cafe in Greenwich Village right by Washington Square Park. Their wood heavy interior It's popular with students as NYU is located in the same area. They serve up drip coffee, cold brew and more.
Location: 30 W 8th Street, New York, NY
Blue Stone Lane is one the most recognisable cafe chains in New York and the country. Everyone loves an Australian coffee shop and restaurant! One of their best locations in the city is across from Central Park right next to the historic Church of the Heavenly Rest. Grab an outdoor seat on their perfectly blue patio set up.
Location: 1085 5th Ave New York, NY
Hours: Monday-Friday: 8am-4pm, Saturday + Sunday 8am-6pm
Variety Coffee Roasters has a unique vintage vibe. There interior consists of gold accents and black and white flooring. I frequent the one on the Upper East Side when I'm in the area visiting friends.
Location: Multiple, 1269 Lexington Ave, New York, NY 10028
I'm currently on the hunt for more cafes to add to my list so stay tuned!
Cafes in New York to visit next:
Pietro Nolita
Matchaful
The Bakeshop by WHOOPS!
Whitenoise Coffee Co.
Sweetleaf Coffee Roasters
Blue Bottle Coffee
Rustic Table
Ralph's Coffee
Mcnally Jackson
Gertie
Devocion Brooklyn Roasting Company
Laduree
Cafe Integral
Sey Coffee
Daymoves
Teranga
The Awkward Scone
Looking for Cheap Eats in NYC?? Check out my friend Taylor's guide here.

Want to find the best Photo Spots in NYC? Check out my post on the Most Instagrammable Places in NYC.