Guide to Bethel Woods Center for the Arts; site of '69 Woodstock Festival, NY
Bethel Woods Center for the Arts is an incredible place to enjoy concerts, festivals and events. The center opened in 2006 after a 150 million dollar project. The property is located on and surrounding the original Woodstock Festival site, boasts multiple venues and a one of a kind museum about the 60's, music and counter culture as well as Woodstock Festival.
Getting There + Parking
Bethel Woods Center for the Arts is located in the Catskill Region in New York State. It's about a two hour drive from New York City to Bethel Woods.
There is plenty of parking on site, with member parking right by the entrance gates as well as parking in the fields surrounding for more cars and buses too. It's clearly sign posted and easy to access the parking areas, with plenty of stewards directing traffic on event days. Getting in before a concert is smooth (it's worth getting there early just in case and some people tailgate in the carparks or make use of early access tickets), though be prepared to wait when exiting after a concert.

Bethel Woods Center for the Arts
Bethel Woods Center for the Arts is a 501(c)3 nonprofit cultural organization
Capacity: 15,000
Opened in 2006
Events
You can do more than see a concert! Events of all kind are scheduled throughout the year so be sure to check the Bethel Woods calendar for updated information. Some of the events include;
Harvest Festival
Guided Docent Tours
Yoga Events
Around the Grounds and Behind the Scenes
Workshops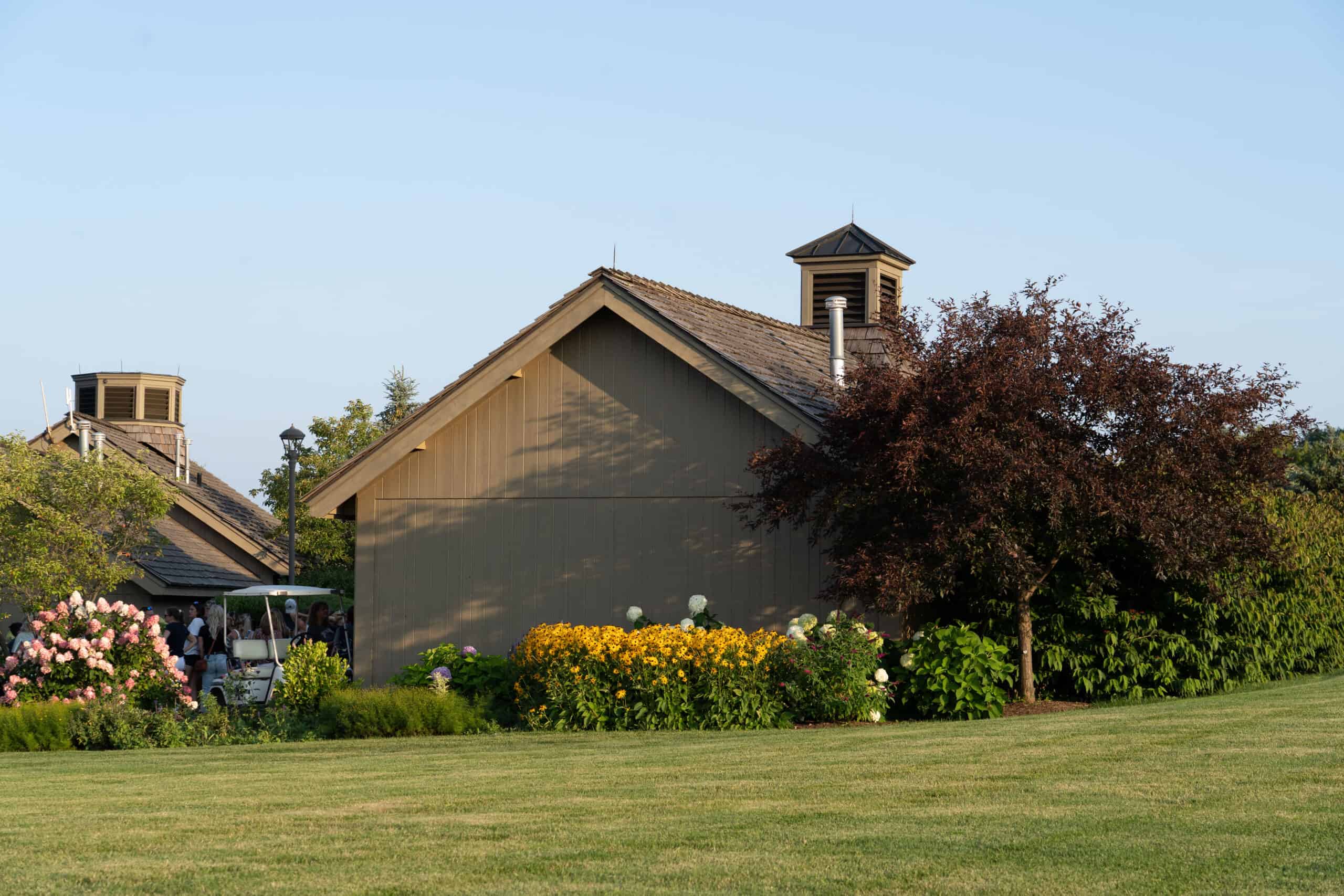 Concerts
When attending a concert you can either purchase general admission or pavilion seats. Pavilion seating surrounds the front of the stage and general admission gives you access to the lawn located behind the seating. The rows are slightly elevated each level you go up and the lawn is slightly hilled, meaning all vantage points offer a decent view.
If you purchase general admission you will be on the lawn and will have no pre-erected seating. No outside chairs are permitted in the venue, but you are free to bring blankets.  You can rent a chair once inside, but are urged to book them ahead of time.
The Green Room
If you're interested in skipping the line and getting early access you can purchase a Green Room ticket, which comes at a slight additional cost on top of your normal concert ticket and includes two drinks from The Green Room bars.
The Green Room opens 90 minutes before the show and offers a full service bar, charcuterie bar, vinyl & vino station, games and restrooms.
Food and Drink
There is a wide selection of food and drink offered at Bethel Wood Center for the Arts Events. We saw kettle corn, BBQ, tacos, calzones and multiple drinks stands serving cocktails, light or craft beers. We went for a pulled pork sandwich and mac n cheese!
There's plenty of beer tents around the venue and a craft beer tent located to the far right of the stage near the bathrooms. They serve draft beer from local breweries in the Catskills.
In the main building, where the museum is, you'll find a cafe with soft drinks, wraps, salads and other light bites.
If you prefer, you are welcome to bring your own food into the venue.
Membership Program
Check out Bethel Woods Center for the Arts membership options for special benefits like early event access, unlimited museum entry, discounts and premium parking.
The Museum at Bethel Woods – Woodstock '69
The Museum at Bethel Woods explores the history of the 60's and the Woodstock Music and Art Fair. The festival of '69 was originally planned to be held in Woodstock, NY, but the attendance predictions kept rising and forced the organizers to find a new location.  They finally settled on land in nearby Bethel, NY.
Learn plenty more interesting facts, see impressive footage and listen to a bit of music at this multimedia exhibit. You can visit the museum on it's own or if you're attending a concert you can check out the museum beforehand.
Tip* after 5pm entry is discounted!
What to Expect at the Museum
The museum takes you on a step by step journey through the era, the lead up to the festival and the event itself. You'll start off through learning about the feeling in the country in the year's before, from music history to politics and cultural events. All along the way you will see timelines of different events to help you put everything in place, like when certain bands first played a major concert or released their first album. As you make your way through the museum, you'll see printed and video interviews with the festival founders, attendees, locals and workers who give an insight to what a monumental event it was and how not everything was going to plan, even way before the festival started!
Around half way through you'll come across things like a bus similar to ones that would have arrived at the festival, decorated with all the peace and love art you'd expect from the era. Then there's exhibits like movies and videos from the festival which make you feel almost like you're there. That's one great thing about the museum, you don't feel like you're just looking at history – you feel like you're almost living it too!
There's also and bonus exhibit downstairs with vintage clothing, record covers and information about that period in time as well as the counter culture scene in San Francisco and it's influence on the music at Woodstock Festival. 
Where to Stay: Unique Hotels Near Bethel Woods Center for the Arts
Foster Supply Hospitality has a handful of rural, unique properties scattered around the area. I've been able to visit 4 of their boutique hotels and have enjoyed each individual design and experience.
Hotel Darby
Location: Beach Lake, PA
Driving Distance from Bethel Woods: 25 minutes
Staying at Hotel Darby is a natural compliment for a visit to Bethel Woods and Woodstock due to the hotel's design clearly being inspired by the 60's.
This hotel is steps from the Delaware River and a short walk across the bridge from Narrowsburg, NY. There's a large backyard with a garage full of lawn games for guests to help themselves to. The property also has a trail system, fire pit, retro bar and lounge area with pool table.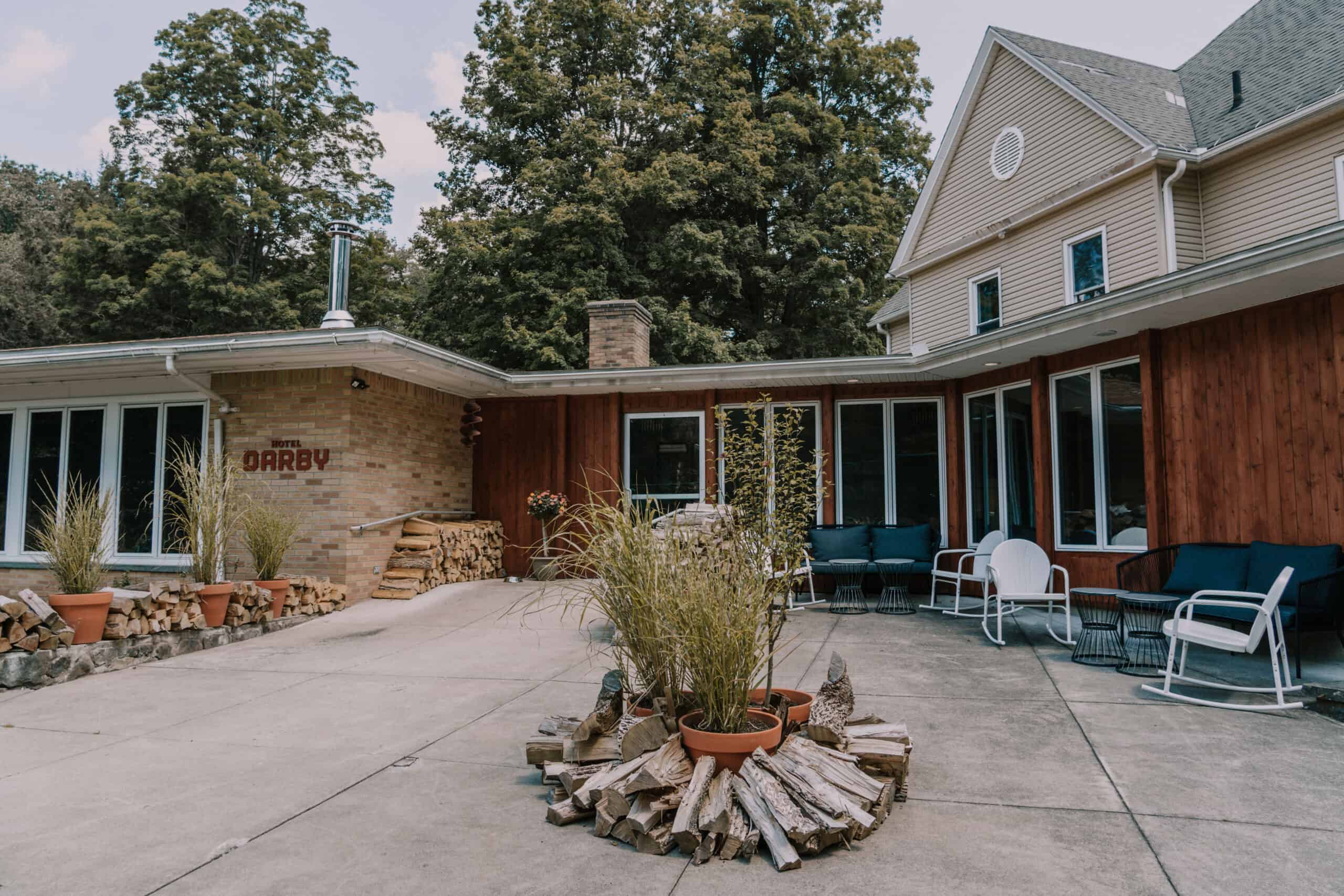 Nine River Road
Location: Calicoon, NY
Driving Distance from Bethel Woods: 25 minutes
Nine River Road is a small property with just 8 rooms located near the quaint Main St. of Calicoon, NY where you'll find galleries restaurants and antiques.
Complimentary perks include breakfast, use of house bikes, hot chocolate and apple cider. Picnic lunches are available for purchase.
The Arnold House
A beautiful farm-like property with a big barn and cozy spaces to unwind, an outdoor fire pit, a trail loop and an on site spa.
A continental breakfast comes with the stay and includes pastries, fruit, yogurt and coffee for you in the morning which you can take with you to enjoy anywhere on the property. They also have a Tavern serving quality American pub meals with a Catskills twist and often do things like quiz nights and other activities for guests and locals.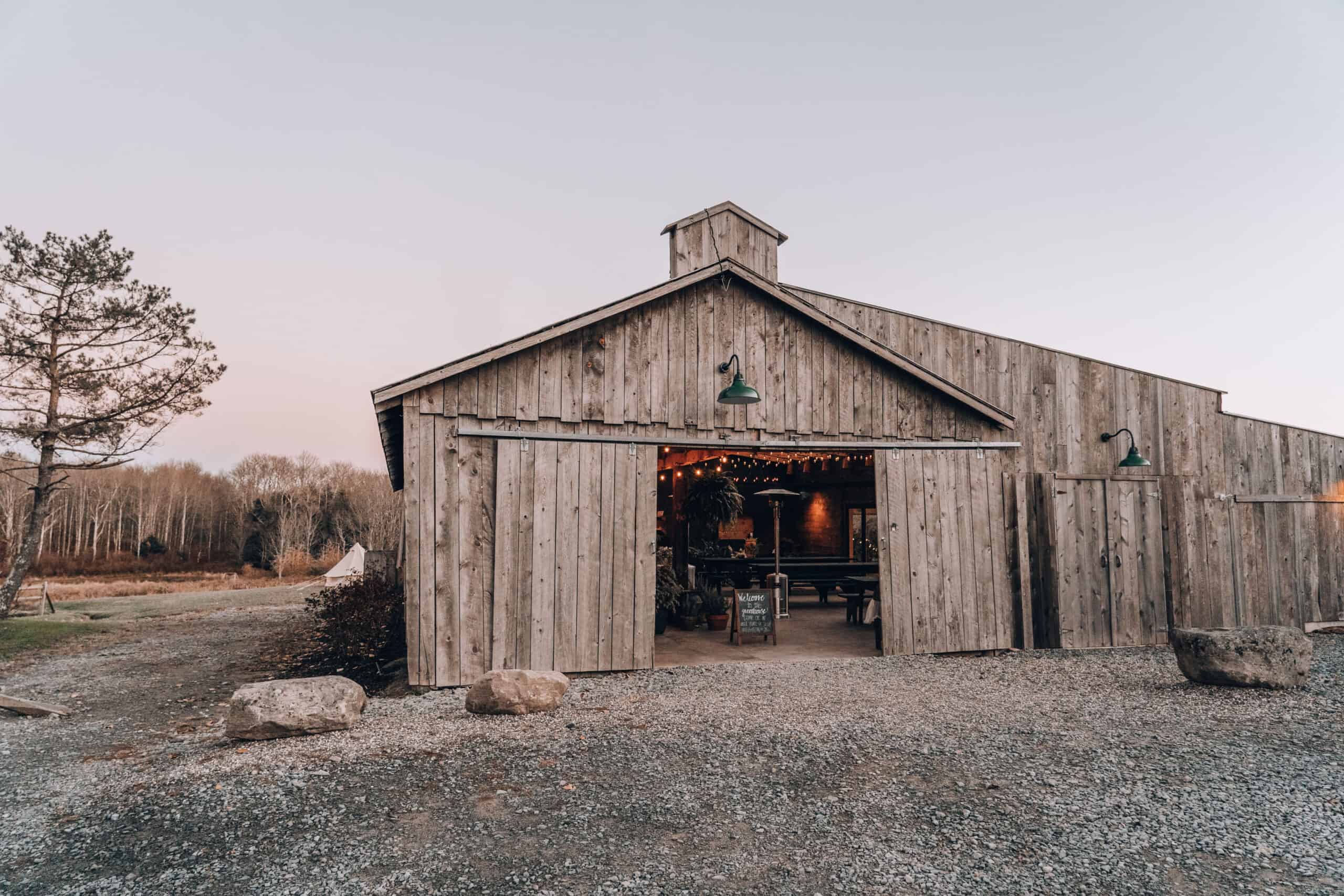 Kenoza Hall
Location: Kenoza Lake, NY
Driving Distance from Bethel Woods: 15 minutes
Out of all of the Foster Supply Hospitality Properties, Kenoza Hall is definitely the most luxurious. The finishes are all quite splendid such as the stunning hard wood floors, intimate bar area and views of the lake.
Kenoza Hall's Hemlock spa offers multiple treatment rooms, a pool, and sauna. You'll have private access to Kenoza Lake and on site hiking trails. Fine dining is available at their lake view restaurant.
The Debruce
The Debruce might just be the top pick of the lot for foodies. Executive Chef Eric Leveillee offers a tasting menu in the dining room or an a la carte menu in the club room.
This property has ½ mile of private river rights for fly-fishing, 5 miles of trails and a private pool.
North Branch Inn
Location: North Branch, NY
Driving Distance from Bethel Woods: 25 minutes
The North Branch Inn has just 14 rooms all with breakfast included in the stay. There's a stream right at the end of the yard and a beautiful outdoor fire area. The restaurant and bar has a rustic yet refined old world feel to it and you can order from a prixe fixe or a la carte menu.

Thank you to Bethel Woods Center for Arts for hosting me at the museum and a wonderful concert evening!
As always all opinions are my own.