'Hickster' Living and Food Gems in Livingston Manor, NY
Livingston Manor, NY has been a tiny blip on my radar for awhile, without really knowing anything about it besides there being a few cool boutique hotels there. When I visited recently, I had no idea what to expect and I certainly did not think I would find such a concentration of vibing businesses in a Catskills hamlet with a population of less than 1500 people.
Where is Livingston Manor, NY?
Livingston Manor is located in the Catskills Region of New York in Sullivan County, just 2 hours from NYC.
It has a convenient location right off of Route 17. I used to take this road when driving back to College at SUNY Oneonta and I never would have thought to stop here for lunch nor do I knew if any of these businesses existed back in 2010.
Even if you can't do an overnight in Livingston Manor, it's a great place to stop for lunch when driving up 17.
Things to Do in Livingston Manor, New York
Visit Van Tran Flat Covered Bridge Park.
The covered bridge in Livingston Manor was built in 1860 by John Davidson. The park around it makes for a nice place to relax, fish or picnic.
Admire Shandalee Lake.
Go Fishing.
Fishing, especially fly fishing, is a large part of the community. There are brooks and lakes surrounding the town and you'll find trout on many of the local menus.
Livingston Manor Fly Fishing Club
The Livingston Manor Fly Fishing Club is based here and aims to be much more than a fishing club. It's a five acre property where you can cook outdoors, jump in the river and fully connect with nature. The site is mainly for group use, but you can book an individual sauna experience complete with towels, infused water and homemade body scrubs.
Go hiking near Livingston Manor.
Balsam Lake Mountain
Alder Lake Loop Trail
Mill Brook Ridge Trail
Kelly Hollow Loop Trails
Balsam Lake Mountain Fire Tower
Round Top Trail
Small hike from Upward Brewing
Combine craft beer with a short walk up to the summit. We won't to close to sunset so didn't get a chance to do it – but I definitely like this idea!
Trails on site at Arnold House for guests
If you choose to stay at the Arnold House, one of the many amenities they offer is the use of their own walking trails. It was a gorgeous way to start the morning by watching the sunlight slowing come over the fields.

Where to Eat and Drink : Local BBQ, Trout, Beer + more
Catskill Brewery
Catskill Brewery says they make "Honest Hardworking Beer" made with the best ingredients and sustainable practices. They have outdoor picnic tables, a tap room and food truck.
Upward Brewing Company
Upward Brewing Company has to be the most stunning tap room I've ever seen! It's has a gorgeous design inside and out. The brewery sits on top of a hill and has a small pond,  outdoor fire pits and a little trail where you can get to the top of the summit.
Their Upward Brewing Company Kitchen serves eclectic bar bites such as trout nuggets, kimchi fries, steak and wild boar sausages.
Kaatskeller
Wood-fired restaurant serving small plates, pizza and cocktails in their massive outdoor garden or indoor lounge. You'll find interesting pizza combinations like the 'Firebird' which has Guinea Hen, spiced kombucha and BBQ sauce as well as local,  wood-fired cedar trout on the menu.
Smoke Joint
Smoke Joint was actually featured on Guy Fieri's TV show Diners, Drive Ins and Dives back in 2013. It's super cool counter set up with outdoor seating only. Order at the counter, and in just a few minutes, they'll bring you a tray and goodies!
We had their 'Tight Lines' combo special which came with half pound brisket, half rack of spare ribs, 2 sides and 1 piece of  cornbread for 30 bucks!! For the sides we had mac n'cheese and slaw. The sauces are homemade –  I loved both the hot and hte bbq.
I was extremely impressed with the BBQ here and it's excellent value.  BBQ is one of my favorite meals and I've taste tested at a ton of different establishments. My husband and I even drive through Texas one year just to try the best of the best.
Van Smokey
Van Smokey is a one of a kind smoke house and meat shop that also sells hot sauces, local cheese and some cooking gear – all of the key supplies to create an epic charcuterie board! Just pick up your bottle of wine from Upstream and head to the nearest camp fire!
Main Street Farm Market
An aesthetically pleasing farm shop on Main Street selling provisions and serving coffee, artisan sandwiches made with fresh ingredients and local beer and cider.
They have a hidden seating area behind the shop with river views. To get to it, walk out to the left and around the building.
Bradenberg Bakery
Sarah makes German recipes handed down from generation to generation in this intimate and welcoming cafe and bakery in Livingston Manor. Try their tasty cakes, breads and pastries for the carb lover in you!
Shopping on Main Street
Homestedt Store
The same people responsible for the Livingston Manor Fishing Club, have a storefront in town with  a collection of vintage finds, home decor and intricate gifts for wanderers.
Upstream Wines and Spirits
This fine wines and spirit shop is in the middle of Main Street. They host weekly tastings on Saturdays from 2-5. Sustainable, organic, and biodynamic beverages are their specialty.
Nest
Nest is an interior design shop with furniture, clothing, art and more.
Long Weekend
Long weekend has a selection of vintage furniture and a carefully curated assortment of gifts and art.
I purchased a booked call City Quitters from this shop as a gift for someone, but I'm regretting not buying it for myself!
Where to Stay to Embrace the Hickster Lifestyle
The Arnold House
The Arnold House is an incredible farm property with a spa, barn, greenhouse, fire pit, trails and more. We absolutely loved staying here. The design of the property is stunning and there is plenty of space to relax, unwind and embrace the hickster lifestyle!
The Tavern is their on site restaurant which serves fun American favorites with a Catskills twist. You'll find dishes like smoked wings, local trout and baked brie.
The Debruce
As well as the Arnold House, the Debruce is an impressive small hotel by Foster Supply Hospitality.
As a guest of the Debruce you'll have access to  their 600 acres, private river fishing and 5 miles of designed trails. The room rates include breakfast and dinner from Chef Eric Leveillee.
Antrim Streamside
Enjoy 250 acres of woods, trails and nature at Antrim Streamside.  Unwind or explore on this beautiful countryside property.  Stay in your choice of a cottage, river house or cabins. There's a continental breakfast included each morning.
The Lady Pamona
The Lady Pamona is a boutique inn with just 4 rooms; yellow, blue, pink and wood, each individually designed.
Livingston Manor Fly Fishing Club
As I mentioned, this property is mainly available for groups such as small weddings and retreats.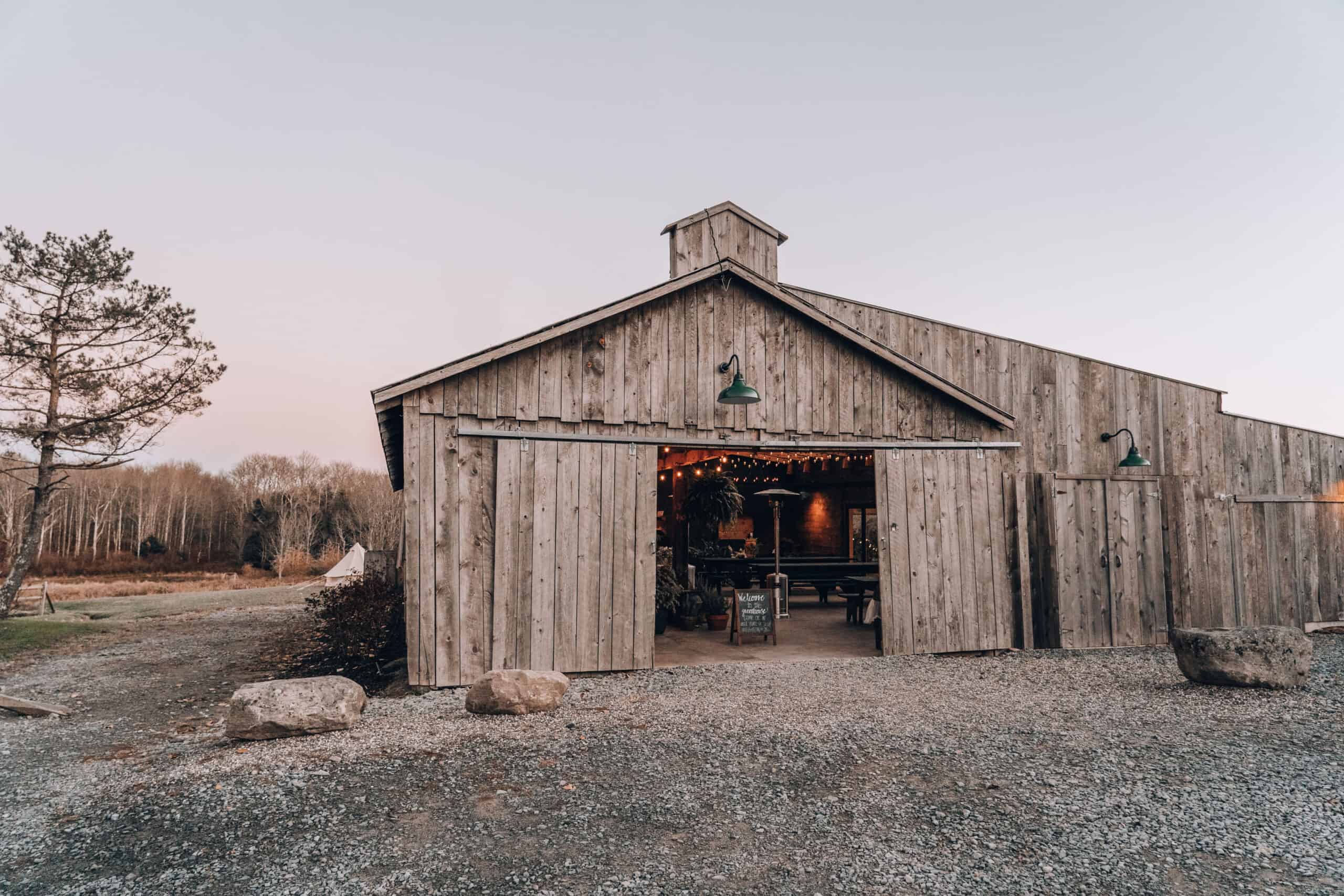 Other Towns to visit in Upstate New York