Travel Guide to Woodstock, NY – Nostalgia, Music, Food, + Good Vibes
Upstate New York is filled with more cool little towns than you can imagine, though few will be cooler than Woodstock, NY. It's a legendary location that's now an interesting mix of old school and modern hippy culture.
What is Woodstock famous for?
What comes to mind when you here "Woodstock"? Probably the world famous festival held in 1969. Fact is the festival actually took place in Bethel, NY, though Woodstock is where the music is really from.
Where is Woodstock, NY located?
Woodstock is located in the Catkills Region in Upstate New York in Ulster County.  It's about 100 miles from NYC straight up the Hudson River and slightly to the west.
Woodstock New York Map
Getting There from NYC
Distance to Woodstock, NY from NYC : 100 miles
The Trailways bus will take you to Woodstock from Manhattan. The journey takes about about 2 hours and 45 minutes and you will have to transfer in Kingston.
Drive
Driving of course will be the most convenient. It will also make it easier for you to do hikes and visit nature parks in the area. The Drive from NYC takes about 2 hours.
Things to Do in Woodstock
Hiking, art and music are some of the the things you'll find to do in Woodstock and the surrounding area.
Overlook mountain
Overlook Mountain is a 4.6 mile trail out and back trail. There's a fire tower and abandoned hotel to see along the way and expansive views from the top!
A full service luxury day spa offering facials, massages, manicures and more. A great option for a rainy day activity or a girls weekend!
Shopping on Tinker Street
Tinker Street is the main road that runs through the town center. This is where many of the restaurants, shops and bars are.
Kaaterskill Falls
I highly recommend this trail. It's about 35 minutes away in Hunter, NY, and is a stunning trail. It's a little rocky and you'll have to go down hundreds on stone steps to reach the falls, but I thought it was a blast. It felt adventurous enough for me without too much danger.
I parked up at the top of the falls at the end of Laurel House Road. You can follow the trail and bear off to the right to see the overlook first. Then continue on down to the left to make your way to the lower falls.
Minnewaska State Park Preserve
About 40 minutes away from Woodstock in the other direction is Minnewaska State Park. There are many different trails at this park including Awosting Falls, Lake Minnewaska Loop Trail and Gertrude's Nose. The preserve opens at 9am, and on nice days you'll want to get there a bit before then to make sure you get a parking spot!
Kaleidoscope at Emerson
I didn't even know it existed, but the kaleidoscope at Emerson Resort actually holds a Guinness World Record for being the largest one!
Opus 40 Sculpture Park
Opus 40 is located next store in Saugerties and boasts 50 acres of space. Not only does it house art, but it hosts events, educational field trips,  art workshops and nature walks.
Experience the Music and Theater
Live music at the Colony
The Colony is a classic venue dating back to 1929. It hosts music as well as comedy and  arts. Check out the Colony beer garden and brunch.
Woodstock was established in 1938 and a not-for-profit theater. It was impressively, one of the first extensions of Broadway in a rural area.
Maverick Concerts, Inc. is the oldest, continuous summer chamber music festival in America!
A theater that was record label and hang out back in the day for legends like The Band and Todd Rundgren.
Where to Eat and Drink : Cafes, Restaurants + Bars
Shindig
Heart warming comfort food using organic and local ingredients. Breakfasts, burgers, melts and more.
The Mud Club
The Mud Club serves wood-fried bagels, coffee and pastries from a quirky wooden barn. Only open on the weekends. Place your order online.
Tinker Taco Lab
Casual counter service for tacos and margaritas.
Bread Alone
Absolutely no one should go to Woodstock without trying the roast pork sandwich from Bread Alone! They've been baking organic since 1983 so they've pretty much perfected it. I can't wait to go back and try a breakfast sandwich!!
They have cafes in Kingston, Boiceville and Rhinebeack as well.
Woodstock Brewing
Woodstock Brewing offers beers on taps, bar snacks and a large outdoor seating area with picnic tables. One of the many cool breweries in the Hudson Valley + Catskills Area.
A&P Bar
Enjoy a unique menu combining local and global cuisine. Classy comfort food with cocktails to go with it!
Early Terrible Wine Bar
Beer, wine, cocktails and tapas in a woodsy vibe. Sister restaurant of the Mud Club.
Phoenica Diner (Phoenicia)
Diner favorites done with fresh and local ingredients. Large outdoor area with picnic tables.
Red Onion (between Woodstock and Saugerties)
Farm to table fine dining in an old farmhouse.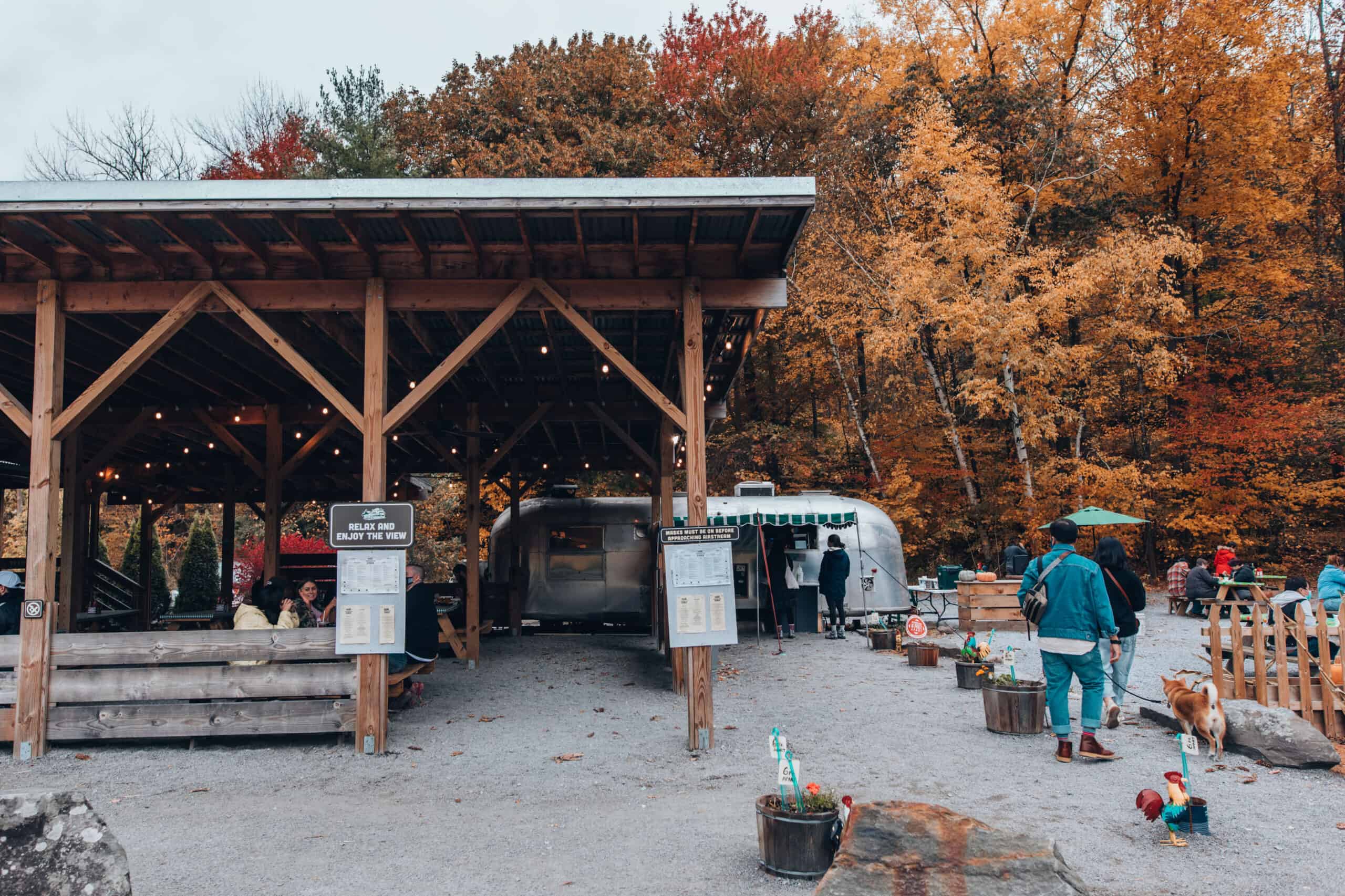 Where to Stay
There are so many adorable boutique hotels in upstate New York, with a concentration of them being in the Woodstock area.
The Herwood Inn
With only four flats, the Herwood Inn could actually be considered a micro hotel. Every inch of this property is so well thought out. I loved the well designed mini kitchen, amazing backyard with hot tub, bike usage and amazing decor throughout.
Hotel Dylan
Hotel Dylan is about a 5 minute drive from the downtown area of Woodstock. The rooms and lobby have a modern boho theme and there is ample outdoor space with fire pits and a pool!
Other Hotels/Inns in the area include:
Woodstock Way
Twin Gables of Woodstock
The Woodstock Inn on the Millstream
Multiple AIRBnB Options
Other Upstate NY Towns to Visit 
Kingston
Catskill
Hudson
Hunter