Boutique Hotels + Unique Stays for a Weekend Getaway in Upstate New York
My favorite types of hotels to stay in are boutique hotels and you'll find a plethora of incredible ones located in upstate New York. From mountain houses in the Catskills or the Adirondacks to lake houses in the Fingers Lakes Region to unique and historic properties in the Hudson Valley,  there are so many hotels in upstate New York to make for the perfect weekend getaway.
Where should I stay in upstate New York?
The regions I've explored the most in Upstate New York include the Catskills, Adirondacks, Hudson Valley, Finger Lakes and Saratoga. I'll give you a little run down of each area, to help you decide where to stay!
Catskills
With easy access from NYC the Catskills are a popular destination in the mountains. You can hike to waterfalls, spend the day skiing or explore one of the cute towns like Woodstock, New York.
Adirondacks
Did you know the word 'vacation' actually comes from the Adirondacks? It's the term created for when New Yorkers would vacate the city to escape to their second homes upstate.
The Adirondacks are a little bit more remote than the Catskills, so if you want to get rustic, this is the place!
What many people don't realize is that the Adirondack Park the largest protected area in the contiguous United States at 6 million acres!  It's also home to the beautiful Lake Placid which hosted the winter Olympics in both 1932 and 1980.
Hudson Valley
Hudson Valley tourism is booming, especially in the fall and you'll find an incredible food and drink scene here. I grew up in the town of Warwick, NY , which is a perfect example of a quaint town in this region.
Finger Lakes
Some of the top things to do in the Finger Lakes include boating, discovering waterfalls like the incredible Watkins Glen Falls, and trying out the many wineries along Seneca Lake.
Saratoga
If you want to be entertained, Saratoga might be the location for you. The Saratoga Performing Arts Center and Saratoga Race Track and both great days out. My cousins and I go every year to the races. It's fun to casually bet a few bucks on the horses while catching up with family.
Boutique Hotels in the Hudson Valley
Distance from NYC:
60 miles, Located in Beacon, NY
Vibe:
Minimal, modern and slightly industrial.
Amenities:
The Roundhouse is front row to it's very own waterfall! The patio restaurant is in the main "Roundhouse" building along with the suites and bar but there are additional buildings with accommodation and event space.
This hotel is located in the town of Beacon and is in easy walking distance to other local business such as the Hudson Valley Brewery and Vintage Beacon.
Food and Drink:
The Roundhouse Restaurant has a stunning outdoor patio as well as an indoor area with a bar. The cocktails here are delicious and I love their seasonal dishes. I had the shishito peppers as a starter and the scallops with pumpkin puree' for my main – both were very tasty!
Smoke on the Water is their brand new steak restaurant which I hope to try out soon.
Valley Rock Inn and Mountain Club

(Hudson Valley)
Distance from NYC:
40 miles, located in Sloatsburg, NY
Vibe:
The decor has a Hamptons or vineyard feel to it.
Amenities:
The outdoor space has a lovely design. There's a pool, lounge area and fitness center.
Food and Drink:
There's a restaurant with outdoor seating, a market and cafe all on the property.
Distance from NYC:
90 miles, located in Stone Ridge, NY
Vibe:
A cozy and quaint 18th century stone Dutch Colonial mansion with all of the modern conveniences.
Amenities:
Rooms located in the Main House, the Stable House and the Carriage House for a unique property feel. There's a warming lounge in the main house with a fireplace and a den with pool table and darts.
In summer they host events outside such as movie nights and have their pool open for guests.
Food and Drink:
Their restaurant, Butterfield, serves Hudson Valley Cuisine. Butcher & Bar is another food option on site only open in the summer season serving to go meals and picnic baskets.
When I was there, they had complimentary coffee and cider donuts in the morning!
Distance from NYC:
100 miles, located in Kingston, NY
Vibe:
Hotel Kinsley has an industrial, contemporary feel to it. The reception looks like it's actually in a bank vault!
Amenities:
The amenities at the hotel are limited to the restaurant and bar, but there is plenty to do in the area of Kingston!
Another three unique buildings are set to open next year so I'll be interested to see if amenities are added.
Food and Drink:
Restaurant Kinsley serves locally sourced New American classics like roasted baby beets, Artic Char or roasted organic chicken. Unfortunately the restaurant was closed while I was there so I wasn't able to try the food.
Distance from NYC:
120 miles, located in Hudson, NY
Vibe:
Sophisticated vintage + artsy with a European flare.
Amenities:
The Maker is located in the heart of Hudson, NY for easy exploration of the town. They have a sultry lounge and bar, a gym inspired by the Ringling Brothers featuring refurbished vintage gym equipment and a Tuscany style outdoor pool in summer.
This hotel brought back to life historic buildings and it will surprise and delight you at every turn. The amount of detail at the Maker is absolutely incredible. For instance, they have custom wallpaper for many of the rooms, stunning chandeliers and a collection of perfumes the owners have curated from around the world for guests to enjoy.
Food and Drink:
The Maker has an array of food and drink to experience while relaxing in one of the moody corners of the hotel. There's a restaurant,  European style cafe and a lounge. The restaurant highlights what the Hudson Valley has to offer through contemporary American Cuisine. The lounge offers cocktails, wines, local beers and small plates and the cafe serves lite bites and pastries.
Distance from NYC:
110 miles, located in Tivoli, NY
Vibe:
Artistic and eclectic with pops of color.
Amenities:
Hotel Tivoli has it's own corner store selling artisan and local finds.
Food and Drink:
The Corner is a farm to table restaurant serving Mediterranean style food with local flare. Select a wine or try and inventive seasonal cocktail from the bar.
Distance from NYC:
60 miles, located in Chester, NY
Vibe:
Ultimate Italian luxury. You'll feel like you've been transported to Europe!
Amenities:
Pool, spa, gorgeous grounds and gardens and lounge areas throughout the property.
Rooms at this 5 star hotel start at $850. If you're heading to the area, but not willing to drop that much cash, definitely try and have a meal there, just to see the property. Reservations required.
Food and Drink:
Two restaurants are available at the property. The Supper Room is the formal restaurant and Frog's End is the more casual tavern.
Boutique Hotels in the Catskills
Distance from NYC:
125 miles, located in Hunter, NY
Vibe:
An urban mountain house with a communal feel. I liked that there was plenty of space to mingle with other guests or completely zen out alone, it's all up to you!
Amenities:
At this cozy hotel there's an outdoor pool, fire pit and deck with views of the mountain as well as an indoor fireplace, lounge and common space with pool tables as well as nooks and crannies to relax in.
Scribner's Lodge is great getaway location in both summer and winter. In Summer you can hang out by the pool and do some hiking and in Winter you're close to skiing and other cold weather activities.
Check their calendar for hosted events like yoga, bonfires or art installments.
Food and Drink:
Prospect is the name of their restaurant which serves local Hudson Valley Cuisine. Tall glass windows in the dining area allow for amazing views of the mountains and plenty of natural light.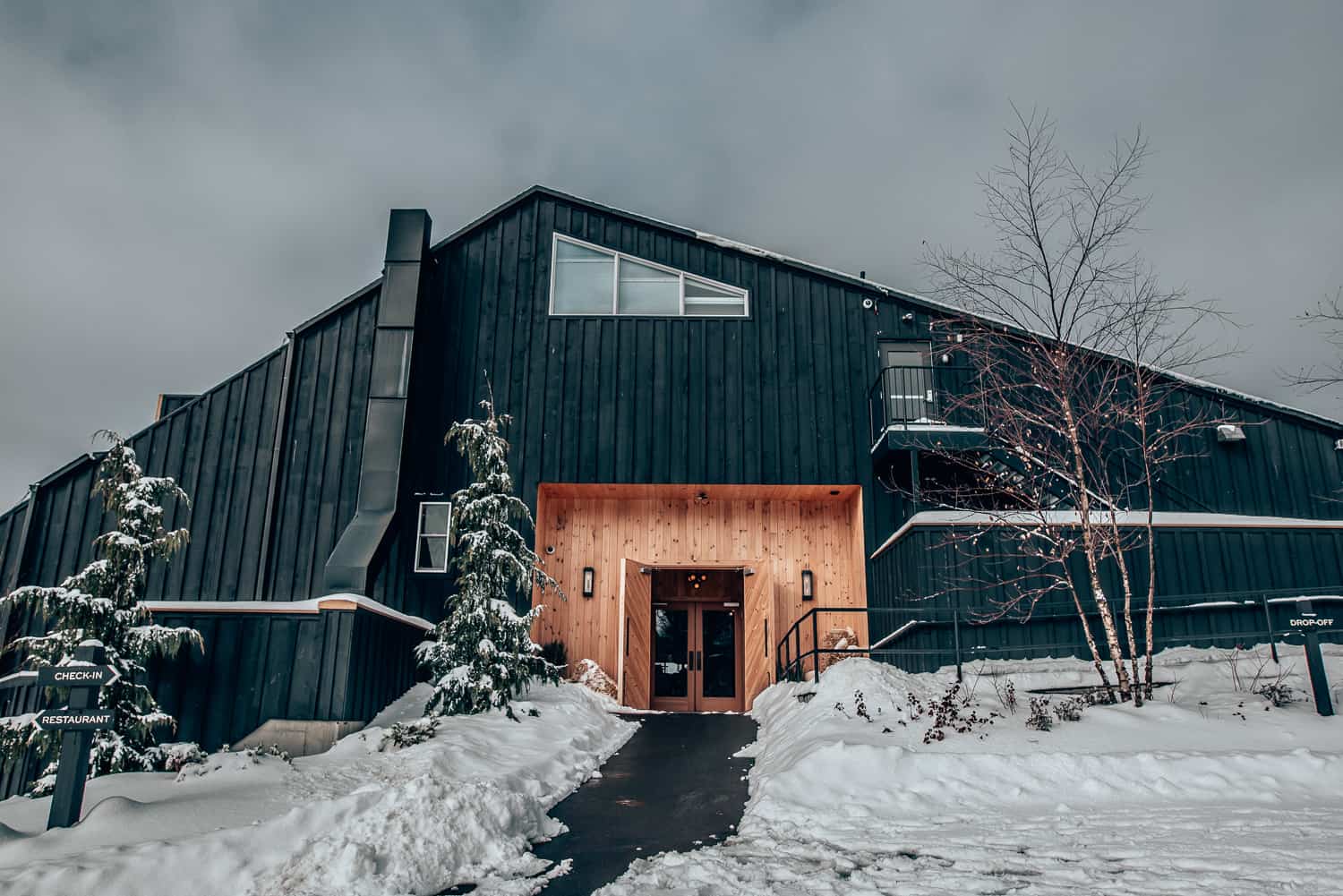 Distance from NYC:
100 miles, located in Woodstock, NY
Vibe:
There's a modern bohemian theme throughout the hotel, complete with their own official Hotel Dylan VW bus!
Amenities:
Hotel Dylan has an outdoor pool and a few outdoor fire pits – perfect for roasting marshmallows! There's a stunning lobby featuring a sitting area with swinging chairs. I loved the little touches like the record players and books in the rooms.
Hotel Dylan is a great base for exploring the Catskill Region. The town of Woodstock is just a ten minute drive away and it's down the road from the Ashokan Rail Trail.
Food and Drink:
The hotel does not have an official restaurant or bar, but there just so happens to be a Mexican restaurant as well as a cider tasting room on the other side of the parking lot.
Distance from NYC:
125 miles, located in Shandaken, NY
Vibe:
An up-to-date but cozy country cottage. My husband actually said it reminded him a bit of being back in England!
Each room is named after one of the old classic Catskills resorts or camps.
Amenities:
At the Shandaken Inn you'll find an outdoor pool, tennis courts, lounge areas and fire pits. This property has plenty of space and things on offer for it's small number of rooms. They actually have plans in the near future to expand by adding a Spa and additional rooms.
I also must make the declaration that the beds at Shandaken Inn were like clouds! The comfy bed combined with the fresh mountain air made for one of the best night's sleep ever!
The inn keeper and staff were very attentive and full of information about the Catskills and local area so don't hesitate to ask for recommendations.
Food and Drink:
The Clubhouse restaurant and bar serves dinner most nights and breakfast to guests each morning. The menu was simple, but everything tasted delicious. The rarebit burger was out of this world, the chilli mussels was super tasty and all of the bread was very fresh.
Though the Shandaken Inn says it's a"B&B" you get so much more than just breakfast with property!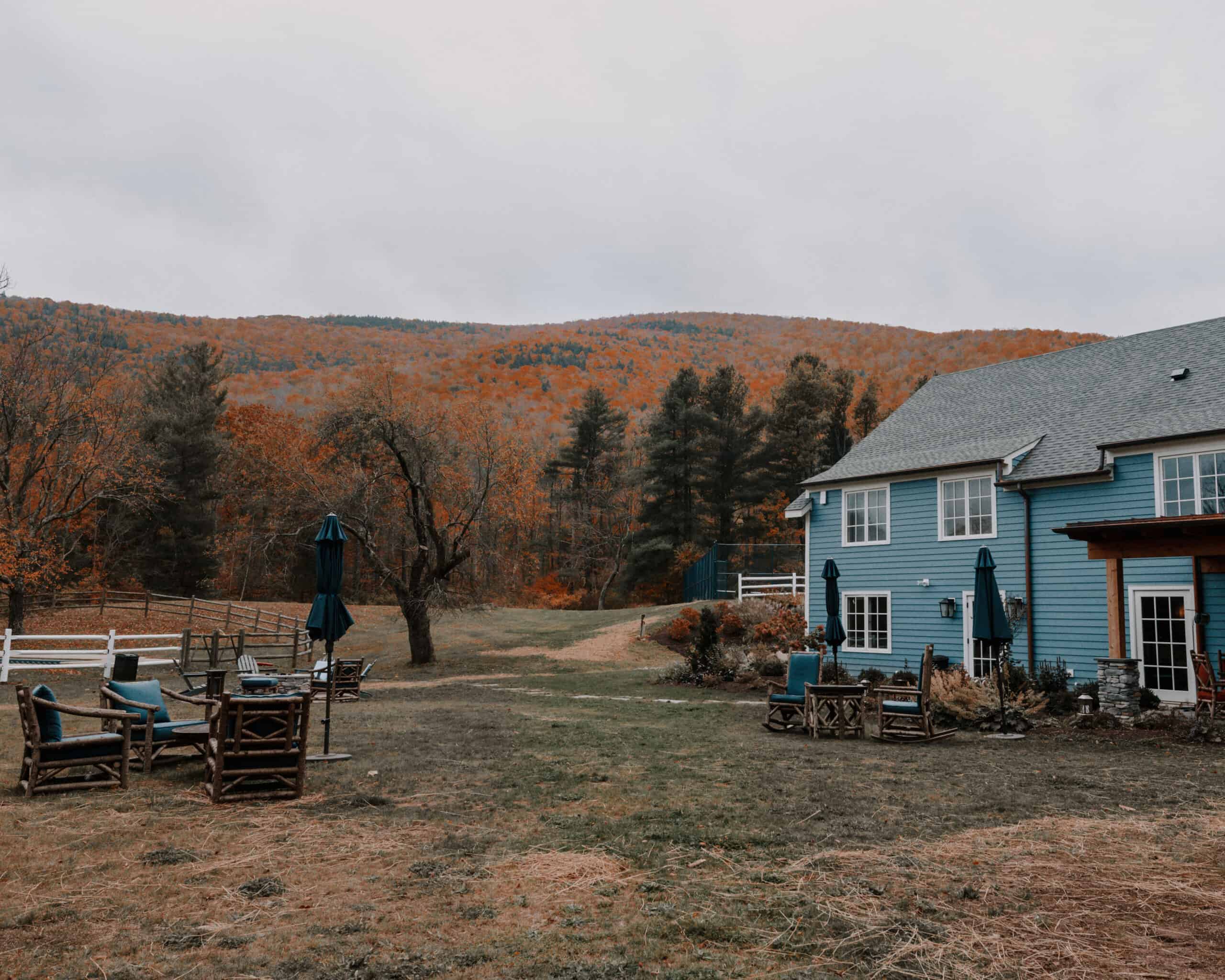 Distance from NYC:
100 miles, located in Woodstock, NY
Vibe:
Contemporary and sustainable.
Amenities:
Both individual rooms and whole residences are available at Woodstock Way. There is communal lobby space where you can grab a hot drink or pick up a locally made jam.
There is also in room massage, yoga and healing sessions available upon request (Book at least a week in advance).
Food and Drink:
No food and drink on site, but the hotel is literally around the corner from all of the best food and drink in Woodstock.
Distance from NYC:
133 miles, located in Windham, NY
Vibe:
Glamping or a cozy hotel stay.
Amenities:
For accommodation, you have the choice between A-fame cabins or rooms in the main building. Eastwind Hotel has fire pits, picnic tables, and an outdoor sauna.
I really enjoyed the staying at Eastwind. I could see how it offers a different perspective through each season. I loved being there while it snowed and feeling cozy in our heated cabin, but I bet summer is incredible too, when you get to enjoy more of the land.
In the evening, we had a s'mores kit as well as mulled wine delivered to us while we were hanging at our personal fire pit which was such a nice touch!
What's great about Eastwind, is that you will a bit secluded,  but you are just down the road from the main area of Windham!
Food and Drink:
There's a bar in the main house serving drinks and snacks. You can order a breakfast basked in the morning which I'm so glad we did. For $30 it came with plenty of food for two and included fresh baked pastries + rolls, OJ, milk, coffee, boiled eggs, jams, yogurt, fruit and granola.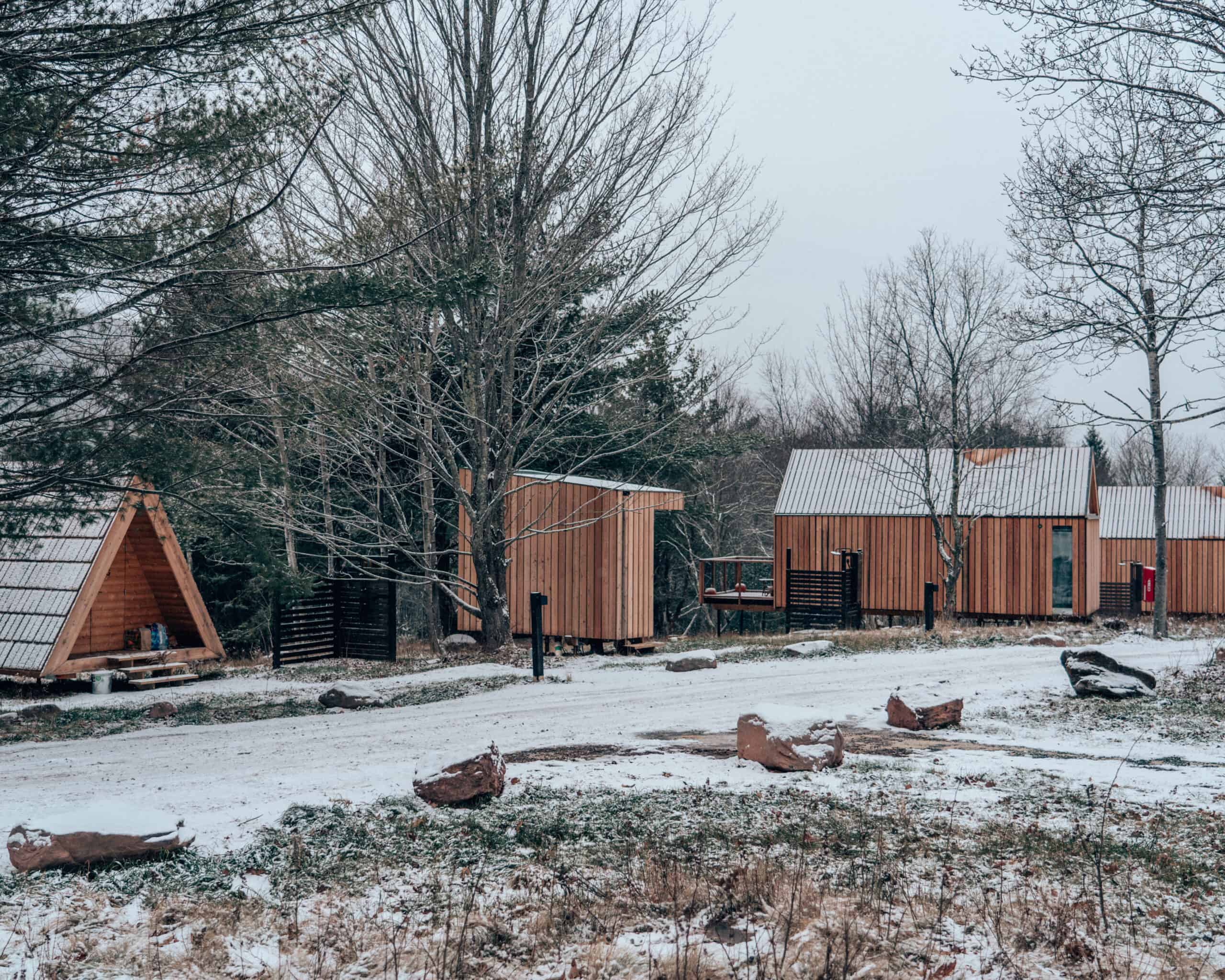 Distance from NYC:
100 miles, located in Woodstock, NY
Vibe:
Modern bohemian decor encompassing everything peace, love, women and Woodstock.
The theme throughout this micro hotel is iconic women in music which suits the Woodstock location perfectly. I stayed in the Franklin Flat and loved the touches from Aretha's records to even her birth stone on the side table. Mitchell, King and Nicks are the other 3 room namesakes.
Amenities:
For a small property with just 4 flats, The Herwood Inn really packs a punch! First of all, every detail at this property is immaculate. Owners, Em and June, have literally created a masterpiece. The outdoor space is such a dream, complete with a hot tub, sitting area, fireplace, projection screen and hanging lanterns that go on automatically at dusk. There are also bikes that you can use on a first come, first served basis, but if you'd rather walk – it's a short distance down Tinker Street to the main area of Woodstock.
Food and Drink:
No restaurant on site, but you have a gorgeous kitchenette to cook in! Probably the most well designed small kitchen I've ever seen anywhere. You're also a short distance from the bars and restaurants down Tinker Street.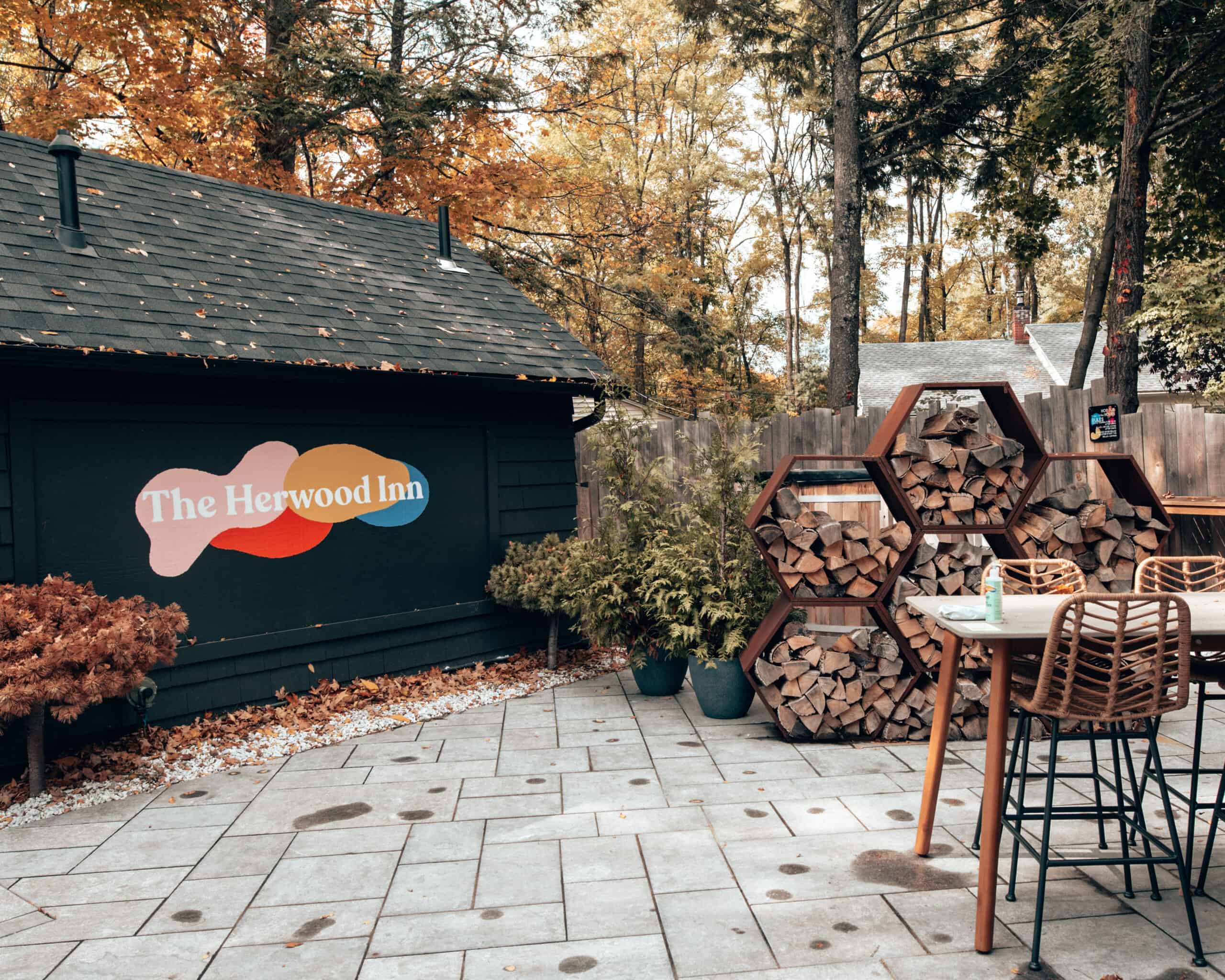 Urban Cowboy Lodge

(Catskills)
Distance from NYC:
130 miles, located in Big Indian, NY
Vibe:
An urban cowboy gone to the woods. A vision brought to life by Lyon Porter. There are two other properties, one in Brooklyn and one in Nashville.
Amentities:
Luxurious, intricately design rooms, many of which have gorgeous soaking tubs. You'll be surrounded by nature on the 68 acre property.  Embrace it!
Food and Drink:
The Urban Cowboy Lodge has collaborated with Roberta's Pizza. You can order food on the weekends as well as drinks from the bar.
Distance from NYC:
122 miles, located in Coxsackie, NY
Vibe:
Off the grid, but with amenities.
Amenities:
Gather Greene is great for disconnecting. It really makes you feel one with nature, but without the down sides of camping. The well designed cabins are heated and include your own shower, bathroom, fridge and in room kettle.
The property covers 100 acres and has a nature trail and pond. It also has an incredible open air venue for events which is popular for weddings.
Gather Greene has a stunning location on a ridge between two mountain ranges offering one of a kind views from every angle and makes you feel like you're up on the trees.
Dog friendly cabins are available!
Food and Drink:
A mini fridge and a nook in the room with a kettle. Local restaurants are about a 15 minutes drive away.
Distance from NYC:
120 miles, located in Phoenicia, NY
Vibe:
Laid back and outdoorsy.
Amenities:
Graham & Co boasts plenty to do with over 3 acres of property on which you'll find a swimming pool, hammocks,  a badminton court, a fire pit and picnic area. There are also free bikes to use and communal space.
Additional things to do nearby include hiking and fishing.
Food and Drink:
All day tea & coffee. Breakfast on the weekends.
Distance from NYC:
115 miles, located in Livingston Manor, NY
Vibe:
Hickster = Hick + Hipster. A.K.A my new obsession.
Amentities:
What I loved about the Arnold House was all of the space! There's the option of the barn + greenhouse, fire pit, sun room, lounge and Shandalee Hall all at your disposal.  They even have their own trail loop and an on site spa.
It's really the perfect place to unwind and take in the countryside or even the ultimate 'work from home' location for those looking to work remote for a few days with evenings spent by the fire!
Some afternoons there were treats laid out like candy popcorn and hot cider. In the evening they provided you with a s'mores kit to make the most of their outdoor fire pit.
Food and Drink:
A continental breakfast is included in the stay. You'll find pastries, fruit, yogurt and coffee for you in the morning which you can take with you to enjoy anywhere on the property.
The Tavern is located in the main building and serves American favorites with local ingredients and a Catskills spin. Try the smoked wings, local trout, baked brie or fried chicken sandwich with a cracker crust.

Boutique Hotels in Saratoga New York
Distance from NYC:
180 miles, located in Saratoga Springs
Vibe:
Revived Victorian home.
Amenities:
The Inn at Five Points sits at the five points intersection in Saratoga. It's the perfect location because it's walking distance to downtown, the Saratoga Race Course and has an adorable deli across the street.
The inn can sleep a total of 21 people in 9 rooms. The main floor consists of two sitting rooms and a breakfast room with a coffee/tea area for guests to help themselves to. I loved the beautiful porch,  two fireplaces and b.y.o.b. bar area. Everywhere at the inn felt super cozy and inviting.
Thanks to the many windows, the natural lighting at the inn is absolutely perfect. It was such a treat to take pictures and do work here!
I'm looking forward heading back in the summer so I can walk to the races and fully explore the city of Saratoga then come back to crash at this elegant home.
Food and Drink:
Breakfast is usually offered with the stay, but there is also a deli directly across the street.  A coffee and tea station is set up for guests to help themselves to through out their stay.

Distance from NYC:
180 miles, located in Saratoga Springs
Vibe:
Stylish and modern.
Amenities:
Common spaces, a courtyard, convenient downtown location.
Food and Drink:
The Downtowner is in the hub of Saratoga Springs where the area's top restaurants and bars are located.
Distance from NYC:
180 miles, located in Saratoga Springs.
Vibe:
Old world character with modern conveniences.
Amenities:
This hotel has a unique location just steps from the historic Saratoga Racetrack. There are complimentary bikes to borrow for a ride into town and an outdoor area for relaxing by the fire and sipping a cocktail.
Food and Drink:
There is a lobby bar and patio serving coffee and cocktails. .
Boutique Hotels + Resorts in the Adirondacks
Young couple, Britt and Devlin have been running the Great Pines Resort since 2015 and have put their heart and soul into it.  When they took over the property, it was dilapidated and they brought it back to life. It was amazing talking to them about their story and hearing how much they love what they do.  They are the exact reason I love visiting boutique properties and will continue to do so.
Distance from NYC:
290 miles, located in Old Forge.
Vibe:
Rustic Adirondack escape. Family friendly and welcoming waterfront setting.
Amenities:
This lake front property offers a number of different accommodation types including individual cabins, queen rooms and king rooms, some with lake views and a jacuzzi! There are microwaves and fridges in the king rooms which I always find super handy, especially if you're staying for a longer period of time.
Rarely will you find a stay like this in the Adirondacks, which provides nature and remoteness combined with quality food and drink and an inclusive atmosphere second to none.
You can also borrow canoes and kayaks, hike one of the many trails nearby, play board games or attend a drive in movie night in the parking lot!
Food and Drink:
Great Pines Lodge Resort has not one, but two restaurants, both with bars plus an outdoor bar on site, an impressive offering for a property with only 30 rooms.
You can dine in their fine dining restaurant, The Lodge, or in their tavern called the Lean To. If you want something special, look into their private dining experience which will take place in a small green house at one end of their dock.
If you're not staying here, you can either drive to lodge, or go by boat! This place is booming in summer.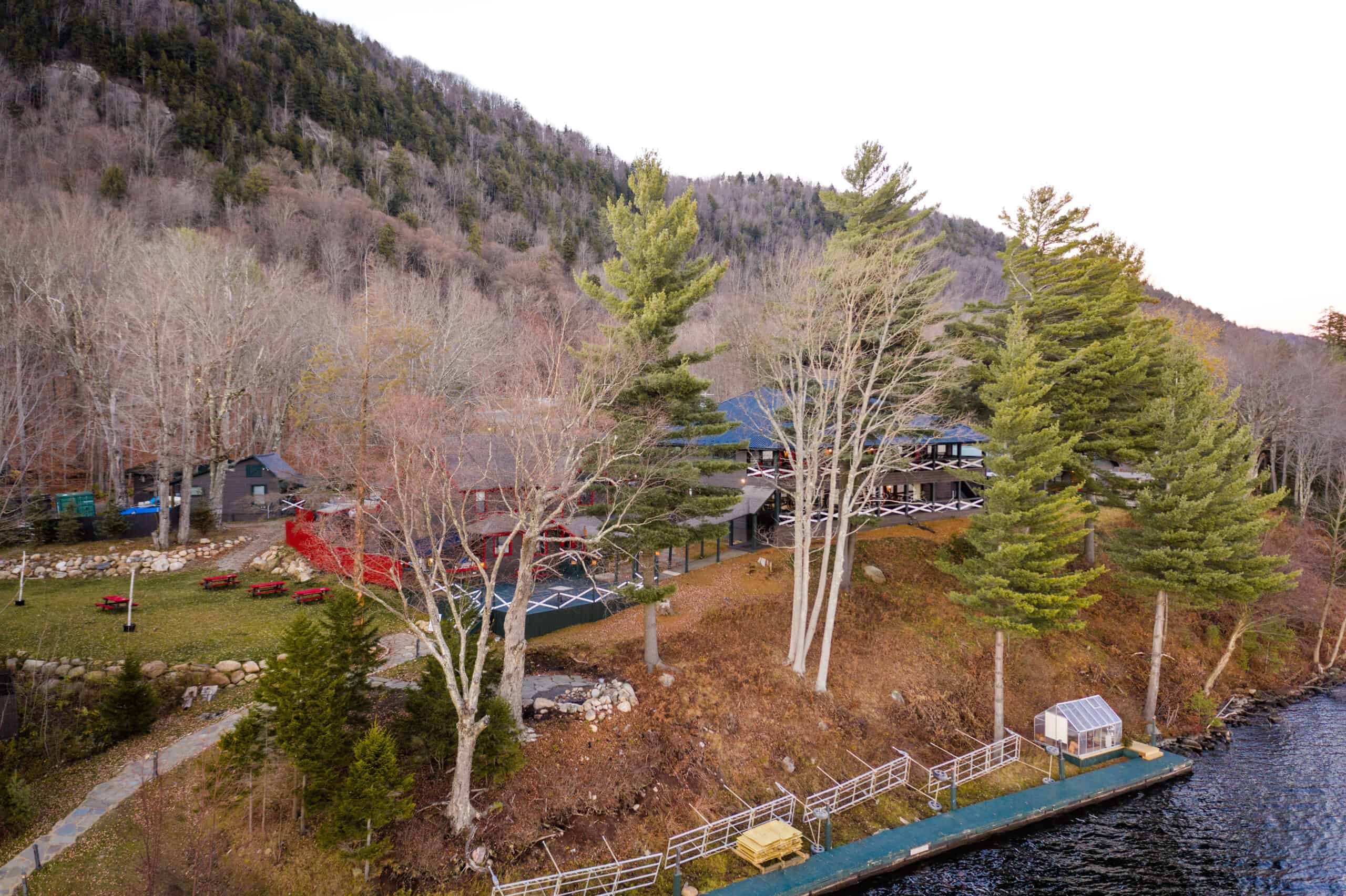 Distance from NYC:
285 miles, located in Lake Placid.
Vibe:
Traditional luxury with a classic resort feel.
Amenities:
Mirror Lake Inn is a short 5 minute walk into the main downtown area of Lake Placid. Once you park in their free guest parking you can roam the local area on foot.
This hotel has a number of amenities including a spa, salon, indoor jacuzzi + pool, gardens, outdoor lap pool, tennis courts, private beach, complimentary boats and watercraft. Plenty to keep you busy during your weekend getaway!
We stayed in the Colonial House, which is separate to the main building on it's own waterfront location. We could literally walk outside to the lawn and docks which made for an incredible view when it started to snow as well as during the vibrant sunsets.
Since it was pretty cold during out stay we made sure to utilize the homey lounge areas in the main house, the fireplace in our room and the massive indoor jacuzzi.
Food and Drink:
Choose between fine dining cuisine at the The View or comfort food at The Cottage. Both restaurants use local ingredients and have been recognized with multiple awards.
I tried the bread bowl chilli at the Cottage which was topped with cheddar and sour cream, making it super indulgent and comforting in the winter weather.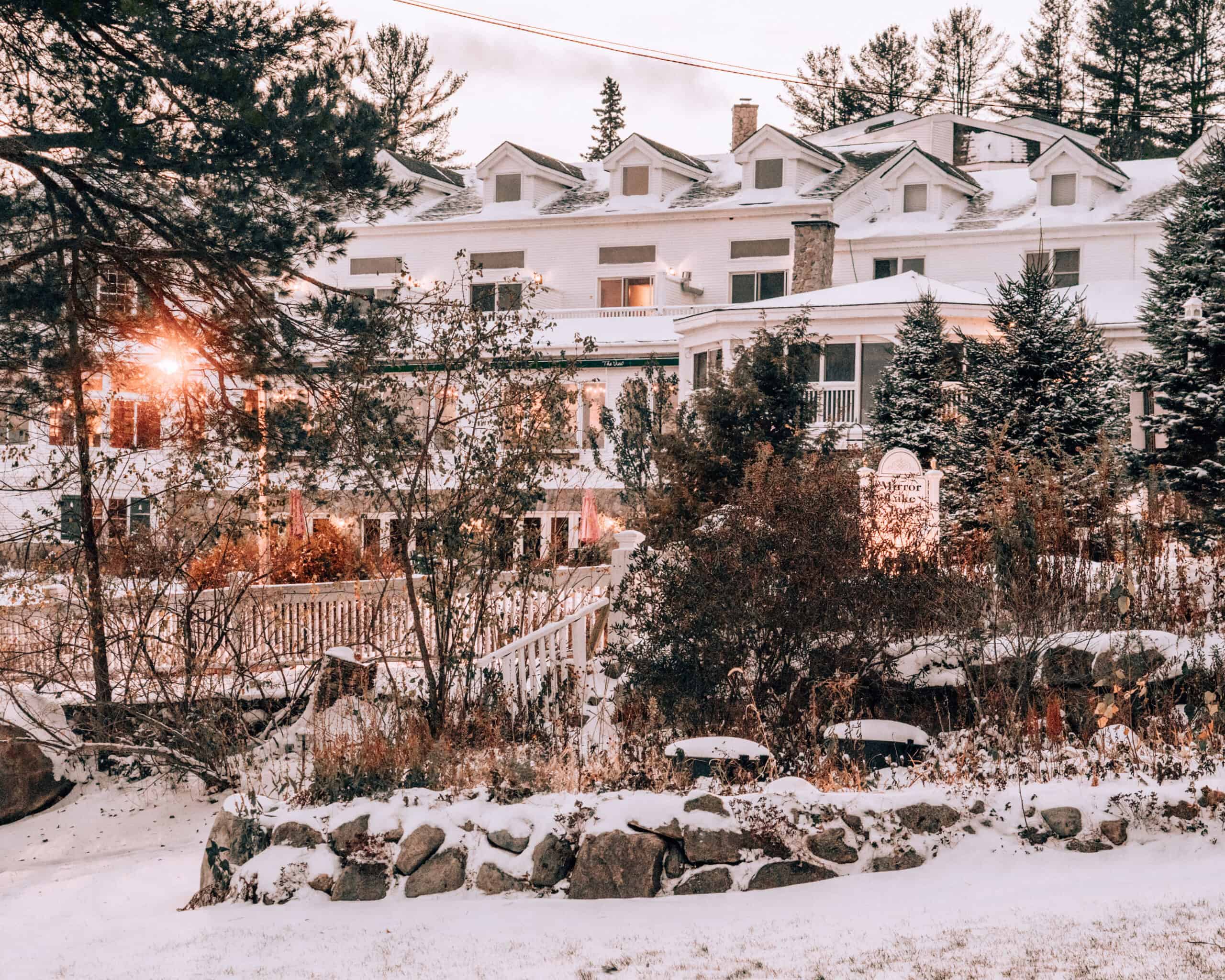 The Point (Adirondacks)
Distance from NYC:
300 miles, located in Saranac Lake.
Vibe:
Old school luxury.
Amenities:
This 75 acre estate is the only Forbes 5 star property in upstate New York.
Hammocks, fire pits, ice skating, boating, tennis, swimming and more at this ultimate Adirondack retreat!
Food and Drink:
All meals are included in the stay at a variety of on site dining options – or just dine in your room!
Distance from NYC:
280 miles, located in Lake Placid.
Vibe:
Cozy + historic ADK home with touches of luxury.
Amenities:
Can you believe the Lake Placid Stagecoach Inn is actually the oldest building in Lake Placid?! Though you can really sense the history when you're here, they've done an excellent job of getting the property to modern standards and adding some luxury while keeping so much of the charm.
This inn is all about relaxation and homey feels. The innkeepers, Rob and Lacy are the sweetest and most hospitable hosts who are happy to help with whatever you need.
There is free parking, multiple fireplaces and a stunning porch with rocking chairs lining the front of the house.
Lake Placid Stagecoach Inn also has their own trail access to Henry's Woods. I highly recommend exploring these trails. You'll see some incredible views of Mirror Lake and the mountains in the area.
When you stay at this inn you'll have the village of Lake Placid, Whiteface Mountain and plenty else at your finger tips!
Food and Drink:
You get a lovely cooked breakfast included in your stay each morning complete with 2 courses, local eggs, coffee and juice.  Lacy even delivered a french press to my room 30 minutes before breakfast to help me wake up!
Chef Rob also cooks dinner on weekend nights. We  loved having the option of the 5 course menu without ever having to leave the inn!
You can enjoy a complimentary drink each night and additional cocktails drinks at any time you wish – as long as the innkeepers are awake!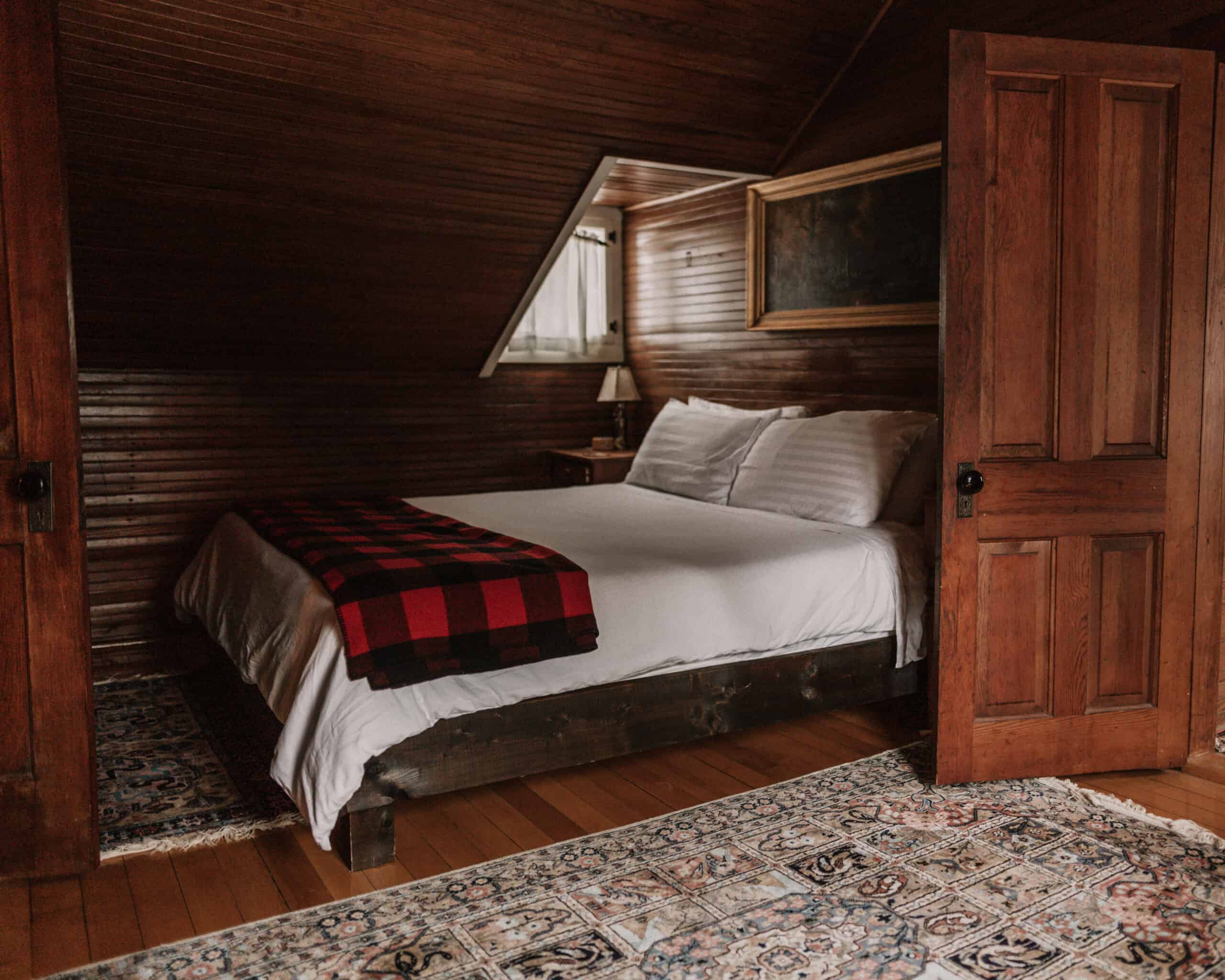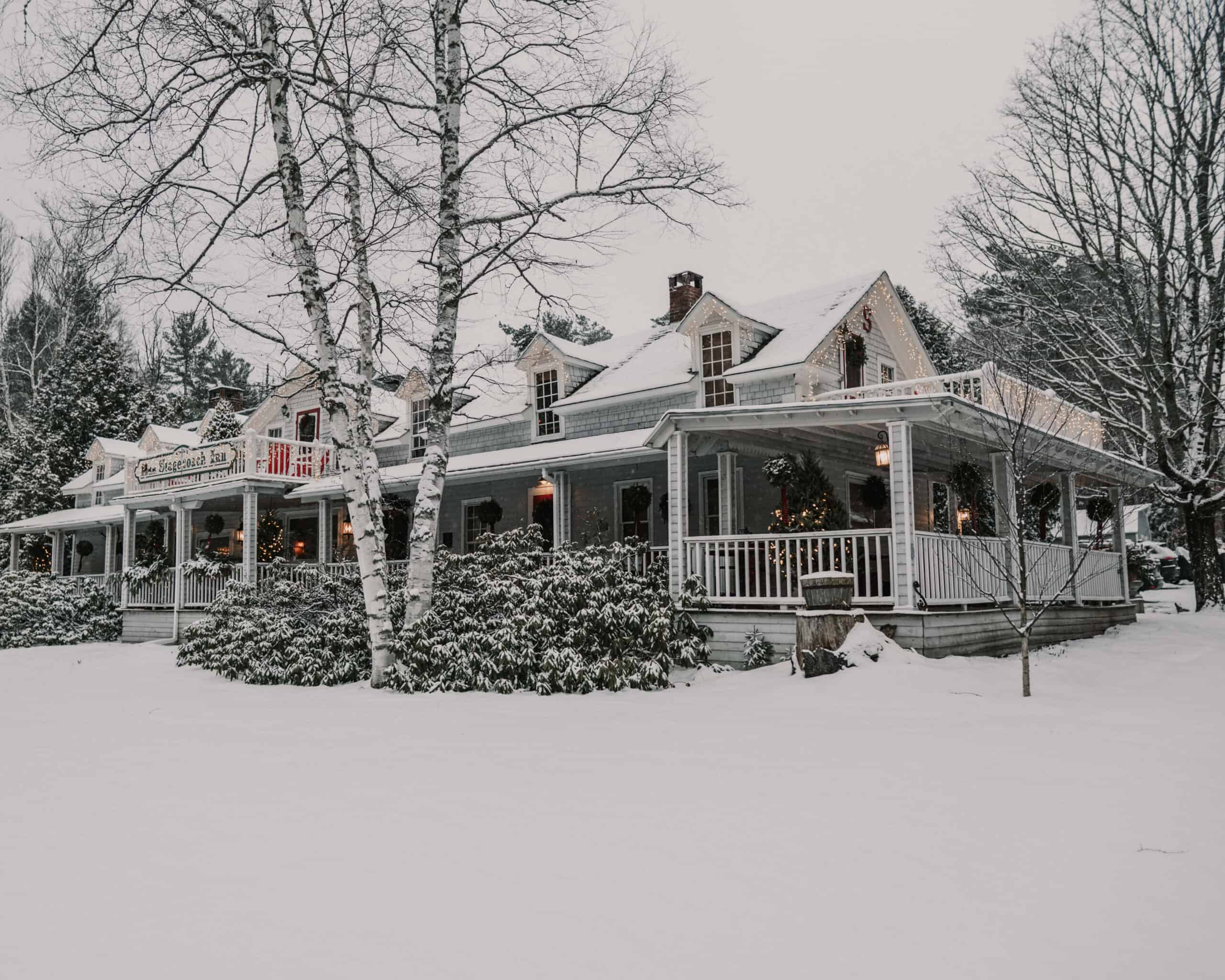 Boutique Hotels in the Finger Lakes Region, Upstate NY
Distance from NYC:
280 miles, located in Geneva.
Vibe:
Luxury Italian mansion.
Amentities:
This boutique lakeside hotel in the heart of the Finger Lakes Wine Region boasts an amazing view, lovely gardens, a pool and more.
Food and Drink:
The on site restaurant, Lancelotti's, serves breakfast, lunch and dinner using farm-fresh ingredients.
Distance from NYC:
260 miles, located in Aurora.
Vibe:
Quaint lakeside retreat.
Amenities:
Five unique inns with a plethora of complimentary amenities such as fire pits, organic coffee, home made granola bars,  paddle boards, kayaks, canoes, yoga mats and walking tours.
A demonstration kitchen and wellness center/spa are also on site.
Food and Drink:
1833 Kitchen and Bar is their farm-to-table restaurant while Fargo Bar & Grill is a casual pub and the Village Market serves pastries and coffee.