How to get to Jacob Riis Beach: Beach Day Trip from NYC
If you're wondering how to get to Jacob Riis Beach, keep reading! Below is a guide on how to get to this popular NYC beach and what is available when you arrive. I've included plenty of tips to help plan the perfect NYC day trip.
About the Rockaways + Jacob Riis Beach
Many people are not aware of the beaches right here in NYC.  The Rockaway Peninsula or the Rockaways are the most popular spots that city dwellers flock to in the summer.   The peninsula is divide into 9 neighbourhoods and is in part of the borough of Queens, within Jamaica Bay. Jacob Riis Beach is located at the end of the peninsula and is known as "The People's Beach."  It is currently run by the National Park Service and is a sandy beach with an Art Deco Bathhouse.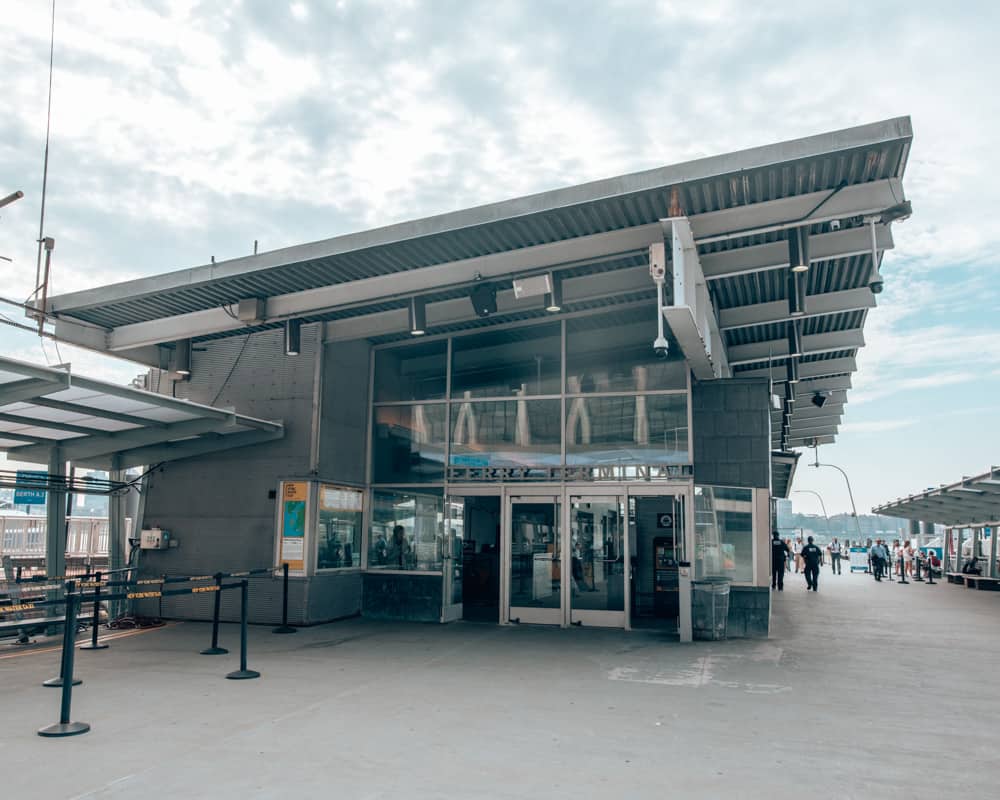 How to get to Jacob Riis Beach
Address: 157 Rockaway Beach Blvd, Rockaway Park, NY 11694
When deciding how to get to Jacob Riis Beach you have multiple options to consider.
NYC Ferry
Bus/Subway
Drive
You can take the NYC Ferry from Wall Street Pier 11 or  Sunset Park in Brooklyn. The cost is $2.75 each way. Tickets can be purchased through their app or at the dispensers at the ferry station. 
Look for the sign to the purple Rockaway line. The journey from here to Rockaway ferry stop is under an hour. If the weather is nice(which I hope it will be on a beach day) you won't even notice the time! You can sit on the top of the ferry and take in the sights. There are bathrooms on the ferry as well as a little bar with beverages and snacks to purchase.
When you walk off the dock on arrival, there will be a free shuttle waiting to take you down to Jacob Riis. There are two which will go in opposite directions, so make sure you get on the one going to West Rockaway. If you want to go to Rockaway Beach and not Jacob Riis you can just walk from here.
Subway/Bus: How to get there from Manhattan
Take the 2 line to Flatbush Avenue, then take the Q35 bus to Jacob Riis Park OR A line to Broad Channel, transfer to the S to Rockaway Park-Beach 116th Street then the Q22 bus to Jacob Riis Park. This should take about an hour and half depending on where you are leaving from.
Drive 
If you have a car you can drive right to the beach. Parking is available at $10 per day or $20 for oversized vehicles or $135 for a season parking pass.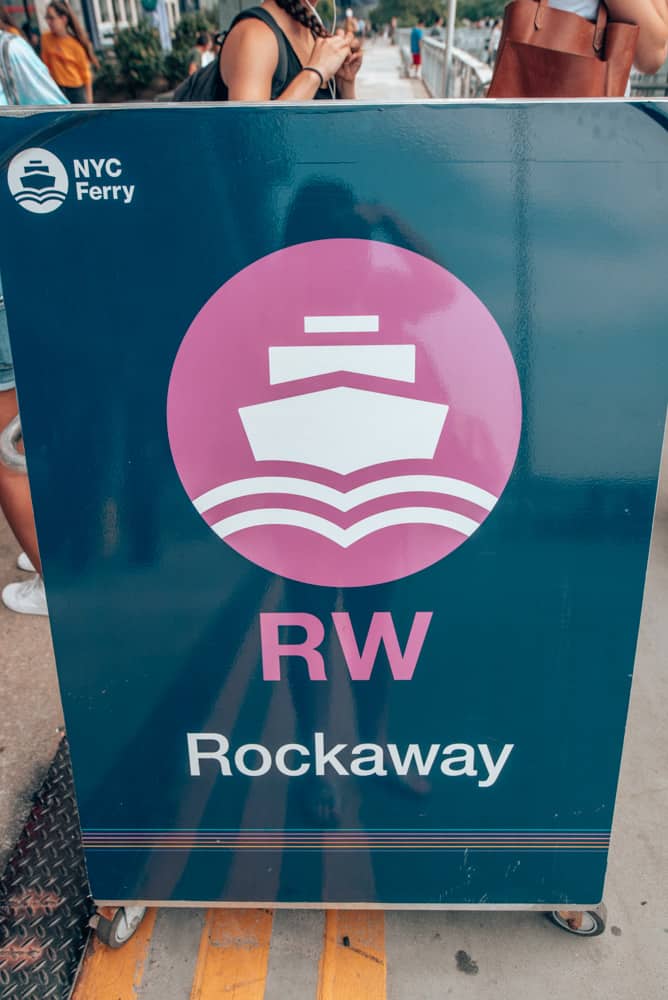 Amenities at The People's Beach
Facilities
Spray showers
Umbrellas and chairs to rent
Bathrooms
Water fountains
Shops with beach wear, boogie boards, jewellery and more.
Arrive at Jacob Riis Beach with everything already set up for you. You can reserve luxury beach cabanas, sunshades, and umbrellas along with extra items like beach chairs, kids cabanas,  ice coolers, beach games and more.  The set up was just perfect, I felt like I was on vacation!
Activities at Jacob Riis Park + The Rockaways
Food and Drink at the People's Beach
Location: 16702 Rockaway Beach Blvd. Queens, NY 11694
Hours:  Open at 11am 7 days a week, Memorial day thru Labor Day
Jacob Riis Bazaar has taken over much of the boardwalk and offers a variety of food and drink options. Rockaway Clam Bar, The Meatup Grill, Ample Hills Creamery and more!
Of course you can always bring your own snacks if you prefer!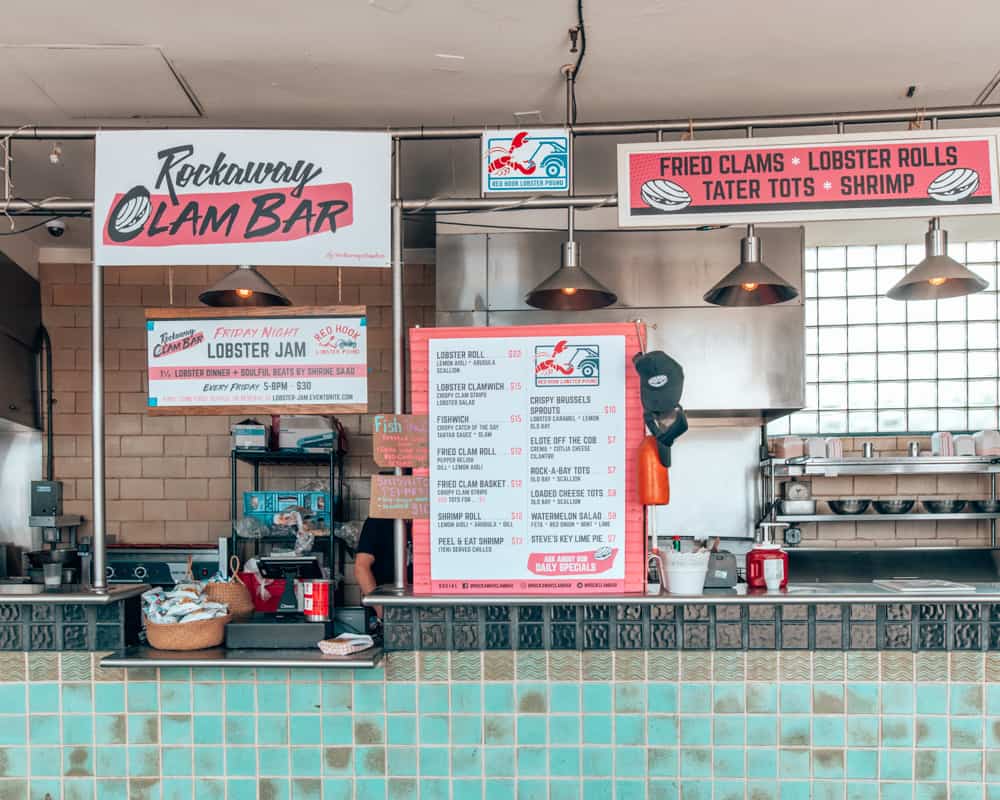 Stay Overnight
Contact: Info@camprockaway.com
Camp Rockway is a glamping site directly behind the Jacob Riis Art Deco Bathhouse. The tents are fully furnished with beds, pillows, linens and even a cell phone charging station! It's perfect if you want to be as close as possible to the beach and want to catch a sunrise surf.
Enjoy your beach day x