Palm Springs Instagram Spots
Palm Springs, a place once known for retirement homes and golf, now a desired destination for millennials, foodies, and weekending Angelenos . The town's popularity has soared in recent years, especially with the ever growing Coachella Music Festival nearby. Along with amazing restaurants, bars and hotels there are some very cool Palm Springs Instagram Spots.
Location: 1701 S Palm Canyon Dr, Palm Springs, CA 92264
Admission: $5
Fall, Winter, and Spring: 10AM — 4PM daily (closed Wednesdays) First day of Summer to First day of Fall (6/21 — 9/21)  9AM — 1PM  (Friday, Saturday, Sunday only)
This place is a must see for any plant lover! There are lots of different plant species to see on the property but the green house is the ultimate place to surround yourself with the green guys and get a snap. This classic botanical garden which opened in 1938 is a real Palm Springs classic and only $5 to enter! The disused lighting worked out perfectly.
2. Windmills
Location: Follow Garnett Road
You will spot these giants as you approach your exit for Palm Springs.  No need for me to tell you where they are! (drive on to Garnett road to get really close) Sunset was a great time to get some photos here. The beautiful pink tones really made the pictures so special. This is definitely one of the top Palm Springs Instagram spots!
3. Palm Springs Town
Palm Springs is known for it's midcentury-modern architecture, trendy hotels and mountain backdrops. The town is full of cute corners and was fun to wander around. These flowers were so vibrant they stopped me in my tracks! There's nothing like a beautiful desert flower.
Location: 1800 E Palm Canyon Dr, Palm Springs, CA 92264
Okay so this has to be the most colorful hotel I've ever seen, with their own hashtag of #getsomecolor ! Unless you know of another?? Rainbow colors are everywhere you turn so you can pretty much get a cool shot anywhere in this hotel.
I actually first went for happy hour at their tequila bar, El Jefe then headed out to the courtyard during sunset. No one seemed some mind us walking around the property.  The Saguaro has a ton of amenities like daily yoga, a 24-hour gym and in house spa. I wouldn't mind staying here next time!
5. Anywhere on a bike
Rent a bike and take yourself on a tour of the town. I guarantee you'll find your Palm Springs Instagram Spots.
These shots were taken at about 8am. The hotel we were staying in had free bikes but as soon as reception opened there was always a queue so we made sure we were first!
Location: 1 Tram Way Palm Springs, CA 92262
Entry Fee: $26.95
Hours: Monday – Friday – First Tram up 10:00am Saturday, Sunday and Holidays – First Tram up 8:00am Daily – Last Tram up at 8:00pm. Last Tram down at 9:45pm
Soaring over the top of the Chino Canyon is the world's largest rotating tram car. Unfortunately, due to storm damage, the cable cars were closed when I was in Palm Springs. Make sure to check, but if they are open you will have some epic sprawling views of the valley from the top.
Location: E Sierra Way
Okay so I really wanted to get a shot in front of #thatpinkdoor but apparently the owners are no longer okay with all the attention. They now have a "no photography" and "private property" sign on their lawn. I respected their wishes and decided not to photography the property. There is no shortage of other cute doors and houses in the neighborhood, just take a drive around!
Nearby
Location: 74485 National Park Drive, 29 Palms, CA 92277
Entry Fee: Vehicle Entrance Fee $30.00
Distance from Palm Springs: Under an hour
There are so many breathtaking National parks in the U.S. and Joshua Tree is one of them! This was my second time to the park and luckily I good some awesome shots before it started to rain. The park is about an hours drive from Palm Springs.
The rain cut my time short but here is a list of the most epic locations:
Arch Rock
Skull Rock
Keys View
Cholla Cactus Garden

7. Thousand Palms Oasis
Location: Coachella Valley Preserve
Hours: Closed Mondays +Tuesdays 8am-4pm
Thousands Palms Oasis Preserve is a really special place.  It can get very busy so I suggest getting there as it opens which is 8am (subject to change so please double check). There is no entry fee, but donations are very much appreciated.
Here you can enjoy hiking, a picnic, beautiful scenery and so much more. This location is a very easy 25 minutes drive from Palm Springs.
8. Walker Canyon Poppy Fields
Location: Walker Canyon
Distance from Palm Springs: 75 minutes
Now we just happen to be in the area during the Superbloom so we had to check it out. It was a little chaotic, but definitely worth the trip. I suggest going during the week and try and get there before 9am.
We put Walker Canyon into the GPS and we easily found the location as it's right off the highway. It's about 75 minutes from Palm Springs, but if you're headed to San Diego it's not too far of course.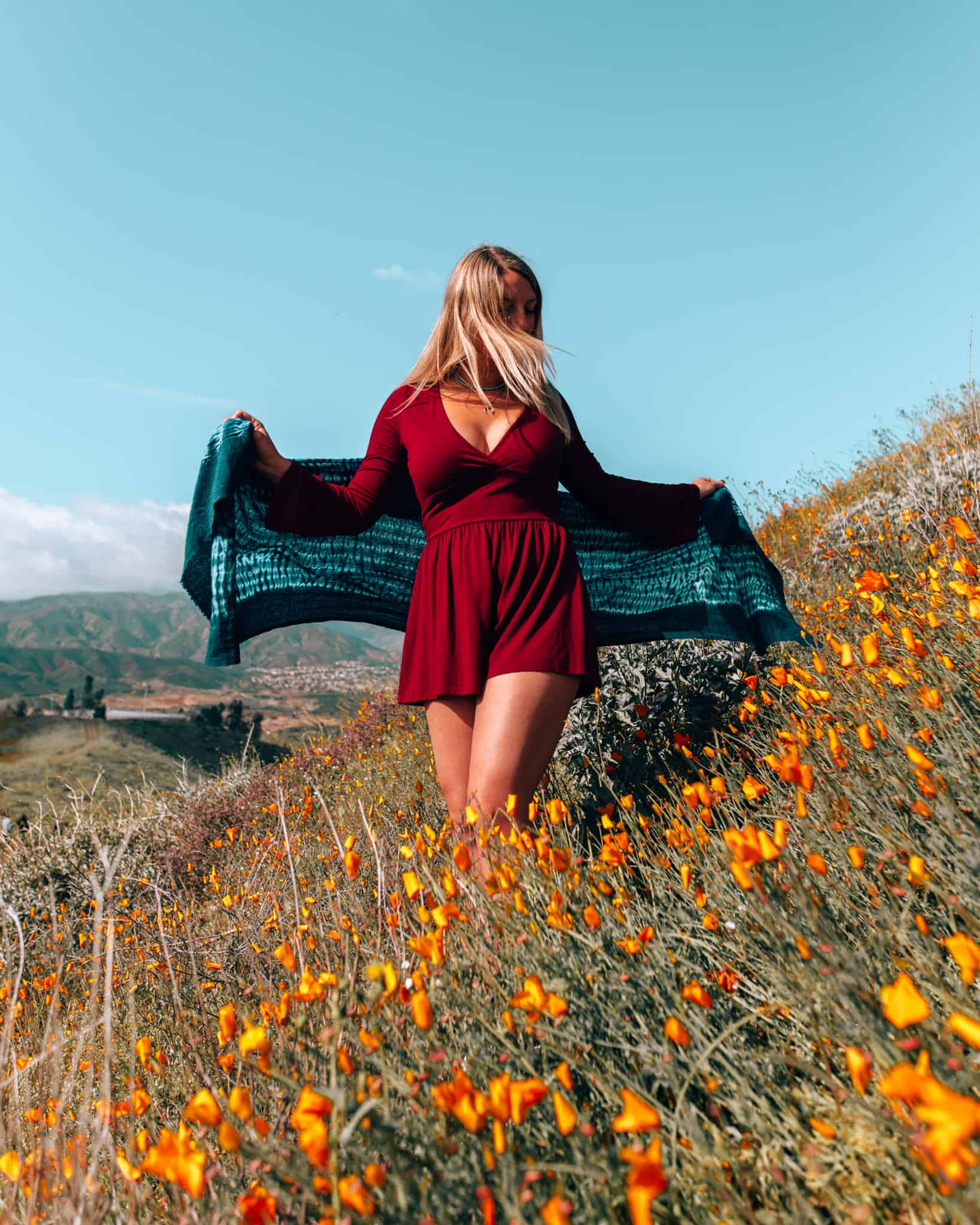 Location: 603 Beal Rd, Niland, CA 92257
Hours: From dawn until dusk, 365 days a year
Distance from Palm Springs: 90 minutes
Salvation Mountain is Leonard Knight's creation and his tribute to God. Its 50 foot height and 150 foot breadth is made totally of local adobe clay and donated paint and is truly unique in the United States and probably the world.
Location: 50770 Seminole Drive, Cabazon, CA 92230
Admission Fee: $13
Hours: (Ticket Sales End at 4:30 pm) Monday- Friday 10:00 am – 5:00 pm, Saturday + Sunday  9:00am -5:00 pm
Distance from Palm Springs: 90 minutes
An iconic roadside attraction consisting of over 50 giant lifelike dinosaurs!  Unique Dinosaur themed items available for purchase.
Other Palm Springs Instagram Spots :
Indian Canyons
Rancho Mirage Vintage Car Wash Sign
The Shops at 1345
Pioneer Town
Bootlegger Tiki
Rowan Kimpton Hotel – Rooftop & the wings mural
The Parker Palms Springs Hotel
Palm Springs Air Museum
Hotel California Sign
Imperial Sand Dunes
Ace Hotel
Check out my other Instagram Guides: