Travel Guide to Santa Catalina Island, California: Things to Do, See, Eat + Stay
Santa Catalina Island, off the coast of California, is another one of those underrated destinations! I'm so glad I got to fully explore the island over 4 days. Many visitors come just for the day, but there is actually enough things to do to fill up multiple days and evenings on Catalina.
About Catalina Island
What I love about Catalina Island is that there are no chains,  which may be due to the fact that one family, the Wrigley's, own the entire island. In the 1970s the Wrigley family started Catalina Island Conservancy, a non-profit organization, that now protects around 88% of the land!
There is a diverse number species over the 76 square miles of land and 54 miles of coastline. A fact that really impressed me is that, according to the Catalina Island Conservancy, Catalina is home to over 60 species found nowhere else in the world!
Avalon is the main town on the island and where all of the buzz is, but you can also visit Two Harbors.
Catalina Island gives you the feeling of being somewhere in the Med, with a much shorter travel time!
Is Catalina Island part of California? Where is It?
Not only is it part of California, but it's actually considered a part of L.A. county!! Santa Catalina Island is 22 miles from the California coast and is part of the Channel Islands, also known as the Santa Barbara Islands.
Is Catalina Island Open?
Catalina Island began reopening it's hotels and activities from the COVID lockdown in May 2020. On my trip in September 2020, everything seemed to be very much open with the exception of indoor dining and the introduction of new procedures and limitations.
Safety Measures
The Catalina Island Company was clearly taking measures for proper social distancing and cleanliness.
The measures really begin once you board the ferry. Everyone on board the Catalina Express was required to wear a mask unless eating or drinking. They even had someone on guard, ready to remind guests to follow the rules. Though the ferry was quite busy, I felt fine about it because we were sitting outside in the open air.
On arrival to Catalina Island you'll notice plenty of signs about social distancing and wearing a mask, especially in the main pedestrianized part of town.
Restaurants were still running at a reduced capacity and provided either take away or outdoor seating. Most of the restaurants had their seating right on the sand, which made for a lovely setting!
While at any of the activities or the beach clubs, there was enough space to social distance, the island definitely did not seem too crowded at any time when I was there.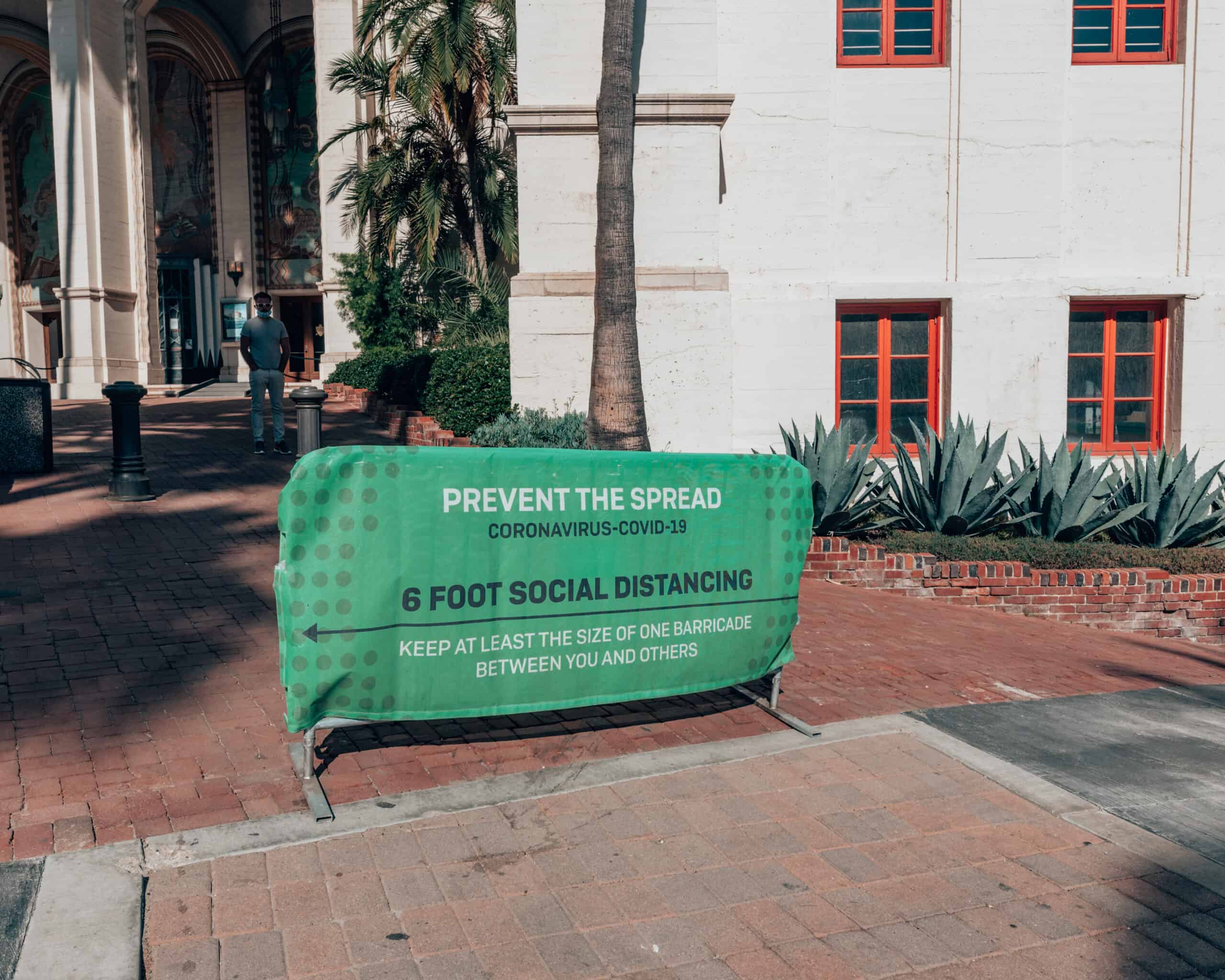 How to Get There
You can take the Ferry from 4 different ports in California.
There are two different ferries, the Catalina Express and the Catalina Flyer.
Long Beach (Express)
Dana Point (Express)
Newport Beach (Flyer)
San Pedro (Express
Catalina Express
General seat $75 roundtrip
Commodore Lounge $105 roundtrip – Includes priority boarding, complimentary beverage and snack.
TIP – Catalina Express offers a free ticket on your birthday!
Catalina Flyer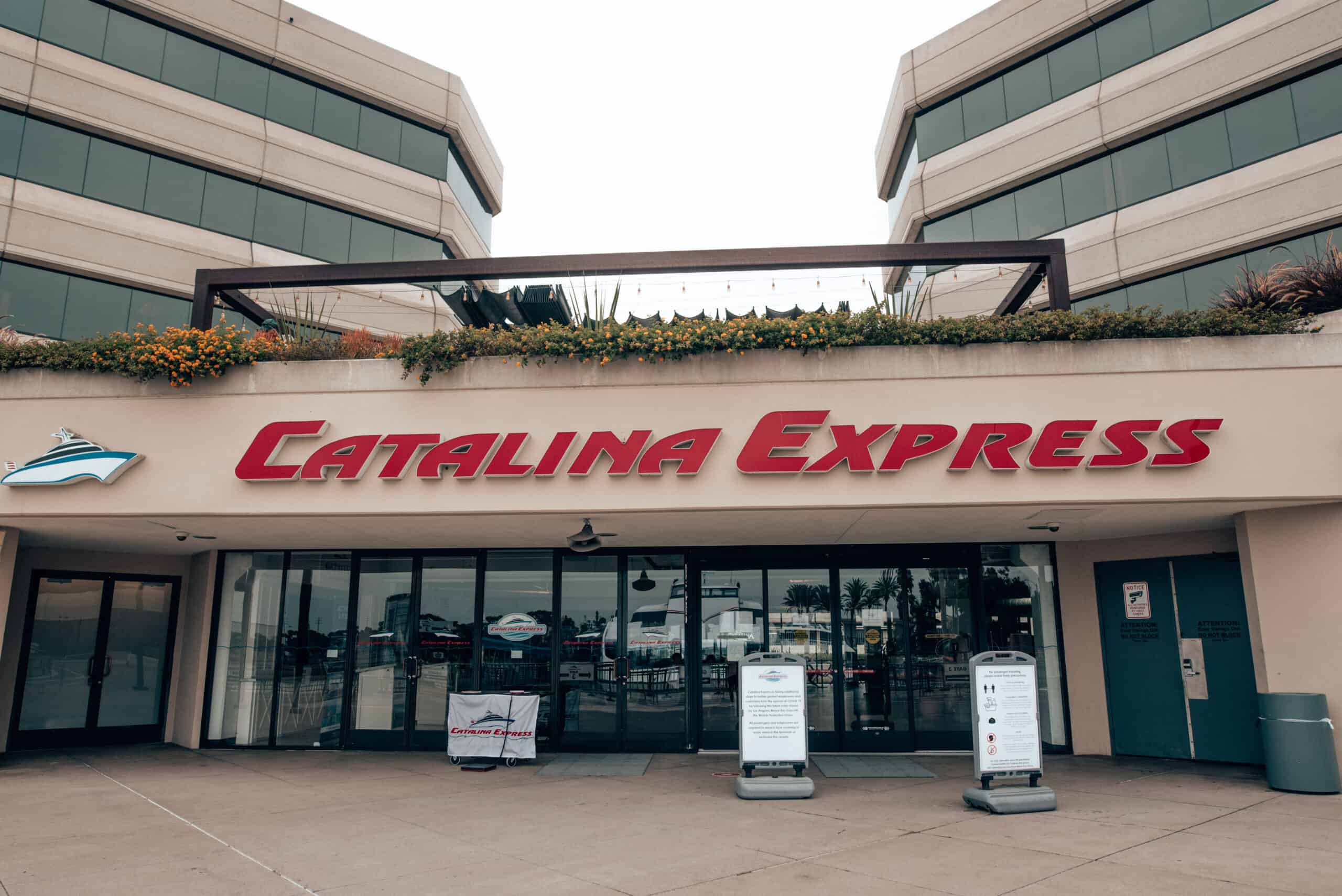 What about by boat?
By all means if you have a boat, take it to Catalina! I'm not an experienced boater but you can visit the Catalina Island Company's Website for more information on mooring reservations and fees.
Getting to your Accommodation
Pretty much everything in Avalon will be right in front of you when you arrive.
If you get dropped off by the ferry you will literally see where all the restaurants, bars  and hotels are across the harbor.
Some of the accommodation could be on an incline or a bit further up the hills. If you're worried about carrying your luggage, get in contact with your hotel beforehand as you may be able to schedule a luggage pick up.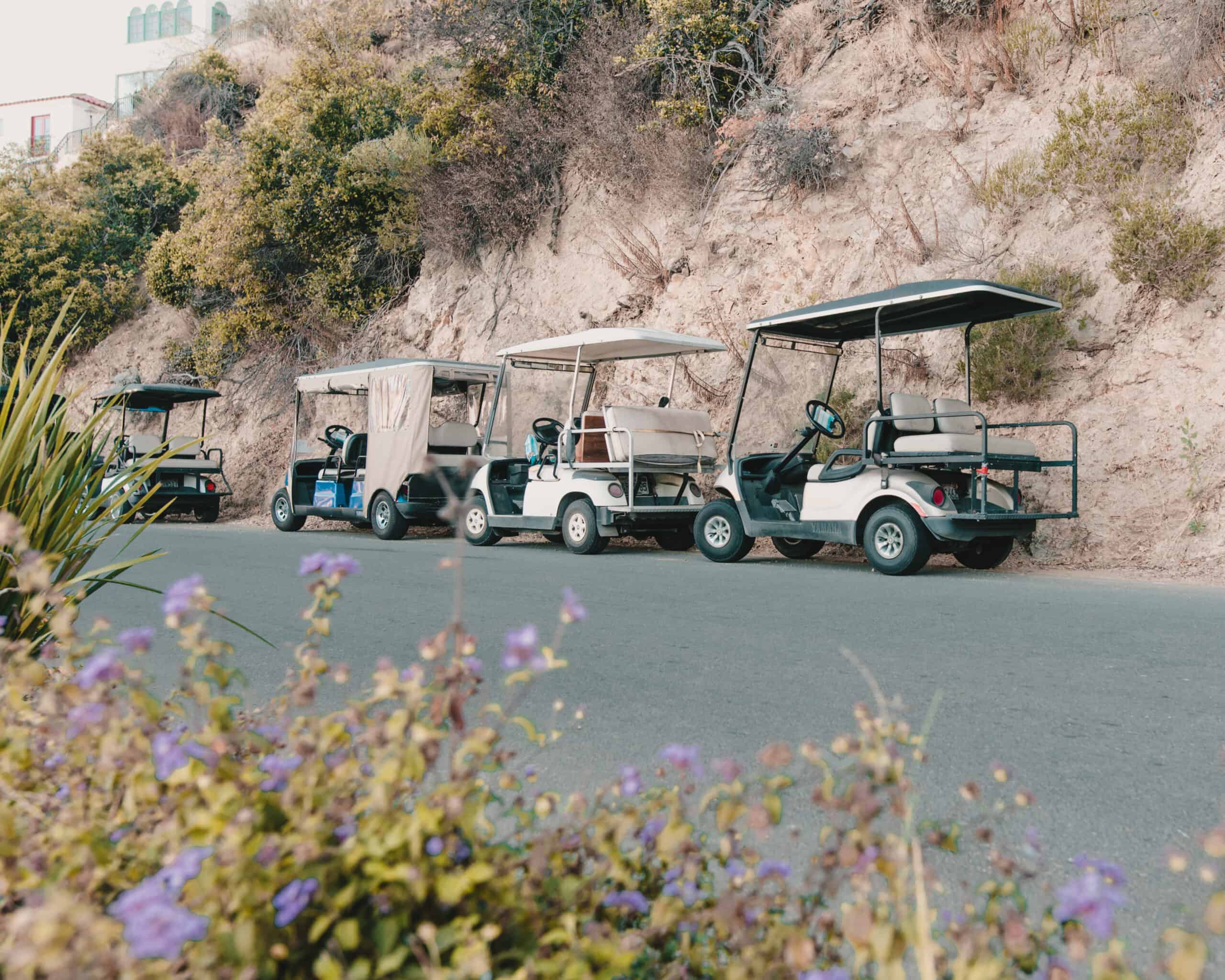 How to Get Around the Island
Walk
It really is a great place to get around by walking!
You can pretty much get anywhere in Avalon by foot. The village is small and concentrated. Restaurants, bars, a grocery store, the pharmacy and more are all within a few blocks.
Golf Carts
The locals get around mainly by golf carts and you can too for a few hours!
I'm assuming you won't be bringing your own golf cart and typically no overnight rentals are allowed, it would be quite expensive at the per hour rate anyway. However, it's a great way to get out for a morning or afternoon and explore.
Boat
The Cyclone takes you over to Two Harbors – it takes around 40 minutes and certainly doesn't feel like any other regular journey from one place to the next, you'll see the impressive cliff faces, secluded beaches and even some sea life if you're lucky.
Your own private boat will get you wherever you want to go!
Bike
Biking is another great way to get around Avalon. Some hotels even include bike rentals in the room rate!
Taxis
Taxis are available but I've been told they are a little expensive compared to most places. On my 4 days spent on Catalina Island, not once did we need a taxi.
Things to do in Santa Catalina Island
Rent a Golf Cart and have the best time ever driving around Avalon.
I feel like this is a must do when on Catalina Island!
I guess I'm a little short so if I wanted to reach the gas peddle on the golf cart I had to sit on the edge of the seat. Anyways, I just  ended up just taking a back seat and letting Si drive me around, it was quite bumpy but honestly so much fun!
They'll give you an easy map to follow a loop, some of which is one way. To do the loop with no stops takes about an hour.
Here are a couple different golf cart rental companies that I found in Avalon :
Island Rentals
Catalina Island Golf Cart Rental
We ended up going with Islands Rentals. Their rate was 1 hour = $50,  3rd hour free. It looked like their gold carts fit up to 4 but I know some of the other company has carts that fit up to 6 for a bit more money.
If you want to do the full loop, and take a ton of photos like me, it's unlikely you'll finish in 1 hour so you may as take advantage of 3 for $100! We also made a stop at Sandtrap Restaurant on the way back to drop off, as this one is a little further from the main area.
Take photos at Buena Vista Point.
You can hike up or get there via your golf cart for epic views of the Avalon Harbor. If you take a golf cart, you can ask at the rental desk how to get to this spot!
Relax on the beaches.
There are beaches along the Avalon Cove Waterfront,  which lie above the sea wall and in front of the town's restaurants and shops.  You can set up on the sand and jump in when you get hot!
There are other larger beaches located at Descanso Beach Club and Two Harbors as well as a number of secluded beaches along the island's shores.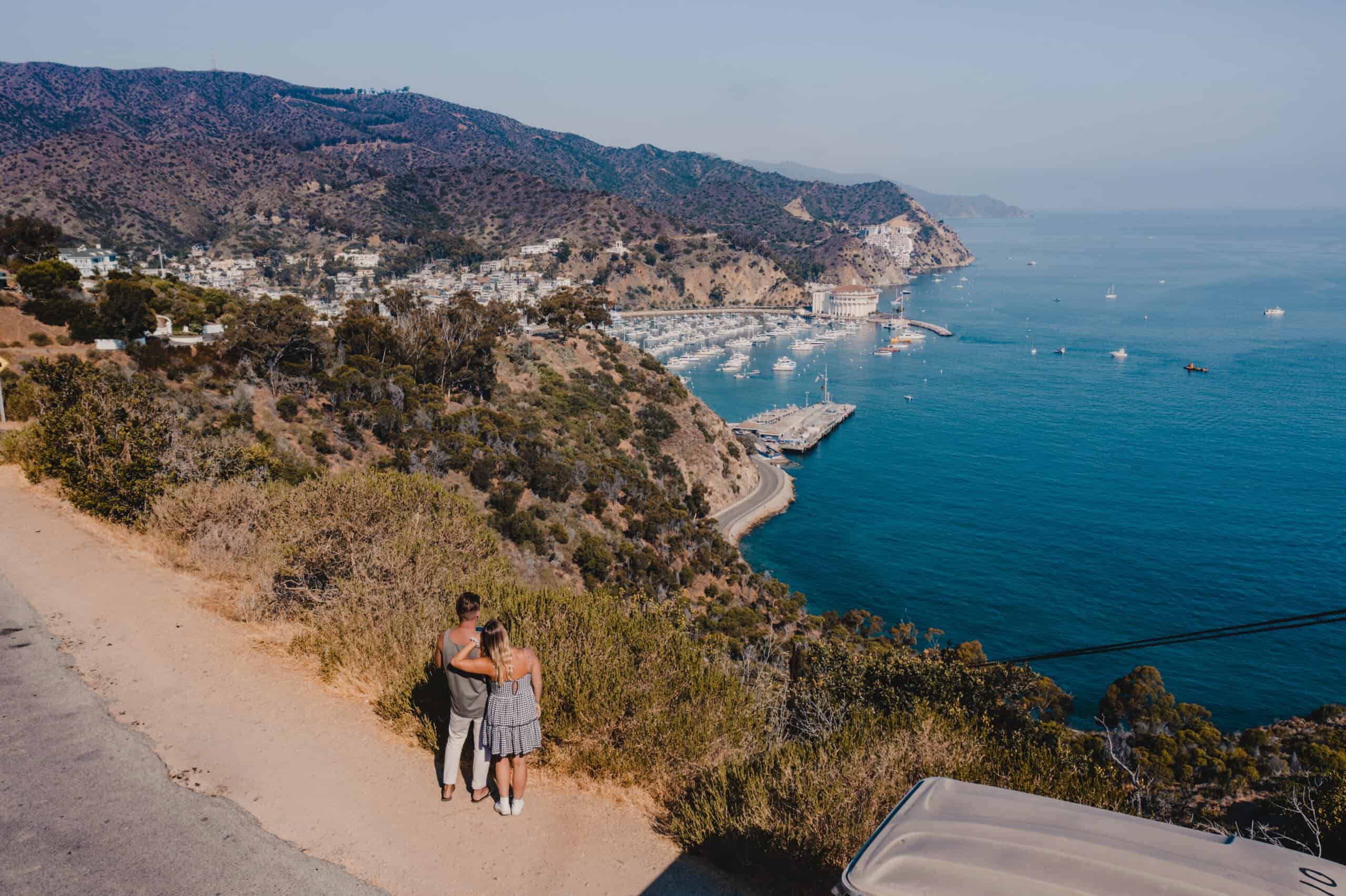 Take a swing at Golf Gardens Mini Golf.
A classy take on a mini golf course with local plant species surrounding the holes instead of pseudo animals or windmills! Located in the village of Avalon.
Hike one of the trails from Avalon Village.
I didn't get around to any of these, but ask about them at your hotel reception and they should be able to guide you in the right direction!
Country Club Loop/Descanso
Botanical Gardens Path
Horse Trail Path Loop
Catalina Chimes Tower via Hogsback Trail
Join a Catalina Island Food Tour.
Meet other travelers while experiencing the Catalina Island food and drink scene!
Hang at one of the beach clubs.
Descanso Beach Club is about a 15 minute walk from Avalon Harbor along a wide path. You can rent loungers, a cabana or even lay in the grass pitch behind them.
If you don't mind another boat ride, you can also go relax at Harbor Sands Beach Club at Two Harbors.
The restaurants at each of the beach clubs serve refreshing cocktails and casual fare.
Go on the Zip Line Eco Tour.
Going on the zip line sort of made me feel like a kid again! It was actually so much fun and something I wouldn't normally opt to do on a trip. Along the way you'll learn facts about the island's nature, flora and fauna.
We were the last slot of the day and had incredible lighting, as well as really friendly guides!
Discover Two Harbors via the Cyclone speed Boat.
Visiting the less touristy part of Catalina Island was one of highlights of my trip! Two Harbors only has a beach club, restaurant, lodge and fire station in terms of structures. There's also places to camp and outdoor activities like hiking and kayaking.
The "other" harbor is called Cat Harbor and has a path lining it. I took the path to the left and got some amazing views of the coastline.
It's a short walk to Cat Harbor from Isthmus Cove(Isthmus is what the locals call Two Harbor) where the boat will let you off.  This is due to the harbors being separated by the narrowest part of the island.
Book your ticket ahead and make sure to pay attention to when the Cyclone will make it's last departure. I pre booked the 9:45 ferry out and the 4:30 back to Avalon which I believe was the last time.
Make sure you bring sunscreen and a light jacket for the boat as it can be a little chilly out on the speed boat for the 40 minute journey.
Have a picnic on the waterfront at sunset.
Stop into the local grocery store or grab fish & chips from the pleasure pier and head down to the waterfront for sunset.
If you're staying at Bellanca Hotel, they have a perfect rooftop deck for this, no need to leave the hotel!
Get adventurous and take a Jeep Eco Tour.
You can see much more of the island by jeep and you may even spot a bison!
Rent a small boat and explore the shore at your own pace.
You can rent one from the fisherman's pier and take it up to 6 miles away!
Visit Wrigley Memorial & Botanical Garden.
Order a Buffalo Milk Cocktail.
It's the official cocktail of Catalina Island and no, it does not contain any actual Buffalo milk! The recipe does include Creme de Coco,  Kahlua, Creme de Banana, vodka and half and half.
Learn about the Island's history and the Catalina Island Museum.
Where to Stay
Formerly the Portofino Hotel, Bellanca Hotel is under new management and has recently been refurbished. The hotel is now run by mainland company, Eat.drink.sleep and from what I experienced, they've done a great job giving the hotel an injection of a modern, trendy vibe.
It's a courtyard style hotel with some of the outer rooms having balconies. They have a great little bar area, patio and sundeck. Bikes available to borrow are included in the stay.
We ate in their new restaurant, The Naughty Fox on it's opening day and enjoyed our drinks and appetizers with a view!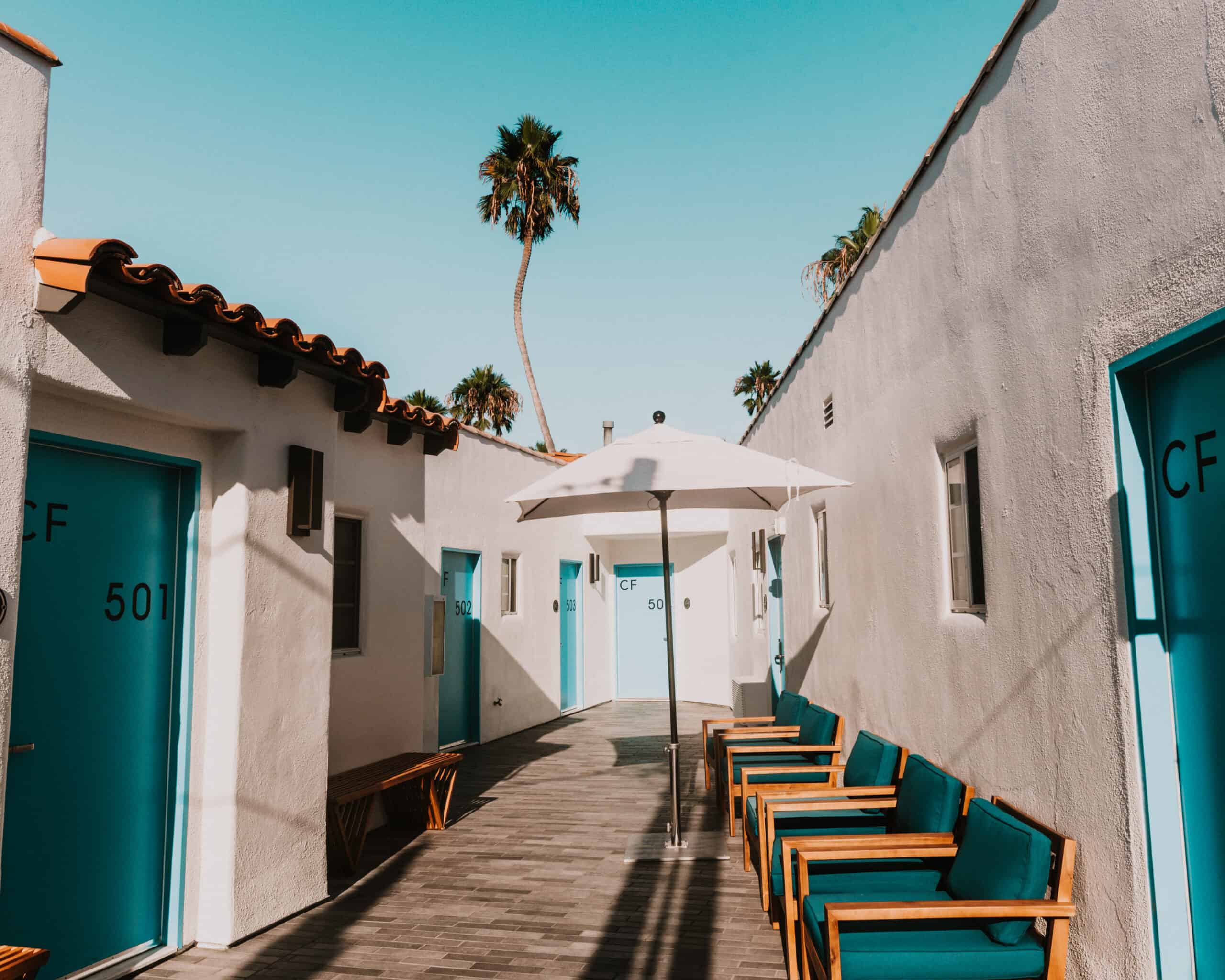 Hotel Atwater is smack dab in the middle of Avalon and is one of the Catalina Island Company's premier properties along with the Pavilion Hotel, Mt. Ada and Banning House Lodge in Two Harbors.
Ideally, if you don't want to carry your luggage back and forth to the ferry pier, you can schedule the hotel to do it for you!
Hotel Atwater has a large entrance and lobby area which is perfect for waiting in if you've taken the early ferry over and your room isn't quite ready! There is free wifi available throughout the property along with an art deco design.
The rooms have all the modern amenities including mini fridges, comfy beds and quality linens.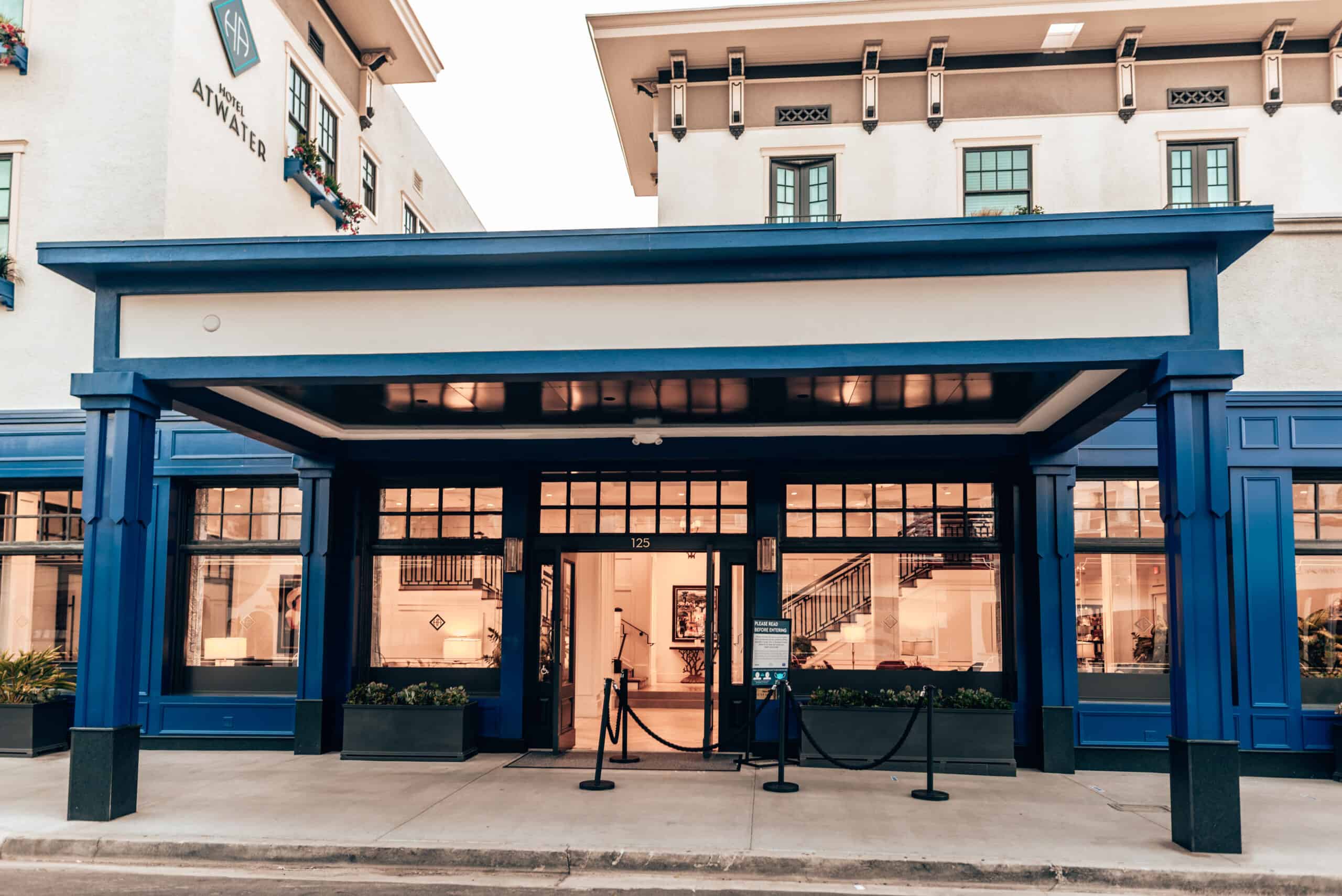 Perched up on a hill overlooking the Avalon Harbor, is the Zane Grey Pueblo Hotel. It was built by American novelist, Zane Grey,  in 1926. After his death it was converted into a luxury boutique hotel and is definitely the hotel I want to try on my next visit!
Where to Eat + Drink : Restaurants and Bars
Most of the food and beverage establishments were open with just a few exceptions.  The Lobster Trap and Marlin Club both came highly recommended, but were still shut. Here are some of the other top rated places to eat and drink:
Descanso Beach Club and Harbor Reef Restaurant
The restaurants are located at their respective beach club. Serving lite fare and cocktails you can enjoy at a table or while lounging in your cabana! Descanso Beach Club has some tables in the sand too which is a nice touch.
Out of the two, I preferred our food at Harbor Reef. The chicken quesadillas were very tasty and the fish from the fish & chips was obviously super fresh!
Luau Larrys
A fun tiki bar known for their Wiki Wacker! You get a free straw hat with a purchase, so everyone knows if you had one!
Naughty Fox
The Naughty Fox is a brand new restaurant in the newly refurbished Bellanca Hotel. It boasts harbor views and fresh seafood in a modern setting.
The tuna tartar "nachos" on crispy wonton chips were divine!
The Sandtrap
The Sandtrap is a Mexican restaurant on the edge of the Catalina Island Golf Course. It's a super casual eatery where you order at the counter and find a seat in the patio. Great happy hour with cheap beer and tacos!
We actually stopped for a late breakfast on our golf cart which we had rented for the morning. It's walkable from downtown, but was a convenient stop on the way back!
Bluewater Grill
The Bluewater Grill has multiple locations throughout California, with it's one on Catalina overlooking Avalon Bay. You'll find fresh seafood, all-you-can-eat sourdough bread and hand crafted cocktails on the menu.
Avalon Seafood and Fish Market
Unfortunately, the Avalon Seafood Market was closed while we were visiting. It's literally on the pier and is run by fisherman, so I'm sure it's some of the freshest fish around!
Catalina Island Coffee and Cookie Company
There seemed to be a line here each morning! The Catalina Island Coffee and Cookie Company open bright and early each morning at 6am and with so many different coffee flavors, fresh baked cookies and breakfast sandwiches all day, it's no wonder!
Weather on Catalina
Catalina Island has mild year round temperatures, making it a great destination during any month you choose to visit!
The temperatures rarely rises much above 75 degrees and not often will it dip below 50 degrees.
Is Catalina Island Expensive?
Catalina Island is a little pricey in some aspects, but don't forget is technically part of L.A. county!
If you look at the ferry cost of $75, for example, it's still much cheaper than a plane ticket to the Med!
If you want to stick to a budget, try dining out less and utilizing the grocery store and head to one of the many viewpoints for a one of a kind dinner.   For an island, I surprisingly didn't find the grocery prices store to be too inflated.
Bring your bike with you on the ferry and you have your transportation already sorted!
When looking for accommodation, there are a few budget friendly options, the cheapest being camping!
Can you go to Catalina Island for a day?
You can go for the day, but I definitely suggest going for at least one night to explore more of the island. One of my favorite activities was going over to visit Two Harbors which you'll need to dedicate at least a morning to.
Does Catalina Island have cell service?
I could make a call but the 4G wasn't great. Many of the hotels and business had wifi anyway so it wasn't much of a problem.
Are there Buffalo on the Island?
There are actually still bison on Catalina Island which were originally brought over to film a western movie, "The Vanishing American." The Bison are now monitored by the Catalina Island Conservancy after being left behind when filming was over.
Is there a grocery store on the Island?
Yes! There is a Vons just a few minutes walk from the waterfront at 40 Sumner Ave, Avalon, CA 90704.
Can you live on Santa Catalina Island?
Yes, you can live on Catalina Island. The resident population is around 4000 people.
During our trip, we met quite a few of the people working at the hotels and restaurants who grew up on the island, others had moved there since the commute from the mainland would be a little tricky to do everyday.
All of the necessities you need to live are located on the island such as:
Medical Center
Cars 
School
Post office
Banks
Many thanks to the Catalina Island Company, Catalina Express and Hotel Bellanca for making this amazing trip possible! As always all opinions are my own.