Things to Do in Croyde Bay: A Croyde, Devon Guide by a Local
Croyde Bay is a small surf village on the Devon coast in Braunton, England. It holds a special place in my heart because this is where I lived with my husband for the first 5 years of our marriage.
Hours from any major city, friends and family were a bit taken back that I was living in a remote location like this, but really there are plenty of things to do in Croyde, Devon! It's also the perfect getaway for families, friends or couples.
About Croyde, Devon, England
The population of Croyde Village as well as other locations in North Devon, increases heavily in the summer months when all the hotels, campsites and holiday parks fill up with holidaymakers.
Croyde itself goes from around 700 permanent residents to well over 5 times that during busy days. Summer is so much fun, but I also love the stillness and calm of Winter in Croyde and being the only one walking on the beach.
Keep reading for my guide on the best things to do in Croyde Bay!
Where is Croyde Bay?
Croyde is located on the North Devon Coast in England, United Kingdom. Devon can be known as the "Two Coast County" which leads to the reason for it's many beaches and coastal paths, with many of the favourites being on its western coast where Croyde beach is.
The waves of Croyde Bay roll in from the Atlantic Ocean. It's just south of the start of the Bristol Channel and is located about 4 hours (220 miles) south west from London, just over 2 hours from Bristol.
Exeter is the closest city to Croyde and is situated on the opposite side of the county, about 1 hour and 20 minutes away.
Parking Tips
Due to Croyde being a small, rural English village that sees a massive influx in summer, parking can get a bit sticky.
Where to Park in Croyde Bay
Public Car Parks are located at both ends of the beach, and there is a small lot behind the village hall, all of which have parking fees.  Free parking in Croyde Village is quite limited and will be hard to come by in summer.
At the Baggy Point end of the beach there are two main car parks, one will be on your left at Ruda Holiday Park and the other will be on your right just before Baggy Point, this one is owned by the National Trust – note this one does not have any bins to dispose of rubbish. There is also an extremely limited number of free short stay parking spots next to the Ruda bus stop.
At the other end of the bay there is Down End Car Park, which also has a small cafe called the Drop Inn, which serves takeaway only ice creams and small food items. There is no on street parking at this end of the beach.
In Croyde Village, there is a council car park with 71 spaces, including one disabled and one motorhome spot. This is in the centre of the village behind Croyde Village Hall.
There is also around 5 free short stay parking spots on the main road.
Billy Budds, The Thatch and The Manor all have their own small car parks for patrons only.
If you're actually staying in Croyde you will most likely be in walking distance of the beach, shops and pubs, so hopefully parking won't be a big issue, but double check before you book.
Where to Stay
There are a few different types of accommodation to stay in close to Croyde Bay Devon. Choose from B&Bs, cottages, camping and hotels.
A four star hotel and self catering resort, with cottages and lodges and it's own beach access. Their lodges were recently developed and are a very high standard, with 3 or 4 bedrooms, 3 metre decking and open plan kitchens. The resort has an indoor pool, gym, miniature golf and playing field and also has dog friendly accommodation.
Croyde Bay Resort has direct beach access, with the accommodation backing on to the sand dunes and over to Croyde beach. It's owned and operated by UNISON and members get 15% off.
Camping
Multiple campsites pop up for the busy season. The season usually kicks off in April/May and goes until October.
Campsites
Surfer's Paradise – owned by Ruda and the closest campsite to the beach. Minimal facilities and no power outlets, but it backs on to Ruda's main holiday park.
Bay View Farm – a classic Croyde campsite with fish and chip shop. Located on the down end side of the Bay, with berth's for caravans and tents as well as some glamping huts.
Ocean Pitch – located near Baggy Point, this campsite has great views of the surf from it's upper pitches. Really just one long field, it's all about the view from this campsite, plus they have surf inspired street food from Biffen's Kitchen. They also have surf hire and a couple of cute sea facing glamping pods.
Freshwell Camping – located next to Ocean Pitch near Baggy Point, they describe themselves as 'a field with a view' and that view is certainly a good one, covering Croyde beach and the incoming Atlantic surf. They also has food pop ups in the summer from traders like Hippy Happy Hoppers and New Coast Events.
Cherry Tree Farm – one of the longest running campsites in Croyde village and perfect for families. There is plenty of space to pitch your tent and only a short walk from both the village and the beach.
A luxury Aparthotel with sweeping views of Saunton Beach and Braunton Burrows. Targeted at the luxury market with well furnished rooms and incredible views. Perfect if looking for walks on the beach or visiting Saunton Golf Club for a few rounds and only a short taxi / drive from Croyde.
The Thatch
The Thatch, known as 'Croyde's famous freehouse,' is a big but intimate feeling pub with fire places and 2 patios to enjoy your cider or meal in the nice weather. They have a handful of rooms in house and more across the street if you're keen to stay in the heart of the village. All rooms come with breakfast included and it is still not too far of a walk to the beach.
Saunton Sands Hotel is a 4* Art Deco Hotel boasting a panoramic view of Saunton Beach. They have a large outdoor pool, sea and inland facing hotel rooms and a few self catering apartments. Their brand new spa, Source Spa and Wellness is the perfect way to pamper yourself.
Marsdens, Choice and Air Bnb and Devon Cottages
Cottages for rent throughout Croyde and Devon. Various sized properties throughout the village, some even come equipped with a hot tub!
Ruda Holiday Park Croyde
A caravan, lodge, touring and camping holiday park with on site fun pool, Cascades. Ruda is by far the largest holiday park in the area, has evening entertainment as well as on site fish and chip shop, arcade and aforementioned Cascades swimming pool with water slides!
They have glamping and pre erected tents, as well regular tent and caravan pitches and lodges and static caravans too.
Top Things to do in Croyde, North Devon: Check list and Map
When I go back to Croyde, Devon for a visit, I make sure to tick all of these off! In my opinion these are the best things to do in Croyde Bay, but I've listed a more detailed guide below.
Have a drink at The Thatch. Thatcher's Cider is my preference!
Eat a meal at The Kings Arms. They usually have good seafood specials.
Go for a coastal walk. There are so many beautiful options including Baggy Point.
Have coffee and avocado toast at The Stores.
Go for a Surf. 
Get fish and chips at Squires.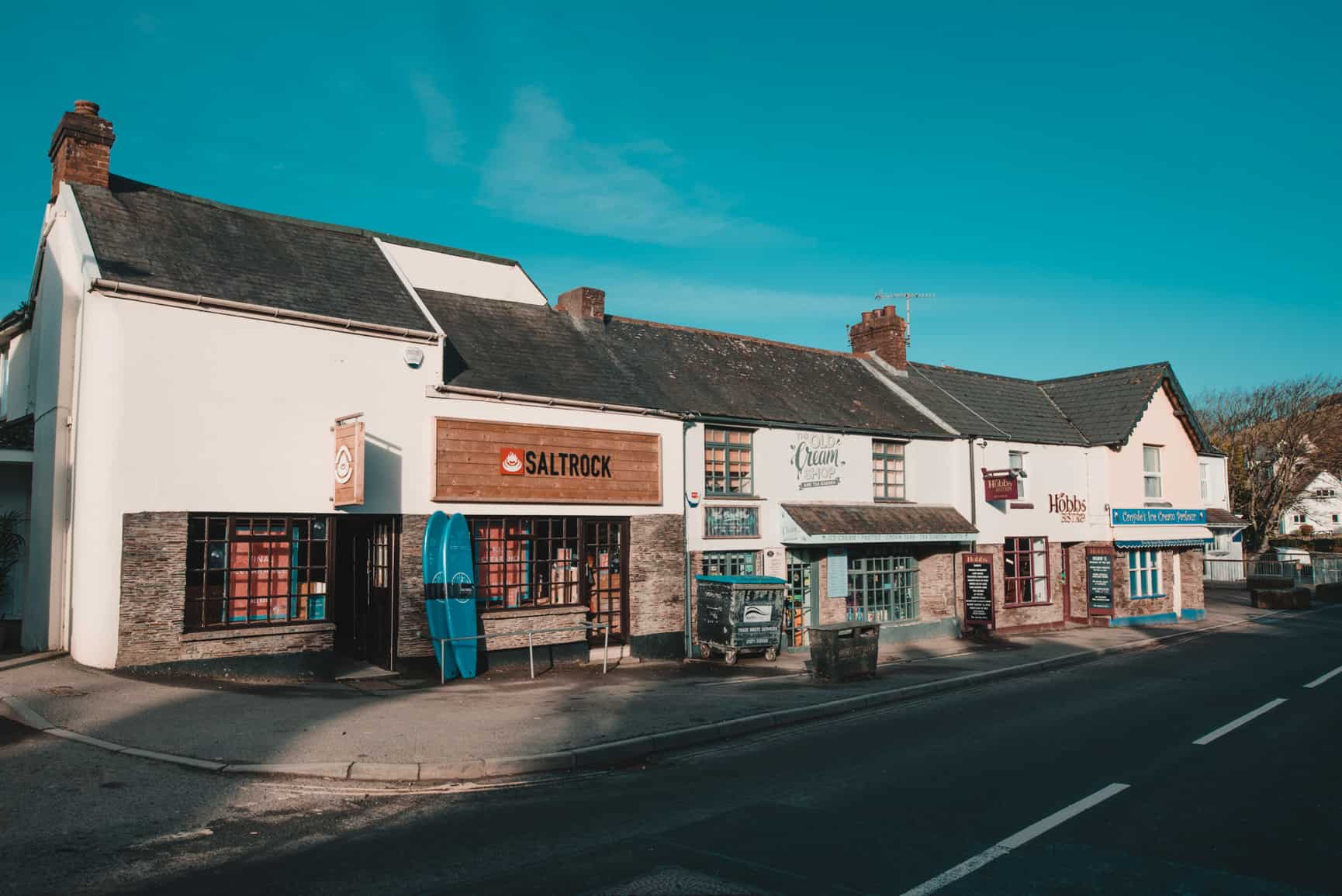 What to Do
There are so many things to do in Croyde Bay to keep you busy during your holidays. A multitude of adventure activities like surfing and coasteering or walking through a UNESCO Biosphere Reserve that is Braunton Burrows.
Adventure
Coasteering
Set off for a day of excitement coasteering along Baggy Point. Explore the rocks like few get to, jump into hidden pools and see the cliffs that were used to train for the D-Day Landings in WW2 (Baggy Point was thought to resemble Pointe du Hoc in Normandy).
Coasteering Companies:
Coasteering Croyde
Coastline Sports
Surfing
Croyde is well known for it's surfing beach, noted as perhaps the best in England and home to quite a few British surf contests. You may as well take advantage and have a lesson with a pro or rent equipment if you already have some experience. Make sure to be careful in summer as the sea can get quite busy as well as have strong rip current! The RNLI lifeguards patrol the beach daily from the end of March to the end of September, as well as weekend and half term in October. They're there from 10am – 6pm.
Surf Schools:
Croyde Surf Academy – based at Down End Car Park
Walking on Waves – based on Croyde Bay Resort
Surf Southwest – regularly have discount deals online
Surfing Croyde Bay – based out of the Old Cream Shop in the village
The ocean ranges in temperature from around 10'C / 48'F in April to 17'C / 63'F in August, so wetsuits are definitely in order for when surfing, though you do see a few bodyboarders in just their swimsuits in the middle of summer. The waves are usually around 3 feet high in the summer months, though can get much bigger than this and it could do totally flat on calm, sunny days!
Fitness
Bay Fitness – Why not try bootcamp or yoga on Croyde Beach. A drop in sessions are just £7 and is such a fun way to work out while also maximizing your "beach" time.
Golf at Saunton Golf Club – Can you believe that there is a championship links golf course just down the road? Well, you may be even more surprised that there is actually two courses at Saunton Golf Club, 36 holes of championship standard golf backing on to the Braunton Burrows. Keep in mind that certain rules apply to be able to play here so make sure to get in touch with the club, you need a certain handicap to play and will need to be with a member to play at certain times.
Try having a fun a session with The Beach Volleyball School or bring your own ball and play during free time. There are courts on the beach as well as a sand court at the playground in the village.
The Gym Braunton is where you can get your daily gym time in. Ideally, they have day passes and week passes available. The gym is located a ten minute drive from Croyde, next to Tesco's in Braunton. Croyde Bay Resort also has a small gym that is open to the public.
Tarka Trail – Don't miss you chance to take a ride on the Tarka Trail. Bike hire available at the Barnstaple Rail Station. Make sure to stop for lunch at Waterside Cafe in Chivenor Business Park.
The Best walks to do in Croyde Bay
South West Coast Path
 Baggy Point is easily the most popular coastal walk around. From it's easy access path, which is great for families, to it's stunning views and animal sightings, you won't want to miss this. Along the coastal route the path splits into an upper and lower trail, with the upper being a bit more accessible. There is a National Trust car park which you can pay a small fee to use and therebathroom facilities are located in the lot. There's a conveniently located cafe near the car park, called Sandleigh, owned by the national trust.
Four Beaches Walk is another beautiful walk in Croyde. On this walk you will get to see, you guessed it, FOUR Beaches! Walking from Croyde over the headland to Saunton and back along the South West coast path.
Braunton Burrows
The Braunton Burrows are a UNESCO Biosphere Reserve and are set just behind Saunton Beach, an undoubtedly wonderful place to explore on a Summer's or Winter's Day. Can you believe it is one of the largest sand dune systems in the British isles?!
Croyde Beach
Croyde Beach was my home beach for 6 years is known as one of the top surfing beaches in the country or even the world! It's a beautiful sandy beach great for sunbathing and walks. There are entrances on both ends of the beach as well as the middle. If you walk the path form the centre of Croyde village passed Billy Budd's it takes you to the entrance in the middle of the beach, you can't get here by car unless you are staying at Surfer's Paradise campsite.
One of my favorite things to do in Croyde is to watch the sunset from the dunes – the dunes trap the heat in and give you a great vantage point over the beach and ocean, for most of the year the sun sets over the sea.
The Baggy Point end of the beach gets the busiest for sun bathers and body boarders and the Down End side of the beach is a little quieter and also has a few more 'hidden beaches' if you walk along the coast path or over the rocks.
From Croyde beach you can see Lundy Island and Baggy Point as you look out over the Atlantic Ocean.
The South West Coast Path
The South West Coat Path runs along and passed Croyde beach, curling around the headland of Baggy Point across the beach and off towards Saunton Sands. There is plenty of it to explore if you're a fan of short of long walks. Although dogs are not allowed on the main beach during summer, they can go on the sand dunes and be walked along the public right of way on a lead at the top of the beach along the sand dunes edge.
Beaches near Croyde Bay, United Kingdom
Conveniently, all of the below beaches have bathroom and parking facilities as well as a cafe. However, parking is not free, day charges do apply. These are some of the best beaches in England and among my top things to do in North Devon.
Saunton Beach  is another sandy beach just in front of the Braunton Burrows, a UNESCO Biosphere Reserve. It's one of the easiest beaches to access and frequently has lovely long waves, great for learning to surf. It is a huge beach and has dog friendly sections. Saunton was also used by British and American troops to practice for the D-Day landings in WW2.
Woolacombe Beach is consistently winning praises for one of the best beaches in the country, this beach is topnotch and has previously been named number one by Trip Advisor's Traveller's Choice Awards. The new Porthole Cafe is located at Woolacombe beach along Marine drive (additional parking for the beach) with sweeping views of the Atlantic.
Barricane Beach is a small cove to the right of Woolacombe beach. The Barricane beach cafe serves gorgeous Sri Lankan curries in the summer evenings. My favorite evening activity is going down to Barricane beach with my ciders (it's BYOB) and enjoying a curry!
Putsborough Sands boasts a long stretch of beach situated between the epic Baggy Point and Woolacombe Beach. There's a pay for the whole day only beach car park there (your only option, unless you're hiking from Croyde or Woolacombe) as well as the Putsborough beach shop and cafe.
Where to Eat and Drink
For a tiny village there is just the right amount of restaurants, cafes, tearooms, pop ups and pubs in Croyde. If  for some reason nothing in Croyde takes your fancy, there are some other options in the villages and towns nearby.
Pubs in Croyde
The Thatch

(Croyde)- Best for live music, a pint and their famous nachos. Here you'll find a mix of visitors and locals enjoying a drink in a classic pub mixed with surfing village environment. They always have a range of guest ales, gins, rums and gluten free options. The food is you regular pub fare, with a really good Sri Lankan sea food curry a highlight of the menu. One of their outdoor patios is shared by Billy Budd's. It's the same owner so they don't mind if you take your pint between locations, if you're sitting in the beer garden – the bar line at Billy's is usually quieter than the Thatch on a summer's evening!

Billy Budd's

(Croyde) – Best for watching sports and casual bites like pizza and pub food. You'll find a kids play area out the back so families love it as well, you tend to find more of the younger locals here.

The Kings Arms

(Georgeham) – Best for their food specials, especially when it's local seafood. Their dining room has a certain cosiness,  due to their with fireplace and traditional pub decor. They have excellent pies and roasts and stock local ales and gins. Make sure to check out their open mic and band nights during the summer.

The Rock Inn

(Georgeham)- Best for a meal out with the family. There is a kids play area in the back and they will show sports on certain occasions. A cosy little village pub in the front with extended conservatory dining out the back.
Cafes
Barricane Beach Cafe

(Woolacombe) is open in the summer, when weather permits.  It's a super casual dinner idea with a bring your own picnic set up (and alcohol) policy. No better way to enjoy the view than with an authentic Sri Lankan curry on the beach. Dinner is served from served from 5-7 but make sure to get there early to guarantee your plate! They also serve drinks an snacks throughout the day.

The Porthole

(Woolacombe) is a  new cafe in conjunction with Seadog and The National Trust boasting epic panoramic views of the Atlantic.

Waterside Cafe

(Chivenor, Barnstaple) – An Italian cafe and coffee stop just off the Tarka Trail with a gorgeous blue interior and wooden tables outside.

The Stores

(Croyde) – Light bites, excellent coffee and a small section of artisan food and drink products to purchase, including fresh bread. They sometimes do special dining events so be sure to check for updates.
Restaurants
Street Food and Pop ups
Over the past few summers in Croyde, street food trucks and stands have popped up around the village. Check the local campsites to see what they may have on because it could include a tasty artisan meal! We used to pop up with our own food truck, Lola's Wings, when we lived in Croyde, so definitely enjoy trying some of these when we are back.
You may also spots street food in the Down End Car Park. Weekly pop ups will be listed on their car park sign. Past traders  throughout the village have included Sri Lankan, world fusion seafood, Mexican and American.
Outside of the stores in Croyde, Tambapanni regularly pop up serving Sri Lankan curry and Stoned pizza serve fresh soon baked pizza's there too.
Additionally,  in Georgeham, which is the next village over, Miles Fish and Chips truck parks at the bus stop on David's Hill. We often would visit the Kings Arms for pint and grab fish and chips or Thai food after, depending on what pop up was in Georgeham that night.
Events in Croyde
Croyde Deck Chair Cinema has monthly showings happen right in the Croyde Village Hall. Grab an ice cream before heading for the show!
Gold Coast Oceanfest is a music festival overlooking Croyde Beach in the middle of June. Big name acts in the past include Tom Odell, Craig David, Bastille, George Ezra and Ben Howard. You can here the boom of the music across the beach!
Skybar – This pop up bar travels around the U.K. looking for the best views. Their music nights like Beach house and Sunday Soul will get you grooving.
Barefoot Ball – An annual summer feast and dancing, having bene hosted at various locations around Croyde. Always a fun night with good quality caterers.
Things to do Nearby: North Devon Day trip Ideas
1. Enjoy Clovelly Village
Clovelly is a gorgeous historic fishing village from a bygone era. With no cars allowed, walk down the cobble stoned streets, shop for crafts and eat the freshest seafood. Clovelly is definitely a unique day out for the entire family and one of my favorite places things to enjoy in all of North Devon. The cost of entry to Clovelly is; Adults £7.95, Children £4.60 or £21.50 for 2 adults and 2 children. They host a regular seafood and lobster festival annually, as well as various other events.
2. Lynton & Lynmouth // Valley of The Rocks
Lynton and Lynmouth are connected by a water powered funicular cliff railway, which is an awesome experience and easy way to get between these villages on the edge of Exmoor. A single trip on the Lynton and Lynmouth cliff railway is £3 per adult or £2 per child. A return trip is £4 per adult or £2.50 per child. The villages feature a mix of tea rooms, pubs and seaside gifts and you conveniently have Valley of the Rocks nearby this area for the one of the coolest coastal walks you'll do!
3. Hang Out in Woolacombe
Woolacombe Beach is one of the prettiest beaches in England. It's complete with colorful beach huts and parking with a view. In the village there is the Red Barn, a surf focused pub with huge windows looking over the ocean.The South West Coast Path connects Croyde, Putsborough and Woolacombe via Baggy Point. The surf village overlooks the beach and has restaurants, pubs and mini golf.
4. Take a ferry to Lundy Island
Take the M.S. Oldenburg ferry from Ilfracombe or Bideford to Lundy Island, a tiny island off the North Devon Coast teeming with wildlife and only 28 residents. You can stay here overnight but the accommodation and camping needs to often be booked way in advance. Day tickets are £40 for adults and £21 for children. There is also a helicopter that flies from Hartland to Lundy for a quicker journey.
5. Things to do in Ilfracombe
Ilfracombe was a popular seaside town back in Victorian times. Don't miss Damien Hirst's, Verity, on the edge of the harbour or fish and chips on the seafront.
Ilfracombe Aquarium
Ilfracombe Sea Safari
Tunnels Beaches
Ilfracombe Princess Cruises
6. Things to do in Westward Ho!
The only town in England to have an exclamation point in it's name place. Westward Ho! has great access to the South West Coast Path and is home to the oldest golf course in England, Royal North Devon Golf Club. The Pierhouse is nice restaurant to grab a drink with a seafront view.
7. Things to do in Barnstaple
Barnstaple is the largest town in North Devon. There are plenty of family and kid friendly activities here.
Let's Go Super Bowl – indoor bowling for those rainy days
Tarka Trail – hire a bike or walk along the Tarka Trail, which starts in Braunton.
The Quay Indoor Softplay
Skern Lodge outdoor activity center
8. Things to do in Bideford
The main stone bridge into Bideford is famous for it's arches, but not many realize each arch is completely unique. The famous Mayflower stopped here on it's way to sail from Plymouth to Massachusetts, USA. Nowadays you can go to Bideford for a walk along the waterfront or visit for a number of different family friendly activities at the nearby theme parks;
The Milky Way Adventure Park
The Big Sheep
Ice Cream from Hockings
9. Exmoor Safari
Explore some of one of the country's most beautiful national parks. Come in close contact with deer, birds and Exmoor wild ponies!