Travel Guide to Greater Phoenix Arizona: Things to Do, Where to Eat + Stay
Though Phoenix is the fifth largest city in the USA with a population of around 1.7 million, it sometimes gets overlooked. Greater Phoenix, also known as the Valley of the Sun, is made up of more than 20 cities and towns including Scottsdale, Phoenix, Tempe, Paradise Valley and Mesa and has a population of 4.7 million! There is a multitude of things to do in Phoenix including plenty of outdoor activities, world class dining and a vibrant nightlife scene. It should definitely be added to your travel list!
What is Phoenix, Arizona known for?
Though I had previously visited others parts of Arizona like Sedona and the Grand Canyon, I had always skipped over Phoenix. This trip made me appreciate this multi faceted metropolitan area and I can't recommend it enough!
Phoenix is most well known for it's desert climate, championship golf courses and mountainous surroundings but did you also know it has an impressive food and drink scene, easy access to the idyllic Salt River and a number of interesting museums and cool art displays across the area?
I didn't get to explore every city in Phoenix Metropolitan area, but I was able to spend time in  Phoenix, Scottsdale and Mesa.


Getting There
Phoenix Sky Harbor International Airport
Phoenix Sky Harbor International Airport is located just 3 miles from downtown Phoenix, making the city extremely accessible upon arrival.
The airport's Art Collection is a nice addition to a typically mundane setting and even in the airport, the dining options are better than that on offer at most city airports, which we found as good sign for things to come with dining in Phoenix when we walked through the airport.
Road Trip to Phoenix
Arizona is one of the most popular states for road-tripping and rightfully so. Destinations like Tucson, Sedona, Lake Powell and the Grand Canyon are some of the USA's top road trips stops.
Many visitors will also travel over from  Las Vegas to Phoenix and vice versa. It's only about a 4 hour drive!
Phoenix is a great starting point or destination to incorporate into your road trip itinerary. It's easy to drive around the city and is more convenient for seeing the sights like Camelback Mountain.
Getting Around
Uber or Lyft
We found Uber and Lyft to be pretty readily available though we occasionally had to wait up to 15 minutes. It seems that this was more due to Covid times than anything else. The fares seemed to surge more than NYC too.
Driving
Driving is the most popular to get around Phoenix since the footprint of the area is so large. The roads are largely spacious and straight making for easy navigation compared to a lot of cities.
Public Transportation
Valley Metro Bus
Valley Metro Rail
When to Visit Phoenix
Phoenix has the nickname of 'Valley of the Sun' for a reason! It has a desert climate so in the summer temperatures rise to be in the 100's.
Peak Season
Peak season for visiting Phoenix is November through April when the weather is some of the most favorable in the whole of the US. It's worth noting that there's some extra busy times like when the PGA Golf comes to town as well as the baseball Spring training camps.
Low Season
Summer is the low season in Phoenix as even though it is a dry heat, many still find it too hot during this time. However, this is the time of year when you will find the best Phoenix travel deals! If you want to take advantage just make sure to book somewhere with a pool and sun loungers for shade which makes it totally manageable and more affordable too  🙂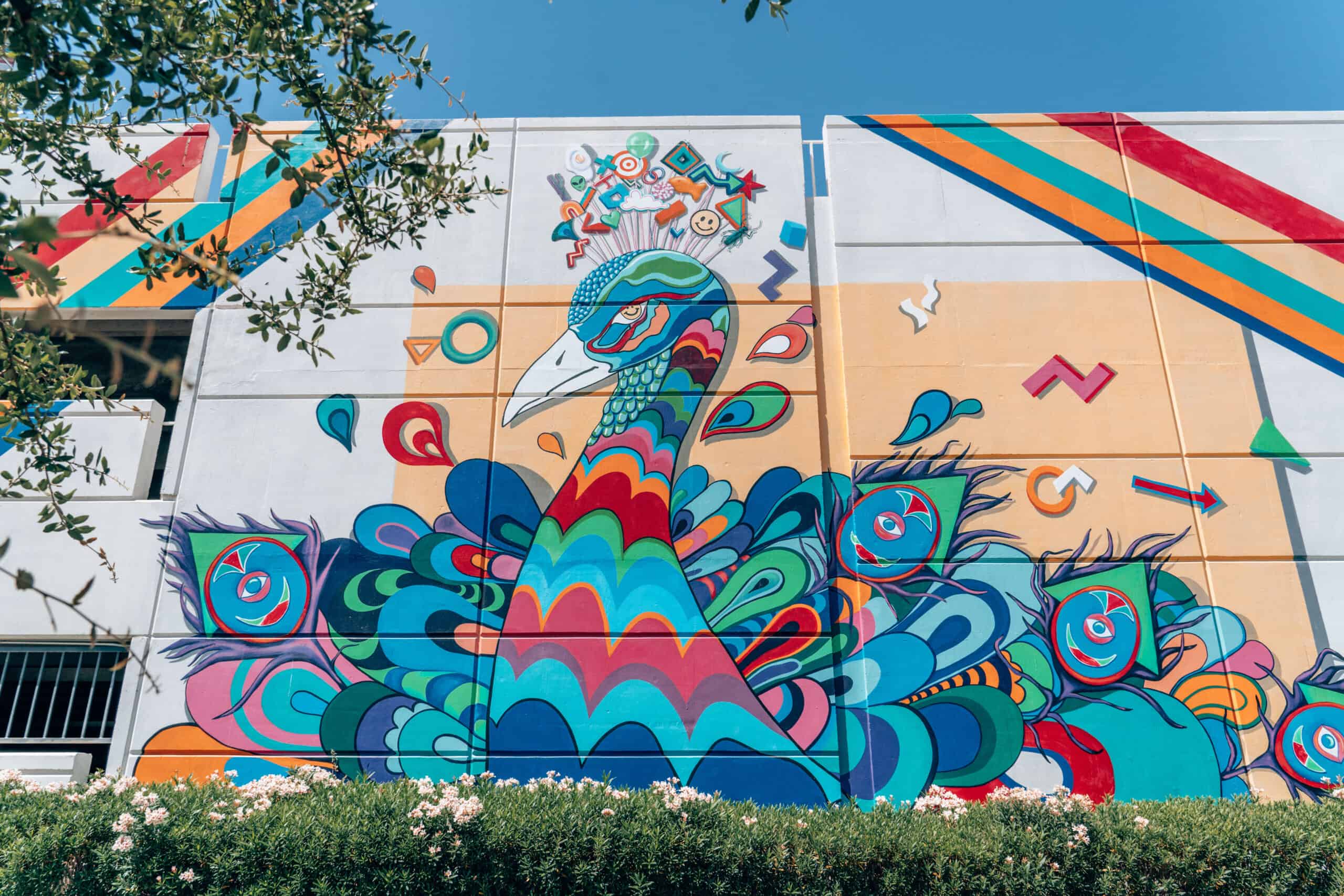 Things to Do in Phoenix
Learn about Native American Culture through art at the Heard Museum.
"The mission of the Heard Museum is to be the world's preeminent museum for the presentation, interpretation and advancement of American Indian art, emphasizing its intersection with broader artistic and cultural themes."
Join 200,000 visitors a year who experience the cultures and art of American Indians of the Southwest. There are an impressive 11 galleries in the museum and lovely outdoor courtyards where you can sit with a drink from the on site cafe (the cafe is reopening fall 2021).
Visit the Phoenix Art Museum.
The Phoenix Art museum welcomes more than more than 300,000 guests each year! Art from various genres and time periods can be found on display here.
Free admission from 3-7 p.m. on Wednesdays.
Take a ride in a hot air ballon with Rainbow Ryders and tick one off the bucket list!
This is definitely one of the coolest things you can do in Phoenix! We did the sunrise session and it was so worth getting up early for. The colors are amazing as all of the hot air balloons are setting up and the sun starts to peak over the horizon! Whilst you're up there you'll have panoramic views with mountainous backdrops and may even see some wildlife from a bird's eye view too. Once you touch back down on the ground your arrival is celebrated with a champagne breakfast.
Take a hike at Piestewa Peak Park.
Piestewa Peak Park has a few different trail options, but we chose to complete the Piestewa Peak Summit Trail. The trail is steep with numerous switchbacks and was a strenuous, but rewarding activity! Though there are viewpoints throughout this hike,  you can't beat the panoramic perspective at the summit.
This is an out and back trail and the distance one way is 1.2 miles.
Visit the South Mountain Park/Preserve.
South Mountain Park/Preserve sits across 16,000 acres and is highly known for popular viewpoint, Dobbins Lookout. Visitors comes here for activities such as hiking, cycling, horseback riding and mountain biking.


See a multitude of desert vegetation. It's really interesting so see such a variety of fauna species all in one place and what can survive the brutal heat and lack of water during summer. They have various trails to walk, a garden shop and a restaurant on site.
If you want a unique experience – try and book a ticket for one of their 'Sonoran Sippin' evenings for music and drinks in the gardens!
Explore Papago Park.
Phoenix Zoo, Desert Botanical Gardens, Papago Ponds and a number or trails are all located in Papago Park. We spent a few hours exploring some of the different areas. I high recommend walking some of the trails and seeing the unique rock formations named 'buttes' as well as stopping by Hole in Rock and Papago Ponds for amazing scenery and that picture perfect photo opportunity. Since Phoenix Sky Harbor Airport is just a few miles away, we watched the planes coming and going while hanging out by the ponds.
Papago Park

Desert Botanical Gardens
Papago Park Pond
Things to Do in Scottsdale
Scottsdale is one of the most popular cities in the Phoenix Metropolitan area. This is where you'll find the majority of the resorts and golf courses along with lively nightlife, and restaurants.
Wander Old Town Scottsdale.
Old Town Scottsdale is the original part of Scottsdale dating back to the late 1800s.  This walkable part of town has a Western feel and is where you'll find shops, restaurants and galleries.
We stopped into the Rusty Spur Saloon for a drink and some live music which was a blast! There's a busy bar scene here, especially on the weekends in peak season.
Hike Pinnacle Peak Park.
Pinnacle Peak Park is a 150 acre park with a 1.75 mile (one way) out and back trail. You're guaranteed to get some amazing views of the Sonoran Desert on this trail!
Spend the Day Golfing.
Phoenix has almost 200 golf courses – take your pick!
Here are just a few:
Papago Golf Course
Arizona Biltmore
Wigwam Golf Course
Indulge in a relaxing Spa Day.
Joya Spa at the Omni Scottsdale Resort
The Spa at Talking Stick
Sanctuary Spa at Sanctuary Camelback Mountain
The Spa at the Boulders
Things to Do in Mesa
Kayaking in the Lower Salt River with Saguaro Lake Guest Ranch was one of the highlights of my trip. It was the perfect combination of relaxation and excitement.   Since it's an unguided activity, you can take your time to enjoy the desert surroundings and cliffs as you meander downstream. The entire excursion lasts about 2 hours and if you're lucky you'll see wild horses and blue herons like we did!
Start your adventure at the ranch.
You'll need to drive to the ranch, where you'll pick up your kayaks, have a quicks safety lesson and then start your journey down river. Once complete, you'll be picked up at the meeting point by the ranch crew and driven back to your car at the ranch.
If you want to lengthen your stay at Saguaro Lake Guest Ranch, have a look at booking one of their rustic cottages.  They also offer horseback riding, tubing and prixe-fixed meals.
Lower Salt River
Kayaking Lower Salt River
If you're into agritourism, this is the trail for you! Mesa has an abundance of farms and agritourism attractions. We visited Queen Creek Olive Mill and Agritopia for an afternoon tasting premium olive oils and experiencing urban farm to table dining and drinking !
Some of the other stops on the Fresh Foodie Trail include the Orange Patch, True Garden Urban Farm, Steadfast Farm at Eastmark and Superstition Dairy Farms.
Explore Downtown Mesa.
Downtown Mesa is full of art! Stroll down Main Street to see nearly a dozen unique murals painted by up-and-coming local artists as well as 40 public art sculptures, all part of the city's permanent art collection.
Kelly Montague, who's painted  murals around the world like the famous wings mural in Nashville has also created one in downtown Mesa.

The Queen Creek Olive Mill is a family owned company and the only working olive mill and farm in Arizona. They are dedicated to producing high quality extra virgin olive oils and other delicious kitchen staples such as vinegars, sauce and olives.
Learn about and taste the products.
You can take a tour to learn about the olive production process then dine on their stunning outdoor patio and field. The bruschettas, pizzas and pastas were all super tasty dishes and all incorporated at least one of the home grown products. The pesto pasta made using their extra virgin olive oil was definitely a favorite. A true farm to table experience!
Wander and taste your way through Agritopia.
A planned community with the ideal set up.  It includes creative spaces, tree lined sidewalks, a chef driven restaurant called Joe's Farm Grill, charming homes and 11 acres of urban farm. Barnone is the creative space where you'll find woodworking and other craftsmanship.
Queens Creek Olive Mill Lunch
Barnone Wine Tasting
Queens Creek Olive Mill Lunch


Other Things to do in Greater Phoenix
ATVing through the desert is the ultimate adventure for any adrenaline junky – or someone looking for some extra excitement! I really didn't know what to expect, but I ended up absolutely loving this excursion! This was an incredible experience that I won't forget anytime soon!
You can choose between different length excursions, we did the longest possible to experience all that was on offer. You go up and down some serious declines and inclines, get to spot wild mustangs and bird's or prey as well as ride the 'The Sandblaster' – an adrenaline filled stretch of desert which you need to navigate at high speeds.
ATV tour
Horseback riding
Hike Camelback Mountain.
Camelback Mountain is part of the Phoenix Mountain's Preserve; one of the most popular things to do in Phoenix. The summit sits at 1420 feet and its' two rock formations resemble the hump and head of a kneeling camel.
Camelback Mountain has two trails that will get you to the summit, Echo Canyon Trail and Both Cholla Trail, both are rated as extremely difficult and involve some physical climbing at points.
Views of Camelback Mountain
There are a number of spots throughout the Greater Phoenix area where you can get an amazing view of the mountain without any exertion. A couple of them being properties I stayed at; Omni Scottsdale Resort and Spa and Hotel Valley Ho. Restaurants where you can enjoy a picturesque backdrop include O.H.S.O. Eatery & Nano-Brewery and El Chorro.
Visit Goldfield Ghost Town.
Goldfield was a mining town established in 1893. When the vein faulted the town went down with it. You'll step back in time when you visit this old western town.
Where to Eat and Drink : Restaurants and Bars
Buck & Rider (4225 E. Camelback Road, Phoenix)
Buck & Rider is a seafood and steak restaurant and one of the favorite places we ate during our week long trip! Perhaps, top quality seafood in the desert is a bit of a surprise but they fly fresh seafood in daily which is just incredible so the quality your getting is the same as if you were actually on the coast!
They have a wonderful indoor-outdoor set up with a fashionable, modern design, a tailored drinks selection to suit a variety of palates and a raw bar, which would keep seafood lovers happy time after time.
We really feasted on the seafood here; trying their oysters (they had both East and West coast), sushi and sashimi as well cooked fish dishes like the Crab BLT and voodoo fried rice.
They do a daily happy hour Mon – Fri: 3 P.M. – 7 P.M. Sat – Sun: Open – 7 P.M.
Ocotillo (3243 N 3rd St., Phoenix)
Ocotillo Restaurant is a casual dining destination serving New American seasonal cuisine with a touch of local Arizona influence. There's full service bar inside and an incredible outdoor space with a chef's garden, mesquite terrace, beer garden, and Lucy's lawn. The dishes tended to focus on hearty and rich dishes like roasted pork shank with rosemary potatoes and beef ragu pappardelle.
Occasionally Ocotillo will host some live music so make sure to check their social!
Buck&Rider
Ocotillo
Jalapeño Buck's (3434 N Val Vista Dr, Mesa)
We didn't get the chance to actually dine at Jalapeño Buck's, but it was recommended by many! They are known for their unique New Wave Mexican Soul Food &  BBQ cuisine and sometimes even have crazy options like peanut butter and jelly brisket sandwiches!
12 West Brewery (12 W Main Street, Mesa)
12 West Brewing's is a relatively new taproom and lounge, named after its location, 12 West Main Street in downtown Mesa. This isn't just any old brewery – it's also a cocktail bar!
As you enter the brewery you will not one, but 3 separate bars! One for cocktails, one for draft beers and one for canned beers, a concept by Mesa native and brewery founder Bryan McCormick.
12 West Brewing Mesa will feature their own craft beers and collaboration beers from Arizona breweries and cocktails made from spirits created at local distilleries like Arizona Distilling Company and Grand Canyon Brewing & Distilling.
The space is huge and has a great vibe when it is busy. There is outdoor seating on ground level and the first floor terrace and inside there is a large amount of high top tables of various sizes, making this the perfect place for a quick drink or meeting with a group of friends. The food is features your everyday bar favourites like chicken wings and pretzels.
12 West Brewery
Trapp Haus BBQ
Pomo Pizzeria
Pomo Pizzeria (705 N. 1st St. Ste. 120 Phoenix)
Pomo is an authentic Italian Pizzeria Napoletana, the First Pizzeria in Arizona awarded with prestigious certifications of true authentic Neapolitan pizza from the highly regarded APN and VPN, Pizza associations based in Italy! We tried some of their amazing pizzas and salads – the perfect lunchtime combination!
Trapp Haus BBQ  (511 E Roosevelt St, Phoenix)
Pitmaster Phil Johnson, aka Phil the Grill, known as the "Jay Z of barbecue". A veteran of the competitive barbecue circuit and food-truck world. Johnson's first brick-and-mortar restaurant brings his distinctive take on smoked meats to downtown's Roosevelt Row Arts District.
When you go here, just do as we did and get the whole platter to try multiple options. We couldn't stop eating the burnt ends!
Bitter & Twisted Cocktail Parlour (11 W. Jefferson St. Phoenix)
Bitter & Twisted Cocktail Parlour is housed inside the former Arizona Prohibition Headquarters at the historic Luhrs Building! It doesn't get more ironic than that!
Bitter & Twisted Cocktail Parlour is one of the best cocktails bars in the city and has an epic list of drinks to choose from as well as fun snacks like their flavored popcorn.
Clever Koi  (4236 N Central Ave #100, Phoenix)
Clever Koi is an Asian-inspired kitchen & craft cocktail bar with locations in Central Phoenix and historic downtown Gilbert. They've got an open kitchen where you can see them wok frying dishes like their kimchi fried rice or shaking beef.
The calamari fries are a must! Battered in a gojuchang tempura and topped with a yuzu aioli. The bao buns are also delicious, we got the pork belly, soft shell crab and Korean hot chicken. There is also a selection of Asian inspired cocktails to try.
Bitter & Twisted Cocktail Parlour
Clever Koi
Platform 18 at Century Grand
Undertow + Platform 18 (3626 E Indian School Rd, Phoenix)
Century Grand is a turn-of-the-century inspired, cocktail-centric, immersive hospitality venue from the team at Barter & Shake Creative Hospitality featuring three unique concepts: Grey Hen Rx, Platform 18 and UnderTow, its newest addition added in 2021.
Platform 18
It's hard to pick a favorite of the three as they're all incredibly well thought out immersive experiences. Platform 18 was our first stop, entering a 1920's train carriage riding through snow covered mountains. There's jazz gently playing as you arrive to a welcome champagne at your table, sitting down to enjoy the bubbles and chose your next tipple from a list of eclectic cocktails. This feels like the ultimate escape, you truly feel like you're living that moment in mountains and a bygone era, forgetting that just outside is the desert. Part of this could be the ease of those cocktails going down, but plenty is to do with how well the place is designed.
UnderTow
Each bar experience is limited to 90 minute slots, so after we headed over to UnderTow. I absolutely love tiki bars and this is one of the best I've been to. They got your classic tiki bar drinks, served in the famous mugs of course, as well as huge sharing drinks served in bowls and boats and then more refined cocktails to go with an impressive rum list too.
The interior is dark and mysterious as you ride the waves under the boat deck, hearing the waves splashing on the outside and all the noises of the ocean. If this isn't your style, then head over to the Grey Hen Rx, a more relaxed New Orleans inspired bar with fine spirits and cocktails.
FLINT by Baltaire (2425 E Camelback Rd, Phoenix)
A contemporary restaurant, FLINT by Baltaire is an innovative take on American fare accented with coastal Mediterranean and bold Middle Eastern flavors – of Phoenix's Biltmore area.
Perhaps some of the best food you'll find at a mall (certainly a fancier mall though), the open air rooftop restaurant has fantastic views of the mountains and wonderful food to match. Particularly enjoyable was the smoked bone barrow served over hot coals to the table, as well as the pan roasted diver scallops with charred cauliflower.
Postino Wine Cafe (3939 E. Campbell Ave, Phoenix)
Bruschetta and wine? It's hard to name many better combinations than that. Postino Wine Cafe has multiple locations throughout the Greater Phoenix area and has now expanded to other cities too.
We started with a delightful dry prosecco, which was totally refreshing on the palate in the middle of a hot Arizona day, and paired this with some crispy cauliflower in romesco sauce.
The Bruschetta
We then moved on to white wine, with the waiters happy to recommend something to suit, to go along with our bruschetta order. With options from Brie, Apple & Fig Spread to Sweet N' Spicy Pepper Jam & Goat Cheese to Ricotta, Dates & Pistachio it's hard to pick a favourite.
This is a great restaurant if you want to stop quickly for a glass of wine and a bite to eat, or to spend the evening catching up with old friends whilst enjoying a vino or two!
Postino Wine Cafe
Postino Wine Cafe
Merkin Vineyards (7133 E. Stetson Dr. Suite #4 Scottsdale)
Wine tasting at Merkin Vineyards is on a mission to 'come as close as we can to delivering a 100% Arizona experience to our extended family and community. It's a mission few would choose to take on, but essential when Regional, Sustainable, and a Sense of Place are the goal.'
The Mission Kierland (7122 E Greenway Pkwy #140, Scottsdale)
Chef Matt Carter, from the renowned Zinc Bistro which is just a few yards away, has brought his modern Latin cuisine blending influences from Spain, Mexico, Central America and South America with The Mission Kierland. Homemade tortillas, sauces, and salsas are made fresh daily and all meats are prepared on a Plancha or a grill using pecan and mesquite wood that instills a rich flavor.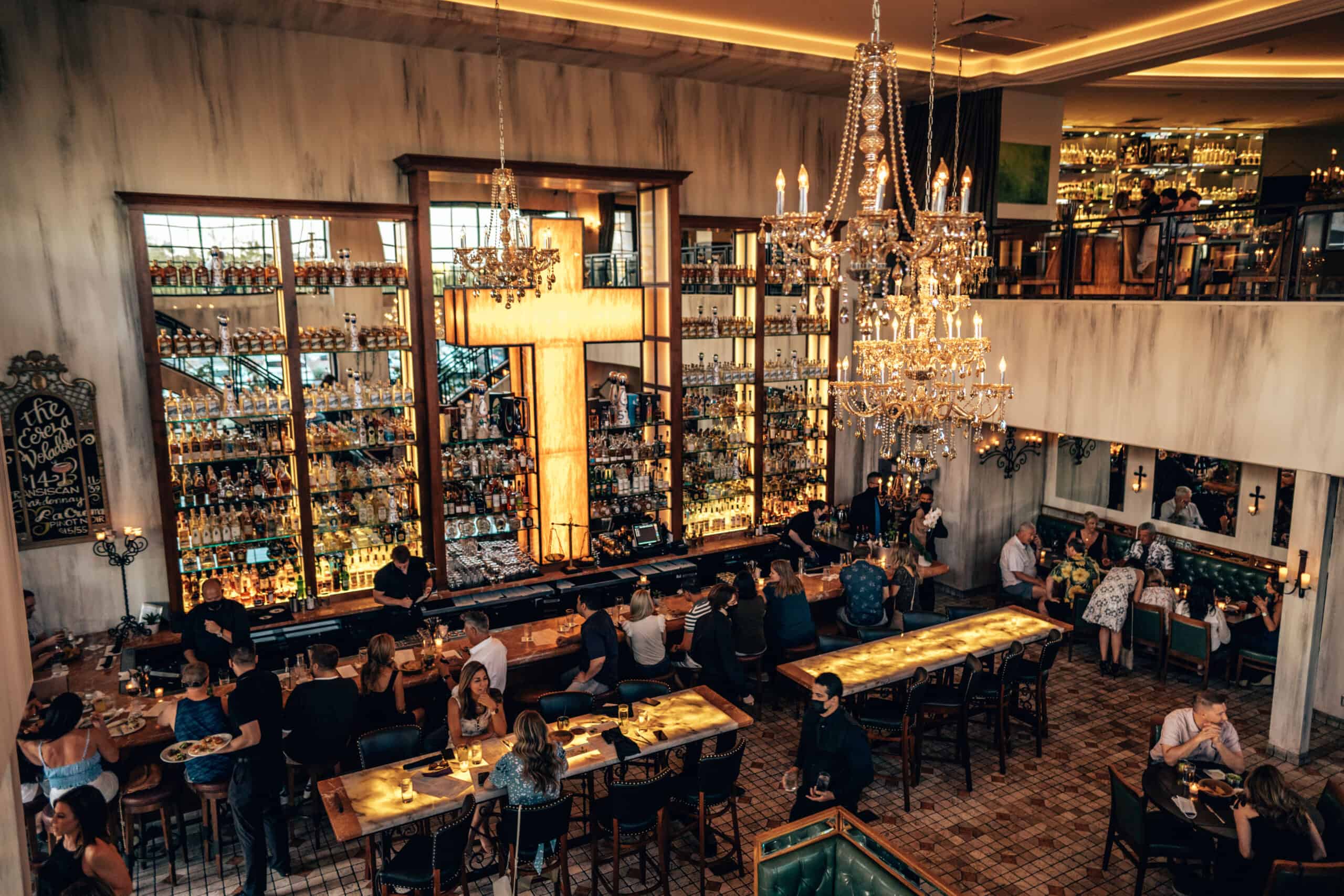 Lylo Swim Club
Visit Lylo Swim Club and enjoy this tropical oasis. It's an fun combination of Japanese and Hawaiian food and drinks by British proprietor Ross Simon.
The Food
The food is relatively simple with healthy and tasty lighter dishes like ahi tuna bowls as well as more indulgent dishes like the mochiko fried chicken and loaded togarashi fries.
The Drinks
The drinks are tailored to the poolside location with some really fun options like the 'Dole Whipped' which is a combination of rum and the classic pineapple flavored soft serve ice cream. There's also the 'Solero' which is a classic British passionfruit ice cream made into cocktail form!
Hash Kitchen (4315 E Indian School Rd, Phoenix)
Hash Kitchen is a creative a.m. eatery that boasts a social dining experience and is designed to be the go-to spot for locals and a culinary destination for visitors.
If you're looking for the ultimate up-beat brunch experience, this is it! They have an epic DIY Bloody Mary bar where you can top your drink with bacon, cheese, ravioli, olives – you name it! The Billionaire's bacon, lucky charms french toast and skillets are all deliciously over the top and the vibe here is incredible.


Where to Stay
I had the opportunity to stay at a number of boutique and unique properties in Phoenix, all offering something a bit different, which further emphasised the true variety on offer in the area, whether it's hotels, restaurants or activities.
We stayed at Rise Uptown for two nights of our Phoenix trip and I couldn't get enough of this adorable boutique hotel and their swim club called Lylo.
The Rooms
The rooms at Rise Uptown are vibrant and light with a touch of luxury. You can choose from their mini, studio, balcony or firepit rooms.  We stayed at one of the balcony rooms and had a pretty awesome view of the Phoenix skyline.
Lylo Swim Club
Lylo Swim Club  has a cocktail program by Ross Simon, proprietor of two of Arizona's most awarded bars, Bitter & Twisted Cocktail Parlour and Little Rituals. It's the perfect spot to hang out and have some tasty tropically inspired food and drinks!
Lylo
Rise Uptown room


We started off our 8 night adventure in the Valley of the Sun with a stay at the Omni Resort & Spa. What a way to be welcomed to the Greater Phoenix area!
Incredible Views
This property has an incredible back drop of Camelback Mountain. Along with the panoramic views, the resort has European influences and details, two beautiful pools and multiple dining options.
Dining at the Omni
Prado is their main restaurant serving delicious Spanish inspired fare in their old world dining room or stunning patio. You can also dine at Crave Cafe, Mbar, Taqueria Centro or request a private chef experience.
Joya Spa
The Omni Scottsdale boasts a renowned spa, Joya, which covers an enormous 31,000 sq. ft. and offers full salon and spa services as well as it's own private rooftop pool overlooking Camelback Mountain.



Omni Scottsdale Pool
Omni Scottsdale Pool
The Rooms
If you want to stay in a super retro hotel in Old Town Scottsdale this is the hotel for you! Hotel Valley Ho originally opened in 1956 and has a mid century modern design. The minimal rooms have some seriously cool details like stand alone bath tubs, balconies or patios and floor-to-ceiling glass.
The Pool
The OHasis Pool sits at the center of the property and is the spot for you to kick back and lounge or get involved in the weekend pool parties with live DJs. Drinks and light bites are offered all day from 10am-5pm.
Dining  at Hotel Valley Hotel
Zuzu is their restaurant which serves brunch daily until 2:30! I'm huge fan of brunch food so this was a big plus for me. We tried the steak and eggs, burrata toast, smoked salmon bagel platter and their showstopper milkshake, which changes each month. Everything we tried was delicious – I can firmly say Zuzu is one of the best hotel restaurants I've ever eaten at. It's worth dining here even if you aren't staying at the property.
 VH Spa
If you're in need of some pampering you can book a treatment at the VH Spa.  Try one of their travel inspired 'Jet Set' packages. If you can't manage to book a room here, these packages are a great option because they include a drink voucher to use anywhere on property, complimentary pool and fitness center access and valet parking.
VH Spa
Showstopper milkshake
Suite Balcony
FOUND:RE (Downtown Phoenix)
Hotel and Art Gallery
FOUND:RE isn't just a hotel, it's also a cafe and commercial art gallery space! The rooms are industrial chic and give off ultimate rockstar vibes for a cool stay in downtown Phoenix's Roosevelt Row Artist district.
Dining at FOUND:RE
Match Market + Bar is an upscale, local café, market and bar with an indoor/outdoor seating space. Grab breakfast, an artisan coffee or a cocktail all while being surrounding by art and industrial decor. There's also the option to order food and drinks to your room!
You can cool off at the pool or do a self guided art walk through the hotel which features both emerging and established local artists.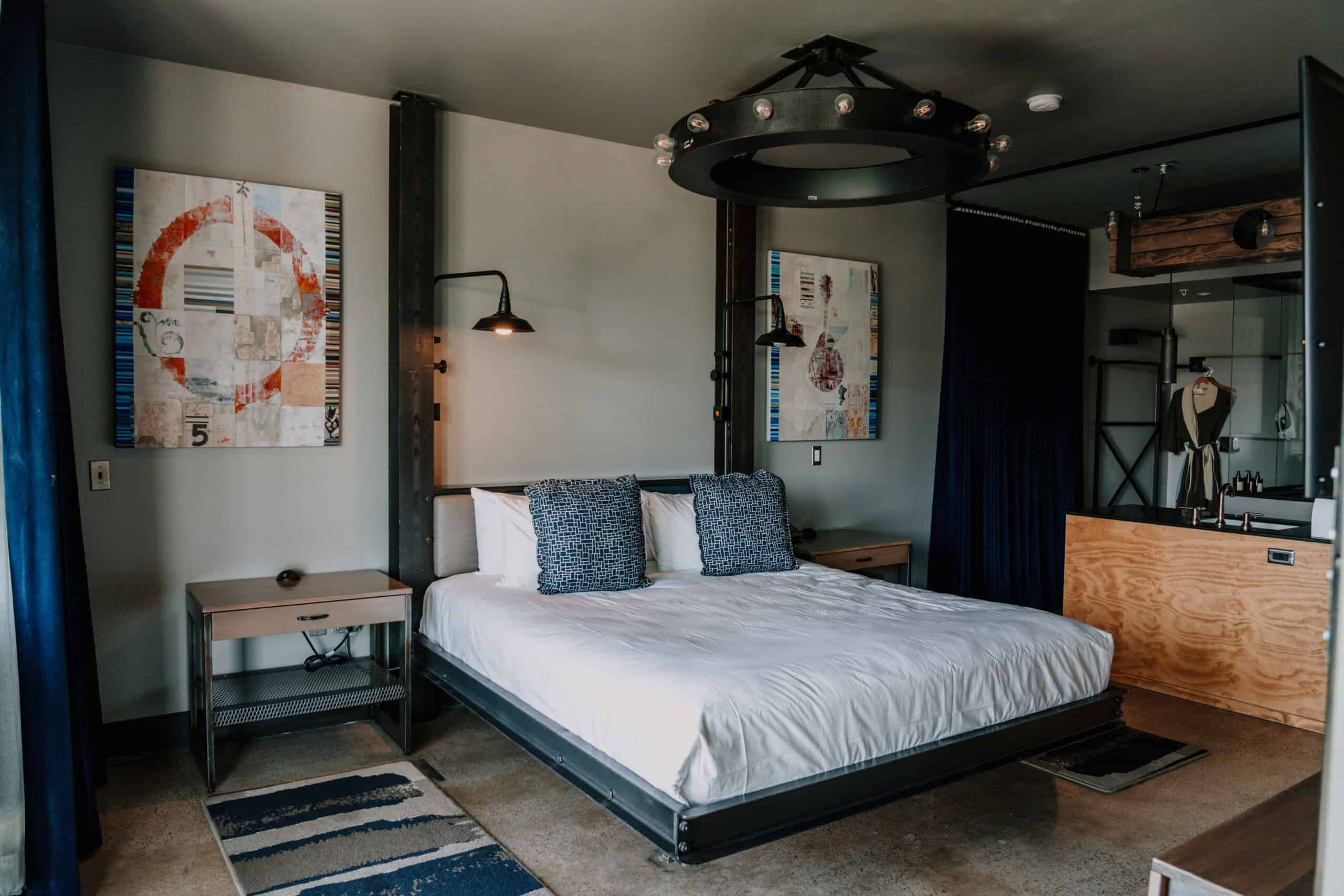 Is Phoenix Expensive?
Phoenix is a major U.S. city though it did seem less expensive than New York or L.A. Notably so when it came to cocktails and wine, but food prices tend to vary. There's definitely a whole range of options for different budgets in Phoenix.
What to Pack for a trip to Phoenix
Phoenix is a desert and has the climate that goes with it. You'll need to pack plenty of light clothes for the day time and a jacket for cool evenings.
sundresses
light
denim shorts/jeans
denim or other light jacket for the evening
t shirts + tanks
Sunglasses
Sandals
Hat
Day pack
Activewear – for hiking
Resort wear for lounging at the hotel/day club pools
Comfortable walking shoes/sneakers
Bathing suit
Sunscreen
Camera
Floating Dry Bag – Can be useful for kayaking or tubing
Day Trips from Phoenix
Sedona
Tuscon
Grand Canyon
Jerome
Tortilla Flat
Prescott
Saguaro National Park
Montezuma Castle National Monument
Thanks to Visit Phoenix for one of my most epic adventures ever!
As always all opinions are my own.