The Ultimate 7 Day Puerto Rico Itinerary
It's always a challenge to fit everything you want to do in a destination into a week visit, especially somewhere like Puerto Rico. This island is quite diverse so it's packed full of activities, yummy food and adventure! I'm sharing my 7 day Puerto Rico Itinerary to help you plan a perfect one week in Puerto Rico.
Puerto Rico is an easy flight from New York City  and most other U.S. cities so you can always revisit if you don't get to everything during one week in Puerto Rico!
What to Pack for your Puerto Rico itinerary
To cover be prepared for the variety of activities in this Puerto Rico itinerary make sure to pack the following. This is what you'll need for jungle excursions, boats days and city strolls.
Light rain jacket
Day pack
Quick dry towel
Clothes you can get dirty/muddy/wet in
Resort wear for lounging at the hotel pools and beaches.
Comfortable walking shoes
Bathing suits, 1 that is sporty and 1 to lounge in
Camera
Bugspray
Floating Dry Bag – Can be useful for the boat tour or jungle excursion
Sunglasses
Hat
Sunscreen
 Day 1 – Arrival Day 
Arrival to Puerto Rico
Your 7 day Puerto Rico trip will start by flying into San Juan Airport. What I love about this airport is the easy and proximity to everything else.
Old San Juan, beaches and major hotels are all within a 20 minute drive. If you haven't rented a car, head towards the sign that says ride share which will be upstairs. This is where you can meet your Lyfts and Ubers.
Staying in an Airbnb is a great option for one week in Puerto Rico. In San Juan there are accommodations available in Old San Juan, Condado Ocean Park and Isla Verde. Since our Airbnb was on the edge of Ocean Park it took us about 10 minutes to get there. You can pop into a local shop for some Medallas (Puerto Rican beer) and drink them while you unpack.
Dinner and drinks in Condado
Take an Uber over to Calle Vendig in Condado and grab take away Pina cooladas in pineapples from the to go juice counter.  Sit on the beach and watch the sunset with local street food from La Cocinita or splurge for dinner at Oceano.
Old San Juan Nightlife
After you've had some time to unwind head to Old San Juan for post dinner drinks. There are some amazing rustic bars perfect for relaxing or find somewhere to dance the night away! Calle San Sebastian is known for being the best street for nightlife in Old San Juan and you can easily do a bar crawl.
Experiencing the nightlife is a must do on your Puerto Rico trip!
La Factoria

 – (148 Calle San Sebastián) The coolest bar/club in Puerto Rico. Salsa on Mondays.

Bar Batey  – (

101 Calle del Cristo)  Dive bar with graffiti walls and Jenga to borrow. 

The Cannon Club

– 

(215 Calle San Sebastián)  Gorgeous rustic chic piano bar. There was a actually a parrot perched on the bar drinking a beer!

La Taberna – (151 Calle San Sebastián) Craft beer + beer cocktails.
La Cubanita – (51 Calle San José) Inside La Factoria for a more local vibe.
Birra & Empanadas – (150 Calle De La Cruz) A dive bar with Latin music and empanadas to pair with your Puerto Rican beer.
La Vergüenza Viejo San Juan- (280 Bulevar del Valle) multi-level casual bar with a peak of the ocean. Located across from the La Perla entrance
Day 2 – Old San Juan Day Trip
Sleep in, then head back to Old San Juan for brunch. After brunch explore the oldest city in America!
Breakfast in Puerto Rico's Old San Juan : Choose from these delicious options.
Cafe Mimosa – (316 C. de la Fortaleza) American style breakfast with great mimosa deals!
Waffle-era – (250 Calle San José) Have your whole breakfast served on top of a waffle! Various sweet or savoury options. I had the green eggs & ham which is prosciutto, steamed egg whites and cheese + pesto. Something different and very tasty! We management to get the seats outside too.
Chocobar Cortes –  (210 Calle San Francisco) This restaurant serves menu items where chocolate is the star. Farm-to-bar chocolate made in the Caribbean.
Explore Old San Juan on your own or book a walking tour.
Best Kept Secret of Old San Juan – A great tour for those interested in diving deeper in to the architecture of  San Juan and the history behind it. It will not go to any major tourist sites so keep that in mind if you wanted to see those as well.
Top things to do in Old San Juan
Visit the forts; Castillo San Felipe del Morro +San Cristóbal
Walk down La Fortaleza and see the Govenor's mansion.
Get a view of La Perla, a historical shanty town outside the Old San Juan city walls.
Admire the colourful buildings which the old city is filled with.
Check Out the home of Ponce de León to be transported back to the 16th century.
Visit La Rogativa
Visit art galleries throughout the city.
Enjoy Pina Cooladas after your tour.
Stop at Barrachina where the pina colada was invented. Just head to the bar and you won't have to wait! 
Dinner in Old San Juan, Puerto Rico
Verde Mesa – A healthy gourmet restaurant with bites meant to savour.
The Parrot Club – A new Latin Bar and Bistro established in 1996.
Deaverdura – Authentic Puerto Rican food experience.
Marmalade Restaurant and wine bar – Farm to table tasting menus or a la carte dishes. Plenty of vegetarian options.
El Jibarito – This homestyle cooking restaurant makes it on many "must go" lists. We ate here and I have to say I wasn't impressed. However, since it was quite affordable it was hard to complain. Consider stopping in for a drink.
Take it easy tonight to be ready for the Rainforest in the morning . Make sure you find somewhere to buy food and drinks to pack with you for the El Yunque National Forest day.
Day 3 – Adventure in El Yunque 
Day 3 of your Puerto Rico itinerary consists of an excursion in the rainforest and tasty traditional Puerto Rican cuisine.
El Yunque is the only subtropical rainforest in the National Forest System. It has plenty of trails, nature and waterfalls to see, you just need to decide whether to do it on your own or to book a tour.
Make sure you eat breakfast at the airbnb or pick up some easy snacks. We brought trail mix fruit and sandwiches as well as enough water for the day. The tour we chose was an adventurous ones but there are other options. For more touristy routes you may not need a guide at all. 
Bring swimwear and watershoes or shoes you dont mind getting dirty/muddy and I mean covered and soaked!  Sandals are NOT allowed.
Expect a REAL hike in full nature, going down natural waterslides even a swing rope. There are also cliffs to jump off of including a 40 foot one!  Bring towels and change of clothes.  
This was definitely my favourite activity of the trip! Not for those with mobility issues. They can provide transportation if needed. From San Juan to El Yunque is about an hour drive. 
On the way home stop at Kioskis de Luquillo
It's a strip of bars and restaurants lining the beach. From traditional Puerto Rican to pizza to take away empanadas and international cuisine, they've got it all. We ate at Terruño, which actually ended up being my favourite meal. Prices are reasonable, happy hour deals with an open air back patio.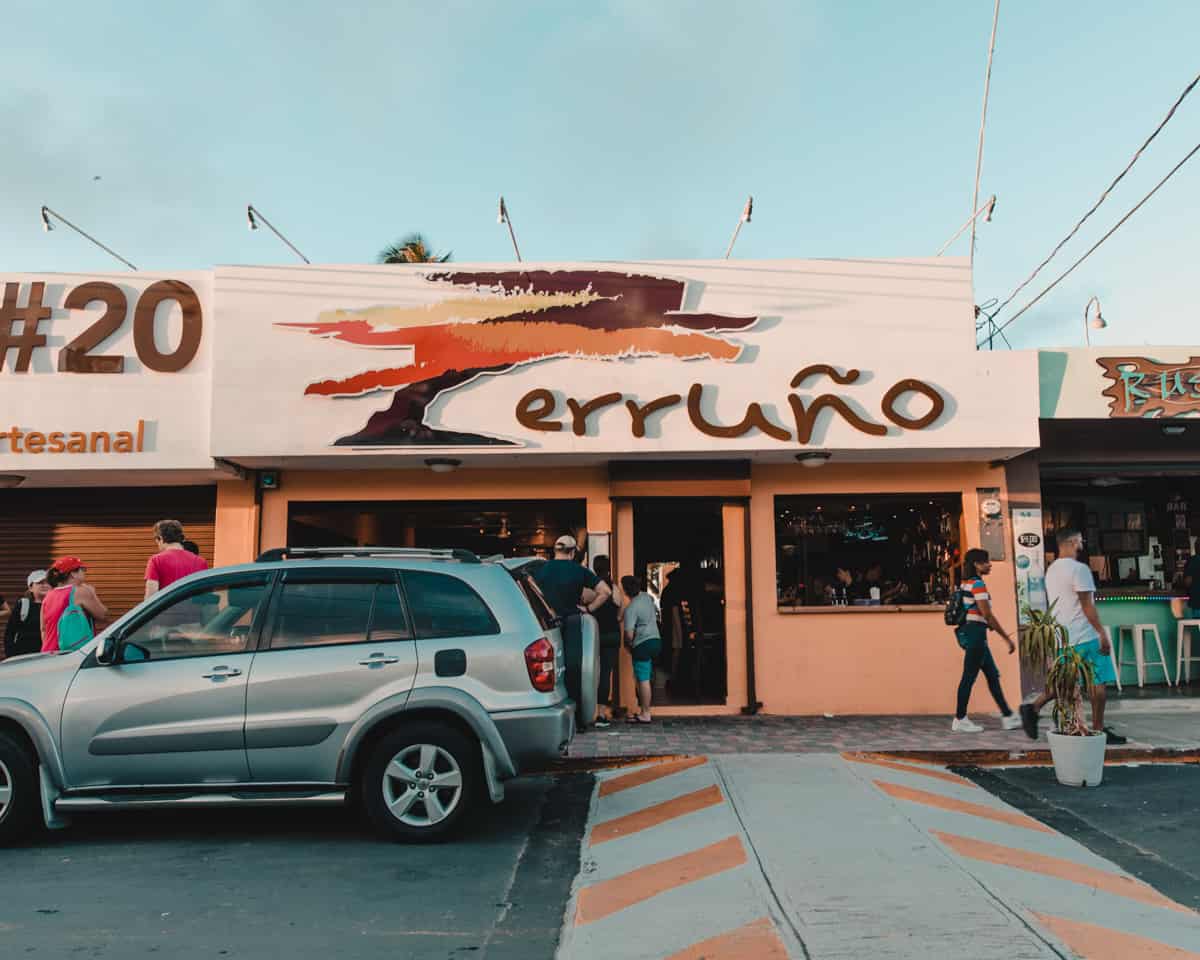 Day 4 – Condado Beach + Spa Day 
Eat brunch at Sabrina (1801 Calle Loíza #1a), 
a brunch and bistro bar named for the classic Audrey Hepburn film. 
Have a pool day at one of  the luxury hotels or hang at Condado beach.
If you prefer a pool there may be a minimum spend to reserve a spot so keep that in mind.
Spa and pool locations
Being that we were a group of 8 we chose to reserve a cabana. To do so they made us guarantee a spend of $400 which wasn't too bad for the group size people.
If you have a smaller group you could probably just walk in but you risk not getting a place to sit if its busy. The pool water was nice and warm so you could always just sit yourself in there all day! Honestly, no one was checking who was a hotel guest or not.
La Concha has two different pools to relax by. One of the pools has a sea view and the other is set amongst greenery.
Condado Vanderbilt
Condado Vanderbilt is a 5 star beachfront property complete with a spa and wellness center.
Afternoon Massages at a nearby spa
Dinner and casual drinks at Lote 23
Lote 23 is a Gastronomic park with a dozen food trucks and live music. I ordered a poke bowl, a pork sandwich and pig in the sea mofungo which was amazing. The variety was ideal! Everyone is our group was able to find something they liked. 
Day 5 – Culebra Island Excursion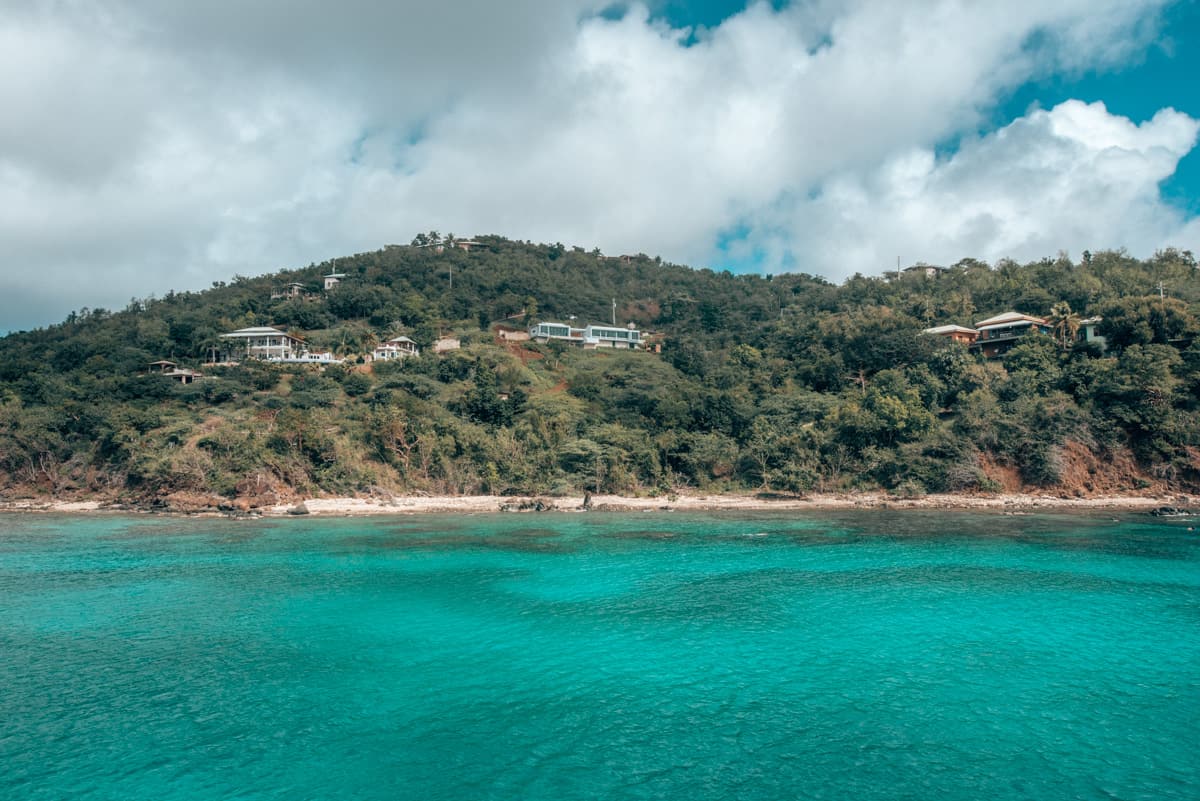 Day 5 of your 7 day Puerto Rico itinerary is a day in paradise. Get up and have an early breakfast at the airbnb or pack breakfast to eat on the drive. To get to Culebra you can either take the ferry from Ceiba or you can book a day trip on a catamaran or boat tour which leaves from Fajardo. 
Day trip to Culebra
East Island Catamaran to Culebra will bring you to a reef to snorkel then to the beautiful Flamenco Beach.

Lunch is provided as well as drinks, including rum drinks. Fresh baked bread, sandwich fillings and salads were all quite tasty!
I enjoyed this cruise but just felt there was not enough time at each stop.
The boat parks near Flamenco Beach, but you have to swim to the sand. Make sure you have a dry bag with you if you want to bring anything to the beach. If you need transportation to Fajardo that can be provided by them as well.

Ferry to Culebra by booking ahead of time with Poferry.
Night out in Santurce, San Juan
La Placita (179 Calle dos Hermanos) – This historic market turns into a nightlife hot spot especially on Thursday and Fridays. This is highly recommended! You can get local priced food and drinks here. Parking nearby for a fee.
Jungle Bird – A cocktail bar around the corner from La Placitas by the same people responsible for La Factoria.
Penulitma – A cocktail bar with outdoor space just down the street from Jungle Bird and La Placita.
 Day 6 – Free Day
This is the last full day of your one week in Puerto Rico! I like to leave the last day free and allow for some spontaneity. You can visit something you only discovered since arriving on the island or take this as a day to simply relax!
Other cool things to do
Beach day

Day trip to Vieques
Visit the forts of San Juan – One entrance fee paid will get you into both Castillo San Cristóbal and Castillo San Felipe del Morro. They are also included on the America the Beautiful pass.
Sunset drinks to enjoy the last night
Have sunset drinks at La Vergüenza Viejo San Juan(280 Bulevar del Valle), a bar with multiple levels and ocean views. The top 2 levels are terraces and bars are on all 3.
 Day 7 –  Brunch and Fly Home 
If you have time, have Breakfast at Bistro Cafe (31 Av. Isla Verde, Carolina) in Isla Verde for over-the-top brunch! Hot chocolate made from Nutella, peanut putter pancakes and mimosas with frozen fruit pops in them were some of my favourite items.
Do you have more than one week in Puerto Rico?
Visit Vieques
A small island off of Puerto Rico home to secluded beaches, wild horses and the Bioluminescent Bay. Take a day trip or stay the night.
Visit Other Towns in Puerto Rico
Rincon – A laidback surfer town.
Aguadilla – Home of Crashboat Beach, a famous surfing beach.
Ponce- The birthplace of Don Q rum.
Arecibo – Puerto Rico's third oldest city.
Isabela- Where the blue hole, a known scuba diving spot, is located.
Cabo Rojo- Salt flats and rustic beaches.
See the Cavernas De Camuy
A cave system located in the Northwest of Puerto Rico. One of the World's largest cave systems and only about an hour and 20 minute drive from San Juan.
Looking for more tips on how to spend one week in Puerto Rico?