Travel Guide: Things to do in Bar Harbor on Mount Desert Island, Maine
Bar Harbor and Mount Desert Island are part of the region of Maine referred to as "Downeast." I actually always wondered how other states refer to particular areas of their state. For us New Yorkers, everything north of NYC is simply "upstate." This was my first time to Maine, and thus "Downeast" was a new concept for me. On my trip to the area I discovered so many cool things to do on Mount Desert Island, mainly based around what to do in Acadia National Park which takes up a good portion of the island.
What is Bar Harbor famous for?
Bar Harbor is a town place in Maine known for it's coastal beauty and little islands, Maine lobster, the incredible Acadia National Park and it's captivating laid back lifestyle.
Getting to Mount Desert Island, Maine
Distance from NYC: 500 miles
Distance from Boston: 280 miles
Distance from Portland: 175 miles
Distance from Bangor : 50 miles
By Air
Bangor International Airport is the closest major airport and is the one most visitors choose to fly into. The airport in Bar Harbor is just a small local airport, so flights are limited.
By Car
We decided to make a little road trip out of it and drove to Bar Harbor from New York. To break up the journey, we stopped for one night in Portland on the way there and the way back. Total driving time was about 8-10 hours each way. It took us longer on the way back due to construction and heavy rain.
By Bus
The Greyhound will take you from NYC to Bangor and then you'll need to switch to Downeast Transportation to get to Bar Harbor.
There are are few different ways to get there, and a few different bus lines but it all depends on where you are coming from.
The Concord Coach and Greyhound Bus both leave from Boston to Bangor.
By Train
Amtrak has routes from NYC to Portland, Maine, but then you'll need to get a bus from there.
Getting Around Bar Harbor and Mount Desert Island
Bar Harbor
Bar Harbor is a pedestrian friendly town. You can park in one of town's lots or metered on street parking and easily walk around. You'll find shops, restaurants and bars all with in a short distance.
Mount Desert Island
To fully experience Acadia National Park and Mount Desert Island, you'll need to have a car, unless you plan on booking a private tour or using the Island Explorer.
Downeast Transportation offers the Island Explorer route (if you have to be carless) which takes you from Bar Harbor to many of the many points in Acadia National Park and Mt. Desert Island.
Uber
Ubers were not available when I went on the app so I wouldn't rely on it for transportation.
Visiting Acadia National Park
Acadia National Park is a major draw for visiting Mt. Desert Island. According to the National Park Service it's actually one of the top 10 most visited National Parks!
During my visit  to Acadia, the NPS was testing a car reserveation system so you'll want to check to make sure that's not still going on. It was supposed to be just 18 days in October to see if they want to implement it in full in 2021. The way it works is, you have to reserve entry via your license plate to certain areas of the park like the popular Cadillac Mountain.
Get There Early but Consider the Weather.
All things outdoor and distanced have been extremely busy lately, including the National Parks. You definitely want to get there as early as possible to avoid parking issues and unnecessary waiting around or crowds.
Make sure you keep an eye on the weather because if it's foggy and you get there early, you're not going to see a thing.  We tried to get up to Cadillac Mountain one morning at 8am, but the rain and fog from the night before was still lingering. It ended up burning off by 11am,  by this time the park was super busy.
Park Loop Road
Park Loop Road is 27 miles long and is the main road for getting around Acadia. Quite a bit of the road is one way, so consider this when planning your stops.
Park at Sand Beach Entrance.
Sand beach entrance is one of the sections of road that become one way past a certain point.  There is parking dotted along this area, but will get quite busy by midday. Some of the things you can see along this section of Acadia are:
Thunder Hole
Ocean Path
Otter Cliff
Visit Jordan Pond.
This glacial formed pond is a great family spot in Acadia. There is a shore trail, a carriage road, and a cafe looking at the pond. There is access to the bubbles trail from this spot, thought it takes a little longer. Parking and restrooms are located here, at the Jordan Pond House.
Hike the Bubbles.
The North and South Bubbles sit at the north side of Jordan Pond, so you could easily combine seeing both of these spots. I loved this hike and did it with my mom. We did the South Bubble hike to Bubble Rock. It is a little rocky and steep in some areas, but we found it doable with the relatively short distance of under 1.5 miles out and back.
We contemplated doing the North Bubble trail as well, but it seemed a little too steep and slippery at the time.
Watch the Sunrise at Cadillac Mountain.
Cadillac Mountain is the first spot in the country to see the sun rise during certain months of year. You can drive all the way up to to the top and wander the summit to find your perfect spot.
Visit "the quiet side"
The less visited side of the Mt. Desert Island is referred to as the quiet side by locals. There are hikes, villages and lobster shacks you can visit there. Some spots to see are :
Bass Harbor Head Lighthouse
Acadia Mountain
Ship Harbor Trail
Seawall
Wonderland Trail
Beech Mountain lookout tower
Schoodic Peninsula
This section of Acadia is actually on the mainland. It's less commericalized and more secluded which are positive characteristics for many looking for a more personal experience of the park.
From the Schoodic Head peak, you can see both Frenchman Bay and Mt. Desert Island.
Isle au Haut
Isle au Haut or "high island" is another less visited part of Acadia National Park and is reachable from the mainland by ferry. It;s definitely a more rugged side, with little to no amenities and a handful or more difficult trails.
Things to do in Mount Desert Island besides Acadia
Go Shopping in Downtown Bar Harbor.
Bar Harbor shops consist mainly of souvenirs and outdoor gear, but you'll also find Sherman's Book Store, collectible stores and speciality shops.
Walk Bar Harbor's Shore Path and Agamont Park.
If you head to the point of Bar Harbor downtown, you'll get to Agamont Park. Go towards the water and walk right to find the Shore Path.
Visit Asticou Azaela Garden.
A Japanese inspired garden located in the Northeast Harbor. Open seasonal through October 31st.
Visit the other Towns and Villages on Mt. Desert.
Northeast Harbor
Southwest Harbor
Bass Harbor
Otter Creek
Seal Harbor
Somesville
Visit the Abbe Museum.
If you want to learn about the history of Maine's native people, this is the place.
Spend the day kayaking and experience a new perspective.
Take a Boat Tour to whale watch,  marvel at ocean wildlife or learn about Maine lobsters.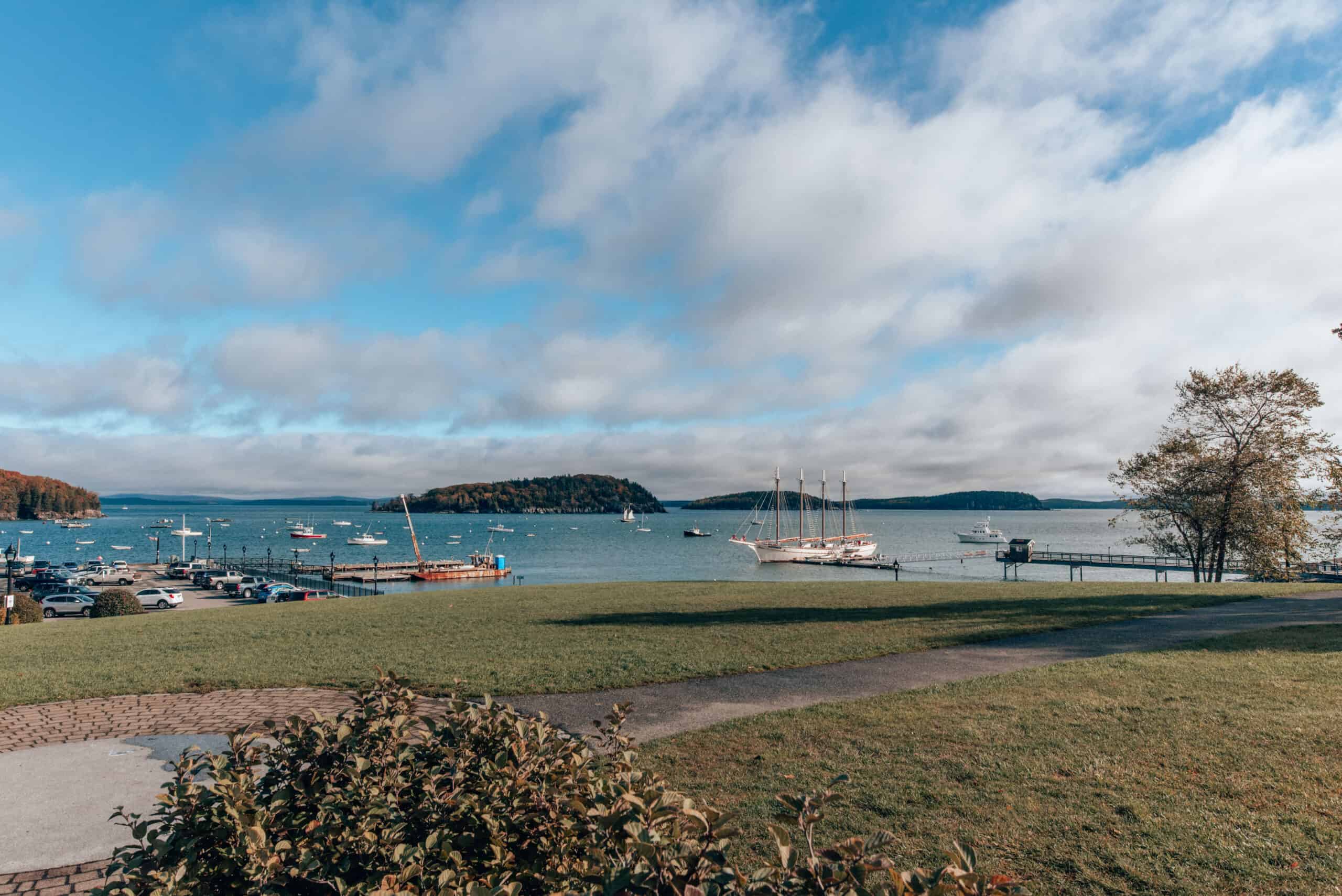 Where to Stay
Bar Harbor is relatively small, and the hotels seemed rather pricey overall, though I did visit during peak fall foliage.  Hotels and Inns are dotted throughout the town as well as along the road you'll take to enter the main town area.
Bayview Bar Harbor is a little bit tucked away down a long drive way and has lovely modern decor. It's closer to the Acadia National Park entrance then the hotels downtown and has free guest parking.
Breakfast is included in the stay (which I love) and if you need anything at all, their staff is right there to help you. When I was there, the lady behind the desk knew pretty much everything about the area and helped us plan the perfect itinerary for the day.
The rooms at Bayview Harbor Hotel were super clean, and had enough space for a table and chair set where we ended up take out one night. The back sliding door opens up to a balcony, which I'm pretty sure most of the the other rooms had as well.
West Street Hotel
West Street Hotel is located across from the Bar Harbor waterfront, their sister hotel, Harborside Hotel, is right on the water and the two properties share amenities.
West street hotel has a contemporary nautical vibe with pantries on each floor, a pool room and a rooftop pool with beautiful sea views.
Balance Rock Inn
Balance Rock inn is a small hotel in a 1903 mansion. They have elegant grounds, a pool, ocean views and a fine dining restaurany called Veranda.
Where to Eat + Drink
Bar Harbor is a somewhat seasonal destination and not all restaurants stay open year round. Though this is true, no matter what time of year you go, there will be enough dining options.
Jordan's
You must eat everything blueberry at Jordan's! I got pancakes with blueberry "syrup" which was almost as thick as jam! Blueberry muffins come which just about all the meals so I had one of those with my eggs.
We pulled up to Jordan's at 9am midweek and had to wait about 20 minutes for a table. We weren't in a rush so that didn't bother us. The service was good and food came out very quickly.
Jeannie's Great Maine Breakfast
Another breakfast spot that will probably have a line. Jeannie's is known for being the spot everyone goes to before or after their Cadillac Mountain sunrise hike!
Galyn's
One of the top restaurants in the area. This fine dining establishment serves fresh seafood and steaks.
West Street Cafe
A classy bistro with waterfront views serving burgers, pasta and seafood. I tried to lobster roll with home made shoestring onions rings and they were both delicious!
Thirsty Whale
A popular drinking spot with comforting bar food.
Downeast Deli
New Yorkers are used to a sub or bagel at a deli, but in Bar Harbor the norm is to-go lobster rolls!
Stewman's Lobster Pound
I went here for lunch and it was a cool set up on the waterfront. I had the lobster cobb salad and a glass on wine and my mom had the fish & chips, both were pretty tasty!
Havana
American fine dining with Latin flair. They serve local and organic meats, sustainable seafood. They've held a Wine Spectator Award of Excellence from 2004.
Salt and Steel
A fine dining restaurant serving the best Maine seafood, meat and produce. You'll see dishes like Charred Spanish Octopus, Maine Hake "Bolognese" and Seared Georges Banks Sea Scallops.
Mount Desert Ice Cream
Mount Desert Ice cream home makes their ice cream in batches of 5 gallon or less!
Best Time to Visit Bar Harbor
 Summer
Summer is peak season on Mt. Desert Island, with the largest crowds and highest prices.
Longer days and increased temperatures allow for visitors to make the most of the outdoors in Bar Harbor and the rest of the island.
Fall
I visited Bar Harbor in Autumn and had 2 glorious days of sunshine.  It was perfect hiking weather, not too hot and not too cold!
The foliage is absolutely stunning in Autumn so I'd argue this is the best time of the year to visit.
Keep in mind that some businesses do start to close around half way through Fall.
Winter
Not all businesses stay open year round so Bar Harbor can be relatively shut down during winter. However, there are some winter only activities like snow shoeing and cross country skiing. You should find discounted rates on hotel rooms and the Acadia will be at it's least crowded of the entire year.
Spring
There are less crowds in Spring than in Summer and hotels will have lower rates, but not everything will be up and running in the town or the park for the season yet.