The Best Central Park Photo Spots that Every Photographer will Love
Did you know that Central Park is 840 acres?! It's a huge piece of land with plenty of amazing scenes right in the middle of one of New York City. These Central Park photo spots are some of the prettiest places to take pictures in NYC and they won't disappoint!
It's amazing any time of year, with lush greens in Summer or a white wonderland in winter, but I especially love Central Park with spring blooms or autumnal foliage. Photographer's of all levels come to Central Park to practice their passion because of the ample and diverse FREE locations. It's no wonder photoshoots are constantly going on at this famous New York City park.
Staying near Central Park
Some of the most classic New York hotels are near Central Park, but they are also some of the most expensive. If you don't have a budget to stick to why not stay at the Plaza or the Pierre?! It will probably feel like a movie scene walking from the Plaza to these Central Park photo spots in a matter of minutes! You may even have a view of the park from your room.
Mandarin Oriental
The Plaza
The Pierre, a Taj Hotel
JW Mariott Essex House Hotel
Park Lane Hotel
The Ritz-Carlton New York, Central Park
Central Park Photo Spots Map
Central Park is located between the Upper West Side and Upper East Side in Manhattan. The Park is 1/2 mile wide and 2.5 miles long though there are very few direct routes across it. Here is an interactive map showing you the best photo spots in Central Park to help you plan your route. Most of the best Central Park photos spots are in the bottom half of the park. There are multiple entrances to Central Park but I typically enter at East 72nd St. or Center Drive at 6th Ave.
Subway Stations near Central Park include West 92nd St. (B, C),  East 92nd St.(Q, M, R),  West 86th St.(1,2),  East 86th St. (4,5,6, Q) West 81st St. (B, C), West 72nd St. (B,C)East 77th St. (4,5,6), 59th St. Colombus Circle(1,2,3),  57th St./7th Ave (N,Q,R,W), 57th St. (F), 5th Ave/59th St. (N,W,R).
Mid to Upper Central Park Photo Spots
Most of the Central Park photo spots are actually relatively bunched together. Not much is in upper Central Park, most are in mid and lower Central Park and the
1. Bow Bridge 
There's something so romantic about the Bow Bridge. It's a beautiful cast iron pedestrian bridge across the lake in Central Park. Being one of the more popular locations, you will not get a picture on Bow Bridge alone unless you wake up early like I did. This was taken at about 8am during the week in early spring.  That being said, I still had to wait a little until all the dog walkers were out of sight to get my solo Instagram shot!
2. Bethsheda Terrace and Fountain
Bethsheda Terrace and Fountain is probably the next most popular area for photos. The terrace and fountain are frequently featured in films and shows like Elf, Enchanted, Law & Order and Gossip Girl. The golden tones and artistic tiles underneath Bethsheda Terrace are incredible. I love how the fountain looks when it's filled with water and luscious lilly pads.
Photographers adore it here, especially for engagement and wedding shoots! It's one of the prettiest places to take pictures in NYC.Stake your claim by being the first one to arrive in the morning or wait patiently for others to finish.
Who wouldn't want to do something as classic as rowing in the Central Park lake?! The row boats are seasonal and are only open from 10am until sundown. I got there for about 11:30 and didn't have to wait too long. The row boats are $15 for 1 hour plus a $20 deposit. CASH ONLY
Location: Between the Upper West Side and the Upper East Side. To get to the spot in the top photo on the right.  enter Central Park at 59th Street.  This flat rock is behind the Wollman skating rink.
Even though it opened in 1872, Belvedere Castle is some what of a hidden gem in Central Park!  Belvedere translates to "beautiful view" in Italian; intended to be a viewing platform. You can walk around inside the "castle" for a view from the observation deck. There's a big lawn named the "Great Lawn" which people picnic at behind where I'm sitting.  It's quite a peaceful spot!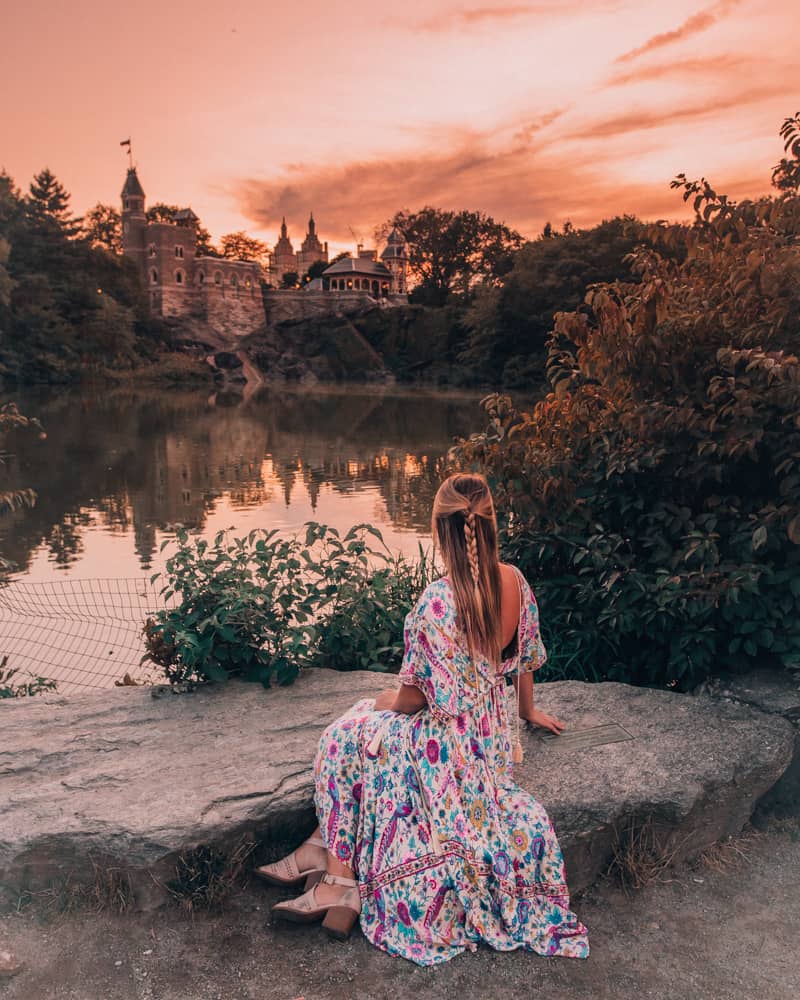 South Central Park Photo Spots
Nothing puts you in the holiday spirit like ice skating! I love going to Wollman's Rink because the ice has a backdrop of sky scrapers is just so cool! The rink is only open in the winter and does have an entry fee as well as skate rental fee. Keep in mind it's CASH ONLY, but there is an ATM on site.
Closest Entrance: Center Drive. W 59th St.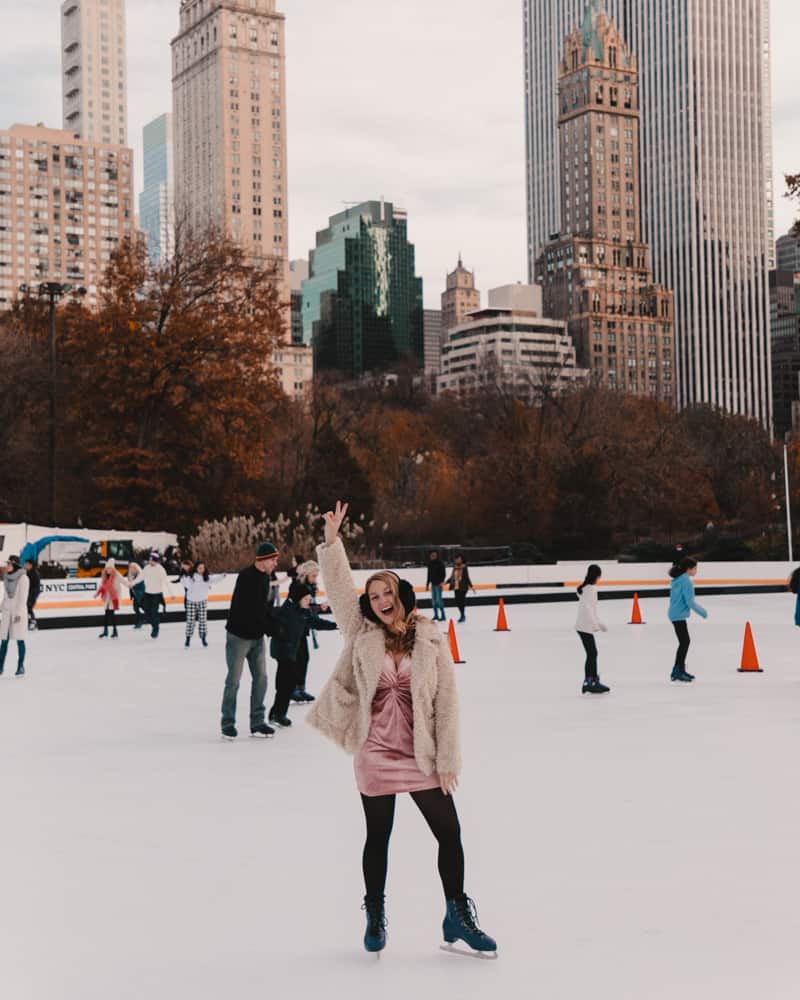 6. On the Rocks
There are plenty of rocks you can climb on for some seemingly "solo" photos. These ones are near Gapstow Bridge. If you walk around the bottom of Central Park you'll probably just walk by some you can climb up on. They are super instagrammble with the tall buildings as your backdrop.
Closest Entrance: Center Drive at 59th St. or Corner of 59th and 5th Ave.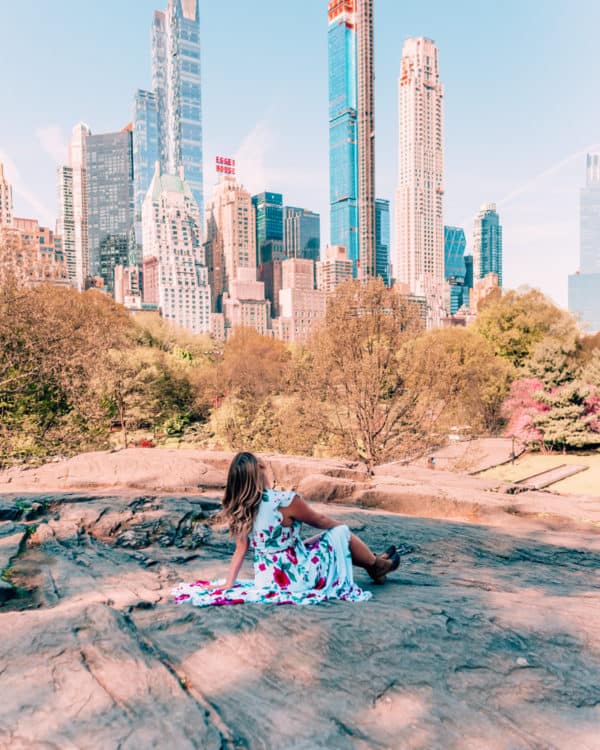 7. Gapstow Bridge
Gapstow Bridge is another nice bridge overlooking the Pond. In my opinion, the actually bridge isn't as nice as the Bow Bridge but the backdrop of the city is very cool!
Closest Entrance: W 79th St.

8.The Pond – Central Park Conservatory
I love walking around the pond early in the morning with hardly anyone around. It's amazing there is a place so peaceful just meters away from Midtown. Birds, turtles and other wildlife can sometimes be spotted here. The reflection in the pond is one of my favorite aspects.
I actually like photographing Gapstow bridge from the opposite side of the pond.
Best time to take Pictures of Central Park Photo Spots
As I mentioned earlier, Central Park is pretty at any time of the year. Being that New York City experiences all 4 seasons, you could go to 4 or 5 times in a year and it will look quite different. That's the beauty of it. For me, avoiding crowds is imperative so I tend to go early in the morning (before 8am) and during the week. Occasionally, a sunset picnic or a day soaking in Vitamin D does manage to entice me.
The lighting is best for photos in the morning and late afternoon or dusk.
Events in Central Park
Central Park hosts multiple events throughout the year.  There are sporting events, theatre, music and more. Summerstage is a crowd favorite, being it host concerts for FREE! Enter at 69th Street and 5th Avenue.
Other Places to take Pictures in Central Park:
The Carousel
The Mall and Literary Walk
On the lake
Strawberry Fields
Conservatory Garden
Imagine Mosaic – John Lennon Memorial
Jacqueline Kennedy Onassis Reservoir
Shakespeare's Garden
Ladies Pavilion
Trefoil Arch
Alice in Wonderland Statue
Central Park Zoo
Sheep's Meadow
Balto Statue