Most Instagrammable Places in NYC: Best Places to take pictures in New York
My guide to the most Instagrammable places in NYC. From old classics like the Brooklyn Bridge and Central Park to the new Vessel at Hudson Yards and renovated Empire State Building.  Check out these beautiful and iconic locations to take pictures in New York City. I also throw in some photography tips from my own experience!
Bow Bridge
Bethsheda Fountain
Row boats
Wollman's Rink (seasonal)
Belvedere Castle
On the Rocks
Gaptstow Bridge + The Pond
.…the list goes on. You can literally take pictures in Central Park for 2 days straight. There are a multitude of incredible photo shoot locations.
Photography Tips
You will not get a picture on Bow Bridge alone unless you wake up early like I did. This was taken at about 8am during the week in early spring and even then I had to wait a little until all the dog walkers were out of sight. I almost always see photographers in the at central park so you need tog et in early to claim your spot.
The row boats are seasonal and only open from 10 until sundown. I got there for about 11:30 and didn't have to wait too long. The row boats are $15 for 1 hour plus a $20 deposit. CASH ONLY
Location: Between the Upper West Side and the Upper East Side. To get to the spot in the top photo on the right >>enter Central Park at 59th Street.  This flat rock is behind the Wollman skating rink.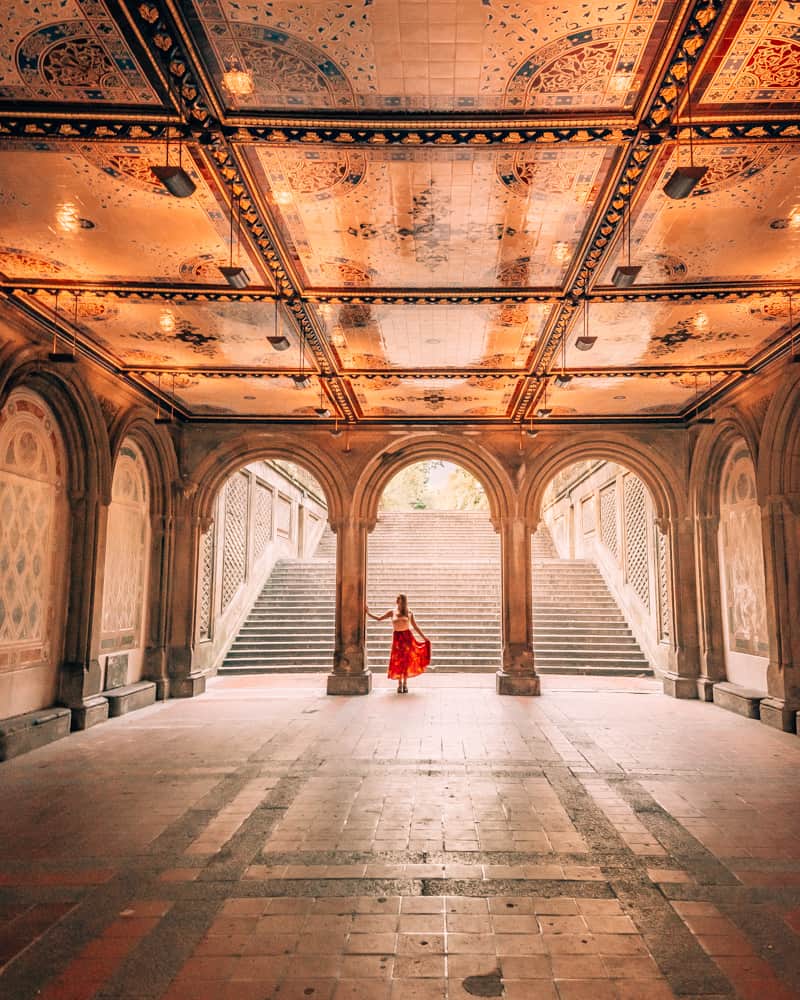 2. Top of the Rock at Rockefeller Center
Top of the rock is definitely one of the most photogenic places in NYC, but the views but it will cost you. The TOTR Experience costs $45 per person, but I kind of feel like you have to do it once!  Even though the he Top of the Rock and The Empire State Building are two of the best photoshoot locations in EW York, it doesn't mean you have to do them both, especially if you're on a budget.  Just decide whether you want to see TOTR or the Empire State building in your view.
Photography Tips
You can get at least 3 different shots at Top of the Rock as you can see below. Get tickets Top of the Rock tickets here.
Location: Midtown
3. The Highline
One of the most incredible urban parks in the world, the Highline is something locals and tourists can both enjoy. The Highline is 1.45 miles long elevated park on the West side and it a FREE attraction.
Photography Tips
This is another location where it's better to come early, it will start to fill will tourists from Chelsea Market as the day goes on. Again a great photography location to capture multiple angles and vantage points. I love the one with the window looking over the street below!
Location: Chelsea- The access point I usually use is near Chelsea Market at 10th Ave and 15th Street.  Both of the photos below were taken near this entrance.
4. Brooklyn Bridge
Walking over the Brooklyn bridge is one of my favourite things to do in New York. If you are disciplined enough to go at sunrise its a real treat. Of course the sunset is stunning as well, but you will have plenty of company. This has to be one of the most recognizable photography locations in world. Photographer's could come up with countless angles and locations on the bridge for an all out photo shoots.
Photogaphy Tip
The sun rises from behind Brooklyn and sets behind Manhattan.
Location: From Dumbo, Brookyn to Lower Manhattan
Tip: STAY OUT OF THE BIKE LANE.  You will get yelled at by commuters.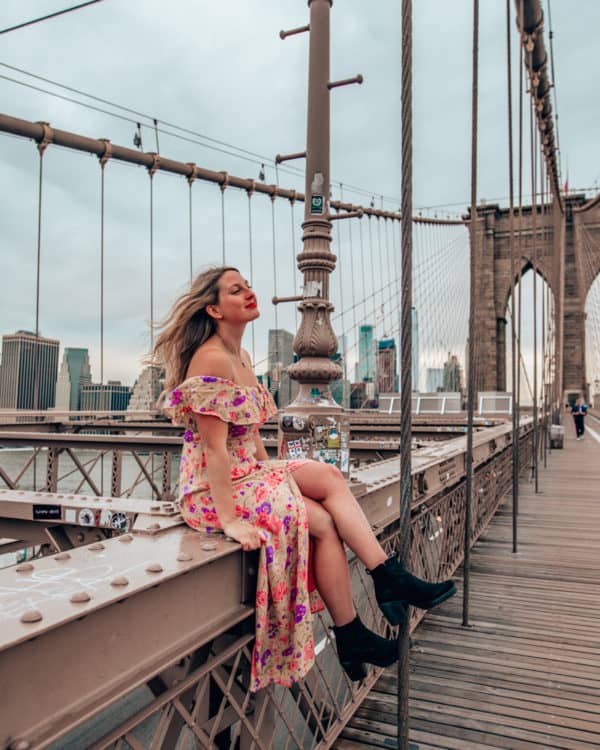 5. Washington Square Park
Doesn't everyone love an arch? They look so regal. The marble Washington Arch was built between 1890-1892 and replaced a wooden arch erected in 1889 to honor the centennial of the first president's inauguration. There are benches, a chess plaza and a pretty fountain that gets turned on in spring. Oh and this Christmas Tree during the Holidays!
This is one the most photogenic places in New York. It has a real NYC vibe and it's almost always filled with people enjoying the outdoors.  I sometimes come here just to enjoy a cup of coffee that I pick up from around the corner! (Stumptown Coffee Roasters ins one of the closest cafes)
Location: Greenwich Village
6. Flatiron District + Flatiron Building
The Flatiron District and Madison Square Park are beautiful New York photography locations. There are ALWAYS people taking pictures here and I'm not sure there is really ever a quiet time. Luckily there a ton of different angels you can try! This is also the home of the Original Shake Shack, which has outdoor seating and cute string lights.
Photo Tips
Experiment with different angles here. Stand on a bench, use burgers as a prop or walk across the street in front of the Flatiron Building.
Location : the intersection of Broadway, 23rd Street and Fifth Ave.
7. Washington Street Vantage Point in Dumbo, Brooklyn
In recent years this area in Brooklyn has become super popular. The Washington Street vantage point of the Manhattan Bridge is probably the most photographed spot in Dumbo. Whenever I want to take photos here I try to get there before 7:30am. Any time after that and there WILL be a line.
Photography Tip
Even if there is a line to get your photo, being creative with an angle always helps. Don't just get a photo of Washington street either- make sure to explore the rest of this Brooklyn area.
Location: Washington Street, Dumbo, Brooklyn
8. Manhattan Bridge Vantage Point in Dumbo, Brooklyn
If you keep wandering down Washington street and make a right when you get to the trail along the water, you'll find this spot! The Manhattan Bridge Towers in the background and its so pretty!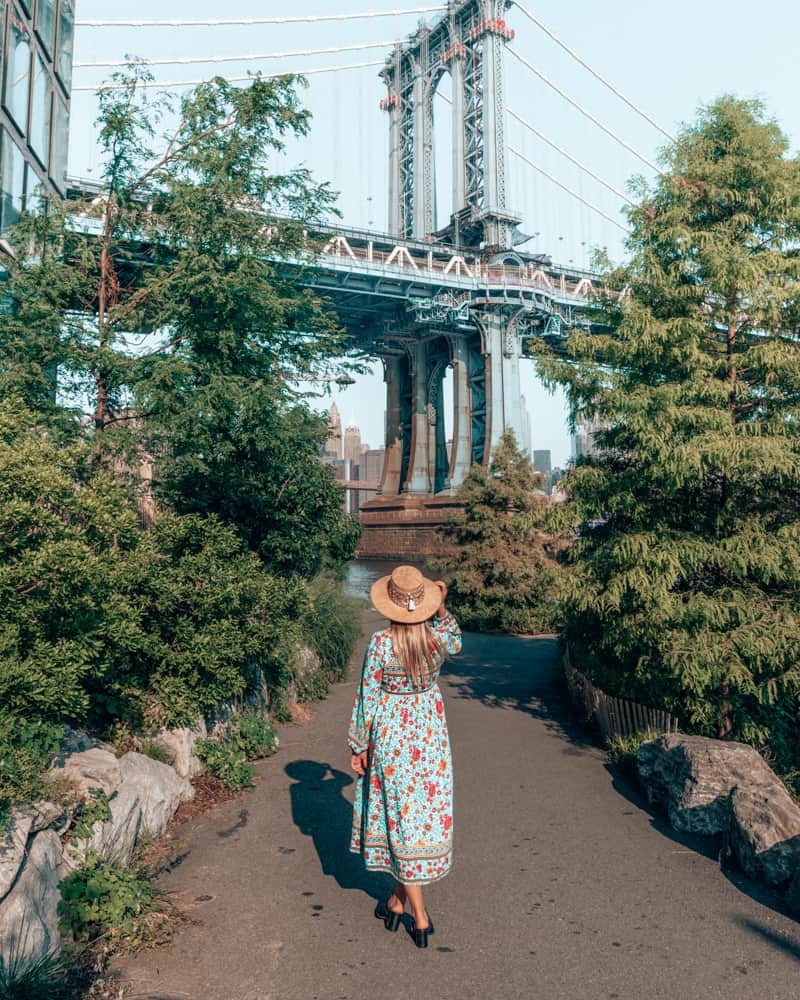 9. Grand Central Station
Grand central is the third busiest train station in North America and definitely one of the most beautiful!  I was here at 8am on a Sunday and there were still quite a few people around! In the weekdays it's absolutely crazy so plan accordingly!
Photography Tip
Not only is the main terminal a beautiful place to photograph, but you can get some fun photos from the outside at the taxi rank or from one of the iconic New York restaurants in the station. Grand Central is actually closed from2am –  5:30am so it may be worth going just before closing closes or after opening.
Location: Midtown, Taxi rank is on East 42nd St.between Vanderbuilt and Lexington Ave.
10. The Vessel
This structure opened on March 15, 2019. It is an elaborate spiral staircase that allows you to see things at all different view points. It's quite impressive, even from the outside! The Vessel in Hudson Yards is one of the newest location to make the most instagrammable places in NYC list and is worth a visit, especially if you are into architecture and modern design.
Location: Hudson Yards, Midtown, Manhattan
Tip : In order to go inside you must have a ticket. Tickets are currently free but they just need to be booked. Advance booking is suggested, but there are some day of tickets. More information here.
11. Stuyvesant Street
Stuyvesant Street is located in the East Village and is one of the oldest streets in NYC! It's a relatively quiet street which made it so easy to take pictures here. I thought it was a cool spot for a couple photo, what do you think? I took this photo with my tripod!
Location: Stuyvesant Street, East Village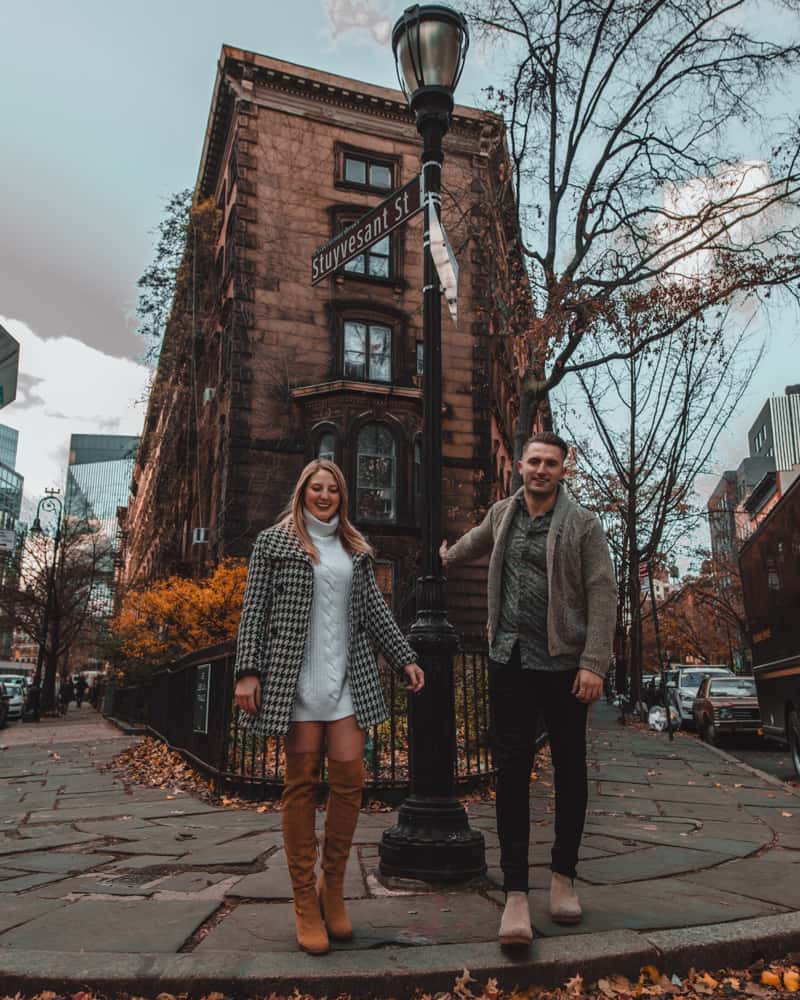 12. L'Appartement Sézane
L'Appartement Sézanecute is a clothing boutique that changes it's adorable decor with the seasons! It's a favorite photo shoot location amongst bloggers! The pictures shown are what it looked like in December. A pretty spot to take advantage of some NYC street photography.
Location: Nolita- 254 Elizabeth St.
13. The Empire State Building
You may have  already heard that the Empire State building had a massive 165 million dollar renovation. It reopened in 2019 with new views points, interactive displays and plenty of spots to soak up the history. There are now three different viewing points and with the various ticket options so you an do 1, or all 3!
Photography Tip
Get the earliest ticket time and head to the top first, if you can!
Location: Midtown
14. The Oculus at the World Trade Center
The Oculus is transport hub and mall in downtown NYC. The white symmetrical walls will give a nice contrast to your other NYC photos!
Photography Tips
Take this photo on the 2nd level at the Oculus. I had someone stand a few feet behind me and wait until there was a gap in the traffic flow of people!
Location: Financial District, Church St.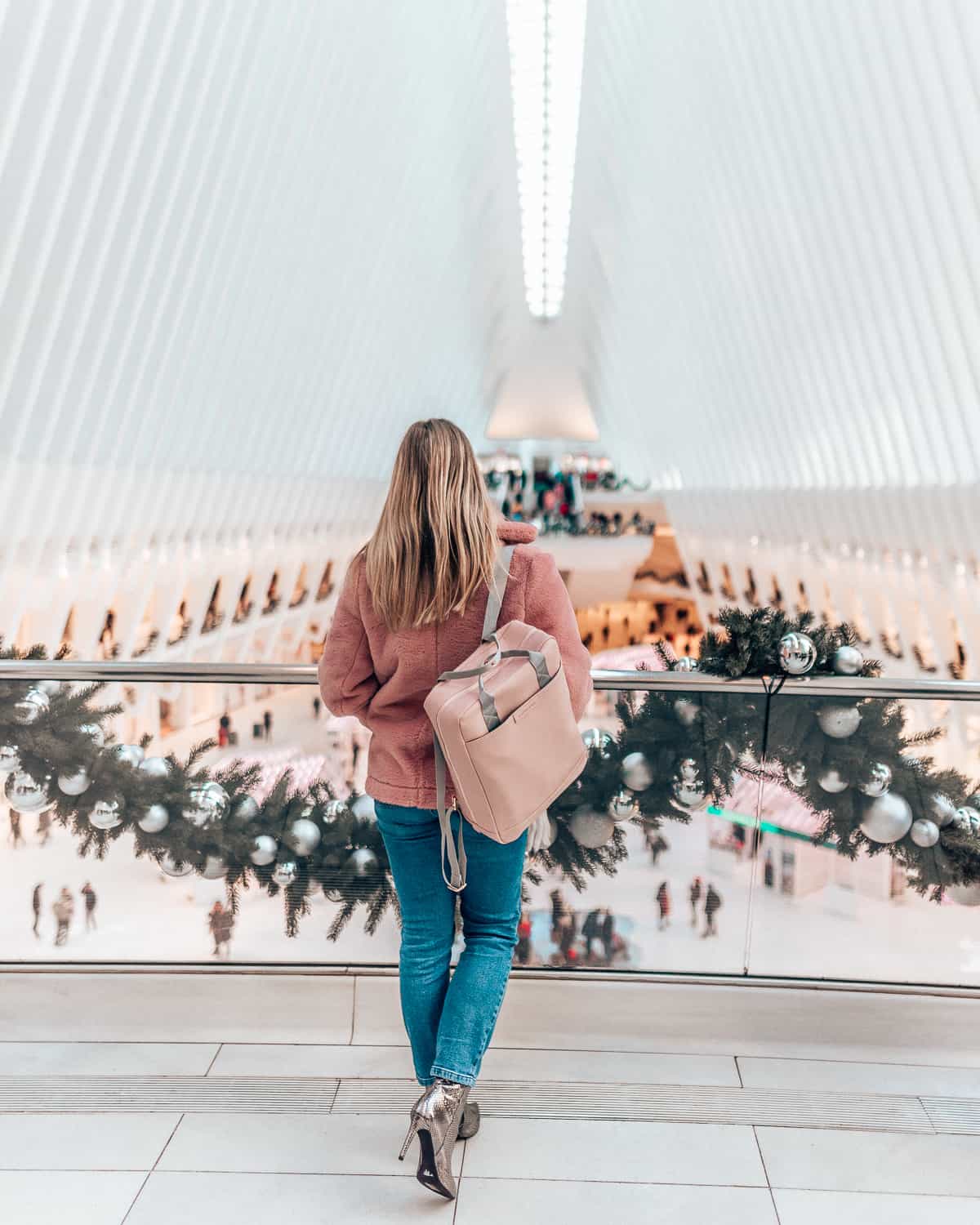 15. Tudor City Overpass
Day or night this is one of my new favorite photo spots in New York City!  To get to this street photography spot, take the stairs leading up to the overpass. Part of the reason I love this NYC photo shoot location is because it's  much less touristy then some of the others and gives a whole new vantage point! Manhattanhenge takes place here a couple times a year which is a big event for NYC.
Location: Midtown East, Tudor City Place
16. The Met Steps
Any Gossip girl fans out there?! The Metropolitan Museum of Art is where Serena and Blair loved to eat lunch. Head inside for one of the most magnificent art collections in the world and take a photo on these super instagrammable steps!
Location: Upper East Side, 1000 5th Ave

17. Times Square
Times Square has over 55 giant LED display lights, so in terms of light it makes it pretty easy to take photos here day or night. You'd actually be better off coming here in the middle of the night! Any other time, the crowds will be the challenge, but it could also add a cool aesthetic to the photo. Think outside the box to get a Instagram worthy angle!
Location: Midtown, Broadway and Seventh Ave.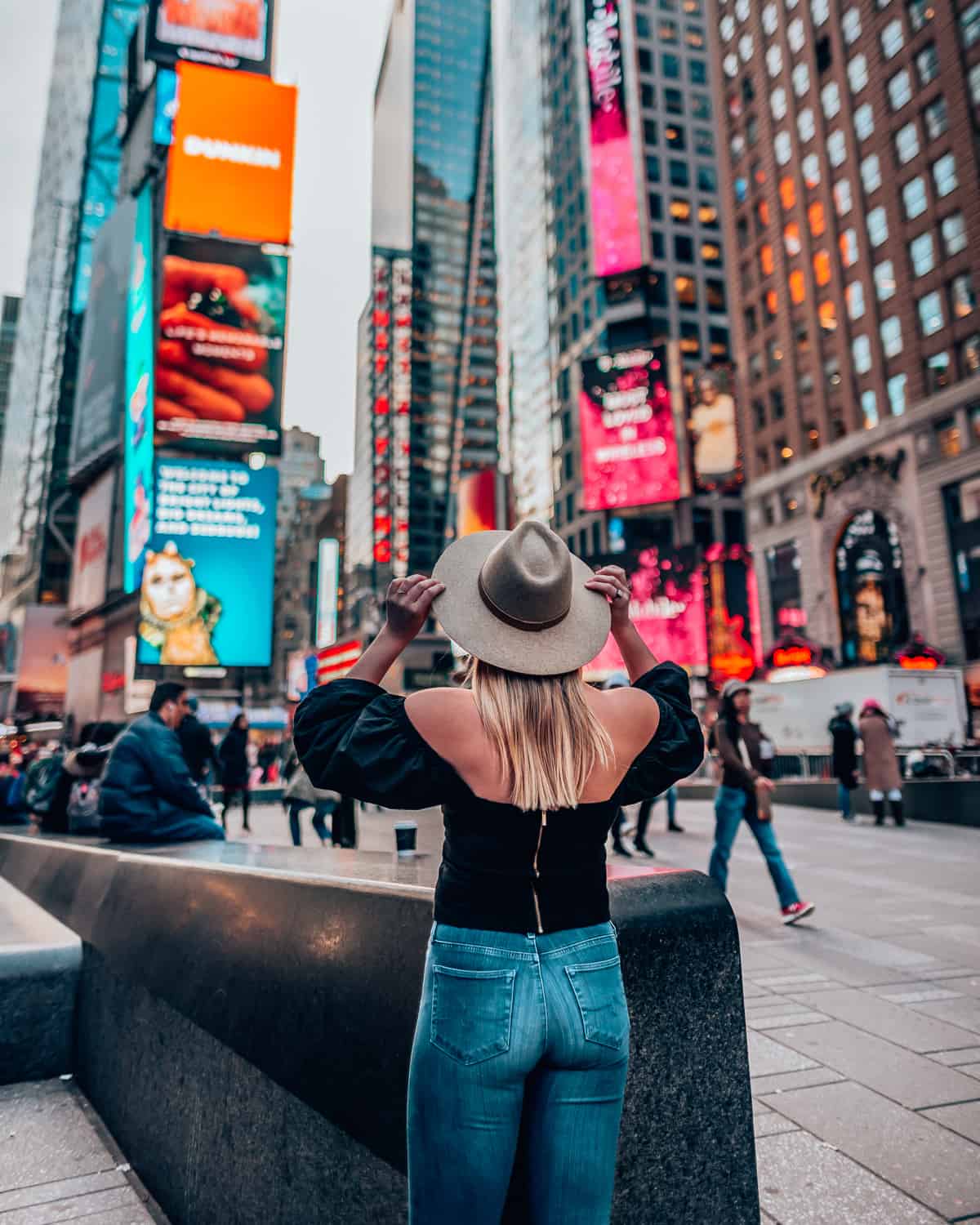 18. Nomo Soho
Nomo Soho is a hotel with an insta-worthy entrance as well as restaurant. I came here on a Thursday afternoon and there was hardly anyone around. It was easy for me to snap a few photos! The twinkly lights and chandeliers make for an industrial chic look.
Photography Tip 
Even if you aren't staying here, it's fine to get a photo! I've never had a problem, and I even used their lobby restoom.
Location: Soho, Nomo Soho Hotel + Nomo Kitchen, 9 Crosby St, New York, NY 10013
19. NYC Rooftop Bars with Amazing Views
If there's one thing New Yorkers are passionate about it's sky high drinking. As soon as the weather allows, city dwellers flock to the most instagramamble places in NYC; Rooftop bars with skyline views. Here are some of the coolest rooftop bars in New York:
Mr. Purple
Jimmy at the James
Westlight
The Williamsburg Hotel
The Skylark
Refinery Rooftop
Bar 54 at the Hyatt centric Times Square
The Crown
So many Instagram worthy cafes to grab your caffeine fix. Take your pick! Whether you want cute latte art or an iced matcha, NYC has got you covered! Here are some of the prettiest and most popular ones:
Cha Cha Matcha
Remi Flower & Coffee
Blank Slate
Maman
Felix Roasting Co.
21. Coney Island Boardwalk
A seriously nostalgic Brooklyn location.  The famous Coney Island amusement park, Nathan's hotdogs and lots of old school fun. Go for vitamin D, stay for the cute photo opps!
Location: Coney Island, Brooklyn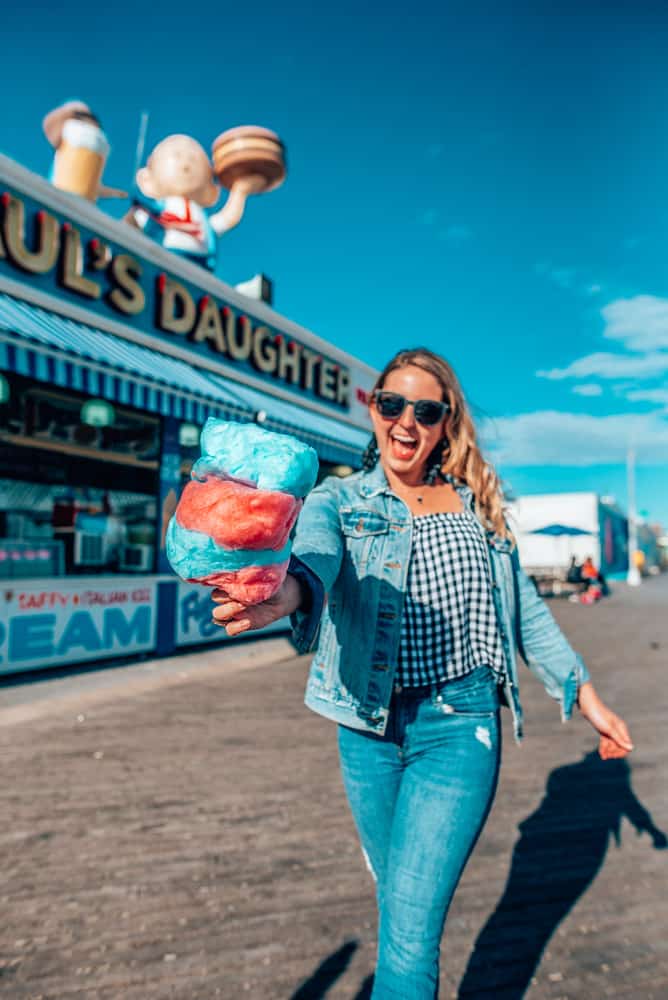 22. Radio City Music Hall
The lights at Radio City Music Hall lights are fun to photograph any time of the year but are especially fun during the holidays!
I'd suggest going here around dusk when the lights really start to pop.
Location: 1260 6th Ave, New York, NY 10020
23. St. Patrick's Cathedral
St. Patrick's Cathedral on fifth Avenue is a Roman Catholic cathedral church decorated Neo-Gothic-style. It makes a major impression up against the other buildings. I love quirky photo spots like this that sometimes get overlooked!
Location: 5th Ave, New York, NY 10022
The Edge is brand new and is the highest outdoor sky deck in the Western Hemisphere!! At the tip of the Edge you'll find yourself with a 360 degree view unlike anywhere else in New York City! It's a one of a kind photo location and conveniently located in the same area as the Vessel, so try and do both if you can! The cheapest adult ticket costs $36.
Location: Hudson Yards, Midtown, Manhattan
View this post on Instagram
25.  The Statue of Liberty National Monument
Get up close and personal to this special gift from France. Take a trip over to Liberty Island on a tour or see it in the distance from lower Manhattan pr the Staten Island Ferry.
Location: Liberty Island
26. Stone Street
Stone Street is a pedestrianized street in the heart of the Financial District. It's a popular historic street known for bar hopping, especially during happy hour. It's one of the only areas in New York you can drink on the street and the twinkly lights above make for a pretty picture.
Location: Financial District
View this post on Instagram
Other Most Instagrammable places in NYC:
Staten Island Ferry
Delmonico's flagship location
Roosevelt Island Cable Car
Albertine's Bookshop
Pebble Beach
Brooklyn Bridge Park
Prospect Park
Brownstones in Brooklyn
Barney's Staircase
One World Trade Center Observatory
Guggenheim Museum
Manhattanhenge
Doyers Street in Chinatown
Hotel Brooklyn Bridge
Brooklyn Street Art
Where do you think the most instagrammable places in NYC are?
If you're looking for an amazing NYC based photographer contact Amanda Vaelynn. She took all the couple photos featured here from Dumbo and Flatiron and really captured that New York aesthetic!
Check out my other Instagram Guides :
Heading to NYC around the Holidays?