Guide to Downtown Santa Barbara, California: Things to Do, Eat + Where to Stay
I finally got to explore some of the adorable beach towns in California like Laguna Beach and downtown Santa Barbara! Let me tell you, Santa Barbara really took me by surprise. The number of things to do, incredible places to eat and of course, all the wine your little heart desires made it one fun getaway!
What is Santa Barbara, California known for?
Santa Barbara is home to UC Santa Barbara so essentially, it's a college town! Though I can tell you it's nothing like the college towns in New York…
The Santa Barbara coastline is known as the American Riviera because of it's similarities to the French Riviera. As you might have guessed that includes the comparisons of coastal living, plenty of wine, beaches and arts.
Something I felt right away about downtown Santa Barbara and other parts we explored was it's classy atmosphere while still seeming quite laid back.
Where is Santa Barbara County?
The county of Santa Barbara County lies just north of L.A. County. The drive from L.A. to downtown Santa Barbara is about 100 miles and usually takes a couple hours to drive there depending on traffic.
Distance from LA : 100 miles
Distance from San Francisco : 320 miles
Distance from San Diego : 215 miles
Cities within Santa Barbara County:
Buellton
Carpinteria
Goleta
Guadalupe
Lompoc
Santa Barbara
Santa Maria
Solvang
Getting there from Los Angeles
The Amtrak Pacific Surfliner connects the California coast from San Diego to San Luis Obsipo through L.A.
The Santa Barbara Amtrak station is right in the downtown area. From the station you can walk to hotels and restaurants or the ocean!
Bikes and surf boards welcome on board!
Coastal views throughout the journey.
Wifi onboard.
By Car
Since the drive is only 100 miles it should theoretically take you under two hours to get to downtown Santa Barbara from L.A. When I went, it took closer to three hours. Keep in mind I was there over a holiday weekend.
The drive is stunning so will somewhat distract you from the traffic!
The Greyhound bus station in Santa Barbara has the same downtown location as Amtrak. Easy access to where you want to go upon arrival.
Prices as low as $20 for a round trip!!
Two hour journey for L.A.
Getting Around Santa Barbara's Downtown
You do not necessarily need a car unless you want to explore other areas of the county and go beyond the downtown. I highly suggest Santa Barbara as amazing destination to visit if you're car-less. There is more than enough to discover on foot, or go a bit further on a bicycle.
WALK  OR BIKE
Many of the streets have bike lanes and their is a lovely bike path along the beach. Check with your hotel about borrowing bikes or rent one from a local company.
Parking
There is parking through out the downtown area for a low hourly fee. I actually managed to park on the outskirts of town for free, but I'm not sure how common that is.
Downtown Santa Barbara, California
The main street in downtown Santa Barbara is State Street, which runs north to south.
Restaurants, shopping, bars and Spanish history make up this vibrant downtown.
In the hot California summer, downtown Santa Barbara is a perfect destination, especially because it can be up to 15 degrees cooler than say, Solvang, which is a 3o minutes drive inland.
The Best Things to Do Downtown
Visit Old Mission.
Tour the beautiful Mission grounds on your own or with a docent. You'll find gardens, a museum and historical cemetery across 16 acres.
Takes photos at the Chromatic Gate.
The Chromatic Gate is a popular photos spot designed by Herbert Bayer. The rainbow artwork is located in Cabrillo Park, 633 East Cabrillo Blvd., Santa Barbara, CA. 
El Presidio
The El Presidio de Santa Barba Historic Park preserves the site of the last Spanish fortress in upper California. Two of the original adobe buildings are still open to the public.  Admission is $5 per adult.
Ride a trolley around town.
Go on a Trolley tour of Santa Barbara. You can use the trolley as a way to get around town and make as many stops as you'd like. The full loop non stop is 90 minutes.
Grab fish n'chips at Stearn's Wharf.
Make your way around the many (wine or beer) tasting rooms.
No need for me to tell you which ones, you'll see plenty!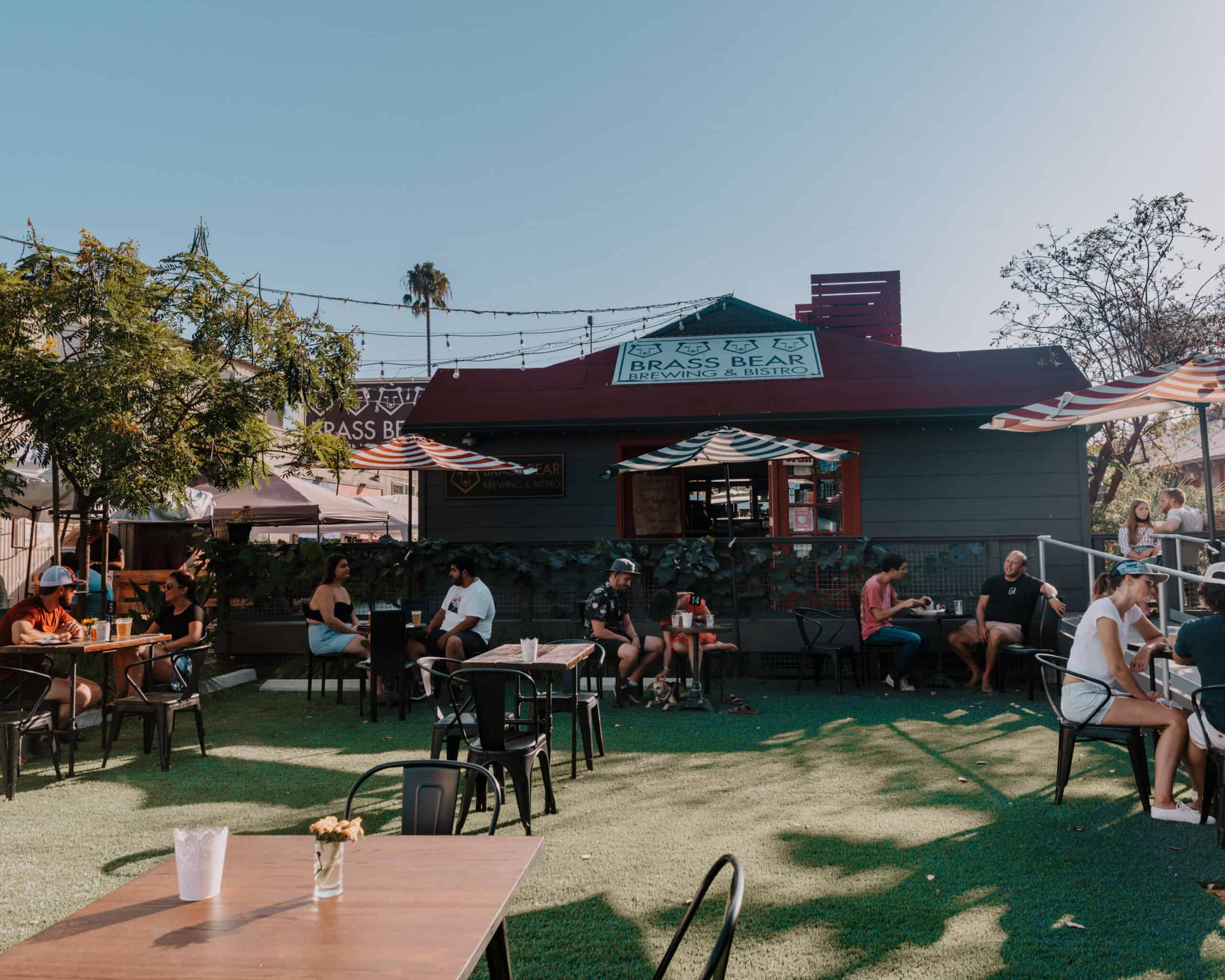 Walk down State Street.
Downtown Santa Barbara's central street and home to restaurants, bars, shopping and more.
Do a Funk Zone Food Tour.
Guide yourself around to try local food and drinks or join a group food and photo tour.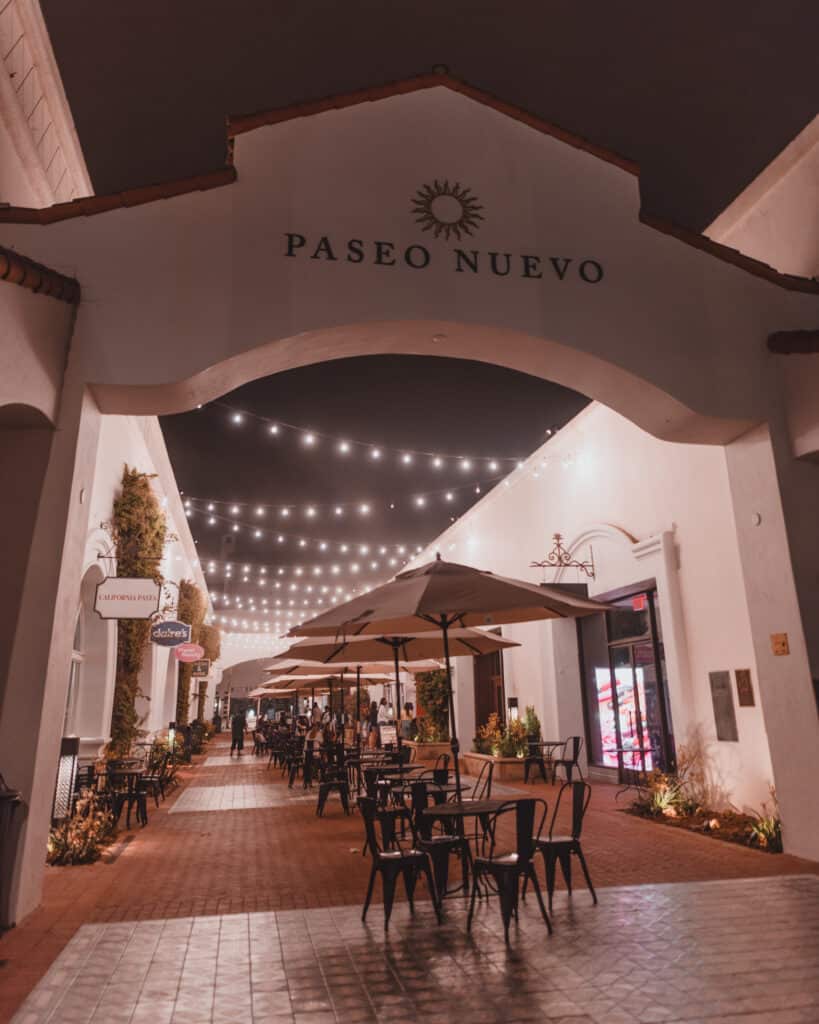 Santa Barbara's Beaches
East Beach
East Beach lies in front of the downtown and stretches from Stearn's Wharf to Sycamore Creek. It's location makes it a very popular beach.
West Beach
West Beach is a smaller beach to the west of the pier. It's next to the Santa Barbara Harbor and very close to the train station.
Butterfly Beach
Butterfly Beach is known as Santa Barbara's upscale beach. It may have something to do with the factor that one of it's neighbors is the Four Seasons and is frequented by celebrities!
Things to Do near Downtown + Day Trip Ideas
Visit Santa Barbara Botanic Garden.
If you brought your car, see a movie at the West Wind Drive In.
Go Whale Watching and be amazed!
Condor Express Whale Watching
Sunset Kidd
Captain Jack's 
Visit Arroyo Burro Beach County Park.
Hike to Tangerine Falls in Montecito.
A 2.5 mile hike in the Los Padres National Forest that should take you less than two hours. Be aware that if it's been dry, there might be no waterfall at all!
Enjoy the wineries of Santa Barbara County.
You can do your own tour or join a guided wine tour and let them do all of the work!
Discover Danish culture in Solvang.
A town just a 30 minute drive to Santa Barbara, but feels like Denmark! I definitely did not expect to find a piece of Europe in the middle of California!
Cycle down to Montecito.
See Butterfly beach and then have a drink at the Four Seasons Biltmore. It's currently closed for renovations, but plans to reopen in 2021.
Where to Eat and Drink:  Restaurants, Cafes and Bars
If you're headed to Santa Barbara on a weekend or in summer, make reservations! The top places to eat fill up quickly. If you can't get a reservation, I'd suggest eating somewhere in Funk Town. Many of the places there are order at the counter and though they have a more casual vibe, still have incredible dishes to offer.
This is not an exhaustive list, but I've named a few spots I tried out and others that came highly recommended!
Brass Bear Brewery and Bistro
A family run brewery and bistro located in Funk Town. They have a selection of  their own beer and serve tasty casual food. I had the tri-tip beef skewers and shrimp skewers with pasta salad and potato cakes. Everything tasted so fresh and was packed with flavor!
The Lark
I was told by numerous locals and tourists alike that The Lark might just be in the best restaurant in town. Sadly, since we didn't make reservations ahead of time we didn't get to eat here.
Coastal cuisine using quality, local ingredients. The menu is short and sweet, which is always a good thing for indecisive people like me, and can usually mean the restaurants focus on doing fews dishes very well.
The Project Restaurant and Tap Room
Mexican inspired street food made with the freshest ingredients and a modern twist. We tried the poke bowl, guacamole, street corn, tacos and more and loved every bite!
La Super Rica
Cash-only take away taco spot with patio seating. La Super Rica has had many mentions from Julia Child, as one of her favorite places to eat in Santa Barbara!
Zaytoon
Serving high quality Lebanese dishes in their gorgeous patio dining area. Live music and dancers on some nights.
Farmer Boy
Open since 1958, Farmer Boy is a Santa Barbara staple. Come here for the all day breakfast.
Mcconnell's Fine Ice Cream
A classic ice cream shop that's been serving Santa Barbara since 1949. Ice cream made from scratch without all the additives.
Handlebar Coffee Roasters
Run by two professional cyclists, now devoted coffee enthusiasts, providing Santa Barbara with the best coffee around.
Toma
Beautiful Italian Mediterranean dishes like grilled octopus, burrata salad, ravioli and lasagne. I ate every last stop of my pasta dish!
Paradise Springs Winery
I loved trying the different wines form Paradise Springs winery, each one was better than the next! Get a flight of five wines for $15.
Firgueora Mountain Brewery Tasting Room
An independent brewery with tasting rooms in six California coast locations.
The Red Piano
A live music venue in downtown Santa Barbara.
Test Pilot
A classy tiki bar located right next to the Paradise Springs Winery. Tropical cocktails with colorful mugs to match.
The Good Lion
A cocktail bar with live jazz on State Street.
Where I Stayed
I absolutely loved this hotel! We only stayed here for one night, but it was amazing. First of all, they have an incredible rooftop with a pool, hot tub, loungers and a view of the mountains. Unfortunately, it was very cloudy when I brought out my camera, but I had witnessed the scenery earlier in the day.
The hotel also does free wine in the lobby every evening and free coffee every morning! Gosh they know how to make me happy.
The design of the hotel is stunning, the staff was super friendly and they even have bikes for you to use which are perfect for touring Santa Barbara!
I stayed at the Mar Monte for only one night as well, and enjoyed the location and common space most of all. The Mar Monte Hotel recently became part of the Unbound Collection by Hyatt and underwent a revamp. It's directly across from the beach.
The rooms are simple, but the main hotel building is rustic and chic. They have a pool and gorgeous outdoor sitting area with a fireplace. We brought a bottle back with us one night and sat out drinking by the fireplace and no one seemed to care. It was a great way to end the day.
Other Boutique Hotels that caught my eye:
What to Pack for the Weekend
Santa Barbara has a mild climate and can be 15 degrees cooler than a town 30 minutes inland. Make sure you are prepared for coastal weather which can typically mean cool breezes and lower temperatures in the evenings.
Remember, Santa Barbara is a beach town and the dress feels quite casual, but you'll still want to look put together.
Bathing suit
Hat
Sunscreen
Sun dresses
Sweater
Jacket + jeans for the cool evenings
Is Santa Barbara dog friendly?
Yes! I saw dogs at a number of the bars and restaurants, many of which had outdoor space. You should still check and make sure where you are going will accommodate dogs.
Both hotels I stayed at were dog friendly you just had to let them know if you were bringing one and pay the pet fee.
Is Santa Barbara expensive?
I did find Santa Barbara more on the expensive side. The hotel prices seemed high, but it's all relative. Like I mentioned, I visited Santa Barbara during a holiday weekend. I'm sure if you went in shoulder season you could snag some deals.
Santa Barbara is a prime beachfront city in California and I felt that generally the prices reflected that.
From what I experienced In terms of food in drink, I thought it was good value.
Is  Santa Barbara, CA worth visiting?
YES! I didn't have any expectations and ended up finding Santa Barbara an incredible little getaway. The quality of  food and drink (especially the wine) was excellent and always a big factor for whether a place gets my stamp of approval or not.
The beaches were lovely and located conveniently to the town. Activities like kayaking, biking, walking tours, museums all at your disposal!