Tips for visiting Half Moon Beach, Massachusetts
Half Moon Beach is one of the prettiest beaches in Massachusetts. This crescent shaped beach is one of the seven beaches you'll find in Gloucester, MA on Cape Ann.
Half Moon Beach is open to the public and is a lovely spot for a morning walk, sunbathing or to watch the sunset. The color of the water changes according to the time of day and the light so can give totally different looks!
How do you get to Half Moon Beach, Ma?
Address: Western Ave, Gloucester, MA 01930, USA
Half Moon Beach lies on Cape Ann in the Gloucester Harbor. It's a rather hidden beach meaning that you won't see until you're right above it!
To get to this beach you'll want to park in the lot at Stage Fort Park. Once you pay the fee and park, locate the visitor's center across the street. Walk pass on the visitor center on the right hand side until you get to the edge of the park where you'll see the water and finally the beach! You will then see a path that leads down to the sand.
Beach Parking
Residents with beach stickers are able to forego the fee, but for us out-of-towners this is what it costs:
CASH ONLY – ATM LOCATED AT THE CUPBOARD
Weekdays: $15
Weekends: $20
On my early morning visit to the beach, I parked for free in front of the visitor center. By 8am there was someone waiting to take money for the parking.
The beach parking fills up very quickly during peak season as Gloucester is a popular summer getaway.  I suggest getting there before 9:30 am during summer, or hot weekend days.
If you're hotel is close enough, you could always walk from there or other town parking. I'm sure you'll work up a sweat and want to jump right in the water!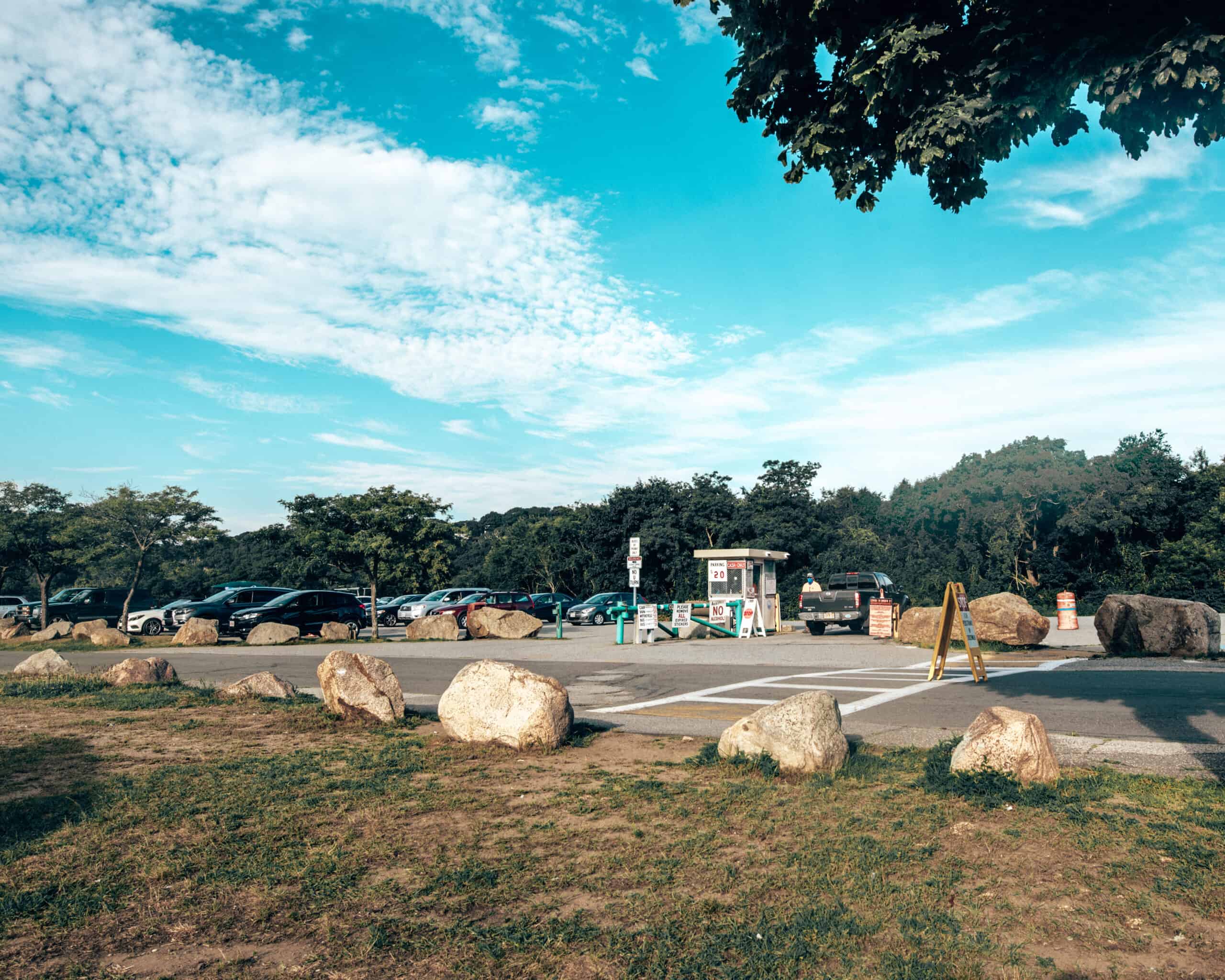 Half Moon Beach and Stage Fort Park Map
Amenities at Half Moon Beach Gloucester + Stage Fort Park
Stage Fort park has plenty amenities including a visitor center, picnic tables, playing fields and a pavilion. It's also home to another beach, Cressy beach.
Lifeguards: Memorial Day weekend through Labor Day from 9:00 am to 5:00 pm
Dogs: Allowed in the park, but not on the beach and must be on a leash. A fenced in dog park is also located here. (The dogs in the photos are not mine!)
Food: The Cupboard has been family owned and operated since 1964 and serves light bites, sandwiches, salads and fried fish plates.  CASH ONLY – ATM ON SITE
Restrooms: Located at the back of the visitors center.
Pavilion Event Space : Permit needed for event use. Cost is $250 or $75 respectively.
What's Nearby?
Half Moon Beach is about a mile from the Gloucester town center and is accessible on foot by walking the Gloucester Harborwalk. You'll find a number of restaurants, cafes, shops and bars in town to choose from.
Beauport Hotel, The Hydragea Inn and Cape Ann's Marina Resort and The Inn at Babson Court are you closest accommodation options.
Beaches to visit in Cape Ann, Massachusetts
I definitely enjoyed going to Half Moon Beach in the early morning to take photos and admire the cove, overall it's a cool little spot. Since it's quite small and covered it's an ideal option for a family day at the beach. The families I saw were clearly going to be there all day and had coolers and plenty of beach gear with them.
In terms of sunbathing and enjoying a full beach day, I personally preferred Wingaersheek and Good Harbor Beach. They are long sandy beaches beaches with much more space. Try visiting a few and see which one you like best!
Wingaersheek
Good Harbor Beach
Singing Beach
Long Beach
Pebble Beach
Cressy Beach
Pavilion Beach
Plum Cove Beach
Niles Beach
You can find more beach information from City of Gloucester.