Travel Guide to the Island of Curaçao; Things to Do + See
Have you ever thought of visiting the island of Curaçao? This Dutch Caribbean island is an absolute gem and offers so much more than I expected. The beaches are stunning, the architecture is amazing and don't even get me started on the food which has both European and West Indian influences.
What country owns the Island of Curaçao and where is it?
Curaçao is one of the three ABC Islands and while it's part of the Kingdom of the Netherlands, it's an autonomous island with its own functioning government.
It is located in the Southern Caribbean sea near  it's sister islands, Aruba and Bonaire. Curaçao is the biggest of the three islands which are all in close proximity to the coast of Venezuela.
The ABC Islands are also part of a chain of islands called the Leeward Antilles.
What is the island of Curaçao known for?
The island of Curaçao is most known for it's collection of breathtaking beaches.  With more than 40 beaches dotted along the coast, you'll definitely find one that you love. Many of the beaches are situated in coves creating a calm shoreline to wade into and the almost year round trade winds will help keep you cool.
The island is very unique in that is has influences from a number of cultures including Dutch, African and Latin American.
Curaçao is conveniently located outside the hurricane belt, making it a solid choice for a low stress vacation.


Things to know before you Go
Languages:
Curaçao's native language is Papiamentu which is a Creole blend of African, Spanish, Portuguese, Dutch, French, English, and Arawak Indian.
The official languages in Curaçao are Dutch, Papiamentu, and English.
Key words and phrases:
Danki : Thank You
Masha Danki : Thank you very much
Bon bini : Welcome
Bon Dia : Good day
Mi dushi : My love
Ayo : Goodbye
Di nada : You're welcome
Currency:
Netherlands Antillean guilder.
Outlets:
The outlet situation is a bit confusing. I had read that the outlets were the same as American, but my plugs didn't work in the outlets when I arrived. Luckily the hotel gave me adapters so it worked out fine, but definitely reach out to where you are staying before hand so you know what you need to bring with you.
Best Time to Go:
Curaçao really is a year round destination.  The island lies outside the hurricane belt and has one of the lowest chances of getting hit by a hurricane out of all of the Caribbean islands.
Like most Caribbean destinations, the peak season for tourism in Curaçao is typically from mid December to mid April. During the rest of the year travel costs for flights and accommodation will be lower.
Average Temperature :
Average high temperatures on the island of Curaçao are in the 80's and low 90's and the average lows are in the mid 70s.
Population:
Around 160,000 people live on the island of Curaçao.
 Legal Drinking Age :
The legal drinking age in Curaçao is 18 years old.
Current Entry Requirements
Current entry requirements from the United States to Curaçao are as stated by the Curaçao Tourist Board:
Tourists should be in possession of:
Your passport must not be more than 10 years old.
Your passport must be valid for the whole of your stay.
You must have proof that you can return to your country of departure, or transit through another country. This could be a passport, residence permit or visa.
You can provide proof of the reason for your stay. For instance, a hotel reservation or an invitation from family or friends.
You must have enough money to cover your stay and any other expenses.
You must have valid medical insurance or travel insurance that covers medical expenses. The insurance must provide coverage for medical expenses and include hospital care, emergency treatment and repatriation (including in the event of death).
You must not be considered a threat to public order, public health, national security or international relations.
Fill Out your Digital Immigration Card
The Curaçao Digital Immigration Card can be found here.
Provide proof a Negative Covid Test
All travelers must be able to present a certified negative result of a COVID-19 PCR-test taken within 72 hours of departure from an accredited laboratory. The traveler must carry a printed proof of a negative PCR-test as well as upload it to www.dicardcuracao.com prior to departure.
Provide proof of a Negative Antigen test on day three of trip.
Antigen testing requirement: Travelers arriving to Curaçao from high risk countries who have not been diagnosed with COVID-19 in the last six months will be required to take an antigen test at a local laboratory on the third day of their stay. For more information, please visit www.dicardcuracao.com.
Please make sure to check the Curaçao Tourist Board Website and the CDC to stay up to date before your trip.
Is it Expensive to Visit the Island of Curaçao?
Coming from NYC, this is always a difficult question for me to answer. Pretty much everything is less expensive than NYC.
I don't think that Curaçao is necessarily a "cheap" island to visit. There are certainly others that will cost you less. However, I wasn't seeking out cheap eats or doing a budget trip on this occasion. Food and drink prices seemed to be pretty similar or slightly less than what I would pay for a meal of equal quality in the U.S. (outside of NYC).
Getting Around the Island of Curaçao
Rent a Car
Renting a car is the best option for exploring Curacao. They drive on the right side of the road which is a plus for us Americans.
Take the Bus
The public transportation on Curaçao is very limited –  the island bus company is called Autobus Bedrijf.
Take a Taxi
Currently there are no ride sharing services, but you can call a taxi.
Things to do in Willemstad, Curacao
Go on a Walking tour through Willemstad (Punda, Otrobanda & Scharloo).
The historic city of Willemstad is a UNESCO World Heritage site and must see on your time on Curacao.
Otrobanda
Otrobanda is one of the most historic and important quarters of Willemstad. The district was developed in the 18th century and picked up in the early 19th century when the once walled city of Punda became overpopulated. You it is filled with murals painted by local artists which you can enjoy on your exploration.
Punda
Punda district can easily be explored on foot and is home to some of the city's best sights including the Queen Emma Floating Bridge, Wilhelmina Plaza, the Governor's Mansion and more.
Scharloo
Scharloo is where you'll discover unique architecture, history and most iconic monuments, along with art murals by local and international artists. You'll see how neighborhood revitalization is taking place and how it is positively impacting the area.
Wander the Pietermaii District.
The historic Pietermaii District is a lively area full or restaurants, shops, bars and more to enjoy.  This is where Avila Beach Hotel, Miles Jazz Cafe and Saint Tropez Ocean Club and Suites are located.
Marvel at the Queen Emma Pontoon Bridge.
The Queen Emma Pontoon Bridge is a pedestrian only bridge that connects the two ends of Willemstad, Punda and Otrobanda. It was pretty cool to witness the bridge swing open to watch boats sail through.
Shop at the Floating Market.
South American goodies are brought over by boat from Venezuela to the island of Curaçao. Shop for tropical fruits and vegetables or fresh caught fish!
See amazing Street Art.
There's so much beautiful street art to see in Willemstad! Take a walking tour to fully admire it.
Visit Queen Wilhelmina Park.
Queen Wilhelmina Park is a small park in the city of Willemstad. This is where you'll find the giant "Curaçao" sign!
Visit Mikvé Israel-Emanuel Synagogue.
This is the oldest surviving synagogue in the Western Hemisphere. It's a major tourist attraction on the island of Curaçao and has sand covering the inside flooring of the structure.
See Fort Amsterdam.
Fort Amsterdam was built in 1635 and  used as a base and military fort for the Dutch West Indian Company. In present day it is  used as a government building.



Attend a Festival or Event on the island of Curaçao. (These events are not happening in 2021)
Curacao North Sea Jazz Festival
Carnival
Pietermaai Pagara XXL
Fuikdag
Pro-Am Golf Tournament
Curaçao Restaurant Week
Things to do on the Island of Curaçao
Visit the west side of Curaçao island.
Westpunt, or Bándabou in Papiamentu, is the rural, western part of the island. This area is home to some of the most beautiful beaches in Curaçao, as well as Shete Boka National Park and various plantation houses.
Stop at Shete Boka National Park.
See awe-inspiring waves at Shete Boka National Park. The rugged limestone topography has been carved by the powerful crashing waves. It makes for a great photo opp!
Go kayaking at Playa Piskadó.
Kayaking in Curaçao was one of the highlights of my trip! It's always nice to these things from a different perspective and the water is just so calm and blue!
Playa Piskadó is known for their crystal clear waters, sea turtles and schools of fish. You'll see a number of small fishing boats here as well.
Stop for incredible photos at Playa Kenepa.
Playa Kenepa is consistently rated Curaçao's No. 1 beach. It's located on the western tip of the island in a less populated and quieter region, it may feel like you have the entire place to yourself.
Visit Den Paradera.
'Den Paradera,' is a unique garden on the eastern side of the island. It was founded by Curaçao's most popular herbalist Dinah Veeris. Many of the ingredients found in Dinah's products actually originate from her garden. In addition to the large numbers of medicinal and useful herbs grown for production, the garden also serves an educational function on the island. Tourists, as well as school children, often visit to gain knowledge of the island's flora and fauna, and to be amazed by Dinah's use of herbs.
This was a really interesting tour and I even bought a jar of some of here clay face mask to take home!
Tour and sample at the Chobolobo Liquor Factory.
"Landhuis Chobolobo" is  a 19th century mansion is a unique landmark with colonial architecture that exudes a Caribbean charm. You can take a tour through the Curaçao liquor distillery to learn about the  history of Blue Curaçao, as well as hear about its' distillation process.
There is a bar at the end so you can sample and taste the liquor in some cocktails (or on it's own if you prefer!).
Go Diving or Snorkeling.
In Curaçao you can explore reefs and see underwater wildlife year round! There are some of the top diving locations:
Tugboat
Watamula
Director's Bay
Beacon Point
Go Beach Hopping.
There are more than 30 beaches accessible by car and even more by boat!
Playa Forti
Playa Kenepa
Playa Piskado
Cas Abao Beach
Playa Kalki
Klein Curacao
See the Pigs at Playa Porti.
You can visit Playa Porti for some relaxation on the sand and you might get lucky and see the pigs!
Go hiking at Christoffel National Park.
This is the biggest and most diverse park on the island of Curaçao. There are 8 different trails to choose from! You can also go on a tour, see plenty of flora and fauna or visit the Savonet Museum.
Take photos at Santa Martha Viewpoint.
The Santa Martha viewpoint is located near the abandoned Sunset Waters Resort.
See wild Flamingos at Jan Kok.
It was so cool to see these amazing pink flamingos in their natural habitat! We pulled over across from the Jan Kok Lodges near Saliña Sint Marie, the salt flats on the southern side of the road heading toward Playa Portomari to get a quick look.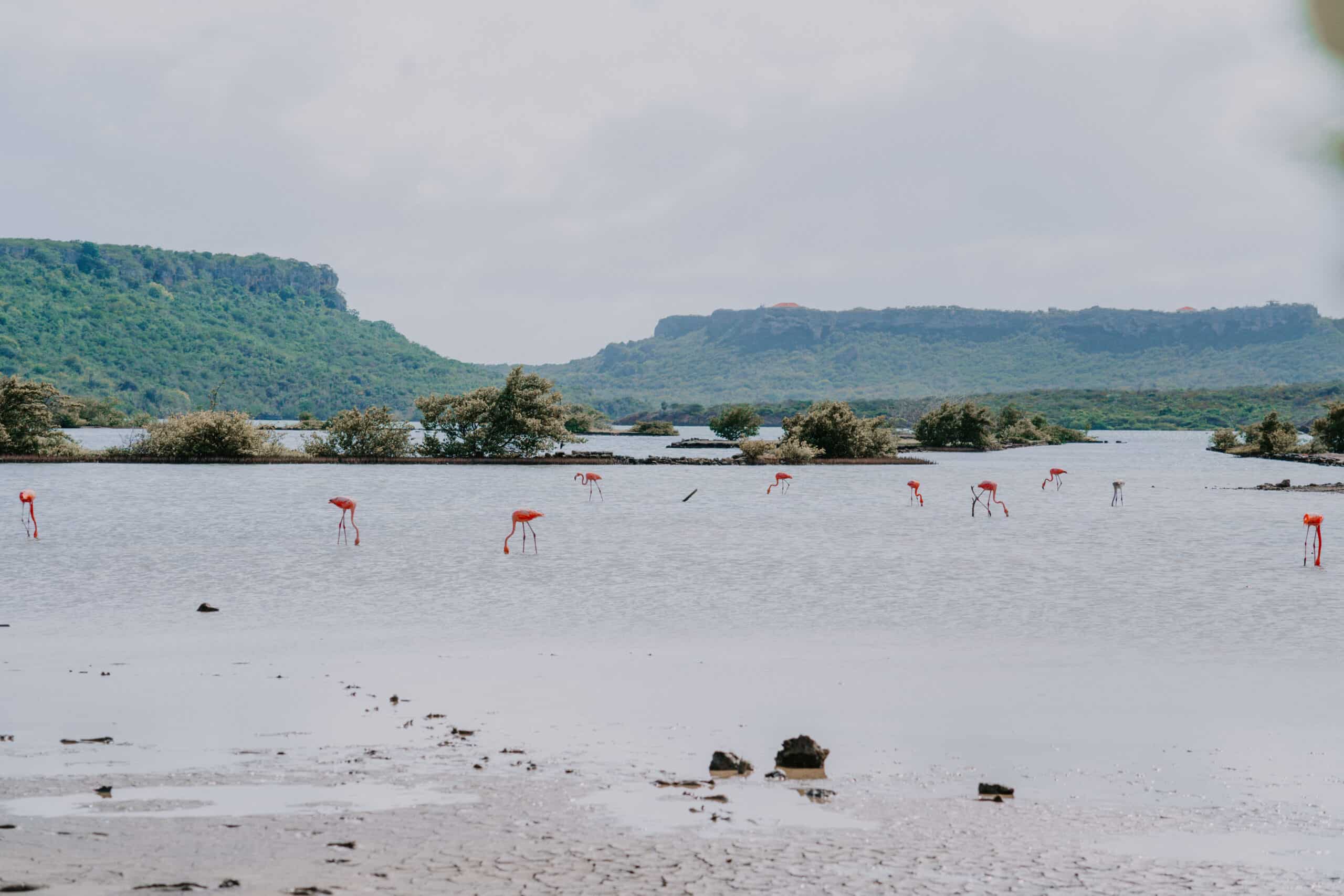 Explore the Hato Caves.
The Hato Caves are located near the airport and are more than 300,000 years old!
See Fort Beekenburg.
Take a day trip to Klein Curacao.
Klein Curaçao or 'little Curaçao' is an uninhabited island where you can check out a lighthouse and shipwrecks, snorkel and enjoy the quiet beach.
Visit Jan Thiel Beach.
Where to Stay; Hotels, Resorts, Airbnbs
Mondi Lodge is an eco-friendly tropical sanctuary where you wake up every morning in a colorful palapa to the beautiful sounds of singing birds. The big, tropical garden is filled with beautiful flowers and local wildlife such as iguanas, lizards, hummingbirds, parakeets and land crabs. And if you're lucky you can see neighboring flamingos fly over to their nesting area!
The lush property has a shared outdoor kitchen and a pool with seating around it.
Each day started with a tasty, complimentary, homemade breakfast. One day I had coconut pancakes with edible flowers on top and the next day I had an egg and cheese scramble. It was always made with so much love!
The staff at Mondi Lodge are so friendly and I adored the communal atmosphere.
Avila Beach Hotel Room Service
Coral Estate Luxury Resort
Mondi Lodge Showers
I passed by this hotel while walking in the Pietermaii District and it looked super cute!
I didn't stay at this property, but I have stayed at the Dreams property in Tulum and it was lovely!
We visited this complex to eat lunch at Karkater and were blown away by the stunning waterfront location. The property is immaculate, the food is delicious and the infinity pool is to die for!
At Papagayo Beach Hotel you can stay in modern rooms, suites, 2 bedroom or 3 bedroom villas. There are two pools, plenty of meeting space and a beach club with a restaurant.
BijBlauw is an oceanfront boutique hotel with a restaurant, bar and concept store located in Pietermaai.
Baoase Luxury Resort
Discover ultimate luxury and elegance at Baoase boutique resort. The 23 suites and rooms boast modern amenities such as a a Sonos sound system,  turndown service, ipad mini, smart tv and so much more!
Avila Beach Hotel is the oldest operating hotel on the island of Curaçao!  The original building of the hotel, the Belle Alliance (now main entrance and lobby) was built around 1780. The hotel has been renovated and updated many times since then and is now a multi faceted property offering various types of accommodation as well as modern amenities.
Avila Beach Hotel has two private beaches, an infinity pool, fitness center, museum, spa and even their own 1926 Rolls Royce which you can rent to to tour the city of Willemstad!


Where to Eat; Restaurants, Bars and Cafes
 Marshe Bieu
The airy Plasa Bieu market is situated in the heart of Punda in Willemstad. It is a rustic market with picnic tables & counters with open kitchens. This is the place to find krioyo soul cooking and a wide range of local dishes. The ingredients are purchased on a daily basis to guarantee fresh, appetizing meals. Some of the favorite dishes include stewed salted pork tails, bòkel (salted mackerel), kabes ku higra (head and liver stew), kadushi (cactus soup), bonchi kòra (red kidney bean soup) and iguana soup. Dishes are served with rice and beans, funchi (polenta), mashed potatoes or French fries.
Beware: the food can be pika pika (spicy)! During your stay visit to Plasa Bieu, you can also wander around and ask for the specialties as well as smell the aromas before ordering. While looking around, you'll often see satisfied expressions on the customers' faces.
Zanzibar Beach & Restaurant at Jan Thiel Beach
Zanzibar Beach & restaurant is located at the eastern part of the island at Jan Thiel Beach, you can find the charming Zanzibar Beach & Restaurant. As the name implies, the bar and the restaurant radiate the warmth and coziness of East Africa. Between the beachfront location, breezy palapas and delicious food (the pizza is great), you're sure to enjoy your night in Jan Thiel.
 Karkater
At this west side restaurant, you'll enjoy a delicious selection of tapas and sandwiches. The lounge chairs, hammocks and cushions, paired with amazing white sand and blue sea complete the ultimate Caribbean experience.


 Maira's Kitchen
Maira's Kitchen is inspired by the flavors of the Mediterranean but with a local, distinctly Curaçaoan touch. Known for their stews, pasta, fish, meat and veggie dishes, there are also more traditional options like a hamburger.
Mambo Beach
Hemingway
A beach bar and restaurant located at Lions Dive Resort serving international and Caribbean food.
Number 10
This excellent little café serves fresh, simple breakfasts and lunches from a restored mansion on the beautiful grounds of Landhuis Bloemhof, the most imaginative art gallery in the country. Stroll around the estate (be sure to stop at the impressive Cathedral of Thorns), then unwind in the restaurant courtyard to enjoy delicious coffee surrounded by native trees and birds.
Kokomo Beach
Kokomo beach is located at Vaarsenbaai along a beautiful natural bay on the road to Bullenbaai. With its surfers edge and in-water swings, Kokomo Beach is a popular spot to catch the sunset and grab a bite to eat.



Food and drink you should try in Curacao:
Keshi Yena
Bitterballen
Oliebollen
Funchi or Tutu
Stroopwafels
Stoba
Poffertjes
Blue Curaçao Liquer
Giambo
Karni Stoba
Iguana
What to Pack for a trip to the island of Curaçao:
Light clothing
Bathing suits
dresses
hats + sunglasses
1 light sweater or denim jacket
Backpack
Bug repellent
Sunscreen
Snorkel gear
Can you ferry to the other ABC Islands?
Unfortunately there are no ferry services connecting the ABC islands. There has been talks about creating a fast ferry between them, but this has not materialized yet. 
Things to do in Bonaire
Bonaire National Marine Park
Visit 1000 steps beach
Visit the Donkey Sanctuary
Go Diving
Klein Bonaire
Things to do in Aruba
Arikok National Park
Visit Eagle Beach
Aruba's Natural Pool
Aruba Aloe Factory
Palm Beach
Go on an ATV Tour