Things to do in Tulum: Complete Travel Guide to Mexico's Bohemian Paradise
Are you looking for the best things to do in Tulum,  Mexico? Then you've come to the right place! I've created this guide to help you in  decide if it's the right destination for you and what you can do in Mexico's bohemian paradise.
Is Tulum Open?
Sort of. The land border restrictions remain closed until at least October 21st 2020 according to Homeland Security , but Mexico has never fully closed it's borders because of COVID, though many of the hospitality establishments were closed for a given period of time. You can travel to certain areas by air or sea including the state of Quintana Roo.
Please do you own research to get up to date information as the restrictions change frequently. Make sure to check the CDC Guidelines when deciding where to travel.
About Tulum, Mexico
Tulum is the ultimate bohemian adult's playground. Set amongst gorgeous blue waters and Yucatan jungle lies this magical destination. Scents of sage and sea salt are matched with 20 somethings in bikinis and yogis practicing their craft. Tulum is different than other beach destinations. In this Quintana Roo location, beach chic meets grand-jungle design to form something totally unique.
 Recent Years
In recent years Tulum has become so popular with hipsters and increasingly expensive that I almost questioned if I really wanted to go. I mean, isn't one of the draws of Mexico that it's so cheap? Though there must be a reason it got so popular, right?
The best way to see a place like to Tulum is to enjoy it for what it is. Yes, places like Casa Malca on Tulum Beach are basically NYC prices but they're also insanely interesting and beautiful, like an art piece — and for that you have to pay.
When planning your trip, consider how much time you have to explore and if you want to incorporate wellness, adventure, or other fun activities. I hope this guide to Tulum helps in creating your perfect Mexico getaway!
Is Tulum Expensive?
Tulum is definitely expensive compared to many other parts of Mexico, but you can still enjoy it for pretty cheap if you want to. Though there are a number of luxury resorts, restaurants and spas, many of which are priced comparatively to prices in New York City and other major U.S. cities, you can stay, eat and play in Tulum on a low budget using my tips at the end of this post – or don't, and treat yourself!
Where is Mexico's Tulum?
Tulum is located on the Yucatan Peninsula in Mexico in the Riviera Maya. It's about a 90 minute drive south from Cancun. Cozumel lies to the Northeast of Tulum.
Travel Tips
Currency: Pesos
Language: Spanish, little English spoken
Best time to go: May, June, October
Electric: 127V, with a frequency of 60hz,  A, B plug type
Drive on the right side 
Tap water is not safe to drink
Make sure to have cash on you as many restaurants, cafes, taxis will be CASH only.
Know Before you Go
Tulum is a 1.5 – 2 hour drive form Cancun airport.
You can't drink the tap water in Mexico in general.
Learn basic Spanish phrases to help you get by.  Buenos Dias! (Good morning) La Cuenta, por favor? (The check, please?)
There is a wide price range for everything from cocktails and tacos to hotels and activities. You will definitely be able to find options to suit your budget, whatever it may be.
Many establishments in Tulum are cash only, but there are also a couple of spots on the beach that are cashless (how very modern!), so make sure you have both payment options. Pesos are the standard currency, but some places may take dollars. Be aware that you usually won't get the best conversion rate when paying in dollars. ATM's are located in Tulum town.
There are two big supermarkets in the town, Super Aki + Chedraui. I prefer Chedrau as it has a nicer and bigger selection.
What should I pack?
Casual beach clothes and boho luxe attire. If you haven't heard, Tulum is where rich hippies go. (although it is possible to do Tulum on a budget!)
You'll need bathing suits, cover ups, an outfit for outdoor activities and maybe some yoga pants. Many places on Tulum beach are foot wear optional but I'd suggest bringing sandals and some casual walking shoes. When packing, keep in mind the activities available to you.
When should I go to Tulum?
I went in October and we had great weather with very very little crowds – even on Colombus day weekend!
December -April is peak season with March being the busiest so avoid March if you don't like crowds .
May-September is rainy season.
October- Early December is cooler and less crowded with good deals. A perfect time to travel to Tulum!
The easiest Airport to fly into is Cancun. However, you can also fly into the Cozumel Airport, though Cozumel is an island so you will first need to take a ferry to the main land which adds and additional leg of travel
Tulum is a 1.5 hour drive from Cancun Airport. Once you land you have these three options to get the rest of the way:
Bus
From the airport you can take an ADO Bus to Tulum or take an ADO bus to playa del Carmen and switch there. There is an ADO bus kiosk as you exit the airport and they will answer any questions you have.
Private Car
There are plenty of stands as you exit the airport to get quotes from and book your ride. Always agree on the fare before the beginning your journey. We paid around $75 one way, which isn't too bad considering you can share with up to 9 people.
You should probably prebook your transfer if you're going during high season.
Car Rental
If there are only a couple of you on the trip, renting a car might be more cost efficient than paying for taxis all the time.
How to Get Around
Taxi + Uber
We never had a problem finding a taxi in, though I was there in low season. They seemed to frequently drive by. Confirm the price of fare before getting in the taxi to assure you aren't being ripped off. They are not cheap but also not the most I've ever paid. A taxi from town to the beach was costing around $7 each way. Taxi prices do go up in the evening.
There is NO UBER in Tulum although it is highly used in other places in Mexico.
Parking your Rental Car
Parking is available in town and by the beach. If you are going to a particular hotel or restaurant they have their own lots but there are also lots not associated with a hotel that you can pay to use.
We parked in one lot for $5 and one for $10 for the day.
Bus
The Colectivo Bus is much cheaper than taking a taxi. This bus runs from town to the beach, however it only runs once an hour and is often full.
Bike
Many of the hotels will have bikes for you to use, or you can rent them from somewhere. The bike ride from town to the beach is about 35-45 minutes depending on how far down the beach you're going. It can get pretty sweaty in the heat of the day so make sure you have water with you.
Where to Stay
Tulum is split up into Tulum Town (pueblo) and Tulum Beach (playa).  There are pros and cons for each which I compare for you below.  A bike ride between Tulum Town and the beach area is about 35-45 minutes, depending how far on the beach you want to end up.
Does Tulum have all inclusive resorts?
Tulum has a very limited number of massive all inclusive type properties like you'll find in abundance in it's Quintana Roo counterpart, Cancun. Most of the properties are small and boutique. It gives a totally different vibe than many other resort towns I've been to and is part of the reason I love in Tulum.
Town Vs. Beach
The town is typically cheaper on all fronts such as food and hotels. There is also easier access to other activities, the bus stations, grocery stores, etc. Staying in town may give you a more authentic Mexican experience.
Tulum's beach a.k.a. hipster heaven, is where most of the trendy hotels, restaurants, spas are. Most of the places here are quite pricey, but I mean who wouldn't like waking up to the sound of the ocean? If you will be having more chill time and less time exploring the surrounding areas the beach may be a better option for you.
I stayed in the town on this occasion but if I was there for longer I would do a few nights on the beach and a few nights in the town to get a good balance.
Boutique Hotels in the Town
Hotels and Resorts on the Beach
The beach hotels aren't just hotels. Many of them are spas, restaurants, beach clubs and more.
Azulik – One of the most instagrammable hotels in Tulum because of it's incredible tree house design!
Coco Tulum – A relaxed hotel with fun beach club and bar.
Casa Malca – A super unique combination of luxury and art in the jungle. Former residence of Pablo Escobar.
Ahau Tulum – An upscale and eco friendly resort. This hotel has plenty of activities and awesome amenities.
Hotel Panamera – This boutique hotel has just 14 rooms, a gorgeous interior pool and a beach club.
The Beach –  An adults only hotel with unique features like personal pools.
Map of What to See
I've mapped out some of the top locations in Tulum like the local cenotes, beach and ruins.
Wellness in Tulum, Mexico
Wellness is such a major part of Tulum. Many of the hotels are centered around wellness, but there are also stand alone wellness centers and spas.  Practice yoga with an ocean view at Sanara or in a treehouse room at Azulik.
Spas
Yoga classes
Sanara offers yoga classes, a wellness center and is next to the Real Coconut.
Azulik offers yoga classes on their amazing instagrammable property.
Alaya Tulum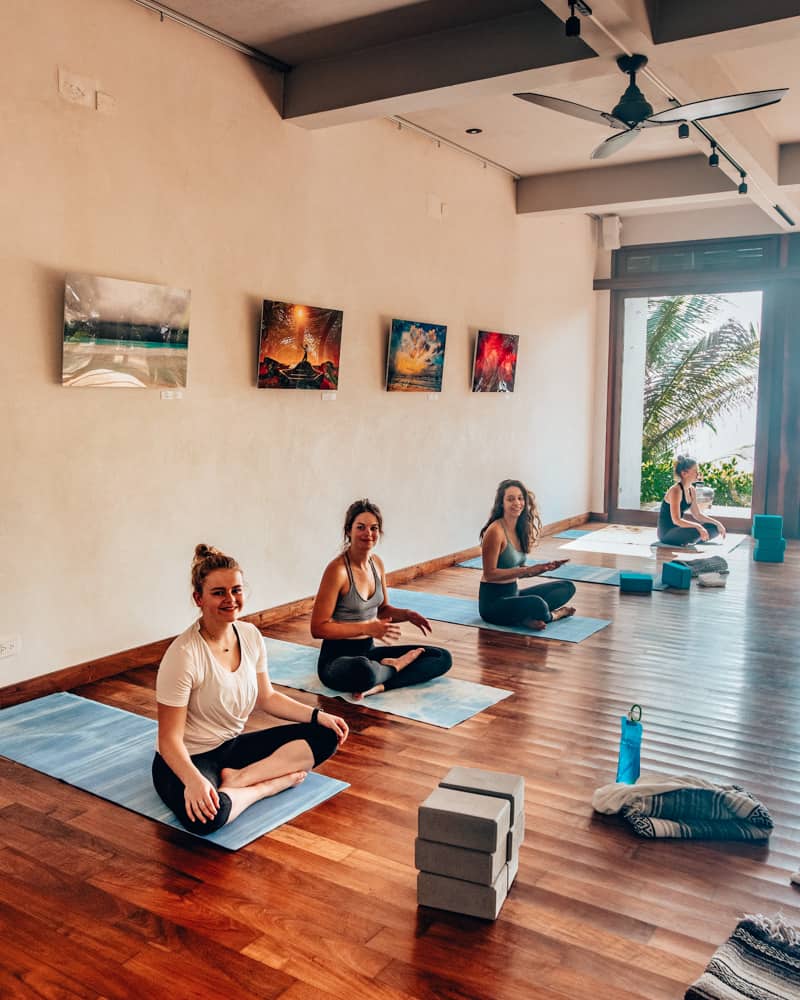 Tulum's Adventure Activities
Cenotes
When deciding on day adventures, visiting the Cenotes should be high on your list!  The cenotes or sinkholes occur from the collapse of limestone bedrock that exposes groundwater underneath.  There are way more cenotes than I had ever imagined, in this part of the Yucatan Peninsula. Most have a fee to enter and provide parking.
Cenotes to visit nearby
Visiting the Gran Cenote is one of the most popular things to do in Tulum. This incredibly gorgeous cenote is only an 8 minute drive from the town.
Cenote Dos Ojos most definitelya must see! You can take some pretty awesome photos in this underground phenomenom. It's in reachable distance for a day trip at 22 km away. You can even get there by colectivo.
Pet Cemetary gets it's name from the animal fossils found here, making it one of the more unique cenotes.
Cenote Calavera is a small cenote with a swing and two different way to enter.
Cenote Carwash (Aktun Ha) is a pond like cenote near Gran Cenote.
Other Cenotes to Visit
Casa Cenote
Casa Tortuga
Cenote Angelita
Cenote El Pit
Clan-Destino Cenote + Bar
TIP – Make sure to pack use 100% biodegrable sunscreen! No other sunscreen is allowed in the cenotes.
See The Tulum Ruins – Mayan Ruins
You can visit various different sites such as Chichén Itzá, Tulum Ruins or Coba. Coba is a little more out of the way then some of these ruins, but you an still climb one of the structures! The Tulum Ruins are so close to the town that you could even bike there!
Snorkel & Scuba Dive in the crystal blue water
Snorkeling and scuba diving is very popular is Mexico. Explore cenotes, bays and reserves from underwater.
An under the radar beautiful laguna about 15 minutes southwest of downtown Tulum. The water is a slightly green turquoise color. A less touristy spot to enjoy.
It costs 300 pesos to person and you can use a drone here for an additional 150 pesos!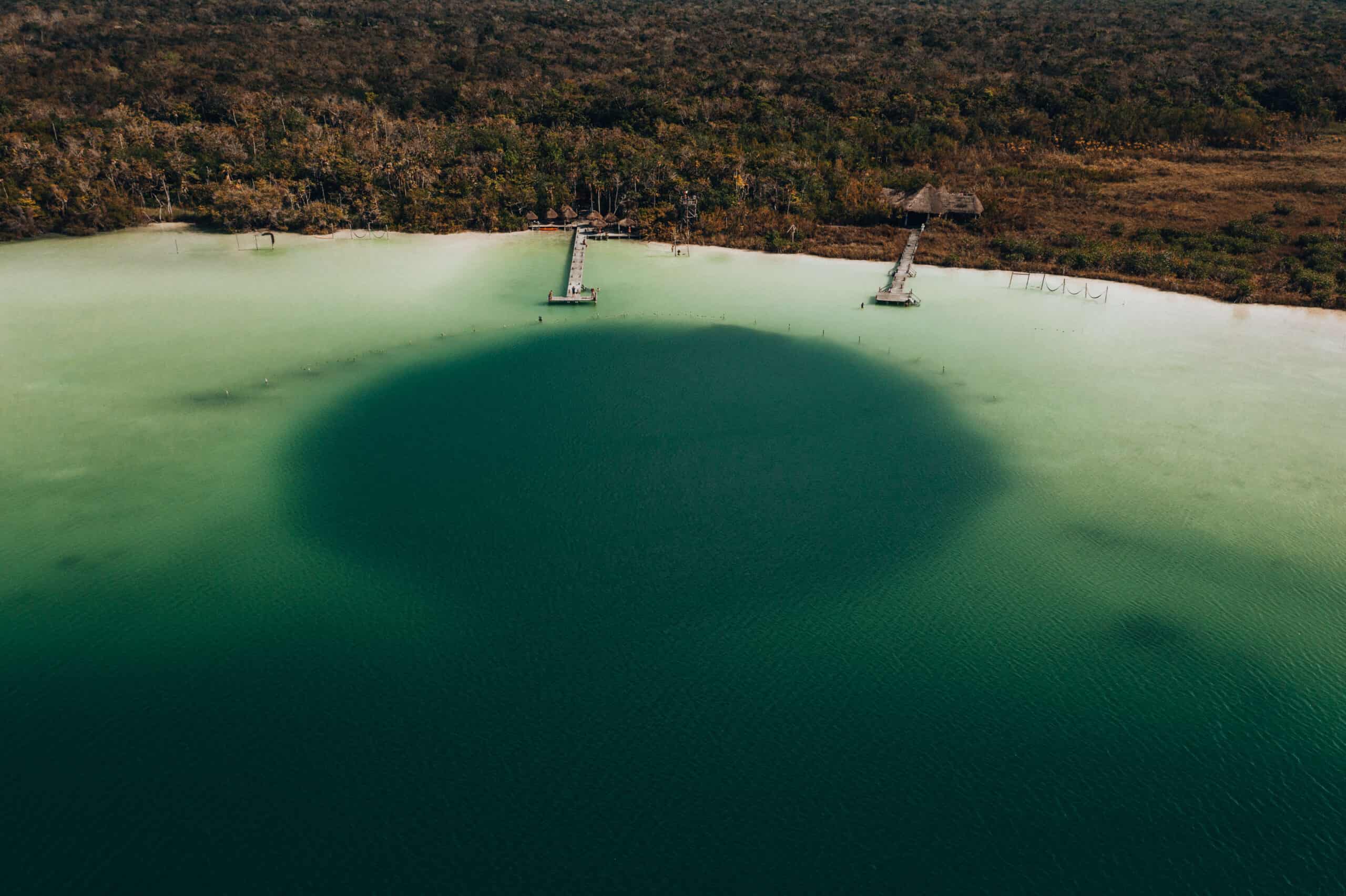 Visit Xel-Ha eco-adventure park
Xel-Ha eco-adventure park just 15 minutes from Tulum! Created by Xcaret.
Go kite boarding on Tulum Beach
Kite board at Ahau and enjoy the rest of their facilities after!
The Best Things to Do
Take a Cooking Class.
Why not take a cooking class? Learn to make authentic Mexican food. I learned how simple it is to make tortillas and tacos fillings from scratch! The fact that it was done in a local's home added so much to the experience.
Visit an Art exhibit in the jungle : SFER IK
I was super impressed by SFER IK.  It looks very similar to Azulik so almost like a modern treehouse. Admission by donations. You are not allowed to take anything in, only your phone.
Shop at the quirky and boho boutiques.
Boho boutiques are dotted along Tulum beach and around the town. If boho is your style, you'll definitely have a hard time staying away from your wallet!
Here are some of the shops I've found make their clothes locally or feature Mexican Artisans:
Bonfilia (Pueblo)
Bonfilia  designs and makes their own clothes in Playa Del Carmen/Tulum.
Mr. Blackbird (Beach)
Mr. Blackbird opened in 2012  as one of the first boutiques on Tulum Beach! They support local artisans and carry handmade goods.
Maga Ciclica Creativa (Pop Up)
Based in Playa Del Carmen, but doing weekly pop ups and markets. I found them at Delek on a Saturday, but check their Instagram for up to date info. The materials are beautiful, you can really feel the quality!
Sandmade Swimwear (Beach)
Their swimwear fit me so well and you can choose from a rainbow of colors. Their swimsuits are made with two layers for extra comfort and quality.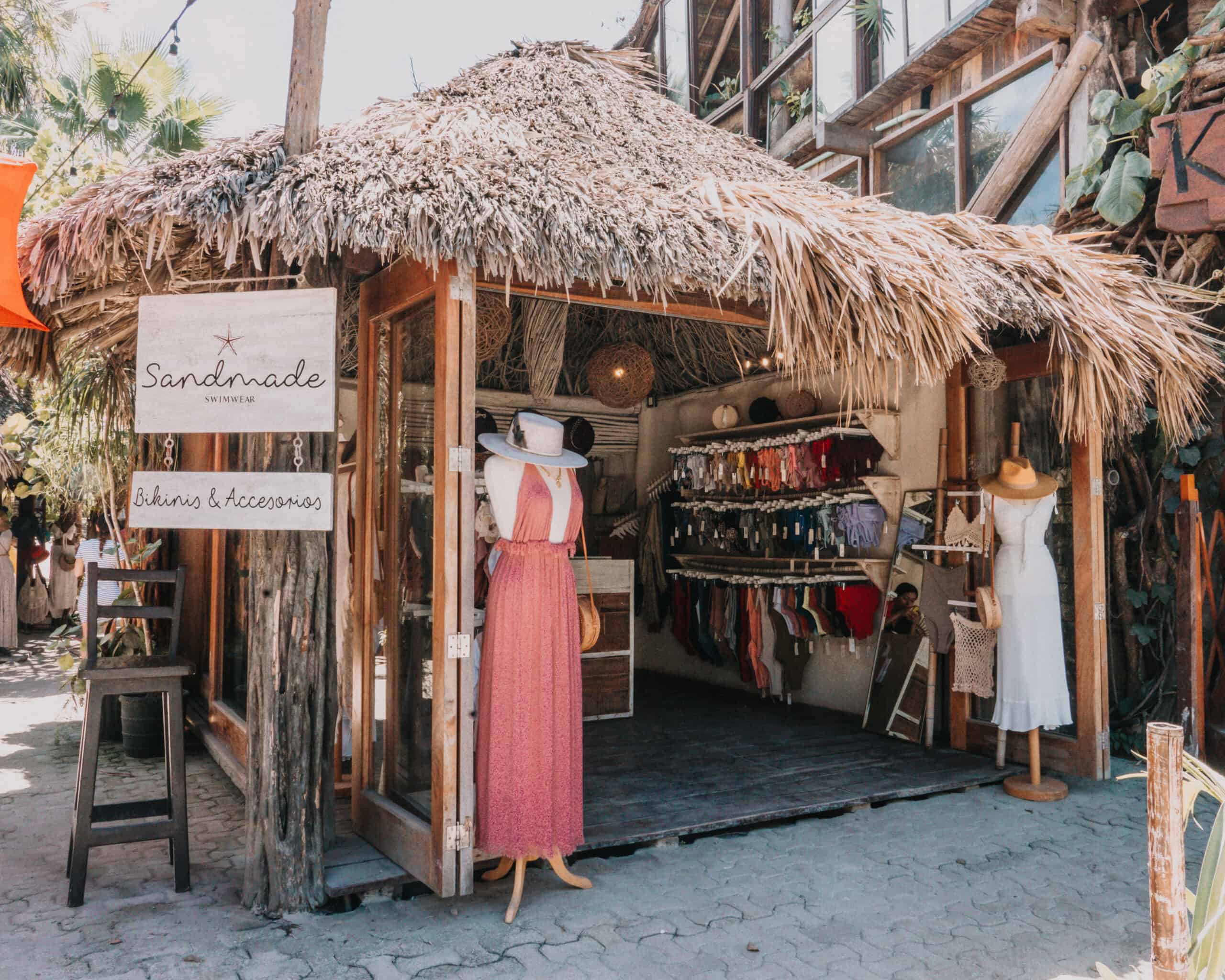 Enjoy the many beach clubs
The beach clubs work in various ways. Some have minimum spends, or some just have a flat rental for a day bed or cabana. If you don't want to pay to play, you can always kick it in the sand!
Casa Malca is not only home of the Instagram famous couch, but the old mansion of Pablo Escobar.  I'm not sure if it  had to do with our large group size, but but when we tried to walk in and take a picture with the swing we were stopped by security. The guard told us there was a minimum spend of 500 pesos pp($25)in order to take photos at the couch.
Drinks are quite expensive here so if you have more than 1 drink or 1 drink and an appetiser you will easily meet that minimum. I told the bartender what I like and he may me a personalised concoction which was delicious!
You'll find resident Djs, mixology, cerviche and a double decker bar all on the beachfront
Coco Tulum Beach Club and Bar has picturesque swings overlooking the beach – another instagrammable moment! Sit in the sand while enjoying some tasty seafood and cocktails.
Ziggy Beach Club has a restaurant and live music daily. There is no entry fee, but instead they have a minimum spend for use of their facilities. Check out their daily specials and special events calendar.
Mexican food and healthy global food are the two main players here. You could have 50 cent street tacos for one meal then a fully raw vegan meal the next. I paid as low was $2.50 for a margarita and as high as $20 for a cocktail at Casa Malca so there is definitely a vast a price range.
Happy hours are a thing here so make sure to take advantage!
I've listed a few spots to grab food and drinks below, but you can also check out my detailed guide on Where to Eat and Drink in Tulum.
Restaurants in Tulum Town (Pueblo)
Burrito Amor
serve "Clean" burritos using quality ingredients like 100% extra virgin olive oil, cold pressed organic coconut oil, organic fluoride free sea salt and  & raw honey. My burrito was warped in a leaf instead of aluminium and had a lovely coconut flavor.
Papaya Pizza
is an outdoor brick oven pizza parlour. They had a really cool vibe here and delicious topping options. The chilli infused honey to drizzle on top of your pizza was a real treat.
El Batey
A Cuban bar smack dab in the middle of Pueblo nightlife. Live music nightly.
Humo
Contemporary Mexican with an open fire kitchen. Here you can order steaks, seafood and Mexican sides.
La Negra Tomasa
Amazing ceviche at excellent value!
TACOS
There are tacos to try everywhere including tacos carts, casual eateries and sit down restaurants.
Taqueria Honorio
La Gordura
Don Beto
Antojitos La Chiapaneca
Eating and drinking at Tulum Beach
Most of the hotels have restaurants and bars in them or on the beachfront so its an easy way to see different properties via eating your way through.
Matchamama
Everyone loves this spot for it's cute set up, their matcha and smoothie bowls.
La Popular at Nomade
La Popular is located toward the south end of Tulum Beach and is one of the pricier spots. The setting is incredible, but I have to say the food did not impress, especially for the price. You are clearly paying for dining on the sand while watching the sun set or for the entertainment they have on.
La Eufemia
La Eufemia is my favorite place to eat and hang out on the beach. It's a two floor taco spot with live music and tasty $6 margaritas. The fried or grilled fish or shrimp tacos are amazing! I love that the salsa bar is included so you can add as much as you want. Compared to many other beach front options, it's much more affordable and there is no minimum spend.
Raw Love
Raw Love is a healthy raw food spot with a jungle vibe serving smoothie bowls and other vegan goodies.
The Real Coconut
The Real Coconut is a super healthy food spot with a lovely beachfront setting. Try their banana bread, is soo yummy!
Coco Tulum
Coco Tulum is the cutest drinks spot with swings facing the beach. Definitely an Instagram hot-spots.
Ciel Rose
A rooftop top bar at the beginning of the beach strip. Watch the sunset go down over the jungle!
Arca
Arca is the best restaurant we ate at in Tulum. The cuisine, ambiance and staff were all the excellent!
 Quick Guide to Day Trips from Tulum, Mexico
1. Coba Mayan Ruins
Visit Coba to climb the ancient Mayan pyramid! A major perk to being one of the less frequented ruins in the Yucatan Peninsula.
2. Laguna (Lake) Bacalar
Lake Bacalar is a gorgeous clear Lake about 200 km south of Tulum.
3. Akumal
Akumla means "place of the turtles" and is located between Tulum and Playa del Carmen. You can actually swim with the wild turtles!
4. Cozumel
Cozumel is an island off of the Yucatan peninsula.  It can be reached by ferry from Playa del Carmen.
5. Cancun
Being that you will most likely fly in and out of Cancun, why not tack on an extra day and spend it here?
We actually  started our trip with 3 nights at Sun Palace Resort and absolutely loved it! I've never stayed at an all inclusive property and this one went beyond my expectations.
6. Chichén Itzá
Temple of Kukulcan at Chichén Itzá is one of the Seven Wonders of the World. These Mayan Ruins are sure to be worth a visit.
7. Sian Ka'an Biosphere Reserve a UNESCO World Heritage Site
Since limited tour groups frequent Sian Ka'an Biosphere Reserve, it has remained somewhat under the radar to tourists.
8. Valladolid + Cenote Oxman
Visit the colorful city of Valladolid and the stunning Cenote Oxman. The drive is under two hours and was one of my favorite things we did!
Quick Budget Guide
Visiting Tulum on a budget is definitely possible. Here are some ideas of what to do in Tulum on a budget:
Stay in a hostel, airbnb or condo in the town. They are much cheaper than the luxury resorts on the beach.
Eat in town and from taco carts rather than tree houses and luxury hotels and do a bit of shopping at the local super market. This will definitely help you save some pesos.
Ride your bike to get around or do this trip with friends and share the expense of a rental car.
 Even on a budget, you can check out the fancy spots.  Have a cocktail instead of a meal in order to get a glimpse of the property you want to see. Stay in a hostel but rent a beach chair somewhere glam for a day.
Schedule only a couple of activities in along with lots of chill time.  You can get a spot at the beach at Playa Paraiso, one of the public beaches, for free!
Visit in the shoulder season for discounted rates on flights and hotels.
The Overall Vibe of this Mexican Escape
Tulum is not for everyone but you can't deny it's a destination filled with cool art, amazing eats and an abundance of adventure. It was actually bigger and had way more to do than I expected. The vibe of everything is very cool and I am totally down for being able to walk around a 5* hotel barefoot! Luxury doesn't get more casual than that!