How to Vist Laguna Kaan Luum, Tulum's Secret Open Cenote
Laguna Kaan Luum gets left off for many on their Tulum itinerary, but that's why it's a great option to add to yours! It's not as touristy as some other locations and feels like your discovering some real nature! It's a true hidden gem mainly visited by locals, though be aware that it can still get busy weekends and peak season due to the small size of the area where you can place your bags, etc.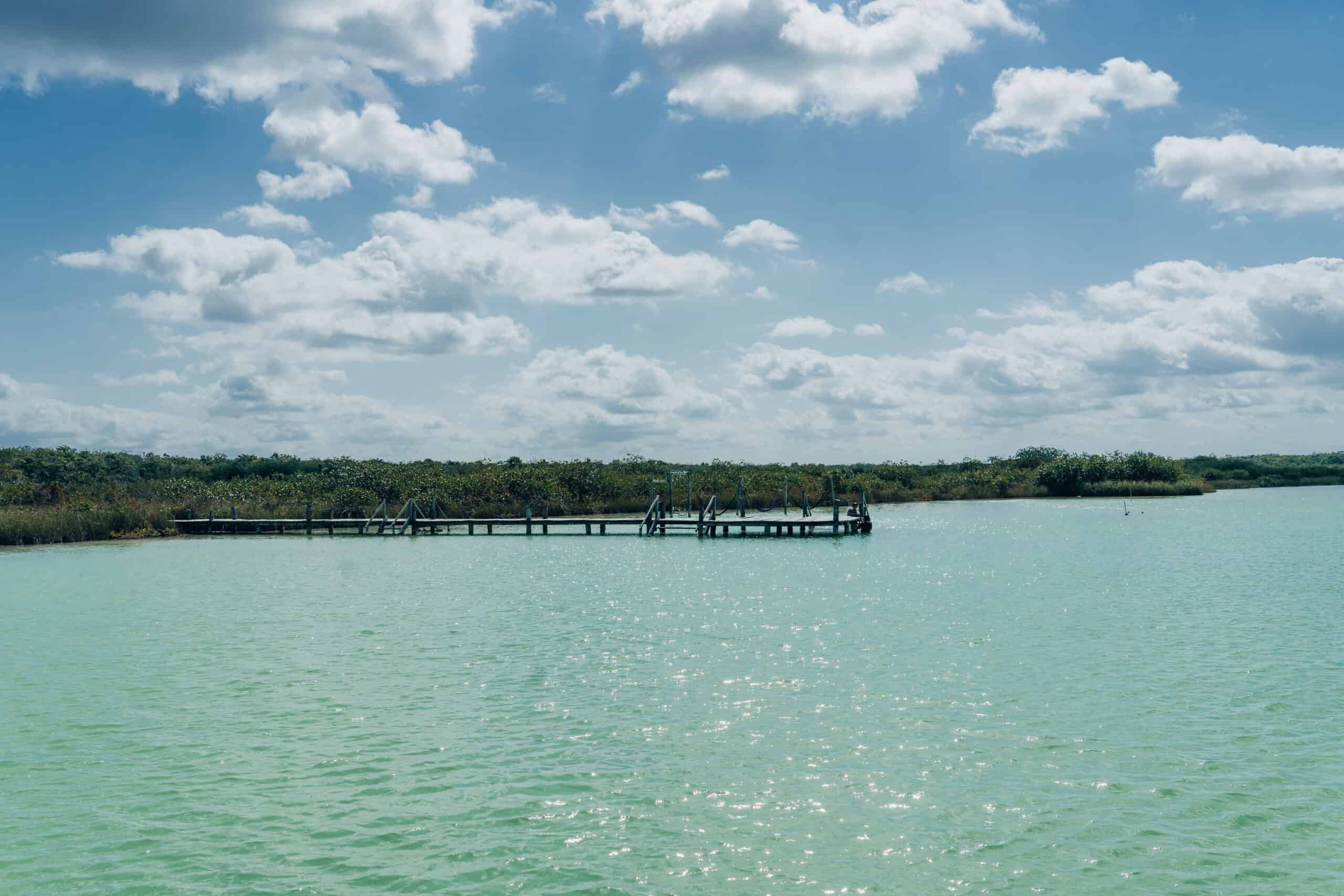 Where is Kaan Luum Lagoon?
Laguna Kaan Luum is located southwest of  downtown  Tulum in Quintana Roo on Calle de Chetumal-Cancun (307). It takes less than 15 minutes to drive there from the downtown area.
If you are you driving, you can easily tie in seeing some others cenotes that are nearby like Cenote Corazon,  Cenote XA'AY HA or Cenote Escondido.
Why you should visit Laguna Kaan Luum
Laguna Kaan Luum is different than many cenotes I've been to, it's much bigger and open so it actually looks more like a lake.
The water on the edges is clear and turquoise green while the water in the center is a darker blue. The water level around the edges is shallow and makes it ideal to hang out in, but the middle of the cenote is very deep and is roped off to visitors. It is said that there are currents that could actually pull you down into the middle so it should be avoided.
There are two piers, overwater hammocks and swings to relax in. The piers are great for jumping off off,  but careful because it isn't that deep.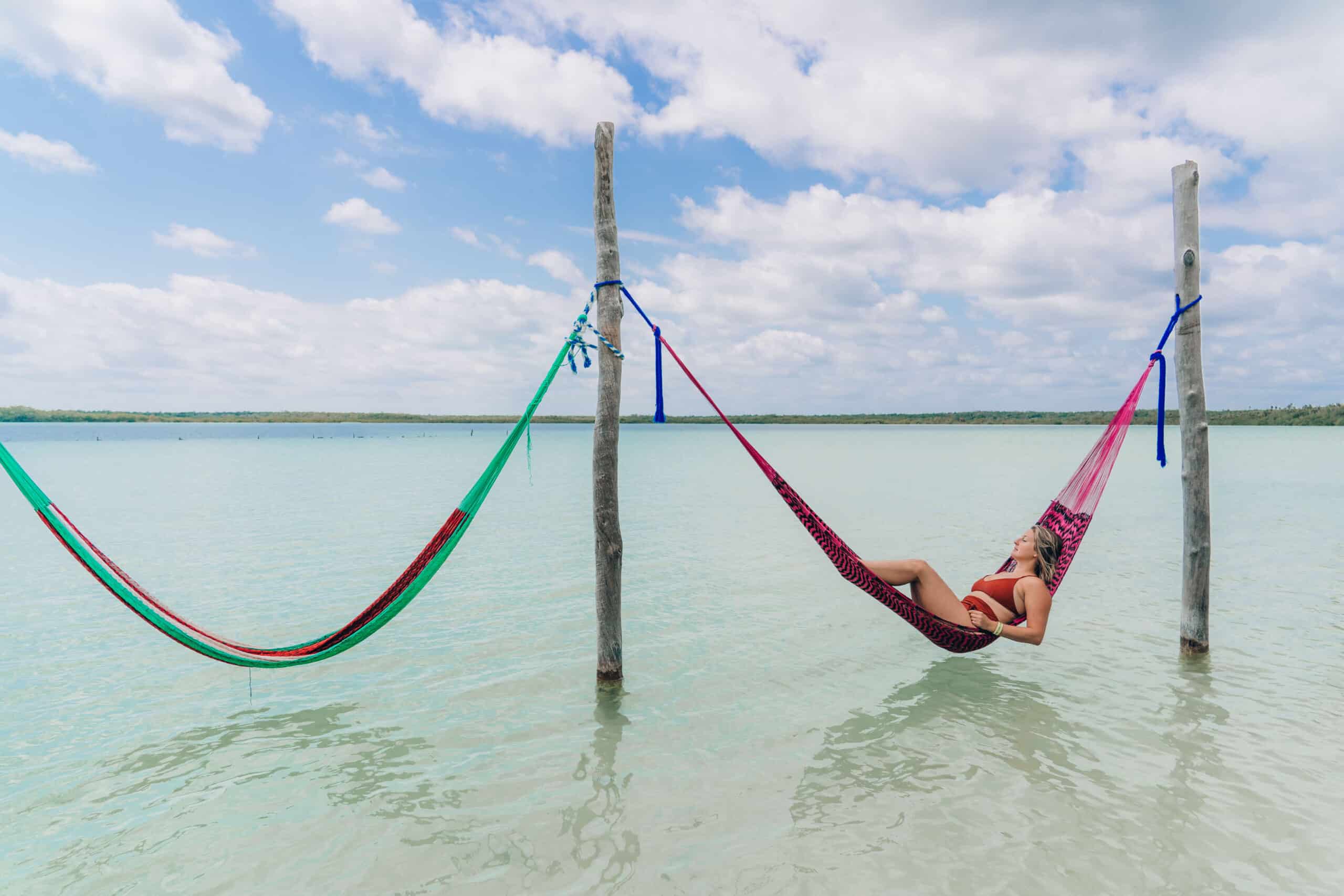 Getting There + Parking
There are a few ways to get to Laguna Kaan Luum. It's about a 10 minute drive from downtown Tulum.
From the road you will see a sign for Laguna de Kaan Luum and from there it's a couple minutes down a bumpy road.
Drive/scooter
If you have rented a car or scooter you can easily drive there. There is free parking at the entrance.
Colectivo
The public transport in Tulum is called the Colectivo. It costs us for 30 pesos to get back to town by using this(we took a taxi on the way there).
In order to take the Colectivo, stand on the side of the road in the direction you want to be going and flag down the van like a taxi. Let the driver know where you want to get off. If the van is full the driver will not stop and you will have to wait for the next one.
On the way there it will be in the direction of Felipe Carillo and on the way back towards Playa Del Carmen.
Taxi
It costs about 200 pesos to get to the lagun by taxi from downtown.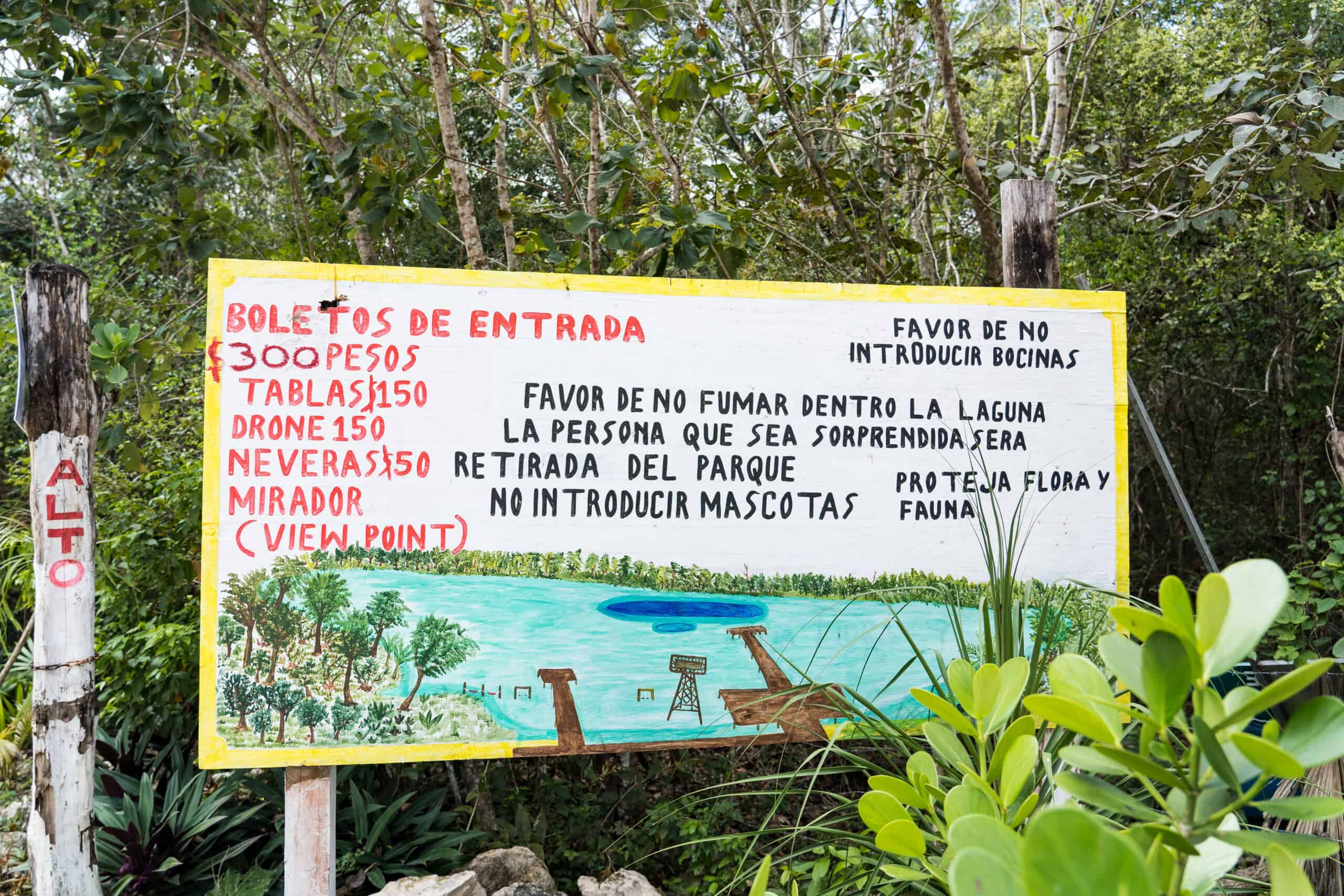 entry sign from the road

Entrance Cost + Opening Times
The entrance fee is 300 pesos per adult and 100 pesos per child and is payable in cash. There are no pets allowed however, you are allowed to use a drone, kayak or paddle board here for additional cost of 150 pesos.
The Laguna is open from 9:00AM to 4:00PM daily.
There is also a lookout which has been built to get a birds eye view of the cenote which I am unsure if it costs an additional price. We chose not to  go up anyway since we had our drone with us!
Facilities and What to Bring
You should bring a bathing suit, towel, snorkleing gear, snacks and drinks.
Do not take food or drink onto the pier or into the lagoon.
Do not use sunscreen before entering the cenote.
There are no lockers at Laguna Kaan Luum, but there are bathroom facilities.
Right behind the pier on the walkway from the parking lot to the laguna there is a stand selling fresh coconuts!



Other Things to do in Tulum
Check out Where to Eat and Drink in Tulum
Visit Other Nearby Cenotes in Tulum like Gran Cenote, Casa Tortugas and Dos Ojos
Visit the Tulum Ruins
Go on a snorkeling excursion