Where to Eat and Drink in Tulum: Restaurants, Bars and Cafes
Si and I stayed in Tulum for 5 weeks checking out the top places to eat and drink as well as doing our best to try the local restaurants, bars and hidden gems!
Below are restaurants that we went to or spots that were highly recommended to us but we just didn't have the time to get to. I'll be updating this post with what we thought about the restaurants, cafes and bars we tried out as well as some additional useful tips.
Is Eating and Drinking in Tulum Expensive?
The interesting thing about Tulum is that you could pay .50 cents for a taco at one spot and $7 for a taco at another. There really are places to eat and drink for all budgets.
There are plenty of budget options in the Pueblo, but only a few in the beach area. That being said, when we ate at the best restaurants in Tulum and had mulitple dishes to share plus some cocktails, we usually spent around $150 for the two of us.
Cafes and Restaurants in Tulum Town (Pueblo)
Downtown Tulum
La Negra Tomasa – Ceviche $$
If you love ceviche this place is an absolute must! The value for the amount of seafood we ate was unreal. They also have super tasty cocktails and the setting was dope.
You must order the seafood tower as well as some of the tostadas!
Address: Andromeda Ote 14, Tulum Centro, 77760 Tulum
Del Cielo – Brunch $$
Del Cielo is a great little brunch spot for eggs dishes, avocado toasts and specialty coffees. We've already been twice! This is the place to get your Eggs Benedict with a twist.
Address: Satélite Sur 5, Tulum Centro, Centro, 77760 Tulum
Botanica Garden Cafe – Light Bites + Specialty Coffee $$
Botanica Garden cafe is perfect for lite bites, coffee and juices. I love how lush and spacious this cafe is, it's definitely somewhere you want to sit back and relax for awhile. They sometimes have some mellow live music which added to the ambiance. The tartines are great and i really enjoyed the hibiscus juice.
Cash Only
Address:  Andromeda Ote Manzana 16-lote 23, Tulum Centro, Col Huracanes, 77760 Tulum
Ki'Bok Coffee $$
One of the places we never made it to, but heard great things. They serve organic coffee, homemade pastries and some local eats.
Address:  Calle Centauro Sur Mz 05 Lt 11, Tulum Centro, Centro, 77710 Tulum
El Camello Jr. – Seafood $
At El Camello Jr. you'll get a complimentary big plate of chips and salsa, refried beans and pico de gallo. Beer was 40 pesos and cocktails were 70 pesos, even the fr0zen ones.
We ordered a huge seafood platter for 470 pesos which was more than enough for the two of us. It came with crab, shrimp, lobster tail, fried white fish filet, lightly fried whole white fish, octopus cooked with peppers, calamari and rice.
Good value and big portions for a seafood feast. It was certainly not gourmet but decent for what it is!
Address:  Carretera Chetumal-Cancun Locales 1 y 2 Lte 3 Mza 40, Centro, 77600 Tulum
Burrito Amor – Healthy $
Burrito Amor serves tasty and healthy burritos. They only use  100% Extra Virgin Olive Oil, Cold pressed organic coconut oil, organic fluoride free sea salt, and raw honey in their kitchen! These are a great cheap eat.
Address: Av. Tulum Mz 05-Lote 03, Tulum Centro, Centro, 77780 Tulum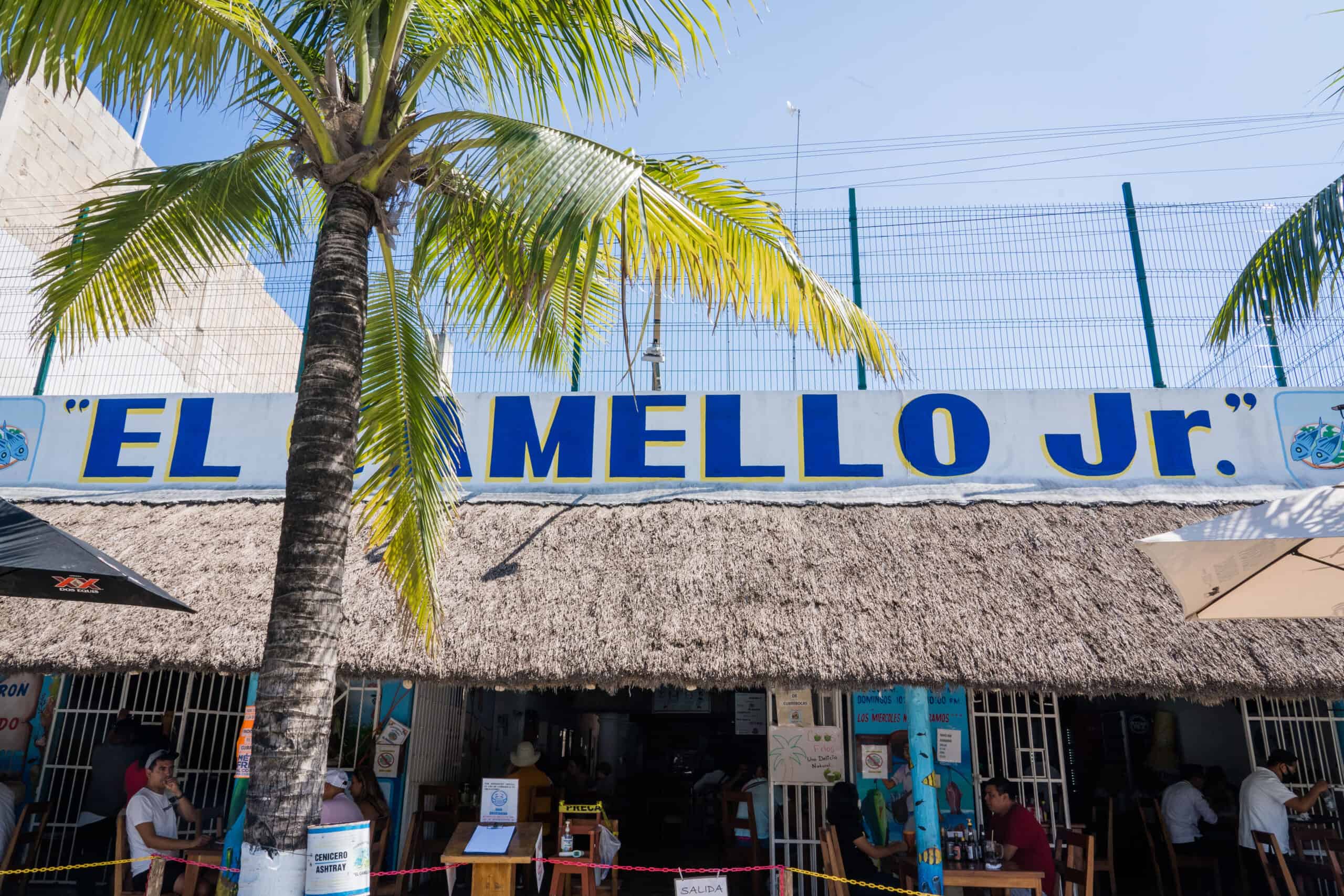 Taqueria Honorio $
Highly recommended by many of our taxi drivers. It's a mix of locals and tourists and always had a line! Known for their pork tacos, this place is epic for cheap eats.
We ordered two taco dishes native to the Yucatan Peninsula. The cochinita pibil which is slow roasted and pulled pork marinated in achiote sauce and a relleno negro de pavo which is slow cooked and pulled turkey meat marinated in a blend of grilled peppers and spices and came with half a boiled egg on each taco.
We also had the lechon al horno torto which is suckling pig and came with pork crackling.
Tacos were 20 pesos, tortas were 42 pesos. They also did natural fruit waters for 25 pesos.
Open from 6:30Am-3:00PM
Address: Satélite Sur Sm10 lote 3, Centro, 77760 Tulum
Antojitos la Chipacaneca – Taqueria $
Antojitos la Chipacaneca is one of the most well known taquerias in the town. There is take out in the front or a sit down restaurant inside. It's a super basic set up and a go to for cheap tacos.  They are mainly known for their al pastor tacos and you will see two big spits with meat on at the front which definitely draws attention. The tacos are very simple, coming with literally just the meat and some salsas to add on top. The tacos are 10 pesos each and the tortas are 25. Cheese in an extra 5 pesos.
This is a great late night spot and ideal some grab and go to fill you up.
Address: Calle Acuario Nte. 3, Tulum Centro, Tobiano, 77760 Tulum
Taqueria el Crusero – Taco spot in front of Super Aki grocery store $
This is a busy street spot serving tacos, tortas, arrachera de rez, al pastor, pork, chicken and more. Other than the skirt steak arrachera which are 20 pesos, tacos are 15 pesos. Tortas are 35 pesos.
We loved the poc chuc torta which was stuffed with a delicious pork that had been cooked in a citrus marinade
These were very tasty, but also pretty greasy. Great to soak up the booze from the night before!
Address: Carretera Federal Tulum Ruinas s/n, 77780 Tulum
El Takazo Jr. – Taqueria $
El Takazo Jr. is a taqueria located off the main strip. The set up feels a step up from many of the other taquerias and the service was excellent. The owner used to have a street cart outside El Asadero until he opened up El Takazo Jr.
We tried the al pastor tacos which they are one of their main dishes, but we loved the asada gringa, or steak quesadillas. Highly recommend trying them out!
Address: Calle Beta Norte esquina con Polar Ote, Tulum Centro, 77760 Tulum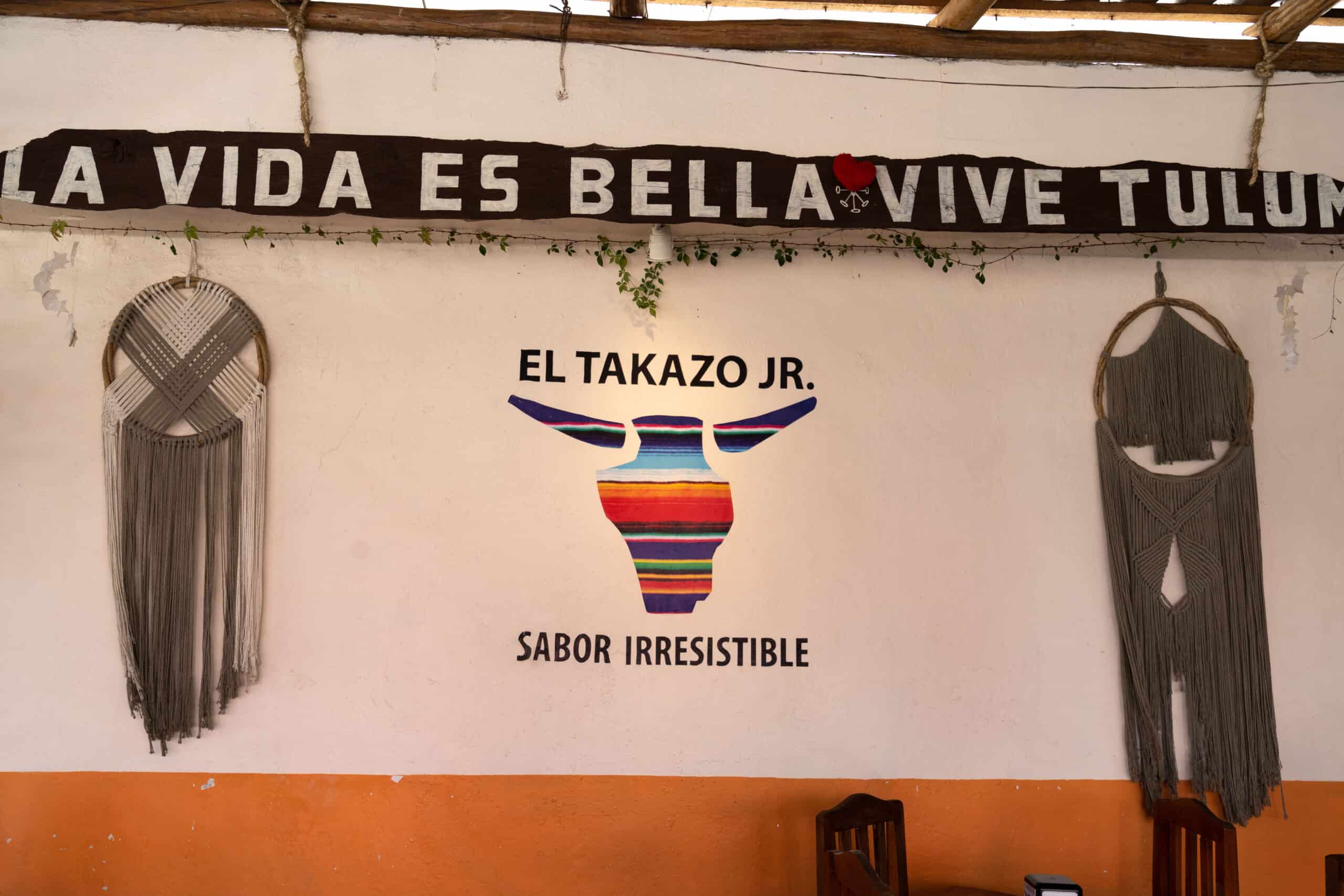 Mestixa – Asian inspired $$$
Mestixa is a restaurant in Tulum Pueblo led by Executive Chef Cara Davis. The menu combines Mexican and Asian street food flavours, they specifically don't call it fusion however and call it mestizaje or miscegenation; where they take food from one culture and reproduce it with elements of another.
The menu changes but some staples include shrimp tempura tacos, birria ramen, cochinita pibil dumplings and soft shell crab steamed buns.
Shrimp Tempura Tacos
We had the shrimp tempura tacos; two lettuce leaf tacos both topped with good size shrimp in tempura batter and topped with lime salt and ginger, a great way to start the meal. 
Birria Ramen
For mains we had the birria ramen; beef shank slow cooked with cascabel and ancho chilis served with egg noodles. This dish was packed full of flavour, with the birria really taking over – a heavy dish for a hot day but one that will most certainly fill you up and please your palate. The egg noodles were tasty and really light but could have done with being more plentiful or thicker so the beef didn't dominate the dish as much. 
Japanese Chirashi Rice Bowl
The main parts of the dish were sea bass sashimi and rice but there were lots of different ingredients in this bowl which all went together really well, including book ahoy, crispy fried onions, chopped cucumber, spring onions, bean sprouts and a rice cracker. This dish was light with fresh flavours so definitely balanced out when we shared this and birria ramen for our mains.
Top Restaurant in Tulum!
Mestixa is definitely one of the top restaurants in Tulum and the quality of ingredients really shines through. From a price point it's on the more affordable end of the better restaurants in Tulum, though most factoring in it is in the town rather than the beach. Just double check the prices of the imported beer, I made the mistake of ordering a Sapporo to get my Japanese beer fix but a large one was 210 pesos, compared to 20 pesos for a bottle of local beer… oops!
Mestixa is co-owned by Toro Aspe and JoseLuis Hinostroza of what we regard as the best restaurant in Tulum, Arca. 
Address: Av satélite Entre Av. Tulum, Calle Polar Pte. y, 77760 Tulum

El Asadero – Steak
Known as the place to get steak in Tulum! They also serve Mexican dishes like tacos and quesadillas.
Address:

 

Av. Satelite Nte. Mz 23 Lt.5 entre Sagitario y, Calle 2 Ote, Centro, 77760 Tulum
Cetli – Gourmet Mexican
Gourmet, but authentic Mexican cuisine set on its' own on the outskirts of town.
Address: Carretera 109 Tulum Coba Km 2.5, Villas Tulum, 77760 Tulum
La Gordura – Taco Tuesday
Address: Orion norte y, Av. Tulum, 77760 Tulum
Los Morros – Seafood
Address: Tun – Kul, Calle Orión Nte. &, Tulum Centro, Tulum
Palma Central – Food Truck Park
Address: Av Kukulkan 6, 77760 Tulum
Tulum Food Trucks
Address: Av, Satélite Sur #12-mz 10, Col Huracanes, 77760 Tulum
Mercado Centauro – Food Court
Address: Calle Centauro Sur 13, Tulum Centro, Centro, 77760 Tulum
La Estancia Jujeña Parrilla Argentina
This is an easy spot for happy hour and their pizza special which is two pizza for $8!
Address: Av. Tulum & Centaurio Sur (2,615.10 km) 77760 Tulum
Co.Con Amor – Vegetarian $$
I really enjoyed the food at this vegetarian restaurant. It was nice to have something fresh and healthy. It's definitely more of a day time spot where you can lounge and read a book, though they do serve beer and have cocktail specials.
Address:  Calle Polar Pte., Tulum Centro, 77760 Tulum
Other Vegetarian restaurants:
Vegan tacos at El Bajon
La Hoja Verde
Laylo
Avenida Coba 

(The road that goes from town to the beach)

Many of these restaurants are quite new or pop up style and don't have a real address. You will definitely notice a cluster or two of restaurants between Tulum Pueblo and Tulum Beach on the right hand side when heading towards the beach where you will find the below establishments.
Mayami Burger $$
If you're looking for a burger fix in Tulum this is probably the place to go. I'm not sure the meat quality was too great but it was seasoned well and came on a nice bun with decent toppings.
Address: Av. Coba 107, 77760 Tulum
Lief's – Healthy $$
A very cute vegetarian cafe, serving food out of  two VW campers, located on Avenida Coba.
The iced coffee was so delish and came with a whipped coffee topping and coconut shavings. We also had the smokey mushroom sandwich with came with peppers on a quality roll and a side of potatoes cooked in coconut oil. The mango smoothie which was so refreshing and we left feeling healthier than we we arrived!
2 for 1 bowls on Wednesdays!
Address: Av. Coba 107, 77760 Tulum
Ritual de Fuego – Fire Flatbreads $$
Ritual de Fuego was one of the first places we ate in Tulum because it was right next to our hotel, Naala Tulum. They  pop up their set up nightly and make amazing sourdough flatbreads with interesting and fresh toppings. They serve awesome fruit waters, but no alcohol.
Address: Av. Coba 107, 77760 Tulum
Lola Cafe $$
Great little cafe on Avenida Coba. They serve simple breakfasts and coffee for good value. I tried out and enjoyed their breakfast bagels, fresh juices and huevos rancheros.
Address: Av. Coba 107, 77760 Tulum
Aldea Zama
Orchid House (Dinner in the Nest) $$$
The Orchid House is a boutique hotel in Aldea Zama with a unique poolside restaurant. You can also dine in their 'nest' on top of the hotel for a more intimate experience. To do this requires dining from their tasting menu which costs $99 pp plus tip.
Safari – Contemporary Mexican $$$
A contemporary Mexican spot that does a great margarita. They also have a spot on the beach. I loved their yucca fries and overall everything seemed like decent quality!
Address: Calle Itzamna Manzana 26, LOTE 13, Aldea Zama, 77760 Tulum
La Valeta
Verdant
Address: Chemuyil, La Veleta, 77760 Tulum
Humo – Contemporary Mexican $$$
Excellent spot for open fire cooking. We tried some steaks, fish and massive shrimp. In my opinion the seafood was the star, especially the shrimp!
Address: located on the corner of Calle Chichen Itza and the 307
Liquido y solido
Address: Av. Tulum Mza 32 L8, Col. Centro, 77760 Tulum
Pinches Taqueria
Tierra at Holistika – Healthy Vegetarian $$
Holistika is a boutique hotel and wellness center with an art walk and restaurant called Tierra. They serve plant based meals made with local ingredients.
Address: Av 10 sur lote 4, manzana 902, Zona 11, 77760 Tulum
Tulum (Pueblo) Bars
El Batey's – Live Music Bar $$
A fun live music spot on Calle Centauro Sur – the Main Street in Tulum Pueblo. They're a Cuban mojito bar and make their main product with fresh sugarcane! The passionfruit mojitos are particularly tasty.
They usually have two different bands or artists on, the first around 7pm and the second around 930pm. We went a few times and the music varied a lot but was always entertaining, one night was Cuban and Latin American music, another night was acoustic and another electronic. 
The drinks here are very cheap and if you're a 4 people or less you're likely to be put on a table with others, so it's a great way to meet people. We didn't try the food here but it seems to be dishes from all around the world. It's more an after dinner spot for us to enjoy the music and drinks so affordable beers and cocktails.
Cash only
Address: Calle Centauro Sur, Tulum Centro, Tulum
El Grifo Tulum – Mezcal and Craft Beer $$
Draft beer is available here which is actually pretty rare in Tulum as well as a selection of craft bottled beers and mezcal tasting. We went here a few times because it has a great vibe and we loved their mango mezcalitas! They definitely don't hold back on their pours!
Address: Avenida Tulum Esquina, Calle Orión Sur norte, Centro, 77760 Tulum
La Chispas – Late Night Spot $
We never went into La Chispas but apparently they're one of the spots that stay open the latest!
Address: Calle Beta Sur #3, Tulum Centro, CENTRO, 77760 Tulum
Once – Rooftop $$$
Once is a rooftop bar above Ki'bok Coffee. We went to the top level and enjoyed some artisan drinks and a chill DJ set.
Address: Calle Centauro Sur Mz 05 Lt 11, Tulum Centro, Centro, 77710 Tulum
Encanto Cantina  – Craft Cocktails $$$
Excellent artisan cocktails here, some of them are like works of art! The bar and outdoor space is also very cool looking.
Address: Av. Tulum 21, Tulum Centro, 77780 Tulum
Tulum Beach Restaurants and Cafes
Tulum Beach Road runs along the coast and has restaurants on both sides; the jungle side and the beach side.  Even some of the restaurants on the beach side don't have a view of the water, however there are some that do.
 Public Beaches
Thai Restaurant at Mezzanine $$$
Address: Carretera Tulum-Bocapaila, Zona Hotelera Tulum
Maia at Casa Nawal $$$
Address: Playa Maya, Zona Hotelera Tulum, Zona Arqueológica, 77780 Tulum
Kai Tulum $$$
Address: Zona Hotelera Tulum, 77780 Tulum
Beach Town
Kin Toh – Azulik
We ate breakfast at Kin Toh and sadly it left a lot to be desired. The treehouse setting is obviously incredible, but the food was just okay and the service was truly poor.
At breakfast you have to spend a minimum of $30 per person which really isn't hard to do if you get a main, a coffee and some pastries and fruit to share. My coffee came out luke warm and once the food had been set down we didn't see our waiter again until we paid. They were also very quick to stop me when I took out my camera. (no professional cameras allowed, but phones are oaky.)
I'm very curious how lunch or dinner would be but we couldn't bring ourselves to risk the money to find out!
Address: Carretera Tulum-Punta Allen KM 5, Zona Hotelera, 77780 Tulum, Q.R., Mexico
Mina
Cute restaurant and bar in a cove. Great happy hour spot for relaxed 2-for-1 margaritas.
Address: Carretera Tulum Ruinas Km 5, 77780 Tulum
Boccanera Pizzería y Cervecería $$
We stayed across the road for a night at Punta Piedra and could see the brick oven burning in the back from reception so thought we'd check it out. Glad we did, the dough here was delicious and we love Neapolitan pizza crust!
What we Ordered
I ordered a white pizza with sausage and mushroom toppings and Lauren got a regular tomato base topped with eggplant. We enjoyed both and struggled to get through a whole one each as we'd eaten late but one per person or two per three people plus an appetiser or two is probably a good amount.
They bill themselves as a Pizzería y Cervecería but the draught beer wasn't working when we were there so went for two Aperol Spritz which we only 120 pesos! This is one of the cheapest places to eat and drink in the hotel / beach zone and is located near Ciel Rose Rooftop which makes it ideal to tie in if you're going there.
Address: Carretera Tulum Ruinas Boca Paila km 4, 77760 Tulum
Tunich $$
Address: Carretera Tulum-Boca Paila, KM 5.5, 77780 Tulum
Pop up Taco Spot $$
Address: Locating in the parking lot close to Tunich
Middle Beach Area
Fresco's  – Brunch $$
Fresco's is a spot on the beach side serving modern brunch food. It was definitely tasty, but the portion of the smoothie bowl was very small.
The set up was cute, but you don't actually have a view of the water.
Address:

 

Carr. Tulum-Boca Paila KM 7.5, Tulum Beach, Zona Hotelera, 77760 Tulum
Raw Love – Vegetarian $$
A raw food restaurant in a jungle setting at Ahau. They serve smoothie bowls, avocado toasts and raw salads.
Cash only
Address: Ahau Tulum, Carr. Tulum a Boca Paila Km. 7.5 Zona Costera, 77760 Tulum
Posada Margherita – Italian $$$
Many people had suggested this restaurant, but the service wasn't great when we went and food was just okay. We have so many good Italian places in NYC so we have very high standards for this type of cuisine! We didn't think it was worth the cost compared to some of the other amazing food spots in Tulum, but it's a nice spot to go for sunset.
Cash Only
Address: Km. 4.5, Carretera Tulum-Boca Paila, 77780 Tulum
Kitchen Table $$$
Address: Carr. Tulum-Boca Paila km 6-km 6, Tulum Beach, 77780 Tulum
Ukami – Japanese-Mayan Fusion $$$
(Beach and Pueblo locations)
Written at Ukami is  'Where Japan meets Mexico and falls in love.' It's an awesome fusion of the two cuisines. We started with spicy edamame, then had the omakase for two and some of their fresh tequila cocktails.
The shrimp tacos and wontons were really tasty here!
Address: Carretera Tulum – BocaPaila km 6.7, 77780 Tulum
Hartwood – Seafood $$$
Cash only
Address: Carr. Tulum-Boca Paila 7-6Km, Tulum Beach, 77780 Tulum
Rosa Negra  – Latin American $$$
Rosa Negra is one of the most popular restaurants in Tulum especially if you're looking for something a little more rowdy. We always heard people cheering and loud music when we walked by.  Whether or not the food is worth it is up for debate as we didn't end up making eat or drink here.
Rosa Negra is part of Grupo Rosa Negra which also owns Taboo, Tantra, Parole and more. They have locations in Mexico City and Cancun.
Address: Carr. Tulum-Boca Paila 5-Km 7, Tulum Beach, Zona Hotelera, 77780 Tulum
Arca – Modern $$$
The best food we had on the beach! It's an absolute experience to eat here. Everything was incredible, including the service, the playlist and the vibe!
Address: Carr. Tulum-Boca Paila 7-6Km, Tulum Beach, 77780 Tulum
South Beach Area
Charley's Vegan Tacos $$
One spot that is suggested quite often, especially for vegans and vegetarians, though it was closed while we were there.
Address: Carr. Tulum-Boca Paila Km 10.5, Tulum Beach, 77780 Tulum
Nomade – La Popular $$$
Sadly, this is one of the restaurants where we felt the food did not live up to our expectations. You are definitely paying for the beachfront location!
Address: Carretera Cancún – Tulum KM 10, 77880 Tulum
La Eufemia – Tacos + Margaritas $$
This is one of our favorite spots on the beach! It's a super laid back and affordable and has live music in the afternoons. Happy hour is 4-6 for 2 for 1 margaritas. and daquiris.
If you're hungry, definitely try out their tacos. The fish tacos are my go-to option and you are welcome to add as much on top of your tacos from their salsa bar which includes a selection of salsas as well as fresh cilantro, chipotle crema and lime slices.
Address: Carr. Tulum-Boca Paila 7.5, Tulum Beach, Zona Hotelera
Public Beaches
Playa Paraiso Beach Club
Pancho Villa
Beachtown
Papaya Playa Project $$$
Hosts a full moon party once a month.
Address: Carr. Tulum-Boca Paila Km 4.5, Tulum Beach, Zona Costera, 77780 Tulum
Ciel Rose $$$
A rooftop bar with incredible views over the jungle.  Amazing at sunset!
Address:

Kilometro 5.5, Carr. Tulum – Cancún, Zona Hotelera, 77780 Tulum
Azulik $$$
The famous treehouse hotel.
Address: Carretera Tulum-Punta Allen KM 5, Zona Hotelera, 77780 Tulum
Habitas $$$
Address:

KM 4.5, Av. Boca Paila, Zona Hotelera, 77780 Tulum
Mateo's $$
Mateo's is a more affordable spot to eat and drink on the beach road. It's located on the jungle side and has a restaurant and rooftop bar. The rooftop does sunset happy hour from 5-7. Though we didn't eat here we did take advantage of the happy hour.
Address: Carretera, Boca Paila km 5.2 Manzana 10 Lote 16, Carretera Tulum-Boca Paila Km 5.2, 77780 Tulum
Middle Beach Area
Coco Tulum
Coco Tulum has those Insta-famous swings which I'm sure you've seen on Instagram! You can have a drink at the table or lounge at their beach club for a minimum spend of $40.
Address: Carretera Tulum – Boca Paila km 7.5, 77780 Tulum
Gitano
Address: Carr. Tulum-Boca Paila km 4.2, Zona Hotelera Tulum
Clan-Destino $$
Clan-Destino is one of the most unique bars / restaurants in Tulum due to the fact it has it's own cenote! Honestly incredible so just sit there with a beer or cocktail and look at the beautiful natural wonder, then jump in when you need to cool off!
What makes it even more unique is you don't have to pay to use it, naturally you might as well grab a table and support the business but if you really wanted to just jump in you can but bear in mind there isn't space to chill unless you get a table and drinks or food.
The Menu
The menu is very simple and fairly basic cooking; burgers and fries as well as tacos. The food is ok to fill you up after a day of boozing but I'd recommend here for drinks and enjoying the cenote, they have multiple tables around it. They primarily serve large bottled beers as well as margaritas and frozen cocktails, if you've tried Ice Scream Bar or La Eufemia – it's owned by the same people so think similar drinks and prices (around 150 pesos for a frozen cocktail).
Definitely a good spot to catch some afternoon shade, drink a few beers and cool off in the cenote and cheap prices for the beach zone too.
Address: Across the street from Villas Las Estrellas
Cortazar
A small artisan cocktail bar on Tulum Beach Road.
Tantra/Taboo/Bagatelle/Vagulume
I've grouped these Tulum beach clubs together because they are all beach clubs that are very 'sceney.' These spots are where you'll find big groups, a party atmosphere and even a little bit of that Miami vibe…
I Scream Bar $$
A fun, laid back and more affordable option for drinks in this area.
Delek
I got really laid back vibes at Delek. There was a live band and a not-so-strict minimum at their beach space.
Kanan
If you don't want to visit Azulik, Kanan is a great alternative. It still has that tree-house design, but it's less exclusive, less expensive and it's location is smack dab in the middle of the beach scene.
South Beach Area
Casa Malca
La Eufemia
La Zebra + Mulberry Project $$$
Mulberry Project is a 'NYC bar in Tulum' so you're getting some awesome cocktails here. You better like either tequila, mezcal or rum, because that's all that's at the bar. Don't miss out on 2-for-Tuesdays!!
Address: Carr. Tulum-Boca Paila Km 8.2, Tulum Beach, Zona Costera, 77780 Tulum
How to get around Tulum to Eat and Drink
If you're staying in downtown Tulum you will have plenty of food and drink options to walk to. However, if you are looking to go from one end of Tulum to the other or between beach and town you will need to bike, scooter or get a taxi. I've broken up the bars and restaurants in Tulum by area so that you know which places are close to one another.
Ways to get around include:
Rent a scooter or bike
Take a taxi (no uber in Tulum)
Walk
Native Yucatan Dishes to Try:
Cochinita pibil

Pavo Relleno Negro

Sopa de Lima

Huevos Motulenos

Chilaquiles
Best Cheap Eats in Tulum:
Taqueria Honorio (Pueblo)
Antojitos la Chipacaneca (Pueblo)
El Takazo Jr. (Pueblo)
La Eufemia (Beach)
Clan Destino (Beach)
Bocanera (Beach)
El Camello Jr. (Pueblo)
Palma Central (Pueblo)
Things to Do in Tulum: