Things to do in Puerto Rico : Complete Guide to Explore San Juan and Beyond
My first trip to Puerto Rico was packed full of sight seeing and Pina Coolada tasting. I had such an a blast, which is why I'm super excited to share with you my guide on all of the best things to do in Puerto Rico. This is pretty much everything you need to know to be able to explore San Juan and beyond!
Since I had been living in England for 6 years up until a year ago, I haven't traveled around the Caribbean too much. Now, instead of being in Med in a few hours flight I can jet to the Caribbean in just a few hours! I'm so happy I had the chance to discover so much of what there is to do in Puerto Rico.
Where is Puerto Rico?
Puerto Rico is a Caribbean archipelago consisting of three islands. Culebra, Vieques and the main island are situated between the Virgin Islands and Dominican Republic. Puerto Rico is an unincorporated U.S. island.
What you should know before traveling to Puerto Rico
Currency: American Dollars
Language: Spanish, but English is widely spoken
Best time to go: May, June
Electric: U.S.
Drive on the right side of the road
Tap water is safe to drink
No Passport required for U.S. citizens
Getting There
Start by flying into San Juan Luis Muñoz Marín Airport from NYC in just under 4 hours. The 5am flight was painful at the time, but ended up working out great. I felt like I squeezed a whole extra sun day in! Thankfully, the airport is a short 20 minute drive from old town San Juan and only 5 minutes from Condado. I was glad I chose to stay on Condado (close to a beautiful beach) and just grab the 5 minute uber into town when needed.  The taxi ride from the airport to Olive Boutique Hotel in Condado cost me $25.
You should make sure yo check with your hotel to see if they offer a shuttle service and if it costs extra.
Uber is now allowed to pick up at the airport!
Top Tip-there are beaches REALLY close to the airport so it's a great move to head there a few hours before your flight your flight for max sun time.
How to Get Around
Car Rental
Realistically, renting a car in Puerto Rico is the most convenient option. Not having a car will definitely restrict you, unless you only plan on visiting San Juan, which in that case you shouldn't worry.
San Juan is a very walkable city and even if you wanted to go ten minutes away the uber will be no more than $7. In terms of road safety,  I did a mini road trip from San Juan to Rincon to San Sebastian and back to San Juan and had no major issues. We drove in the day time and it felt like the roads were pretty empty.
Public Transportation
Unfortunately, the Public transportation in Puerto Rico is limited, unreliable and very timely, even in San Juan. However, it is the cheapest option. I have no personal experience using the bus, but here is some bus information.
Taxi/Uber
While in San Juan I used Uber constantly. It seemed widely available and wasn't too expensive.  For an idea of taxi expenses here is a fixed rate table. If you don't want to rent a car, I would recommend uber or taxis.
Where to Stay on the Island of Puerto Rico
Ideally, Puerto Rico has a variety of well known hotel brands, family run accommodation and quirky boho properties. You know I love my boutique hotels and Puerto Rico has some incredible ones! Here is my guide to the best Puerto Rican hotels.
Sister Hotels in Condado. A five minute drive to Old San Juan and a walk to either the Condado Lagoon or Condado Beach. Whether you prefer modern and glamorous or globally inspired rustic chic they have got you covered. Stay in either and you are welcome to use the facilities in both hotels.
A gorgeous Eco Hotel. The only vegetarian hotel is San Juan, it is known for it's brunch. Boho chic decor with a treehouse feel. Located in the residential area of Ocean park.
This historic hotel was built in 1646, was the first Small Luxury Hotel of the World Member in Puerto Rico and is the oldest member of the Historic Hotels of America. This hotel some some amazing amenities including access to their Beach Club, fitness center, pool and a nightly complimentary wine and hors d'oeuvres reception.
La Concha Renaissance has a stunning beachfront location. You can choose to lounge by the pool or at one of their beach loungers. They host events on some evenings and have multiple dining options including a sushi bar and cafe.
Boutique and Luxury Hotels outside of San Juan
Experience the ultimate private luxury at this lush boutique hotel. The property boasts secluded beaches, extensive gardens and two restaurants.
On the beach hotel in Rincon, close to the best surfing beaches in Puerto Rico. All five of the accommodations at this hotel have an ocean view! The stay includes a gourmet breakfast spread.
An incredible five star resort built in the 1950's. It's home to Spa Botanico, the island's only Forbes verified five star spa.
A small family friendly resort on the northwest coast.
Royal Isabela boasts a unique location on an old coconut plantation and a massive 483 acres with an ocean view.
Hostels in Puerto Rico
Map of Things to do in Puerto Rico
Things to do in San Juan
Of course visiting San Juan is a must! Most people associate San Juan with it's old town, but there is actually more to see than just that.
When deciding what to do in Puerto Rico, don't forget to include other parts of San Juan on your itinerary.  Neighborhoods besides the old town include Condado, Ocean Park, Isla Verde and Santurce. In these greater San Juan areas you'll find beaches, restaurants, galleries and more you can visit.
Take a Tour of Old San Juan
Tour Old San Juan yourself or join a guided one. There are food tours by Flavors of San Juan or the Spoon Experience and a walking tour where you get to pick the price!
Old San Juan has one of the most adorable old towns filled with colorful houses, bars, restaurants and even some cool Instagram spots!
Walk down the Umbrella Street
On La Fortaleza Street, leading up to the governor's mansion, there are dozens of pretty umbrellas above you. (**Update – the umbrella have been switched over to flags)  It is known as the Umbrella project and is an art installation put in place after the hurricane to bring people back to San Juan. It's become quite the instagrammable location!
Visit the Govenor's Mansion – La Fortaleza.
 At the end of Fortaleza street is the 16th century governor's mansion. It was designated a National Historic Landmark in 1960. The mansion is a pretty pale blue and sits on the edge of the city walls. Guided tours are offered daily and the entrance is free.
Explore a Spanish Fort – Castillo San Felipe del Morro & Castillo de San Cristobal.
You can visit both Forts El Morro and San Cristóbal. These incredible structures that have protected the city of San Juan for centuries. A $7 entry fee gets you into both forts within a 24 hour period. Make sure to save your receipt to get into the second location!
Have a beach or pool day in San Juan.
Visit one of the beaches in San Juan or head to a pretty hotel pool.
Condado Beach and Ocean Park beach are both easily accessible beaches. Condado Ocean Club (former Serafina Hotel) has a stunning infinity pool with an outdoor bar.  My family and I actually rented a cabana there for the day. We ordered prosecco,  rum, mixers and snacks at an affordable price (affordable for this type of thing).
Pamper yourself.
Multiple pampering options are available in San Juan including the Spa at Condado, Zen Spa, Spa Botanico, Well & Being Spa at El San Juan Hotel and Cloud Spa.
See La Perla in Old San Juan.
La Perla is a historical shanty town outside the city walls of Old San Juan. It's recently been in the spotlight for being featured in a music video.
I've heard it can be a little unsafe, so I wouldn't suggest going into the town at night. We chose to just look at it from above.
Check out a Food Park for some tasty eats.
San Juan has a couple different food parks with a variety of food and drink to try. You have the option of Miramar Food Truck Park or Lote 23. Lote 23 felt super trendy and I loved the set up. They even had some live music going on!
Party with the locals at La Placita.
When deciding what to do in Puerto Rico I highly recommend experiencing La Placita. This place is raging on Friday nights. It's basically a plaza of bars and restaurants where the locals hang out — the atmosphere is absolutely awesome.
If you want, have a light bite and some starter drinks at Lote 23, then walk down to La Placita for the open air party. At La Placita, drink prices were the lowest I'd seen on the island!
Visit Casa Bacardi Rum Factory.
Casa Bacardi is actually the largest rum distillery in the world! It's located across the bay from Old San Juan. To get there, you can take a ferry across from Pier 2 or drive around.
A the factory you'll be able to see family heirlooms, take a mixology class, taste rums or bottle your own! Prices for the experiences vary.
Where to Eat, Drink and Party in San Juan, Puerto Rico
I just loved the food and constant supply of Pina cooladas in Puerto Rico. Here are some of my favorite spots to grab a bite or have a cocktail!
Restaurants + Cafes
La Cambija
Casual seafood restaurant in Rincon. I loved their fish tacos and watermelon juice! SO fresh and very affordable.
A boutique hotel on the beach with a restaurant where your chair is literally in the sand!
 A mansion on the beach offering views, cocktails and cuisine. Perfect date night or occasion spot.
Kioskis de Luquillo
It's a strip of bars and restaurants lining the beach. From traditional Puerto Rican to pizza to take away empanadas and international cuisine, they've got it all. We ate at Terruño, which actually ended up being my favourite meal. Prices are reasonable, happy hour deals with an open air back patio.
Jibarito
Authentic, home made Puerto Rican food!
Cocina al Fondo
This restaurant has a cool location behind an art gallery.
La Bombonera
A cafe known for it's traditional breakfast. Enjoy eggs, chorizo, pastries and coffee.
La Alcapurria Quemá
Come here for traditional and affordable Puerto Rican dishes.
La Casita Blanca
La Casita Blanca means 'the little white house.' This is another great spot for authentic Puerto Rican cooking.
Marmalade
When you want a change of pace and are in the mood for something healthier and innovative, Marmalade is in the place. This restaurant and wine bar has amazing food and is the only eleven time Wine Spectator Award Winner in Puerto Rico.
Bars + Nightlife
Barrachina – Famous for creating the Pina Coolada! They serve food and drinks and have an adorable courtyard.
Jungle Bird + La Factoria + Caneca– A trendy set of nightlife spots by Colectivo Icaro. All three are located within a 15 mile radius of San Juan.
Cuatro Sombras – A cafe with delicious coffee and light breakfast located on the edge of Old San Juan.
The Cannon Club –  Gorgeous rustic chic piano bar. There was a actually a parrot perched on the bar 'drinking' a beer!
Penulitma – A cocktail bar with outdoor space just down the street from Jungle Bird and La Placita.
Adventurous Things to Do in Puerto Rico
 Visit El Yunque Rainforest.
El Yunque National Forest is the only tropical rain forest in the US Forest System. There are 16 different hiking trails. You will certainly come across plenty of waterfalls and wildlife. Choose whether to explore on your own or book a tour with an expert. Above all, this is my top things to do while in Puerto Rico!
Yokahu Tower is a popular destination in El Yunque and can be accessed by using Mount Britton Trail.
 Go chasing Waterfalls.
Visiting the San Sebastian Waterfalls was one of my other favorite things to do in Puerto Rico.  Park for just $5 and explore two huge falls. Use the rope swing or just people watch here. The falls are very close to the parking.  The lower falls are down a steep staircase and the other is via a flat cement path.
La Choca is a waterfall in El Yunque Rainforest.
Salto Curet Waterfall
La Mina Waterfall is in El Yunique Rainforest and can be accessed by the La Mina trail.
Doña Juana Waterfall
Juan Diego Waterfall
Las Cataratas Waterfall
Beaches in Puerto Rico
When deciding what to do on your Puerto Rican vacation, I'm sure enjoying the beaches is high on your list! This island is surrounded by gorgeous blue water and the beaches are plentiful, here are some of the best ones.
Beaches in or near San Juan:
Luquillo 
About an hours drive form San Juan this beach is popular with locals and tourists alike. $5 to park and stay all day! There are facilities including bathrooms, showers and snack bar. You can buy a pineapple filled with Pina colada for $12!! The El Yunque Rainforest in the distance makes for a lovely backdrop.
Beaches by the airport – Isla Verde and Balnaerio de Carolina
Both of these beaches have an ideal location right next to the airport! Since my flight home was at 9pm, after hotel checkout I drove here and sun bathed until the last second. I paid $5 to get into the beach.
Ocean Beach
Just a bit further down from Condado is Ocean Beach, a more residential area with it's own beach.
Condado Beach 
Condado Beach is a ten minute drive from Old San and is where many of the high end hotels are located. I went to this beach a couple times because it was an easy walk from Olive Boutique Hotel and there are dining options all along the main road behind it.  It actually gives off somewhat of a Miami vibe!
Beaches outside of San Juan:
Playa Sucia
This is definitely one of the most beautiful beaches in Puerto Rico. Its secluded and rustic with turquoise waters.
Crash Beach
Crash Beach gets its' name from the ship remnants left on one side of the beach. It has plenty of vegetation and lots of seashells.
Domes Beach
Domes Beach is located in Rincon and is possibly the best surfing beach in Puerto Rico. The reason for its' name is that there is a Dome on the beach which actually used to be home to a nuclear power plant.
Flamenco Beach
Flamenco Beach is on island of Culebra and is frequently rated one of the top beaches in the world. You can catch a ferry to Culbera from Ceiba or take a day boat tour to get here.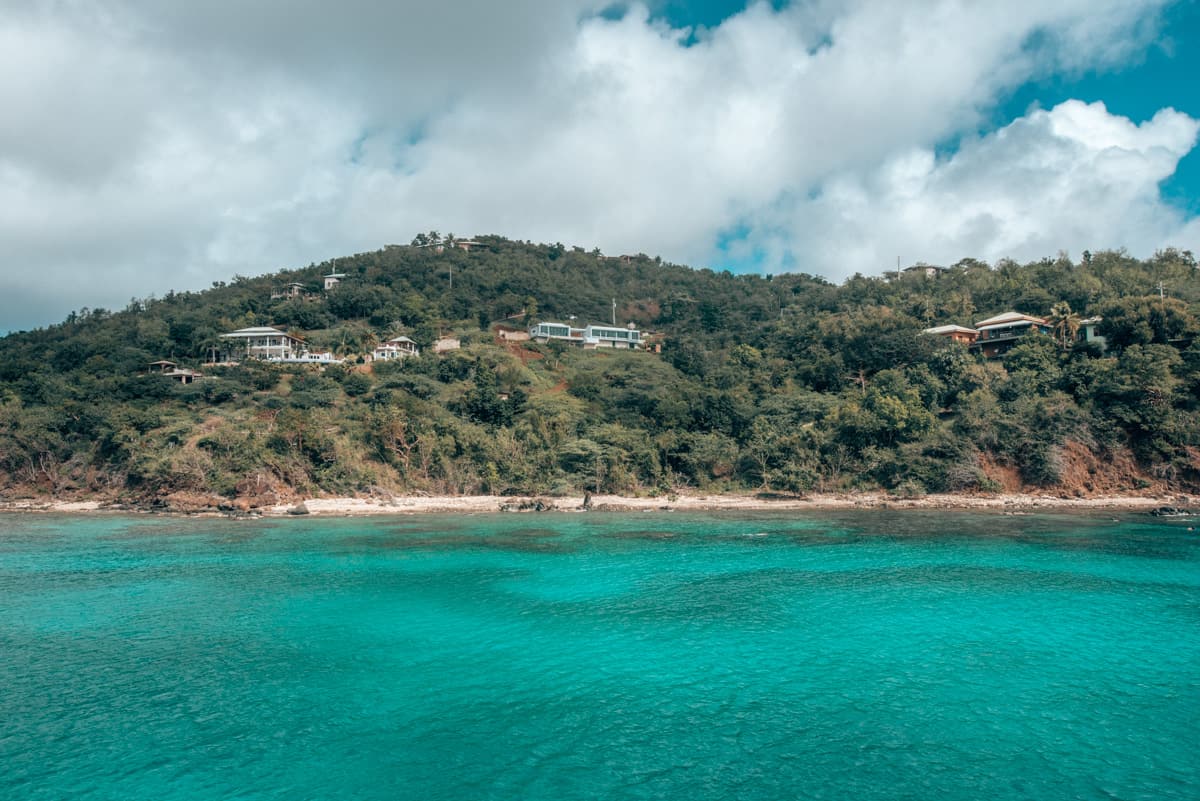 Go Beyond San Juan and explore the other Puerto Rican towns 
Puerto Rico has cute towns dotted all along is coastline. If you have a spare few days I would highly recommend exploring one of the more off-the-beaten-path locations. I  did a mini road trip around Puerto Rico in just 5 days. The island is small enough to make it happen.
Rincon 
Rincon is a cute surfer town. It is home to the famous Domes Beach, a lighthouse and one of the cutest boutiques I've ever seen! Since Rincon is on the west side of Puerto Rico the sunsets are epic. I was very happy I decided to stop over here for on night.
Cabo Rojo
Home to salt flats, rustic beaches and a lighthouse. A scenic area do explore for a day in the Southwest part of Puerto Rico. Cabo Rojo is 2 and a half hours from San Juan.
Luquillo
Luquillo has a locals beach and a strip of bars and restaurants along the beach. I high recommend  including this spot in your Puerto Rico vacation if you want to authentic cuisine!
Arecibo
Arecibo is a town on the Northern coast of Puerto Rico. What puts Arecibo on the map is the Arecibo Observatory.
Fajardo
Fajardo is on the eastern most tip of Puerto Rico. Home to one of the three bio-bays in Puerto Rico, plenty of keys and inlets as well  as a lighthouse.
Isabela
The blue hole is located in Isabela and is and ideal snorkeling destination with 300m of reef.
Things to do in Culebra 
Why not head to Culebra, the most peaceful of Puerto Rico's islands.
How do you get to Culebra?
Take a boat day tour from Fajardo or take a boat ferry/taxi from Ceiba. There is also the option to fly.
Ferry Boat
A roundtrip ticket from Ceiba to Culebra is $5. Be sure to book your ferry in advance on PorFerry. Boats can fill up quickly and you don't want to mss your chance if you wait until last minute. As a warning, the ferries are known for having issues so it's probably best to arrive early to your booked time.
I found some helpful ferry tips from the Globetrotting teacher that are definitely worth looking over.
Day Tour or Charter Options
There are a range of day tours and charters trips and I'm sure you could find one to fit your budget. The more you have to spend the more intimate your boat trip can be. The cheaper tours will be on a bigger boats with plenty of other passengers. Keep in mind that some of the boat tours, won't even dock. You'll actually have to swim from the boat to the shores. That being said, you can only bring things ashore safely in a waterproof bag.
East Island Excursions
Pure Adventure PR
Caribe Bliss
Fly to Culebra
Take a puddle jumper flight from San Juan Airport.
Flamenco Beach
Culebra is known for Flamenco beach, which is said to be the best beach in the world! It is also home to a National Wildlife Refuge. Culebra is a serene place for basking in the sun and embracing paradise.
Flamenco Beach has a couple of different accommodation options if you wish to stay overnight. Villa Flamenco is literally right on the sand and has a few basic apartments and studios. Last time I was there, I also saw a sign that glamping would be coming soon!
Restrooms, and food vendors are available at Flamenco Beach. Grab an empanada or a pina coolada to sip on.
Staying on Culebra
Culebra Activities
There area number of wellness activities to do on Culebra.
Yoga
Biking
Snorkel and Scuba
Culebra National Wildlife Refuge
More than 20% of Culebra is part of the Culebra National Wildlife Refuge. Sea turtles, birds and secluded beaches are just some of the things you'll find here.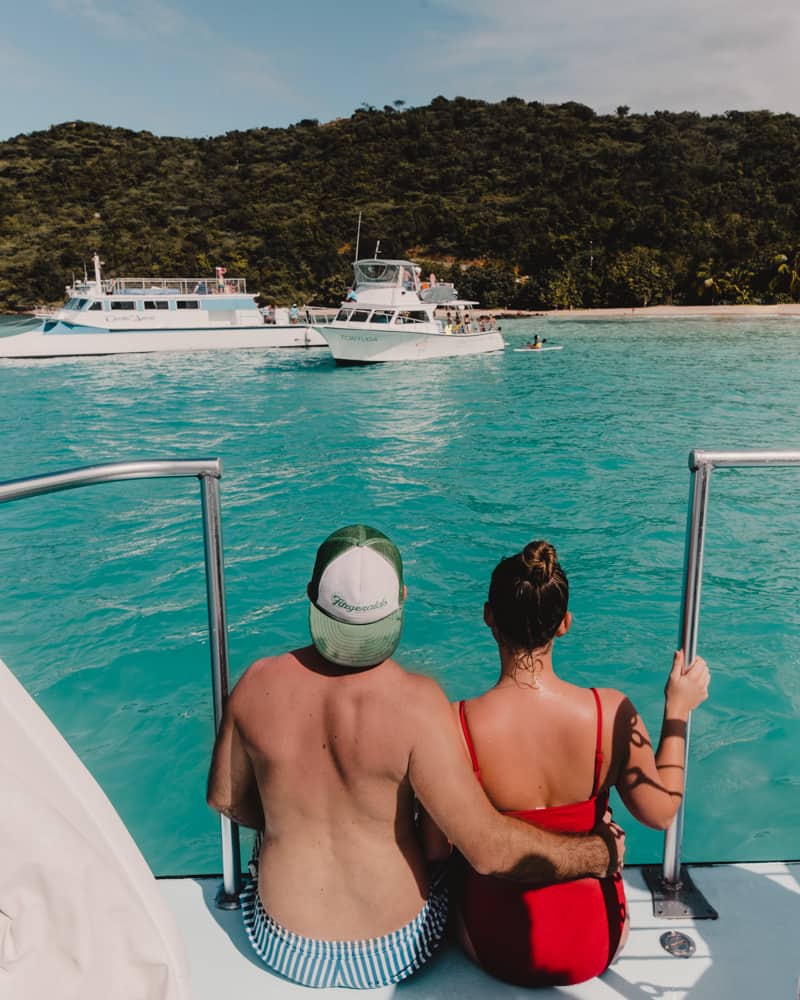 Things to Do in Vieques
Vieques has the incredible natural phenomenon, (Mosquito Bay) bioluminescent bay and is more populated that Culebra. Water sports and horse back riding can keep you busy or choose to sun bathe on one of the handful of secluded beaches!
How do you get to Vieques?
Pretty much the same deal as Culebra.
Ferry Boat
A roundtrip ticket from Ceiba to Vieques is $4. Be sure to book your ferry in advance on PorFerry.
I found some helpful ferry tips from the Globetrotting teacher that are definitely worth looking over.
Day Tour or Charter Options
East Island Excursions
Pure Adventure
Caribe Bliss
Vieques Sailing Charters
Fly to Vieques
Take a puddle jumper flight from San Juan Airport.
Staying on Vieques
There are a surprising number of modern concept boutique hotels in Vieques.
Experience Bioluminescent Bays
There are only 5 bioluminescent bays in the world and surprisingly 3 of them are in Puerto Rico! Mosquito Bay, is located on the island of Vieques, Laguna Grande on the north side of the island in Fajardo and La Paguera on the far southwestern side. In the Bioluminescent bay micoorganisms in the water glow a blue green when they are disturbed, making for quite the light show!
Horseback Riding
Explore secluded beaches on horseback!
Playa Negra
Playa Negra is is a black sand beach on the south part of the island.
Grand Old Ceiba Tree
A glorious ancient tree off route 200. Said to have a striking majestic presence.
Where to Eat, Drink and Party outside of San Juan, Puerto Rico
Restaurants + Cafes
La Cambija (Rincon)
Incredible, fresh seafood at affordable prices. I ordered watermelon juice here which was pretty cool. I loved this spot!
Lechonera Los Pinos (Aguas Buenas)
La Estacion (Las Croabas)
El Punto Sabroso (Cataño)
Salitre Meson (Arecibo)
La Ana de Cofresi (Rincon)
La Copa Llena at The Black Eagle (Rincon)
Uma's (Isabela)
What to Pack for your Island Escape
Puerto Rico is a tropical destination, so you'll want a wardrobe to match! Here are some tropical weather essentials and clothes you should bring with you for a trip to San Juan and beyond:
Casual beach clothes
A couple of nicer outfits
Sunglasses
Cute beach bag
Sandals
Hat
Light rain jacket
Day pack
Quick dry towel
Activewear – Clothes you can get dirty/muddy/wet in
Resort wear for lounging at the hotel pools and beaches
Comfortable walking shoes/sneakers
Bathing suits, 1 that is sporty and 1 to lounge in
Camera
Bugspray
Floating Dry Bag – Can be useful for a boat tour or jungle excursion
Are you looking for other island activities?
Some other cool things to do in Puerto Rico include:
Go horseback riding.
Go snorkeling over a coral reef.
Go surfing in Rincon.
Take a boat trip to another island.
Biking or hiking.
Take a cooking class to learn to make traditional Puerto Rican dishes.
Go on a food or architecture tour around San Juan.
Is Puerto Rico Worth Visiting?
Would I have went to Puerto Rico twice in one year if it wasn't?! Honestly, the diversity of Puerto Rico is incredible and it has the history and culture to give so much depth to your travel experience . I highly recommend visiting, especially if you are a history buff an adventure seeker or a foodie!
Thanks for reading my guide on what to do in Puerto Rico! I really hope this helps you fully explore the island!
If you'd rather have your entire week in Puerto Rico planned out for you, check out my detailed 7 day Puerto Rico Itinerary.
Are you interested in finding the best places to take photos in Puerto Rico? Check out my Instagram Guide!