Checking In: Review of Sun Palace Resort – Adults Only All Inclusive in Cancun
I want to start of by saying I don't typically stay at all-inclusive resorts, but after spending time at Sun Palace Resort, I can see why it appeals to people, especially at a property as impressive as this!
If you're looking to drink some cocktails by the beach or pool,  unwind, and have a bit of fun, Sun Palace Resort will meet your needs and then some.
Sun Palace Resort is located in the Hotel Zone in Cancun, Mexico. However, it's actually at the beginning of the Hotel Zone and not cramped in with many of the busier resorts. It's slice of beach paradise feels a little more spacious and the beach felt cleaner than when I stayed at a different property further down the strip.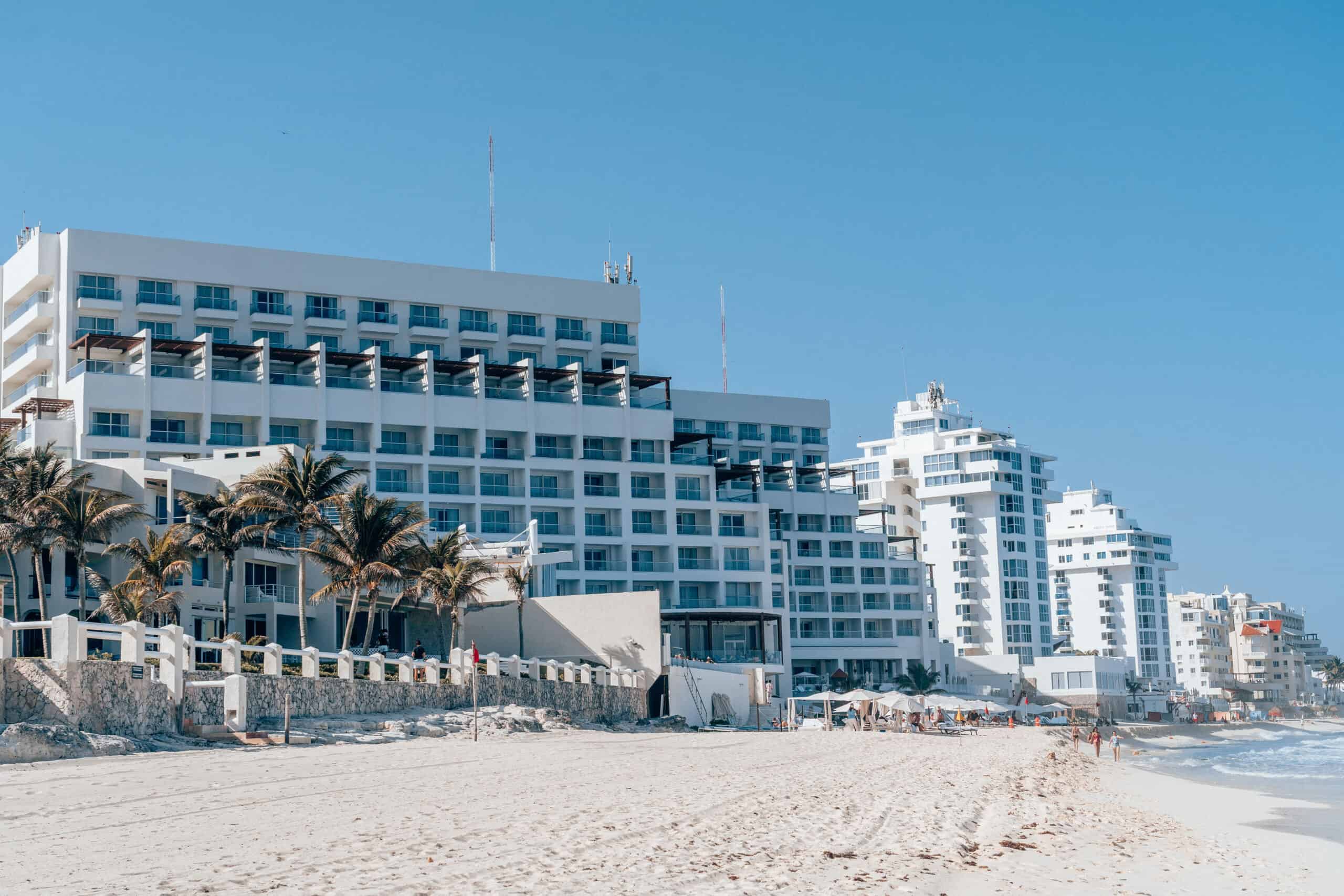 Amenities, Service and Design at Sun Palace Resort #ThePalaceLife
The beach chic contemporary design of the hotel felt effortlessly classy. As soon as you walk into the hotel, you are by their impressive reception space and it really sets the tone. From arrival to departure the staff were all super friendly. They assist you the moment you step out of your vehicle.
The amenities at Sun Palace Resort include two infinity pools, beach loungers with food + beverage service, a top notch gym, spa, beach volleyball court, and nightly entertainment. Everything you need for a ultimate relaxation.
The pool and beach was set up so nicely. Everything was kept tidy and we didn't feel too cramped. I also loved that they chose to match the color of the pool and loungers with the blue color of the sea. It looks beautiful!
If you're interested, the staff can book you on a tour or a romantic dinner on the beach at an additional cost.
The Palace Resort App is convenient for seeing what your options for dining and activities are each day.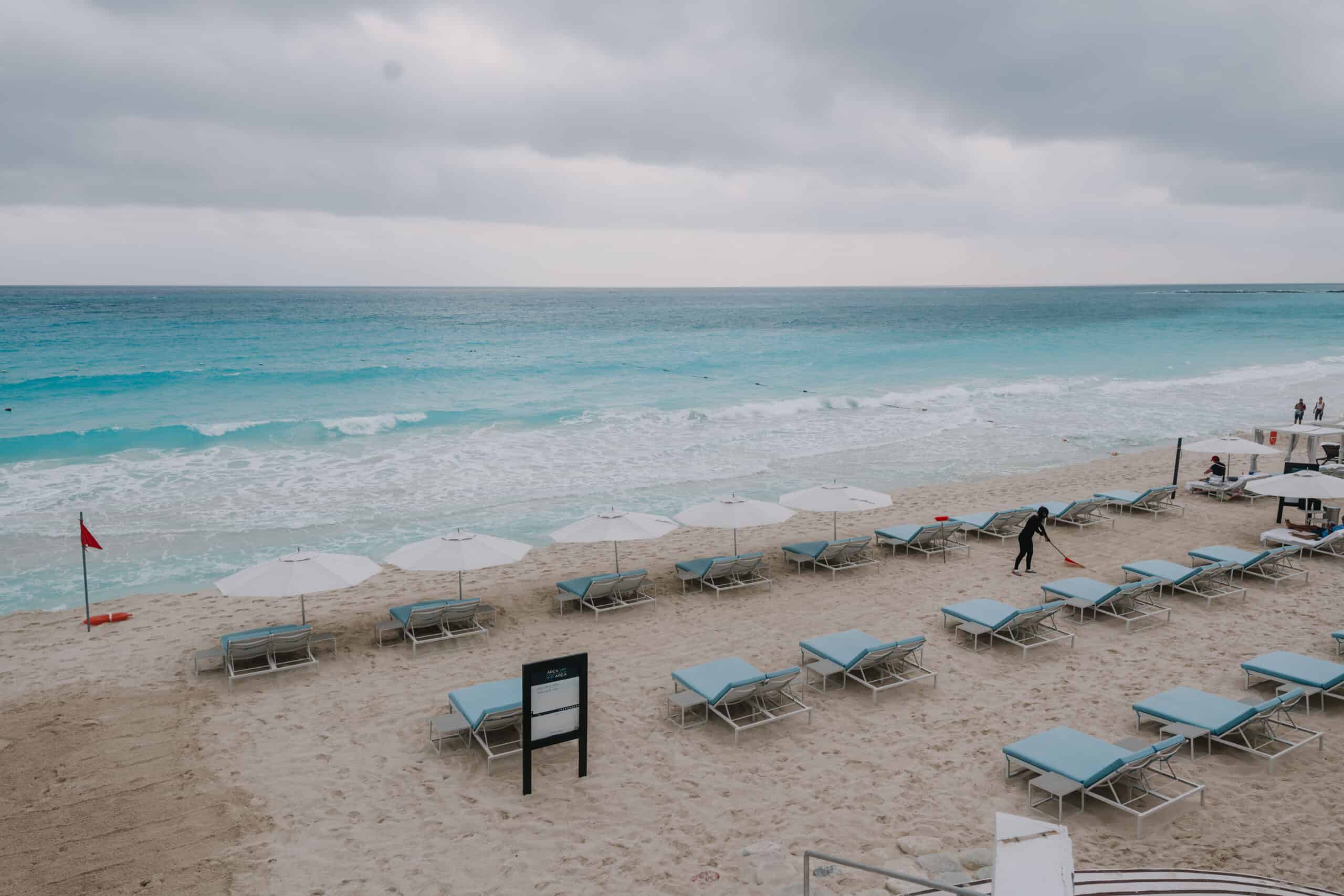 The Rooms at Sun Palace
At Sun Palace you'll experience luxurious rooms with epic ocean views. It was incredible to wake up and walk out to witness the sunrise daily.
The rooms felt immaculately clean, modern and spacious, received maid service + turndown daily and the bathrooms were complete with double sinks and high quality bath products. Of course they also had robes and slipper which I always jump right into!
Most of the rooms have massive jacuzzis and ours was right in the center. There's also an in room mini bar with liquor dispensers which is refreshed daily and part of the all inclusive package.


Dining and Drinking
Let me to you, the food here is excellent! You can choose for a selection of restaurants such as Fuego, Thai, Aurora and La Tratto.
Dining + Drinking options:
Fuego
Thai
Aurora
La Tratto
Parisan Cafe
Pool Snack Bar
Swim up Bar
Lobby Bar
At the Parisian take away cafe you could order specialty coffees, crepes and macaroons. The cold brew with almond milk was my go-to order!
I loved that one of the restaurants, Fuego,  was fully outdoors.  At Fuego we tried multiple cuts of steak, fish, oysters and more which were all delicious.
At the pool snack bar we couldn't stop eating the shrimp cocktail and ceviche – because of how fresh and light they both tasted!



24 Room Service
Since 24 hour room service included, one of the mornings we ordered breakfast to our room and ate on the balcony. It was perfection! We had a big spread that included tropical fruit, a smoothie bowl, juices, coffee and a Mexican egg dish.
Premium Drinks
Though premium drinks are included, you need to request them. If you order a cocktail you can just ask for the alcohol you'd like, otherwise you will get the house choice.  I'm pretty sure this is practice at any all inclusive, it just took me awhile to get used to being a newbie!
I tend to go with the frozen cocktails because the ice would melt so dam fast! My husband, Si, was missing his gin (typical British!) so he started ordering a 'frozen bombay and tonic.' The bartenders happily obliged his odd request!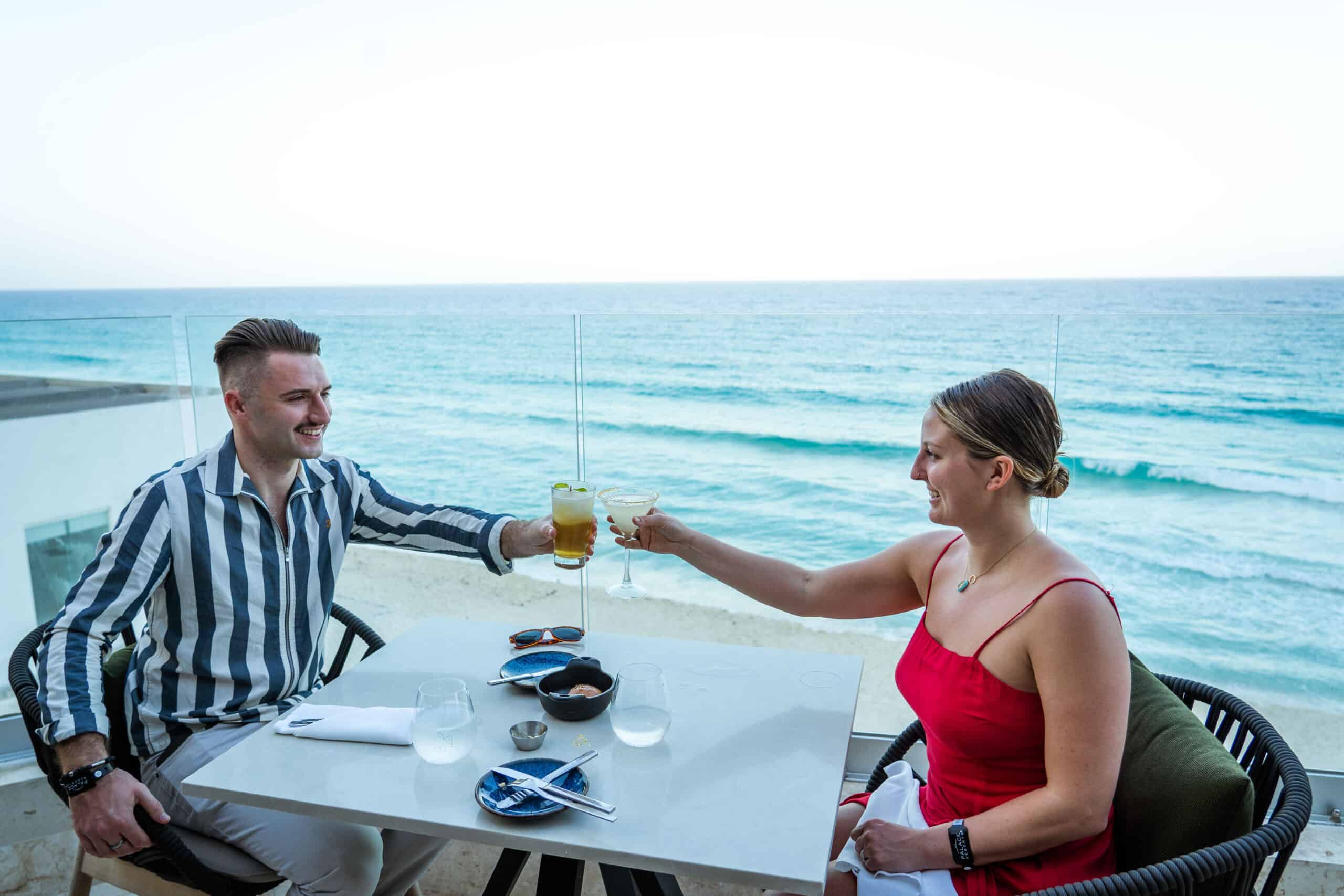 Visit Sister Properties Beach Palace and Moon Palace
If you want a change of scenery for the day, you can always head down the road to Beach Palace. This resort is family friendly and had more a party vibe to me. It did not feel nearly as luxurious as Sun Palace, but it did have some different restaurants, amenities and entertainment options including a rooftop pool!
We didn't get a chance to visit Moon Palace, but I've heard rave reviews!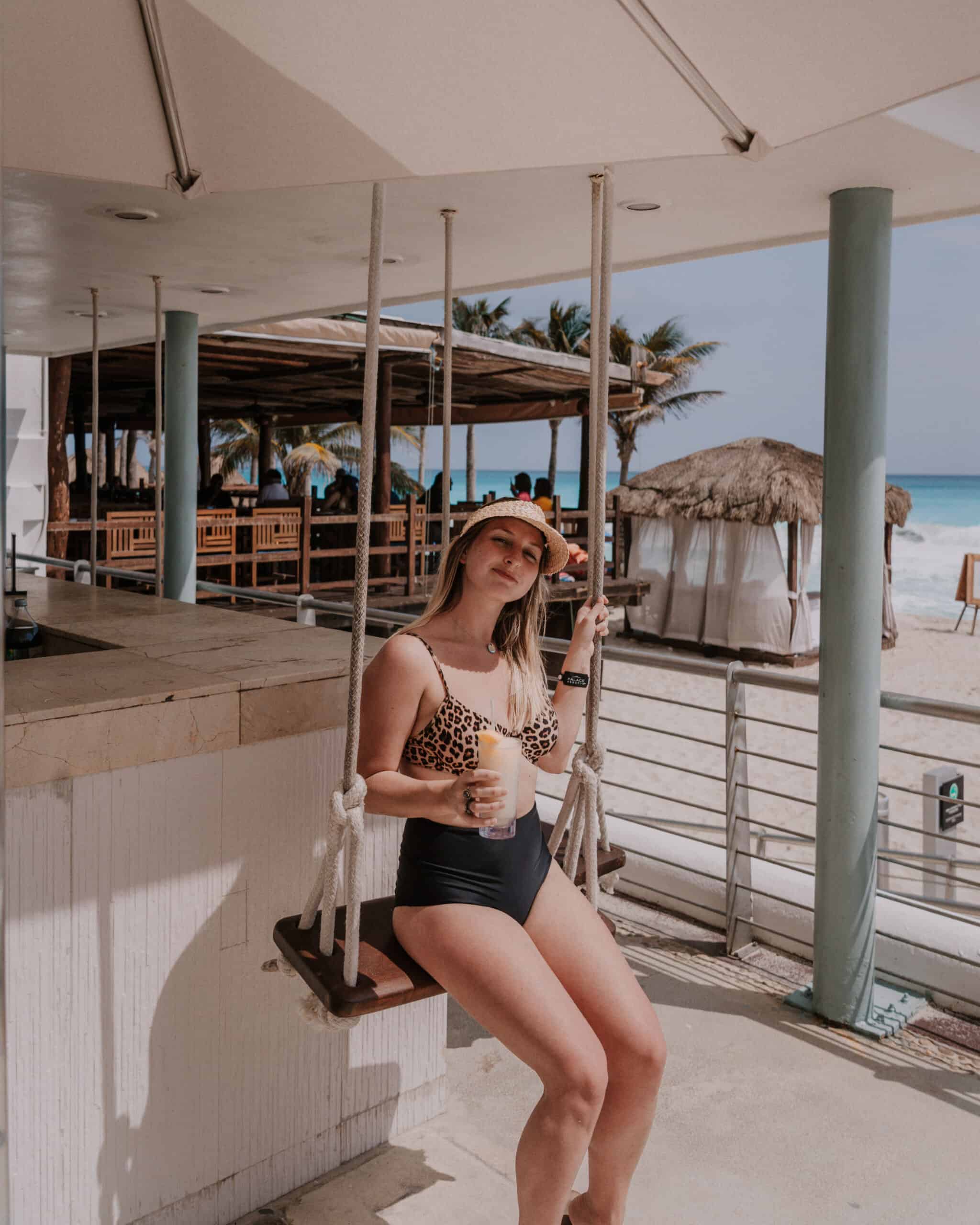 Should I stay at Sun Palace Resort?
I think this property is perfect for couples and adults who lead busy lives and are looking for some ocean front bliss. The food and drinks are amazing and the pool/ beach set up really out shines many of the others I've seen in Cancun. They even had a pool party one day with games which was a ton of fun and definitely livened things up.
Though they have some activities, and tours can be booked for nearby, this property (and the same goes for most of the hotels in Cancun) is not meant to be for the traveler who wants to constantly be on the go. This is where you can take time to just enjoy the stunning Caribbean Sea and embrace #thePalaceLife or tie it in with a trip down to Tulum!
Other Properties by Palace Resorts
Cozumel Palace
Le Blanc Spa Resort Los Cabos
Thank you to Sun Palace for making my stay so memorable! As always all opinions are my own.