The Best Mykonos and Santorini Photo Spots : Sunset Locations Included
Mykonos and Santorini are probably the two most popular Greek Islands. Mykonos is the ultra bohemian party island and Santorini is that iconic romantic destination. I explored them both and I'm sharing the The Best Mykonos and Santorini Photo Spots, Sunset Locations Included!
Mykonos Photo Spots
The first time I went to Mykonos I was 19 years old. I was immediately drawn to it. You can totally feel the lux bohemian vibe as soon as you set foot on the island. Everything is quality here.  All the food I ate was fresh, and well prepared. All the shops are beautifully kept, everything seems pristine.
Mykonos Street Photo Spots
Mykonos has one of the cutest little towns I've ever seen.  I liked to get up before anyone else was around see see the streets without the crowds. Since it is quite the party place, 8am seemed to do the trick.
Kastro's Restaurant– The restaurant opens around 10:30 so they put the furniture out just before
House of Jewels– For ages I was searching for the Pandora shop wondering why I couldn't find the little square with the bunting. It's because it's not "House of Jewels" and not Pandora.
#Happiness – Located at the address Kouzi Georgoulis 40. You need to get to this one early as stores open It becomes quite hectic!
TIP-the early the better!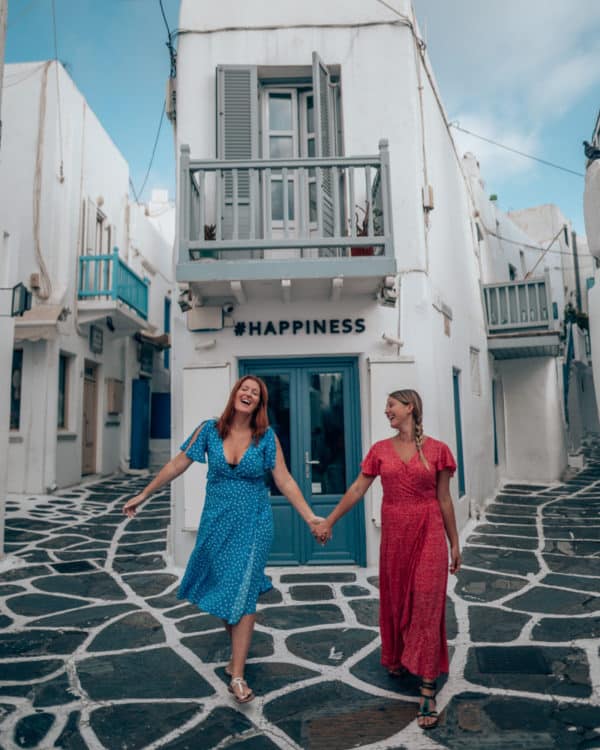 The famous windmills of Mykonos are easy to spot. Head to the Little Venice sea front and you will know where to go. We took photos there just after sunrise and at sunset to get some very different images.
There were people around but luckily it wasn't too over crowded. Going in October definitely helped.
Best View Point in Mykonos
You have to walk up a bunch of stairs to get to this spot. Put "Stelios View" into your GPS and that will get you going in the right direction. You get a stunning view of the bay and can even see the windmills on the other side.  180 sunset bar is close to this location if you'd prefer this scene with food or drinks! This is definitely one of the best Instagram spots in Mykonos.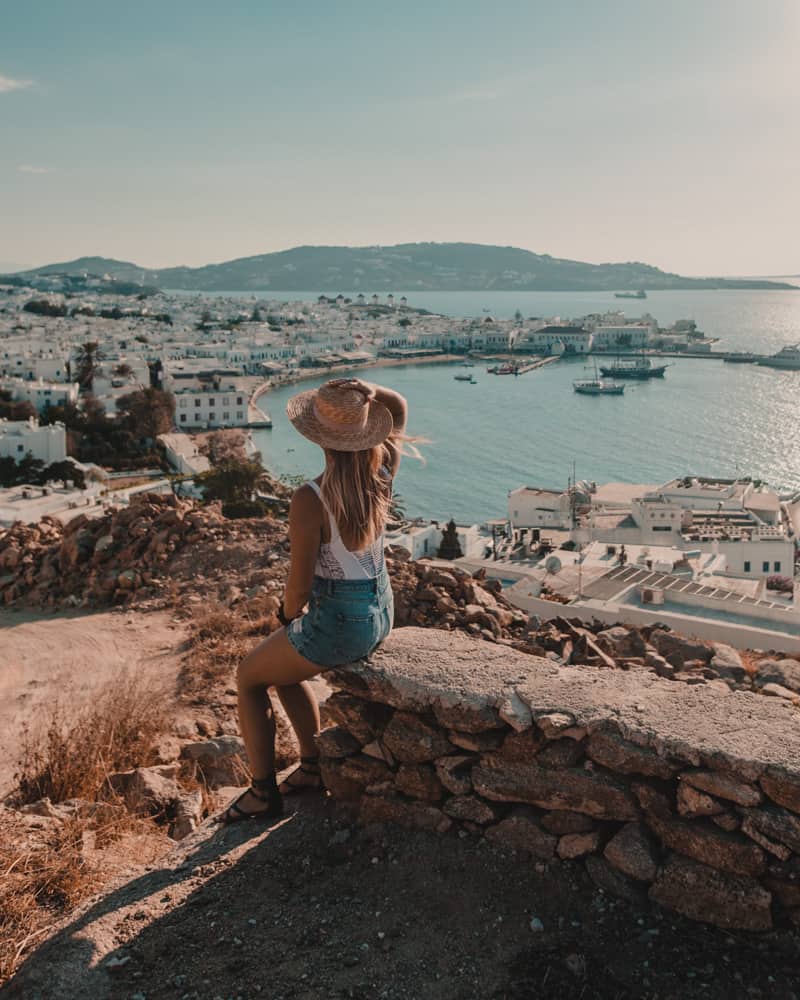 Little Venice, Mykonos
Cocktails, coffee, food and partying all lining the waters edge in Little Venice. A must see for sure! Any of the restaurants or bars here have some kind of view, we were lucky enough to get front row!
Oia, Santorini Photo Spots
Santorini is something out of a fairytale. The towns on the island are built on the cliff side so almost everywhere has an epic view. I can't believe just how many wedding photo shoots I saw going on! Santorini is much less of a party place than Mykonos, especially Oia and everything seems to be shut down by midnight. I'd go to Mykonos for the nightlife then head to Santorini to relax and take in the views.  I found Oia much easier to navigate than Mykonos town and you really shouldn't have trouble finding any of these famous locations.
Blue Dome Church
So this spot is possibly the most famous, but it was a bit of a struggle for me. To get to this spot you have to open a gate that says "Private Property" and it made me feel uneasy.    Even so, from the early morning hours there is a line of people waiting to get their photo here. I heard from someone that the "Private Property" sign was put there by locals to mess with the tourists but who really knows? A bit hesitant, I decided to wait my turn get the blue dome pics. If you don't get here close to sunrise you might be waiting on a line for awhile!
Oia, Santorini Sunset from Byzantine Castle Ruins
Now this is the sunset hotspot! EVERYONE goes here for sunset. It's pure magic because you watch the sun sink into the sea and then you watch the glow of the lights coming on in the town. Many like to come hours before equipped with a bottle of wine and some snacks. Remember that it is ruins, so please watch your step no guard rail here! This has to be one of the best photo spots in Santorini, if not the best!
Tip: I arrived quite late to the sunset party so did not have this front row seat the entire time. Luckily I have quite a good sense with a low aperture so I was able to capture the scene for sometime after the sun had set and many had already cleared out! You may want to adapt this technique if you're low on time.
Suites in Oia, Santorini 
Pretty much anywhere you stay in Oia you will have a view. The main road in the town actually overlooks some of the accommodation since the town is built down.
I loved our suite at Thirea Suites. The entrance path for these is a the start of the main pedestrian street and at the bottom of many steps. (don't worry someone carries you're bags for you!) Because it was on the edge of town you actually had a view of these cliffs! I couldn't stop staring. Each morning a home cooked breakfast is delivered to your terrace, it's paradise.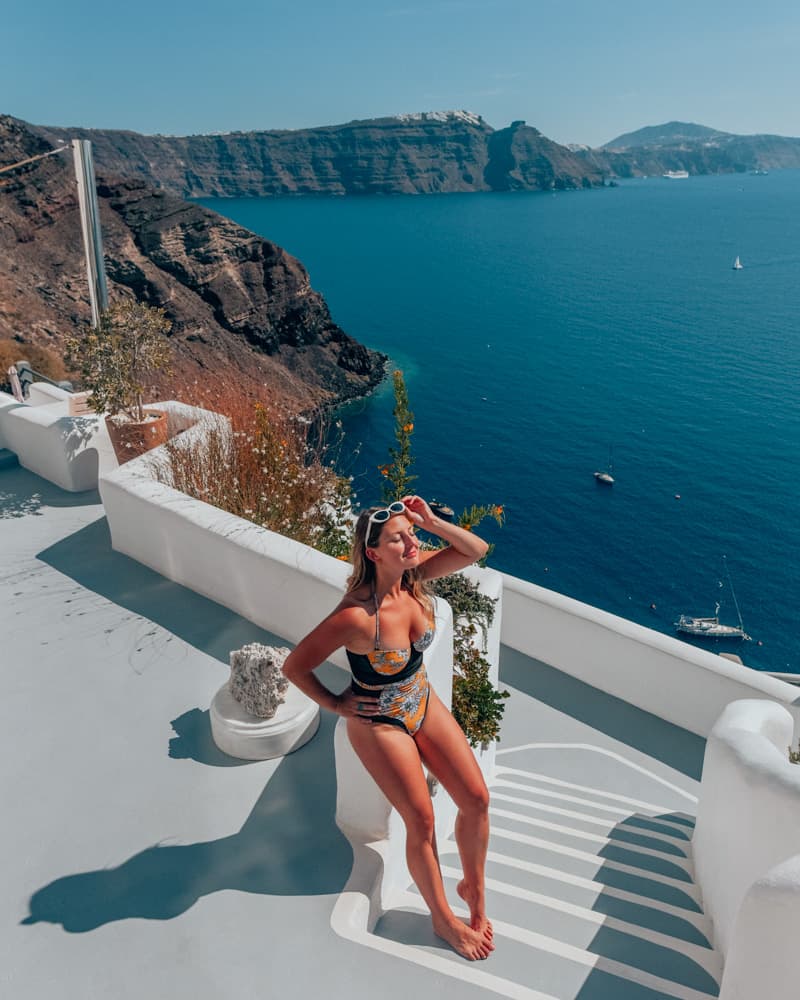 Pink Houses in Oia, Santorini
To get here head to "Kastra Oia Houses". It's actually very close to the castle ruins. This shot was slightly complicated to get without any other people in it so you'll definitely want to go early! How cute are these  villas with the sea peaking out form behind them?
Leave a question in the comments if you want any further details on any of these locations! Thanks for reading 🙂
If you enjoyed this photo guide make sure to check out my others to Chicago, Puerto Rico, NYC, Las Vegas, and LA.