The Best Things to do in Oia Santorini Greece: Full Travel Guide
Places like Oia, Santorini are so magical they seem like they're straight out of a fairytale. There are so many things to do in Oia, Santorini that I can't wait to share with you.  I can't believe I've now been to Oia, Greece twice and experienced so many cool things there!
Where is Oia?
Oia is one of the most famous places in Greece on the Greek island of Santorini. Santorini is part of the Cyclades chain of islands which lie in the Aegean Sea. The town is perched on a cliffside on the North end of the island.
What is Oia known for?
This volcanic Greek island is known for it's epic views, particularly in the town of Oia and Fira. Oia is famous for it's white washed buildings with blues domes and it's extreme popularity with honeymooners. Santorini sees over 30 million visitors per year!
Top Oia Greece Travel Tips
Here are some tips on Oia to help you on your way.
Currency: Euros
Language: Greek, Some English spoken (in touristy places like Oia)
Best time to go: June, September, October. (Summer months are extremely busy, I'm a big fan of shoulder season for travel in general)
Electric: 220V, plug types C and F
Drive on the right side of the road. 
Tap Water is not drinkable.
Uneven surfaces throughout Oia and the rest of the island.
The busiest time of day is dusk as everyone loves to watch the sunset.
Make sure to carry cash in case a shop owner or cash only, or their card machine isn't working.
How to get to Oia
Fly into Santorini or take a ferry from a neighboring island. I actually visited Mykonos first then headed to Santorini. I wish I had more time to see some of the other islands like Ios, Paros or Milos. I've heard they are all quite different from each other!
By Plane
Like many islands, there's really no direct way to get to Oia Santorini. If you're coming from the U.S.A. you'll most likely have to fly to a city in Europe like London or Athens first. Santorini airport is about 10 miles from Oia and a 20 minute drive away.
By Ferry
If you're coming from another Greek Island you will be docking at the ferry port. This is what I did and although I could see it being chaotic, I think I got lucky in the fact that I walked off the ferry boat and into the car rental place at the dock and rented a car with no issues. You also have the option to jump on a bus to Oia from the port.
Ferry schedules and fares can be found at Ferry Hopper. Always book in advance when possible!
By Cruise
The cruise port is in Fira, Santorini's capital and is known as the Old Port. From the bottom of the port you can take the cable car or ride donkeys up to Oia. Some advise that you should not ride the donkeys because they are mistreated, but as I didn't coming in this way I cannot offer any opinion on the matter.
Bus
Find the Public Bus schedule here.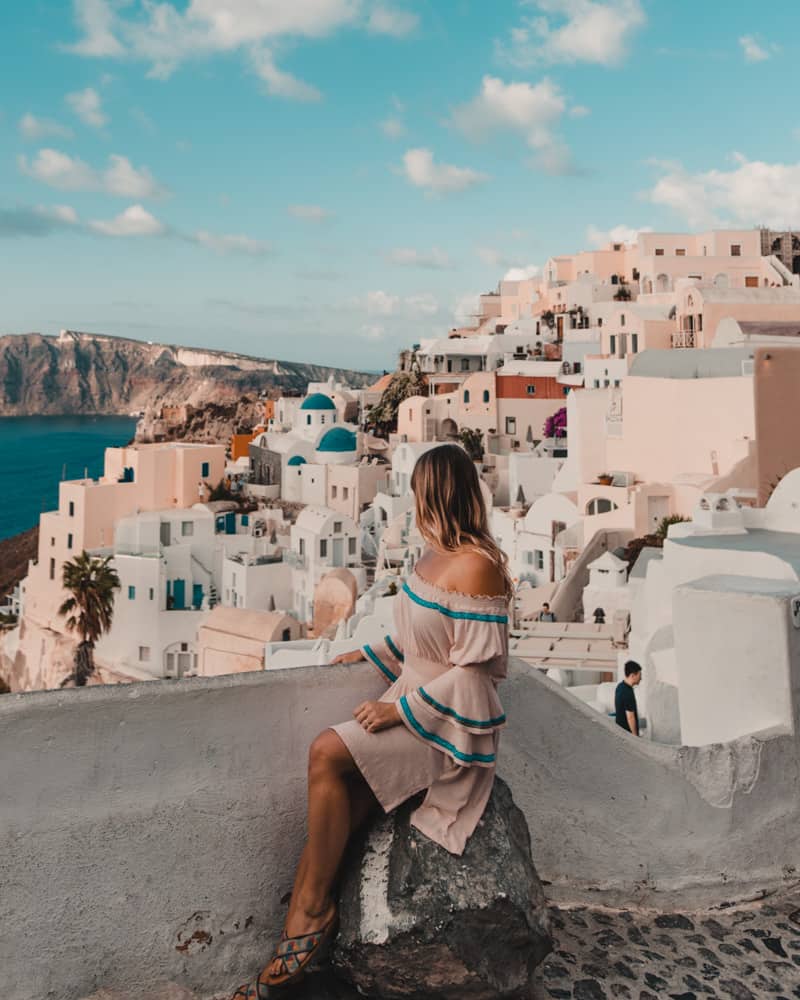 How to get around Oia, Greece?
Sadly, there is no Uber or Lyft in Santorini. You can get around the island by car, bus, taxi or quad. Oia, however is small and pedestrianized so you'll have to park on the edges of the town and walk in.
Rent a Car
There are parkings lots around the perimeter of Oia, but the main area of Oia is pedestrian only. There's a one way system to drive through to the lots and back out of Oia. It's nice to a have a car to explore other parts of the island, but will be of no use in the main town.
Check with your accommodation to see if they have private parking. Otherwise, it could be risky to rely on public parking, especially during the high season.
By Foot
The only way to get around the central area of Oia in Santorini is by foot.  The village sits on the edge of a cliff and can be very steep. You'll also literally be walking through ruins, like when you visit the Byzantine Castle Ruins.
Oia is on the tip of the island and has a main road that runs through it.  The main road is the highest elevation and the most of the side streets run down off of it. You'll come across cobble stone streets, stairs and plenty of uneven surfaces as you walk around.
The Best Things to Do in Oia
1. Walk around to the best photo spots in Santorini
Photography is up there with the best things to do in Oia, Santorini. There are so many beautiful photo spots in Oia which made it so difficult to put my camera down! Caldera views, technicolor sunsets, floral displays and roaming cats are some of the things you'll want to photograph. Get up early if you prefer empty streets.
Top photo spots:
Blue Domes
Oia Castle
Azaela Houses
2. Watch the Sunset form one of the many amazing view points
Watching the sunset  is one of the best things to do in Oia, Santorini, it's like a ritual! Everyone flocks to watch the sun dip beneath the sea in the distance. The most popular spot to watch sunset is at Oia Castle. Get there early to claim your spot. I suggest going a few hours before sunset with a bottle of wine(or two) and maybe some snacks. Make an evening out of it!
3. Experience a Santorini boat tour
Take a boat trip around Santorini. Soak up the sea and sun with a different view of the island! The next time I go to Santorini this will be the first activities on my list!
4, Day trip to a neighboring Greek island
Take a day trip to a neighbouring island. The closest islands to Santorini are Ios and Anafi. See the ferry schedule and fares on Ferryhopper.
5. Take a Greek Wine Tour
Take a wine tour and get familiar with Greek wine. Santowines is the must visit winery on the island. Visit on your own or join a tour. Some Greek wine varietals include Assyrtyko(white), Vinsanto(white) Moschofilero(white), Malagousia(white). Assyrtyko and Vinsanto are both from Santorini.
6. Take a Cooking Class
Want to learn the best way to make authentic Greek food? Santorini Gastronomy offers cooking classes to increase your culinary knowledge. Taking cooking classes in a different country is one of my favorite travel activities and Oia Santorini is no different!
7. Have a Beach Day
There are no beaches in Oia, but you will find some dotted around Santorini. The volcanic properties of Santorini means the beaches are mostly black and red sand. At some of the beaches you'll find beach clubs to hang out at.  The closest beach to Oia is Amoudi Bay.
Perissa and Perivolos
Kamari
Red Beach
Amoudi Bay
Monolithos
8. Visit Amoudi Bay
Amoudi Bay Port is a cove with turquoise waters and restaurants lining the sea front. It's an ideal location for cliff jumping and can be reached from Oia down a set of 300 stairs. It's rocky shores are not made for lounging like some of the beaches in Santorini.
9. Marvel at Oia Castle + Byzantine Castle Ruins
The Byzantine Castle Ruins are one of the cool things to do in Oia in both day and night. Though, it's the ultimate sunset watching location, you'll also want to check it out in daylight too! Watch your step, these are actual remains of a 15th centrury castle.
10. Find the Blue Domes
The famous blue domes of Santorini are not to be missed! If you want to get some photos of the domes without the competition of other tourists you'll need to go at sunrise. Tour buses start to arrive from 9am and after that, photo locations like 12. the Blue Domes will be swamped.
The main blue dome locations are are the churches of Agios Spiridonas (Saint Spyridon) and Anasteseos (the Church of the Resurrection).
11. 4 bells of Oia – Agia Ekaterini
12. Check out the Maritime Museum
Learn about the nautical history and see model boats and artifacts.
13. Visit the Old Port
The Old Port in Santorini is in Fira. This is where you can take the donkeys or table car up and down the steep cliff. From the bottom, you will get a different perspective of Oia and can shop or eat.
14. Visit the Main Oia church – Panagia Platsani
Panagia Platsani Church is located on the main square of Oia. It's a stunning church both inside and out.
15. Hike to Imerovigli and Fira
Hike along the caldera cliff from Oia to Fira. One of the most scenic things to do in Oia Santorini! This is a few hours hike but well worth it. The entire distance is about 6 hours. This hike  is not a loop so you'll have to take advantage of the public transportation at some point. Here is the  Santorini Bus Schedule
Unique Things to Do
16.Browse for Books at Atlantis Books
Witness the eclectic collection of books tucked away in beautiful Oia.
17. Rent an ATV to fully explore Santorini
18. See Santorini from the sky in a helicopter tour
19. Stay in a honeymoon worthy suite in Oia- even if it's not your honeymoon!
20. See a movie at the Open Air Cinema in Kamari
21. Jet Ski to the Volcano
Where to Stay
Oia is the most touristy part of Santorini. Most of the accommodation is on the edge of the cliff and has an insane view of the water and the caldera.  Boutique type properties like cave suites are some of the most desired accommodation in Oia. There are no big chain hotels which makes everything look quaint. If you are staying near the top of the caldera you will actually be able to look down on to other houses!
Hotels in Oia
Staying in Oia can be expensive compared to other parts of the island, but it's really a once in a lifetime experience. If you'd rather save some money, you can find a few minimalist and budget options. You can also stay on the outside of the town or in a different one. You need to weigh up whether it's worth having to commute into town each day.

Eating, Drinking and Nightlife
You should be careful not to get sucked into any tourist traps when picking your dining option. Oia can be a little pricier than other parts of the island so you don't want to end up overpaying. Sometimes you are paying for the view, but you can get a view from almost anywhere in town!
Authentic Greek Foods you Must Try
Greek is one of my favorite cuisines. I love the freshness and simplicity of the flavors. Theres nothing like a Gyro with fresh tomato and home made tzatziki.
Baklava – If nuts, butter and sugar sound like you're idea of heaven, you need to eat some baklava!
Mousakka – Think eggplant lasagna with ground meat.
Souvlaki – Grilled meats.
Gryro – Rotisserie like meat in a pita bread with toppings like tzatziki, lettuce, tomato, and onion.
Spanakopita – A Greek spinach pie.
Greek Salad – Even though Greek Salad is a simple dish, it never tasted as good as it did when I ate it in Greece! I swear the feta was unlike any other feta and tomatoes were perfectly ripe.
Restaurants to try
Some of the best restaurants in Oia are :
Candouni is a charming family run restaurant on a side street in Oia.
Roka is set in a hundred year old building with sprawling sea views.
Elinikon serves authentic Greek Meze.
Karma boasts attention to detail and exotic adventure.
Ambrosia is a fine dining experience on top of the world.
Lotza provides another panoramic view, but with good food!
Passagio is a breakfast spot in the center of Oia.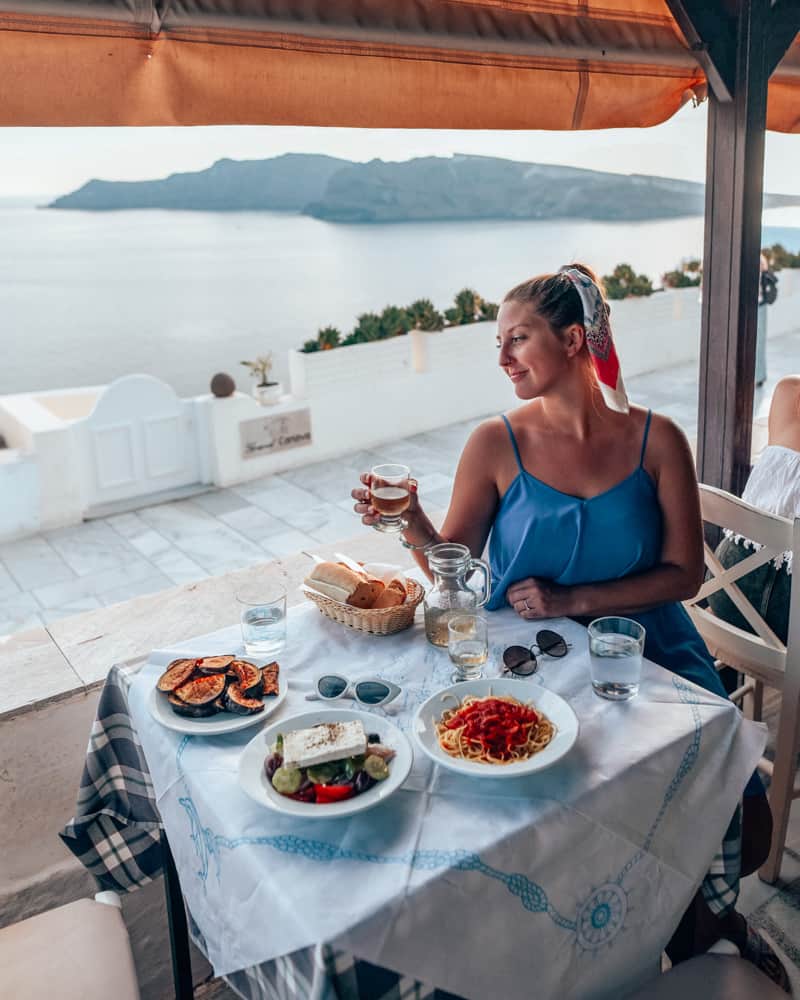 Where to Drink in Oia
I'm sure you'll find your own little spot to get a drink in Oia whether that be on your hotel terrace or a hole in the wall you stumble upon. Here are two favorites:
Fina Cocktail Bar and Restaurant serves local quality wines and delicious cocktails.
Sun Spirit is the perfect spot to settle in for a front row seats to the sunset.
Nightlife
Apparently, Hassapiko or Marykay's Bar is the only real option for nightlife in Oia. Being that Oia is known more for honeymoons, there is not a huge party scene at night. Head to Fira if you want an evening with a bit more buzz. Nights out begin from around 11pm and can go until 4 or 5 am.
Popular Bars in Fira:
Crystal Cocktail Bar
Kira Thira
Franco's
You could even check out some of the beach clubs in the beach towns  Perissa, Perivolos and Kamar.