On Danii and my arrival to Malta we decided to start at the farthest point and work our way back to the airport. From the airport we hopped on a bus straight to the Gozo Ferry port. We were headed to Bellavista Farmhouses. Bellavista Farmhouses in Gozo is a family run business offering a collection of 21 self-catering farmhouses for rent in idyllic countryside. The farmhouses range in size from 2-4 bedrooms.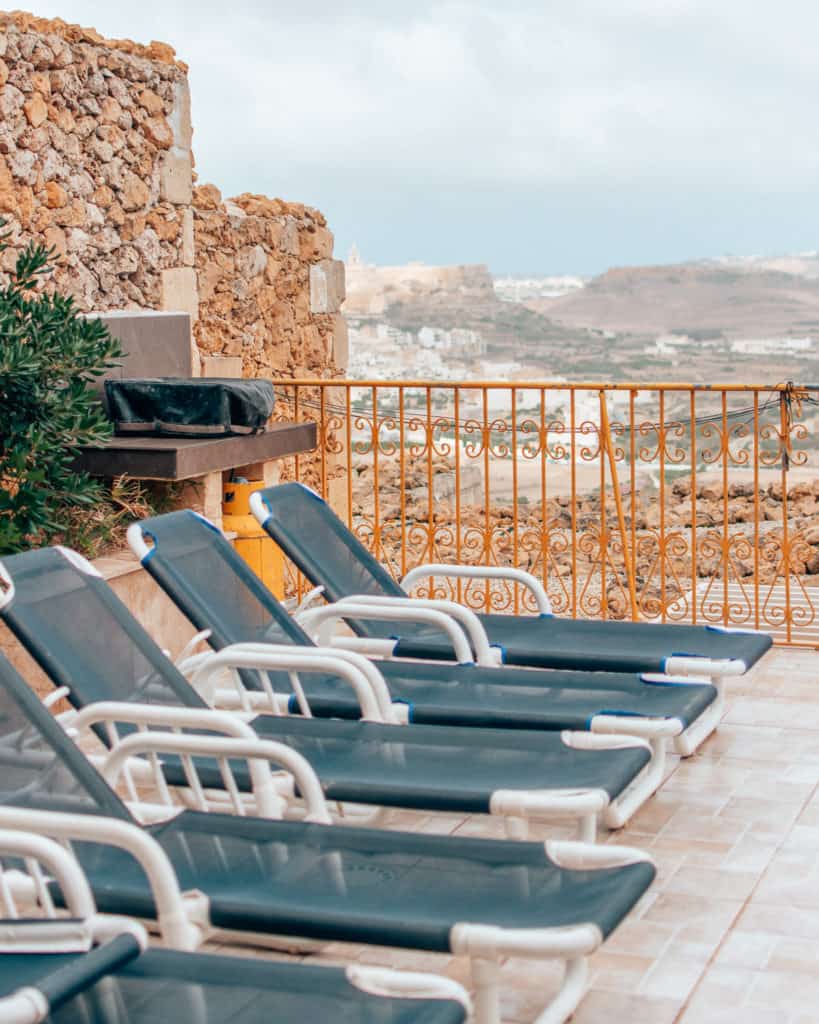 Our flight was delayed twice so we didn't arrive to Bellavista Farmhouses until 9pm. One of the reception  staff kindly waiting for us to arrive and then showed us to our accommodation. I didn't really know what to expect so when walking in I was surprised at how spacious the house was. The large windows overlooking the pool and countryside definitely made it feel even bigger. In the morning light the view was even more beautiful and quite different than any place I've stayed before. The entrance courtyard was probably one of my favourite bits. The cute coloured doors and flower vines crawling up the walls had such a charm to it.
In terms of conveniences, The village of Xaghra is just a 10-15 minutes walk. Here you have a few bars and restaurants as well as a bank. To my astonishment the bank only opens on Wednesdays so make sure you plan your finances ahead or visit nearby Victoria for plenty of options.
Be aware that the farmhouses are completely self catering. Towels, linens  and some dish soap and toilet paper are the only goods provided. Along with any food or drink don't forget to purchase hand soap, and paper towels . If you don't fancy walking or driving into the village for your farmhouse shop just ring up Lighthouse Supermarket. They will deliver your groceries to your door so you can get working on that tan!
The Bellavista Farmhouses are a perfect base for exploring Gozo but, this is only true if you have a car. Buses are available, but they are quite slow and if you don't want to be wasting time on transport then in my opinion renting a car is the best way and what we wished we had done!
The farmhouses are the ideal accomodation for groups wanting a base on Gozo with some home comforts. Being able to make a cup or tea  when you want or BBQ by the pool gives the holiday a more laid back experience.
Although it is a small island, there is plenty to see in Gozo. The reception staff are very knowledgeable about Gozo and are happy to answer any questions!  There are also festivals and events through out  the year to enjoy so don't be worry about running out of things to do!